Verizon and Nokia have completed the first over-the-air, end-to-end "5G NR" data transmission on a commercial 3GPP 5G New Radio (NR) network, the companies announced. The transmission was between commercially deployed Nokia radio equipment and Verizon's 5G network core and millimeter wave spectrum to a Nokia test van parked in the downtown area of Washington, D.C.
…………………………………………………………………………………………………………………………………………………………………………………………………………………………………………………………………..
Editor's Note: 
"5G NR" is based on 3GPP release 15 spec, whereas it's 3GPP release 16 (with parts of release 15) which will be submitted as a candidate IMT 2020 Radio Interface Technology (RIT) at the July 2019 ITU-R WP 5D meeting. Also, we don't consider an end to end transmission using only Nokia endpoint terminals a "commercial network," which is one in which there are many paying customers and endpoint terminals from several vendors (not just Nokia).
…………………………………………………………………………………………………………………………………………………………………………………………………………………………………………………………………..
Verizon and Nokia said that the transmission was another of their ongoing demonstrations of 5G NR technology. They expect to launch commercial 5G mobile service in 2019. In June, the two companies completed a series of outdoor data sessions over the 5G NR standard, and used multi-carrier aggregation to boost those signals into the gigabit-per-second range. Last month, Verizon and Nokia said they completed the first successful transmission of a 3GPP NR 5G signal to a receiver in a moving vehicle."The cadence and frequency of these significant milestone achievements from Verizon and Nokia show just how quickly we're taking the promise of 5G technology from the lab to the field and to the marketplace where our customers will ultimately use this revolutionary technology," said Bill Stone, Verizon vice president, technology development and planning, in a prepared statement. "We said Verizon will be first to 5G, and our latest milestone moves us closer to fulfilling that promise."
"Nokia and Verizon have had a tremendous summer for 5G innovations and technology advancements," said Marc Rouanne, Nokia president mobile networks, in a prepared statement. "We are thrilled to be on the forefront of this new technology, helping Verizon make yet another significant stride towards becoming the first-mover to the market."
The announcement followed Verizon and Nokia last month transmitting a pre-standard 5G signal between two radio sectors to a moving vehicle, calling the successful trial a "major 5G milestone".
Verizon earlier announced it would launch 5G residential broadband service in Los Angeles, Sacramento, Houston and Indianapolis, in the second half of this year (based on Verizon's proprietary spec), to be followed by a mobile 5G solution.  That's all before the ITU-R IMT 2020 standards are finalized in late 2020.
References:
https://www.verizon.com/about/news/another-verizon-first-verizon-and-nokia-complete-first-over-air-data-transmission-commercial-5g
https://www.telecompetitor.com/verizon-claims-first-5g-nr-data-transmission-on-a-commercial-network/
https://www.zdnet.com/article/verizon-trials-5g-in-washington-dc-with-nokia/
Verizon and Nokia announced they were able to achieve a key milestone on the road to 5G: handing off a signal seamlessly to a vehicle traveling between two radio sectors.  The test took place at Nokia's Murray Hill, N.J., campus. A data transmission at 28 GHz was sent from two 3GPP New Radio (NR) radios on a Nokia building to a vehicle outfitted with a receiver and equipment to measure transmission statistics. The vehicle traveled between the two radios, achieving seamless NR Layer 3 3GPP-compliant mobility hand off of the signal between the two sectors, intra-gNB and inter-DU, according to the companies.
Verizon said that the call mobility test involved a data transmission at 28 GHz that was sent from two 3GPP compliant NR radios on Nokia's building, to a vehicle that had a receiver and test equipment to measure transmission information.
"The vehicle traveled between the two radios, achieving seamless 5G NR Layer 3 3GPP-compliant mobility handoff of the signal between the two sectors," Verizon said, noting that these were intra-gNodeB and inter-distributed unit handovers.
"Unlike some of the incremental 5G technology announcements we've seen lately, tests like the one we conducted are significant advancements in the development of 5G technology," said Bill Stone, vice president, Technology Development and Planning for Verizon, in a press release. "By taking these tests out of the lab and into the field, we're replicating the experience users will ultimately have in a 5G mobility environment," he added.
"We are pleased to showcase the acceleration of the mobile capabilities in 5G," said Marc Rouanne, president, Mobile Networks, Nokia, in the release. "Enhanced mobile broadband is one of the first services being delivered on Nokia's end-to-end 5G Future X portfolio. As a result, we can help our customers meet their early 5G deployment schedules and initial coverage demands."
Verizon plans to be the first to launch 5G residential broadband service in four markets this year:  Los Angeles, Houston, Sacramento and Indianapolis.  Verizon CEO Hans Vestberg told CNBC the operator is going to be first in the world with 5G. "We are building everything right now," he said, with 5G mobile phones due in the hands of consumers next year.
References:
https://www.verizon.com/about/news/5g-move-verizon-and-nokia-complete-first-5g-nr-mobility-call
https://www.rcrwireless.com/20180817/5g/verizon-nokia-test-5g-nr-call-mobility
https://www.fiercewireless.com/wireless/verizon-nokia-complete-5g-nr-mobility-call
AT&T is partnering with Nokia to provide reliable connectivity for the Internet of Things (IoT) devices.  Chris Penrose, the President of the IoT Solutions of AT&T, said the carrier's enterprise customers will benefit from this partnership through the simplified adoption of IoT devices and the improved ability of the network operator to respond to the concerns of its customers. Furthermore, the carrier noted in its announcement that this partnership enables AT&T to address specific business concerns of companies using latest technologies including 5G network slicing.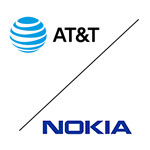 Worldwide IoT Network Grid (WING), a service that is developed and managed by Nokia, will be used by AT&T.  WING assists network operators in managing IoT devices, securing connected appliances, and facilitating the billing of the carrier's customers. Another advantage of utilizing Nokia's WING service is that it allows AT&T's customers to access the global IoT ecosystem and infrastructure of the Finnish tech firm. It is expected that the core network assets of Nokia's WING service will become available in 20 different countries by 2020.
AT&T will also utilize its own cloud-based service dubbed as the Multi-Network Connect platform. This platform enables businesses to manage their IoT devices remotely using a variety of communication technologies, including 2G, 3G, 4G LTE, Low-Power Wide Area Network (LPWAN), and satellite. Aside from the compatibility with a variety of communications standards, the carrier claims that another benefit of using its Multi-Network Connect platform is the ability to manage and monitor the devices using a single portal.
The partnership will begin developing, testing and launching IoT offerings this year. Offerings will be available in more than 20 countries in Europe, Asia, North America, South America and the Middle East by the first quarter of 2020. The partners will target a number of industries, including transportation, health, manufacturing, retail, agriculture, utilities, consumer electronics and smart cities. The initiative will "help set the stage for the evolution to global 5G," according to the companies.
More specifically, the partnership will:
Address specific business requirements through capabilities like 5G network slicing that allows a single network to be partitioned into multiple networks.
Meet local regulatory requirements for IoT devices.
This is not the only IoT partnership in which AT&T is involved. In February, the mega telco and Ericsson said that they are teaming  up for IoT device certification. The collaboration includes testing, verification and "white glove" assistance with regulatory approval process. The program is available in more than 150 countries.
Early last year, AT&T said that Carrier, one of the world's largest appliance and equipment manufacturers (made famous by Donald Trump's visit), will build AT&T's IoT functionality into its heating, ventilation and cooling (HVAC) product line.
References:
https://www.androidheadlines.com/2018/06/att-nokia-to-provide-reliable-iot-device-connectivity.html
https://www.business.att.com/solutions/Portfolio/internet-of-things/
http://www.telecompetitor.com/att-nokia-iot-partnership-targets-enterprises-worldwide/
---