Samsung Networks is deploying small cells in large volume for indoor coverage for Mukesh Ambani-led Reliance Jio, which is set to have 99% population coverage soon in the country, according a Samsung executive.
"We have seen drive happening on indoor small cells. But that doesn't mean that outdoor isn't happening. Outdoor is happening at a good speed basis the site availability and so on… We will continue to expand on this piece of the network [indoor] because there are places where it's more value to go that way," Srini Sundararajan, Senior Vice President and Head of Networks Business at Samsung India, told ET.

"Jio tells us what their network requirements are, and we support…indoor always volume looks larger because devices are smaller and are easy to deploy and are self-configured," he added.
Samsung Networks had earlier this year obtained a new 4G LTE network expansion contract from its sole customer in India, Reliance Jio, to increase the telco's 4G network penetration from around 75% to 99% by Diwali this year.
The South Korean company is the sole 4G equipment provider to Jio with contracts to supply wireless base station equipment for over 140,000 sites for pan-India coverage last year, ET had earlier reported.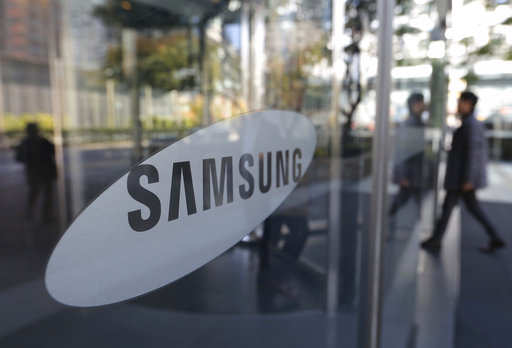 Image courtesy of Economic Times Telecom (India)
…………………………………………………………………………………………………………………………………………………………………….
Sundararajan said that Jio is expanding its networks for both coverage and capacity needs in the country. "It has to be both. There are still parts of the country we need to increase the coverage. Some of the hilly areas or remote areas. For every project, there is a certain percentage of sites for coverage and a large percentage is for capacity," he added.
For capacity, Jio has started commercial deployment of massive mimo technology in areas where it is not able to add new sites easily.
In addition to 4G wireless equipment, Samsung is also providing packet core technology to Jio. The executive said that the virtualised packet core will play a crucial role in the 5G scenario.  Samsung is currently preparing to conduct 5G field trials in New Delhi in the first quarter of the next year, and is working closely with the Department of Telecommunications (DoT).
"We have a lot to offer similar to what we did on 4G, and which is why we said that we will partner with the DoT. We are directly partnering with the DoT to ensure that we listen to the needs of the government," the executive said.
He added that the government's involvement in these 5G field trials is very crucial for the successful commercial roll out since there will be 5G use cases that will have "societal value" along with the business value.
"The government is very proactively enabling and promoting to grow the 5G network. They are very aware that it is the ecosystem, and not just a vendor or operator. So they tend to bring different players into it to ensure that we are able to provide a high-value system for the country," he added.
Samsung will be conducting the trial using the millimeter wave (mmwave) spectrum even as other vendors like Huawei plan to conduct trials in the mid-band.  Sundararajan said that the millimeter wave band will offer a large chunk of spectrum that can result in uses cases like fixed wireless access (FWA) with huge capacity for data services. "We need to have the technology in the mmwave to enable the true vision of the government," he said.
Samsung is currently doing 3.5Ghz trials in the mid-band in South Korea, and in the US, we are doing mmwave trials. "We are technology agnostic, but use cases will drive the adoption of one of these bands," he said.
References:
https://telecom.economictimes.indiatimes.com/news/samsung-deploying-small-cells-in-large-volumes-for-jios-indoor-coverage-networks-head/66555444?photo_id=65769267
Reliance Jio Blankets India with Inexpensive 4G Service; Where are the Profits?
India Selects Cisco, Samsung, Nokia, Ericsson for 5G trials; Bars Huawei and ZTE
India's DoT Creates Dedicated 5G Technology Test Bed after Ericsson 5G Demonstration
According to Livemint, Reliance Jio may soon emerge as the leading wireless telecom company in India. Reliance Jio's net revenue may have crossed Bharti Airtel Ltd's wireless revenue in India last quarter, according to analysts at Kotak Institutional Equities Research. If the Reliance Industries Ltd (RIL) unit maintains the momentum, then it may emerge as the largest telecom company as early as the end of 2018.
"We expect Bharti Airtel's net India wireless revenues (reported gross wireless revenues less estimated gross interconnect revenues) to be around ₹87-88 billion for 2QFY19. Reliance Jio's reported revenues of ₹92.4 billion are net of interconnect revenues as the company adjusts interconnect revenues in the interconnect costs line," analysts at Kotak Institutional Equities Research said in a note.
"If Bharti does not report a material beat on our estimated wireless revenues for the quarter, Reliance Jio has perhaps crossed Bharti on net India wireless revenues to become #2 after Vodafone Idea. If the current trends continue, Reliance Jio will likely become #1 on net revenues as early as 3QFY19E," the note said.
Reliance Jio's focus remains on expanding its subscriber base but the ban on Aadhaar-based e-KYC can affect this. This, however, is seen as a temporary phenomenon. The trends indicate continued tough times for incumbent telecom companies which have to step-up capital expenditure (capex) while dealing with price erosion.
"We expect competitive intensity to remain elevated over the next 9-12 months as fight for subscriber share continues. Reliance Jio, over the weekend, introduced 100% cashback for all packages and various players have been tweaking with pricing and packs," Jefferies India Pvt. Ltd said in a 19 October note. Further, the incumbents, given their weakened financial position, are lagging in capex, which is crucial for product offerings and customer retention.
"Reliance Jio continues to be on an accelerated capex drive, spending around ₹330 billion in H1FY19 (Q2 spend ₹160 billion) which is ~70% its own FY18 capex and is largely equivalent to the combined capex spend of the remaining two incumbents (Bharti Airtel, Vodafone Idea) put together in FY18," SBICAP Securities Ltd said in a note. "The scale of investments and the current profitability differential suggest that Reliance Jio is unlikely to relent till it achieves a meaningful market leadership in terms of revenue market share."
…………………………………………………………………………………………………………………………………………………………………………
In the second quarter of this fiscal year, Reliance Jio had a significant capex of around Rs 160 billion, although it was 6 per cent down from the previous quarter. Analysts expect the high capex to continue for another two quarters or so, post which the company would shift its focus to the broadband business.
The telecom operator is on track to achieve the 99 per cent of population coverage target within FY2019. Jio attributed the higher capex in the first half of FY19 to expanding mobility networks, which is in the last phase and will subside in the next one-two quarters.
……………………………………………………………………………………………………………………………………………………………………………
India consumers are rapidly upgrading to 4G feature phones, led by the JioPhone, that offer a much richer data and video experience, forcing plain handset makers to review their production plans.
CyberMedia Research (CMR) data shows that market share of 2G phones has plunged 17 percentage points in just six months to 30% in the quarter ended June, while Reliance Retail's 4G variant, called JioPhone, increased its market share by 9 percentage points in the same period to 27%
……………………………………………………………………………………………………………………………………………………………………………..
India has the second largest number of Internet users in the world- second only to China.  But only in the last two years has India moved to true broadband wireless service.   Mukesh Ambani, head of Reliance Industries, one of India's largest conglomerates, has shelled out $35 billion of the company's money to blanket the South Asian nation with its first all-4G network. By offering free calls and data for pennies, the telecom latecomer has upended the industry, setting off a cheap internet tsunami that is opening the market of 1.3 billion people to global tech and retailing titans.
The unknown factor: Can Reliance reap profits itself after unleashing a cutthroat price war? Analysts say the company's ultimate plan, after connecting the masses, is to use the platform to sell content, financial services and advertising. It could also recoup its massive investment in the years to come by charging for high-speed broadband to consumers' homes and connections for various businesses, according to a person familiar with the matter.
Sidebar:  Reliance Jio gaining ground on incumbents via price war
Business Standard says that according to revenue figures of the industry for the April-June quarter, Jio has become the second biggest wireless network operator by revenues, overtaking Vodafone.
In fact, both Vodafone and Idea reported a revenue decline of 7 per cent and 5.2 per cent respectively in the reported quarter. Airtel though managed to increase its adjusted gross revenue (AGR) by 1 per cent, thanks to income from national long distance (NLD) services.
According to a report by JP Morgan, Reliance Jio keeps flourishing in a continually stressed industry, which is why the industry may continue to be in stress.
Meanwhile, zeebiz.com reports "Reliance Jio impact: 15,000 people lost jobs, just 3 companies left in 2 years."  Apart from declining financial health of incumbents, there have been massive job losses owing to mergers and sector consolidation. Experts estimate the number of job losses to be around 12,000-15,000 in the last two years, with a major shedding from Vodafone and Idea Cellular duo.
Reliance Jio has been gaining subscribers and revenue market share at a rapid pace. But for the incumbents, including Bharti Airtel, Vodafone India, Idea Cellular, there has been declining average revenue per user (Arpu) and margins with high debt levels. Together, the telecom industry has a cumulative debt of Rs 3.6 lakh crore.
Analysts from Jefferies say that the competitive intensity will remain high as Jio and Bharti focus on subscriber additions. "We expect increased competitive intensity in the postpaid and feature phone segments. The market share is expected to stabilise in the next 12 months. Post that, there will be a gradual Arpu recovery due to customer willingness to pay higher."
"The next battleground is the 500 million non-LTE subscriber base, which would include 400 million 2G subscribers. Half of the 2G subscribers are low-value subscribers with monthly spend of Rs 50-80. Content and advertising will emerge as key pillars to increase average revenue per user and profitability for the sector in the medium term," according to Deutsche Bank Research.
…………………………………………………………………………………………………………………………………………………………………………………………………….
………………………………………………………………………………………………………………………………………………………………………………………………………..
Mr. Ambani's project has the potential to give India the largest—and most diverse—connected population in the world, with low-cost access to data helping to level the playing field between rich and poor.
It also could revolutionize retail. Mr. Ambani's success or failure could affect Alphabet Inc.'s Google and Facebook Inc.'s WhatsApp, which have poured resources into developing products for the Indian market, and Walmart Inc. and Amazon.com Inc., which have invested billions here on logistics for online shoppers. To profit, they all need people connected to the internet.
Underserved Population
India has more internet users than the U.S., but a low percentage of the country is online. Slow download speeds are a drag on building subscribers.
………………………………………………………………………………………………………………………………………………………
Mr. Ambani wasn't available to comment, according to a Reliance spokesman. The company "has unleashed huge data potential in the country," the spokesman said. "Digital life will no longer be the privilege of the affluent few."
There are 390 million internet users in India, according to Bain & Co., but the penetration rate is still only 28%, compared with 88% in the U.S. The country's e-commerce market is expected to be worth $33 billion this year, three times what it was in 2015, but less than 3% of India's overall retail market, according to research firm eMarketer.
Companies are after customers like 59-year-old potato farmer Govind Singh Panwar. His home in the Himalayan foothills is built of mud and stone, and his village has no paved roads or indoor plumbing. Still, broadband internet has arrived.
"I bought our first fridge" online, Mr. Panwar said. "It's a rare thing in a village."  He got online last year with Reliance Jio Infocomm Ltd., Mr. Ambani's telecom company, which built a tower nearby that beams his phone nearly unlimited 4G data for about $2.10 a month.
PHOTO: 

NEWLEY PURNELL/THE WALL STREET JOURNAL
………………………………………………………………………………………………………………………………………………………….
Jio, which means "to live" in Hindi, has signed up 215 million subscribers since it went live in 2016, making it India's No. 4 mobile provider, after Bharti Airtel Ltd., with 345 million, Vodafone Group PLC and Idea Cellular Ltd.
Mr. Ambani's foray started in 2010, when he bought a company that had just acquired a pan-India 4G license. That was a risky move at a time when fewer than one in 10 Indians were online. Airtel and Vodafone were still focused on rolling out 3G services, and few Indians owned 4G-capable smartphones.
Promising MarketOnline sales in India have grown rapidly butare still just a sliver of all Indian retail.Source: eMarketerNote: 2018 and later are projections.
Fourth generation, or 4G-LTE networks provide significantly faster speeds than 3G, enabling more content like streaming video and music. They also provide the steadier connections important for online shopping, which can be difficult on patchy networks. 4G networks are common in the U.S., Europe and East Asia.
Mr. Ambani, now 61 and worth more than $48 billion, had just finished building what some have dubbed the world's most expensive home, a 27-story mansion on a hill with views of the Arabian Sea. It was packed with bling—helipad, home theater, gym, garden, pool—but the internet connection was bad.
When his daughter came home from Yale University during a break, she struggled to submit her course work online. "Dad, the internet in our house sucks," she complained, according to a story Mr. Ambani later recounted at an event.
At the time, India's telecom industry executives and analysts agreed there was need for more speed, but they doubted enough people would be willing to pay for it. Indians then were spending only about $2 a month on their cellphones, the vast majority of that on voice calls.
Subscribers in India typically use prepaid plans without contracts, making it easy to switch carriers by swapping in a new SIM card from a competitor.  One adversary that has thrown in the towel: Reliance Communications Ltd., formerly part of the Reliance empire but taken separate by Mr. Ambani's brother, Anil Ambani, after a family dispute. The company, under pricing pressure from Jio, closed its mobile business in late 2017.
The price war has cut industry wide revenue per user—now averaging $1.53 a month, compared with about $2.50 in 2016. Jio beats the average, at $1.89 a month, but the number has been falling since its launch.
The result has been a data binge. Jio transmitted more data in the first year of its operation than any carrier ever world-wide, according to research firm Strategy Analytics. India last year surpassed the U.S. in the number of apps downloaded from the Google Play store, according to mobile-app analytics firm App Annie. Monthly data traffic in India per user has jumped 570% in the two years since Jio launched, according to Morgan Stanley .
When Jio realized it was reaching the consumers who could afford the data but not the 4G-enabled smartphones, it built a new type of "smart" feature phone that worked on 4G and had some smartphone features. Consumers could own a JioPhone for a $23 security deposit—refundable if they return the phone. It launched in September 2017 and has overtaken Samsung Electronics Co. to capture 47% of the feature phone market, according to research firm Counterpoint.
Companies such as Amazon.com are depending on the new pool of users. Amazon has tweaked its model in India by introducing services like cash on delivery, in which customers can pay with cash when items arrive at their door, since few people have credit cards. The retailer has also deployed swarms of delivery men on motorbikes, so they can negotiate chaotic city traffic.
Google, which has been effectively shut out of China since 2010, has been rolling out new features to cater to users in India, testing products that might also work in other emerging markets, such as Indonesia. It launched a version of its YouTube app, called YouTube Go, designed to work on inexpensive smartphones. It created a mobile payment app for India, called Tez, that works without a credit or debit card. It is also working to make many of its services work with local languages.
At a July investors' meeting, Mr. Ambani made his ambitions clear. "Even after serving the needs of our 215 plus million customers, the capacity utilization of the Jio network is less than 20%," he said. "We are determined to connect everyone and everything, everywhere."
https://www.wsj.com/articles/two-years-ago-india-lacked-fast-cheap-internetone-billionaire-changed-all-that-1536159916?mod=searchresults&page=1&pos=18
---