China Mobile reports 2018 net profit of $17.58 billion; 5G accomplishments and 2019 plans
2018 Financial Overview:
On March 20, 2019, China Mobile (the world's largest wireless carrier by subscribers and revenue) reported a 3.1% increase in net profit for 2018 to 117.78 billion yuan ($17.58 billion).  The company focused on reducing costs and increasing operational efficiency.  Telecommunications service revenue fell a reported 0.4% but grew 3.7% in comparable terms to 670.9 billion yuan.  China Mobile's  net profit was aided by the listing of the company's tower division China Tower in August last year.
2018 Highlights:
China Mobile reported a 4.3% increase in its total customer base for the year to 925 million, of which 713 million are 4G customers – a 9.7% increase from 2017.
However,  mobile ARPU fell 8% to 53.1 yuan as a result of strong competition.
Total wireline broadband subscribers increased by 39% to 157 million, of which 147 million were household broadband customers. Household broadband blended ARPU grew 3.2% to 34.4 yuan.
The company's four growth engines are: personal mobile market, home broadband market, corporate market,  emerging business
IoT revenue +40.2% to RMB7.53 bil
ICT, Cloud Computing, Big Data Revenue Revenue =RMB4.19 bil which was +75.3%
Boasted 2.41 mil 4G base stations with an industry-leading 4G network coverage capability
Realized NB-IoT continuous coverage in areas at township level and above across China
Achieved household broadband access capability of ≥100Mbps.
More efficient deployment of CDN edge nodes resulted in ongoing enhancements to customer perception
Maintained a backbone network with a further enhanced transmission and loading capability.
Performance of international submarine cables, cross-border terrestrial cables and PoPs was substantially lifted
"2018 was a challenging year for telecommunications operators. Competition amongst peers changed in characteristics as products and services have become homogenized while cross-sector challenges have intensified. The value of traditional telecommunications business rapidly diminished, coupled with multiple challenges from a complex and rapidly-changing policy environment," China Mobile chairman Yang Jie said.
"In order to counter market competition, overcome the major obstacles in the ongoing reforms and enhance management, we continued to encourage everyone across the Company to take the 'Big Connectivity' strategy even further and implement the integrated development of the four growth engines."
2018 5G Accomplishments:
Permitted to adopt 2.6GHz and 4.9GHz frequency bands for trials
Network tests and application trials in 17 cities
Developed 5G Ecology:
• 5G Joint Innovation Centre
• 5G Device Forerunner Initiative
• 5G Joint Innovation Industry Fund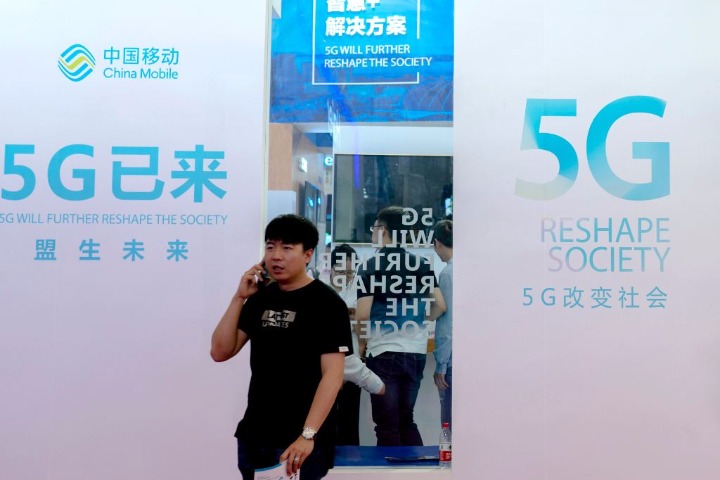 2019 Goals dor 5G: Construct end-to-end network infrastructure; Promote 5G commercialization:
• Develop NSA and SA networks concurrently with SA (stand alone- no LTE) as the primary goal
• Promote 4G/5G synergistic development and expedite 4G VoLTE
• Join hands with the industry supply chain to develop devices supporting multiple modes, bands and form factors
• Share end-to-end smart technology capabilities and serve vertical industries
Work together to build an open and win-win innovative ecosystem. Promote 5G cross-industry integration:
Culture and entertainment
Smart transportation
Smart city
Smart manufacturing
Remote healthcare
https://www.chinamobileltd.com/en/ir/webcasts/pre190321.pdf
China Mobile on 5G (from Press Release):
We will continue to conduct tests on the 5G network and perform trials on business applications to ensure the precommercial launch of 5G services this year. We aim to provide direction and leadership for 5G development, exploring suitable 5G products and business models with industry partners. To build a strong foundation for the ongoing transformation towards an intelligent network, we will speed up the pace of network upgrades and strengthen our core capabilities. The Company will expand into new retail business and strive for the large-scale development of our own branded intelligent hardware. We will build up our capabilities in key business areas and develop an open and shared innovative ecosystem. In order to realize a win-win situation, we will continue to enhance the collaborative opening-up efforts, reinforcing industrial cooperation,investment planning and international expansion.
http://mms.prnasia.com/00941/20190321/2018ARPressRelease_ENG.pdf
---