China will ratchet up resources to advance the construction of its 5G network, expand the application of 5G technology in various fields, and promote the research and development of 6G, officials and experts said at the 6th Digital China Summit, which ended on Friday in Fuzhou, Fujian province.
"China has built the world's largest 5G network with the most advanced technologies. The number of the country's 5G base stations had exceeded 2.64 million by the end of March this year," said Zhao Ce, deputy head of the information and telecommunications development department at the Ministry of Industry and Information Technology.
Zhao said the ministry will make more efforts to bolster the building of the 5G network in an orderly manner and accelerate its industrial applications, push forward the R&D of 6G, and strengthen international exchange and communication in 5G-related technology, standards and application.  5G wireless technology has been used in 52 of the 97 major economic categories, with large-scale application expanded to mining, ports and electricity, he said. Moreover, China has already established the IMT-2030 (6G) Promotion Group, a flagship platform in China promoting 6G and international cooperation.
As 5G technology serves as a critical foundation supporting the development of artificial intelligence, big data and cloud computing, heightened efforts should be made to explore application scenarios of 5G and empower the transformation of traditional industries, said Zhang Wang, deputy head of the informatization development bureau of the Cyberspace Administration of China.
China has recently unveiled a plan for the overall layout of the country's digital development, vowing to make important progress in the construction of a digital China by 2025, with effective interconnectivity in digital infrastructure, a significantly improved digital economy, and major breakthroughs achieved in digital technology innovation.
Cao Ming, president of the wireless product line at Huawei Technologies, said China is taking the lead in 5G development across the globe, and 5G is expected to play a bigger role in bolstering digitalization in a wide range of sectors covering intelligent connected vehicles and intelligent transportation.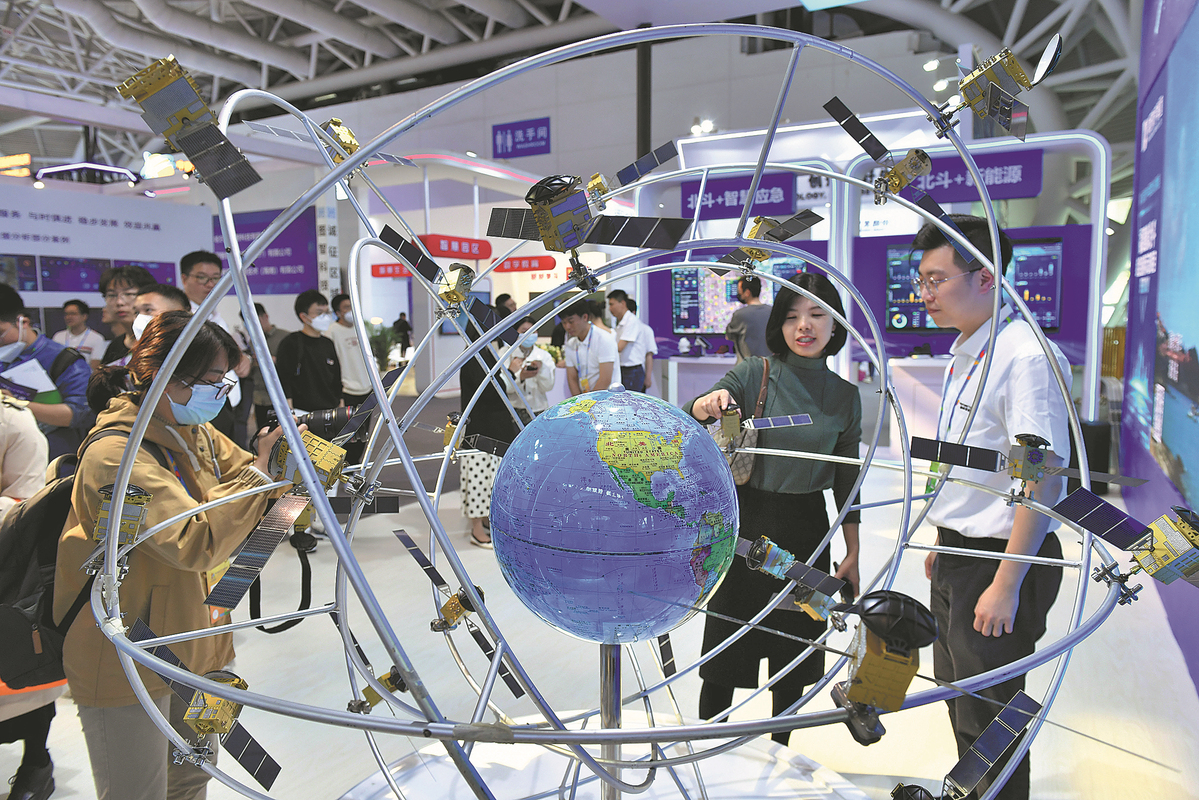 A model of the Beidou Navigation Satellite System is exhibited at the 6th Digital China Summit in Fuzhou, Fujian province, on Thursday. [PHOTO/CHINA NEWS SERVICE]
"As the next-generation mobile communication technology, 6G integrates with telecommunication, perception, computation, artificial intelligence, big data and security," said Cui Chunfeng, president of the future research institute at the China Mobile Research Institute, adding the research on 6G is still at a preliminary stage worldwide.
Although there is no universally accepted definition of 6G, the technology is predicted to provide faster speeds, lower latency and more bandwidth than 5G. The 6G network will realize the deep integration of physical and virtual worlds, and build a new world featuring the intelligent connection of everything, Cui said.
Noting new cybersecurity challenges have popped up with the rapid development and application of 5G technology, Qi Xiangdong, chairman of Chinese cybersecurity company Qi-Anxin Technology Group, said the company will strengthen cooperation with the country's major telecom carriers to help them deal with growing cybersecurity risks.  Qi said China's cybersecurity industry has maintained annual growth rate of 15 to 20 percent, while calling for efforts to increase investment in talent training and enhancing security awareness among netizens.
………………………………………………………………………………………………………………………………………………………………………………………………………….
6G is the upcoming sixth-generation cellular network technology that is currently in early development. One of the goals of 6G cellular technology is not just to deliver basic content faster to smartphones, like streaming video, but to create a cellular network capable of supporting real-time augmented reality, virtual reality, and a future Internet of Things (IoT) model where small smart devices are a ubiquitous presence in and outside of our homes.
When reading anything about 6G, especially the breathless and hype-laden announcements from telecommunications companies that emphasize how 6G will usher in the metaverse, a fusion of our physical and virtual lives, and so on, you should keep the "early" part of early development in mind.
Currently, there are no established 6G specifications or standards, let alone deployed 6G networks or devices. Even the most basic aspects of 6G development, like which specific frequencies the next generation cellular technology will rely on, are still being ironed out along with technical challenges like energy and heat dissipation demands of advanced 6G devices.
That said, we do have some idea what 6G will look like. Current cellular technology operates in the Megahertz (MHz) and the lower Gigahertz (GHz) frequency ranges. The portion of the radio spectrum under consideration and testing for 6G includes frequencies in the 30-300 Ghz range—also known as millimeter waves (mmWave) or Extremely High Frequency (EHF) radio—and the Terahertz (THz) frequency up to 3000 Ghz. The use of these frequencies will allow for data transmission well beyond the bandwidth capacity of current cellular technology.
In December of 2022, Qualcomm released a 6G development plan with 2030 as a projected rollout date for 6G tech. Ericsson's 6G messaging echoes the early 2030s timeframe too, as do various interviews with telecom executives.
5G was first introduced in 2019. Four years later, there are still millions of cellular subscribers using 4G, and 5G is yet to have a fully realized coast-to-coast rollout. GSMA's authoritative 2023 Mobile Economy report, for instance, indicates North American adoption rate of 5G is only 39%, with more than half of cellular subscribers still using 4G. By their projections, the North American 5G adoption rate will be 91% by 2030, meaning by the time 6G potentially arrives, there will still be 4G subscribers out there.
Given the current development timelines, you should expect a delivery arc similar to the 5G rollout. If you live in a major metropolitan area, there is a good chance you'll be covered by early 6G networks around 2030. If you're not in a major metropolitan area, it's likely you'll be waiting well into the 2030s for the 6G rollout.
So if we step away from the hype and look at the matter practically, it's likely only a small percentage of people will be using 6G-based networks by 2030. But the bulk of North American subscribers, and certainly the majority of global subscribers, will still be on 
5G networks
.
References:
---