AT&T today announced that Israeli start-up DriveNets is providing its software-based, disaggregated core routing solution for the carrier's IP-MPLS backbone network.   AT&T also said it had deployed its "next gen long haul 400G optical transport platform, giving AT&T the network infrastructure needed to transport the tsunami of demand that will be generated by 5G, fiber-based broadband and entertainment content services in the years ahead."  [Long haul is  for distances >= 600km. AT&T did not name its 40G optical transport equipment vendor]
DriveNets says their Network Cloud solution perfectly fits the vision of AT&T and other leading service providers and cloud hyper-scalers for the evolution of the network to be open, agile, cost effective and software based.  DriveNets Network Cloud is cloud-native software (not open source software).  It's a software solution which runs over a cluster of low-cost white box routers and compute servers.  It has its own Network Operating System (NOS) and turns the physical network into a shared resource supporting multiple network services in the most efficient way.
Indeed, Network Cloud runs on standard white boxes built by ODM partners like UfiSpace who provided the white boxes to AT&T, based on the Jericho2 chipset from Broadcom. This approach creates a new economic model for the networking industry, lowering cost per bit and improving network profitability.
"We're thrilled about this opportunity to work with AT&T on their next gen core network, and proud of our engineers for meeting AT&T's rigorous certification process that field-prove the quality of our solution," said Ido Susan, CEO of DriveNets. "This announcement demonstrates to those who questioned the disaggregated network model that our Network Cloud is more scalable and cost-efficient than traditional hardware-centric routers. DriveNets is transforming the network in the same way that VMware transformed the compute and storage industry" he added.
"I'm proud to announce today that we have now deployed a next gen IP/MPLS core routing platform into our production network based on the open hardware designs we submitted to OCP last fall," said Andre Fuetsch, AT&T's CTO of Network Services, in his keynote speech at the Open Networking and Edge Summit (ONES). "We chose DriveNets, a disruptive supplier, to provide the Network Operating System (NOS) software for this core use case."
One year ago, AT&T contributed an open source specification for a distributed disaggregated chassis (DDC)to the Open Compute Project (OCP).  The DDC was intended to define a standard set of configurable building blocks to construct service provider-class routers, ranging from single line card systems, a.k.a. "pizza boxes," to large, disaggregated chassis clusters.  It is a a white box design based on Broadcom's Jericho2 silicon.  AT&T said the Jericho2 chip set provide the density, scale and features needed to support the requirements of a service provider.
The white box hardware was designed and manufactured by Taiwan based UfiSpace. It consists of three components: a 40x100G line card system, 10x400G line card system, and a 48x400G fabric system. These building blocks can be deployed in various configurations to build routers with capacity anywhere between 4 Tbps to 192 Tbps.
DriveNets Network Cloud solution and its innovative Network Operating System (NOS) software is NOT open source/open networking. It provides the management and control of the white box hardware. It supports a sophisticated set of traffic engineering features that enable highly reliable and efficient MPLS transport for our global, multi-service core backbone. The software then connects into AT&T's centralized SDN controller that optimizes the routing of traffic across the core.
DriveNets Network Cloud offers extreme capacity and scale for networking service providers and cloud hyperscalers, supporting small to largest core, aggregation and peering network services. DriveNets Network Cloud runs over scalable physical clusters ranging from 4 Tbps (single box) to 768 Tbps (large cluster of 192 boxes), acting as a single router entity. This model is designed to offer both network scaling flexibility, similar to cloud architectures, as well as the ability to add new service offerings and scale them efficiently across the entire network.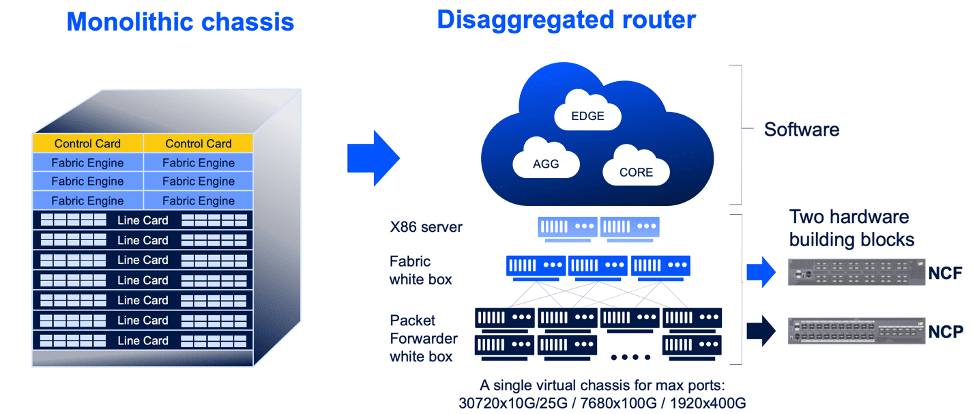 "We are pleased to see the broad adoption of Jericho2 products across the networking industry combined with the innovative DriveNets Network Cloud software," said Ram Velaga, senior vice president and general manager, Core Switching Group, Broadcom. "AT&T's submission of the Distributed Disaggregation Chassis white box architecture based on Jericho2 is making a big impact on driving the networking industry forward," he added.
"UfiSpace has been among the first who committed to opening the networking model, starting with our disaggregated cell site gateway routers which we have already demonstrated with AT&T at the Open Networking Summit (ONS) last April." said Vincent Ho, CEO UfiSpace. "We are proud that AT&T's core routing platform will utilize our white box solution where we can take part in the largest live Dis-Aggregated network in the world."
In an email to Light Reading,  Drivenets' Mr. Susan wrote: "This is the largest backbone network in the U.S. and DriveNets Network Cloud is deployed across the entire network, running over multiple large white box clusters in many core and aggregation locations of the AT&T network. Each one of these large clusters contains 192 white boxes from UfiSpace. The DriveNets Network Cloud Network Operating System (NOS) turn these large clusters of 192 white boxes into a single router entity. These large router entities are deployed in many locations at the AT&T network."
Performing as the best in class router when it comes to stability, reliability and availability, DriveNets Network Cloud is the largest router in the market today. DriveNets is engaged with 18 service providers and hyperscalers and is already on the path to becoming one of the leading networking vendors in the market. Last week, DriveNets announced lab testing of a 192Tbps distributed router by a European operator.
DriveNets Network Cloud created a new SaaS-based network economic model that detaches network growth from network cost, lowering cost per bit and improving network profitability.  This disruptive business model assists service providers and cloud hyperscalers in reducing both network CapEx and OpEx.
"AT&T has a rigorous certification process that challenged my engineers to their limits, and we are delighted to take the project to the next level with deployment into the production network," said Drivenets' Susan.
Today's white box with core routing software announcement is just the first of many from AT&T we may see in the near future. AT&T's Fuetsch wrote in the press release, "In the coming weeks, we'll announce additional software suppliers for other use cases operating on the same hardware, demonstrating the maturity of the eco-system and power of openness."
Expect forthcoming AT&T white box related announcements to be on Provider Edge routers for which the carrier alluded to when releasing its DDC spec to the OCP.
…………………………………………………………………………………………………………………………………………………….
References:
https://drivenets.com/news-and-events/press-release/att-deploys-drivenets-network-cloud-in-their-next-gen-core/
https://about.att.com/story/2020/open_disaggregated_core_router.html
https://about.att.com/story/2019/open_compute_project.html
https://www.lightreading.com/opticalip/routing/drivenets-confirmed-by-atandt-for-cloud-native-core-routing-project/d/d-id/764263
https://searchnetworking.techtarget.com/feature/DriveNets-disaggregated-router-tech-wins-innovation-award
DriveNets Network Cloud: Fully disaggregated software solution that runs on white boxes
---