AT&T's fiber footprint continues to grow. On yesterdays 4Q2018 earnings call, AT&T CFO John Stephens said:  "We now passed more than 1 million customer locations with fiber and are on our way to hit the 40 million locations later this year. This will extend our fiber network to 22 million locations when include business. Subscribers on our fiber network increased by more than 1 million last year, driving the number of total broadband customers in our fiber footprint to substantially more than 3 million, and the longer we have fiber in the market the higher our penetration rates go.,,This performance is helping drive broadband revenue growth."
AT&T CEO Randal Stephenson added:  "We also accelerated our fiber deployment and we now reach a 11 million customer locations in addition to 8 million business locations. As a result, our broadband business grew by over 6% in the quarter and it's really important to note that this fiber deployment is foundational to our 5G network."
During the Q&A session, Stephenson said: "we will finish the lion share of the fiber build by mid-year. We'll be at 14 million locations passed with our fiber footprint. You're seeing now the impact as we move our customers into the fiber footprint. You're not seeing the overall broadband subscribers grow, but as people migrate to fiber you're seeing a significant lift in ARPU. We had 6% broadband growth in the fourth quarter with no overall subscriber growth. We added about 250,000 fiber customers roughly."
………………………………………………………………………………………………………………………………………………………………………………………………
In the communications segment, AT&T's largest business, the carrier and media giant gained a net 134,000 phone subscribers who pay a monthly bill, falling far short of analysts' estimates of 208,000, according to research firm FactSet. AT&T has 153 million total phone subscribers. Churn, or the rate of customer defections, was 1 percent during the fourth quarter, up from 0.89 percent the previous year.
Stephenson played up AT&T's wireless network when he said: "In terms of our networks, our quality and performance are on a very strong trajectory. GWS named us the best network and the most comprehensive study that's been conducted. We introduced the first standards based mobile 5G network in parts of 12 cities last month and our first net deployments finished the year well ahead of schedule."
During the Q&A, he added:  "I will say over time three to five year time horizon unequivocally 5G will serve as a fixed broadband replacement product. I am very convicted that that will be the case. We are obviously on a standards-based path. We want a standards-based path that is mobile (5G) first, but just like every other product evolution and mobility this will play out the same."
"Will you have enough capacity with 5G to have a good broadband product that serves as a streaming service for all of your DIRECTV NOW, your Netflix, etc? I absolutely am convinced that we will have that capacity, particularly as we turn up millimeter wave spectrum. That's where the capacity and the performance comes from and that's where you'll begin to see a broad – a true replacement opportunity for fixed line broadband. So I have little doubt that in the three to five year time horizon you'll start to see substitution of wireless for fixed line broadband."
With respect to AT&T's 5G Evolution (which is really 4G+), Stephens said: "We also made significant strides in our (5G, but really 4G+) network of evolution in the fourth quarter. Randall told you about our network leadership (referred ti as "standards based 5G;" yet the IMT 2020 standard won't be completed till late 2020 at the earliest) in 5G introduction. With the additional spectrum we're adding, carrier aggregation and other network improvements, 5G evolution is producing better speeds for our customers today when compared to standard LTE. Our first net deployment is reaching critical mass and providing a tailwind for our results."
During the Q&A session Stephens added: "We're seeing the effects of 5G evolution be real and in customers hands today which is making a difference. We do have about 450,000 FirstNet qualified customers from about 5000 organizations or departments that have signed up for it. A significant amount of those early adopters were migrations, so maybe close to two thirds or 60% or so, but we are now getting a lot of new ads. And as this build out gets passed the existing 40% in the 50%, 60% and 70% so to speak as we continue make that progress, I think you'll see us begin to grow that new customer share and numbers significantly.
So we really do view that as a tailwind for the whole business as it improves existing customers quality, speed, throughput, but it also gives us visibility which we've been successful at, our teams had a good job with gaining new customers."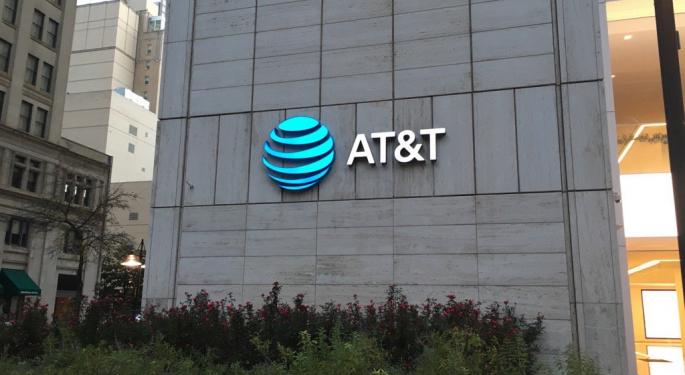 Here are AT&T's strategic goals for 2019: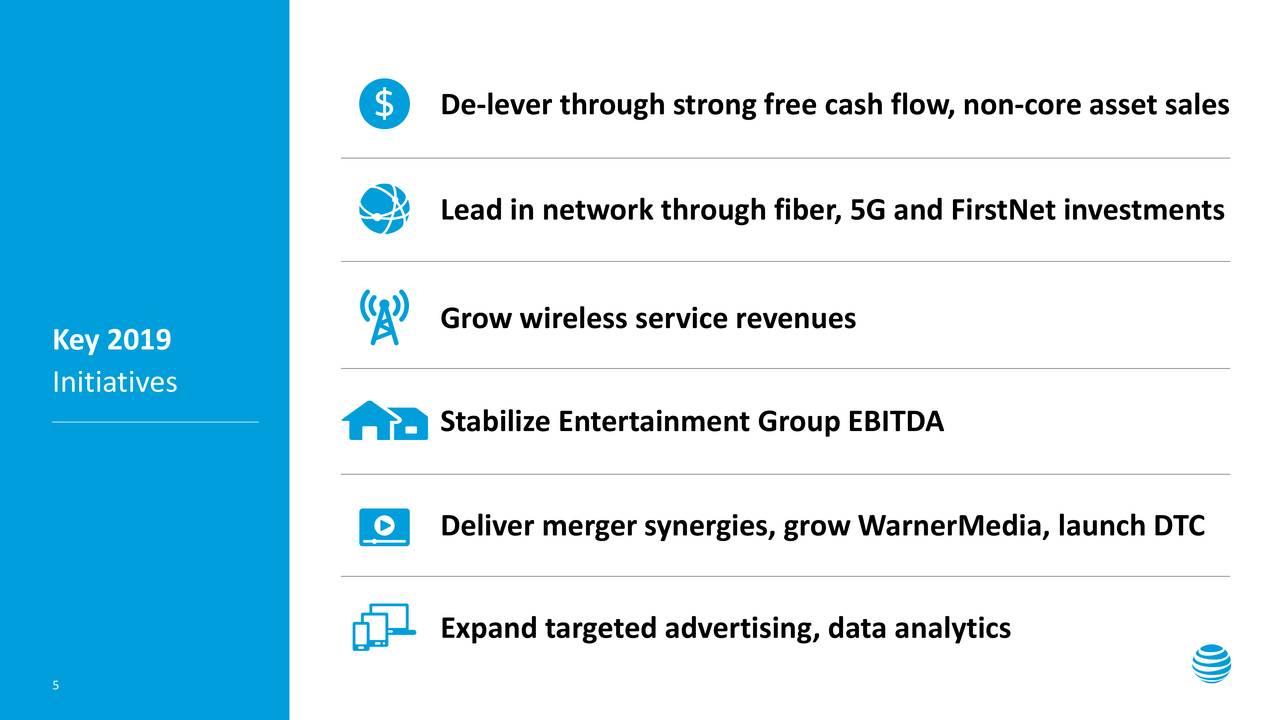 Here are the 4Q2018 Results of AT&T's Communications business: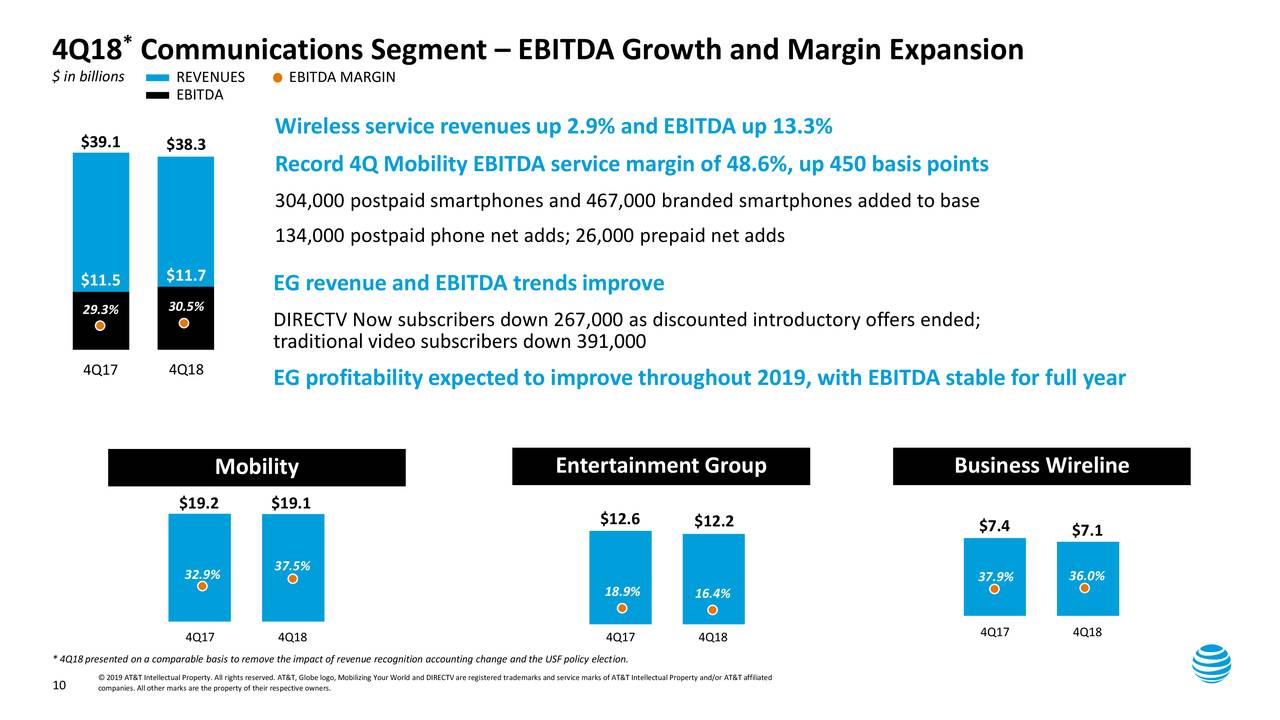 Analyst Opinions:
AT&T's revenue of $47.99 billion missed estimates of $48.5 billion. AT&T also reported net additions of 134,000 phone subscribers, below analyst estimates of 308,000. The company also lost 403,000 satellite TV subscribers and 14 percent of its DirecTV Now streaming subscribers in the quarter.
Bank of America analyst David Barden said that, despite the quarter's shortcomings, AT&T is moving in the right direction. "Within the wireless business, which accounts for 50% of total EBITDA, service revenue grew, net adds were positive, and EBITDA beat by a material amount as the handset upgrade rate was much lower than expected," Barden wrote.
Raymond James analyst Frank Louthan said AT&T is prioritizing deleveraging its balance sheet in 2019 and should be able to hit its 2.5 times target by the end of the year.  "We believe the video sub trends will be offset as marketing packages with mobility and FirstNet take hold and drive improved profitability per sub, but this could take time for investors to see the signs," Louthan wrote.
Morgan Stanley analyst Simon Flannery said there were some encouraging signs for investors in the fourth quarter, but AT&T has limited near-term financial visibility as it digests its Time Warner acquisition.
---