Kagan: Broadband Wireline Internet growth slowing with cable leading telcos; U.S. vs Europe cord cutters compared
Broadband service providers continued to gain customers ahead of widespread competition from pre-standard 5G wireless offerings, but growth is slowing as nearly four out of five homes in the U.S. now subscribe to a wireline internet connection, according to a new report released today.
Kagan, a media research group within S&P Global Market Intelligence, estimates cable and telecom providers combined added 339,000 residential subscribers in the second quarter. The momentum was largely driven by the cable industry. Cable operators saw the rate of growth shrink on a sequential and annual basis, but they did not however lack market share gains, adding nearly half a million new residential customers versus a net loss for the telecoms of 155,000 customers.
Ian Olgeirson, Research Director at Kagan commented: "We estimate wireline broadband penetration increased slightly to 78.5% of occupied households. Cable's residential gains did not match the levels from the previous or year-ago quarters, but net adds in the trailing 12 months are still higher at 2.8 million when compared to the same period in 2018. Telco broadband slumped in the second quarter, returning to a pattern of six-figure losses after holding steady in the first quarter. Growth in telco fiber-to-the-home connections was not sufficient to overcome losses to legacy copper and fiber-to-the-node DSL connections."
Separately, Kagan says that Americans are not the only ones cutting the cord. The vibrant and free-to-air broadcasting options available in most of the EU countries we surveyed makes paying for TV a hard sell, subscription video on demand or otherwise.
For instance, when Kagan asked cord cutters and "cord nevers" why they cut the cord or never added a video service, 35% of German cord cutters/nevers answered that "rabbit ears" fulfill their video entertainment needs. All respondents from EU countries surveyed scored above 15% on this metric. But just 10% of U.S. survey-takers felt the same way.
Kagan thinks the longer history with pay TV in the U.S., one that was forecast by Paul Kagan in the late 1960s, has left Americans with more paid TV options than Europeans, leading to fewer viewers stateside who mostly use over the air, or OTA.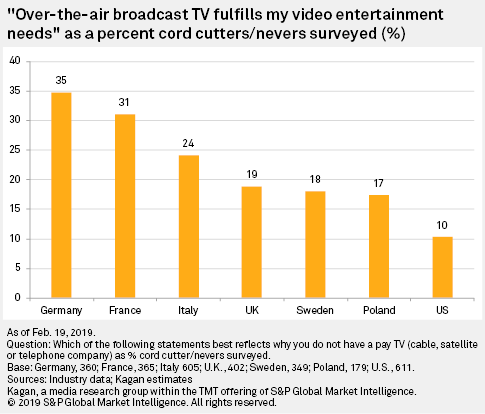 But the longer pay TV history in the U.S. does not imply Americans like paying for the service.
Nearly half of American cord cutters/nevers said price was the main reason they cut the cord or never connected, the highest rate among all seven countries we reviewed. Americans pay close to $100 per month on average for traditional multichannel video services, with EU countries coming in lower. Sweden's average monthly fee for video is under $10 and survey-takers there were consequently less concerned with pricing. A significant factor in lower pay TV access prices in Europe is that sports and premium channels are only included in top TV tiers, with basic packages boosted by a large number of OTA (over the air) channels.
U.S. survey-takers were also the only ones to say online video services were more important than free OTA in terms of why they cut the cord or never added a cord. For instance, while 10% of Americans said rabbit ears were enough reason to cut the cord, 14% said the same about online video services, including Netflix. Again, this could be a case of the U.S. being first to market with online video services and remaining relatively ahead of the pack.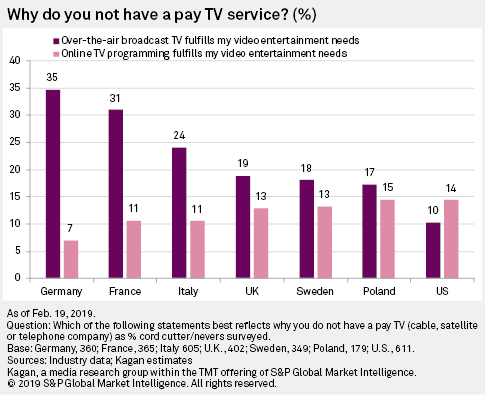 As traditional media companies look towards a digital future it's important to remember that what matters to US consumers might matter less overseas.
About S&P Global Market Intelligence:
At S&P Global Market Intelligence, we know that not all information is important—some of it is vital. We integrate financial and industry data, research and news into tools that help clients track performance, generate alpha, identify investment ideas, understand competitive and industry dynamics, perform valuations and assess credit risk. Investment professionals, government agencies, corporations and universities globally can gain the intelligence essential to making business and financial decisions with conviction.
S&P Global Market Intelligence is a division of S&P Global (NYSE: SPGI).  For more information, visit www.spglobal.com/marketintelligence
---