3GPP delays Release 16 and 17 Freeze by 3 months; IMT 2020 impact unclear
3GPP stated on its website that the timeline for the completion of two of their upcoming releases that include 5G specifications will be delayed.
A shift of the Release 16 timeline was approved at the 3GPP March 20th  TSG#87 plenary e-meetings.
Rel-16 Stage 3 freeze now June 2020 (shifted by 3 months)
Rel-16 ASN.1 and OpenAPI specification freeze will also be complete in June 2020 (stays as planned)
Freezing stage 3 of a 3GPP release essentially means no further functions can be added to the spec. ASN.1 refers to abstract syntax notation object identifiers maintained by ETSI.
3GPP SA Plenary Chairman Georg Mayer wrote in an email to this author:
"Whilst 3GPP shifted the R16 stage 3 freeze by three months, we kept the code freeze in June.

It is from my perspective incorrect to say that we shifted R16 by three months. Just the stage 3 freeze and the code freeze are now coinciding. This was also clearly stated in the approved discussion papers in all groups. Those are the source of information people should go to when they look for guidance."
3GPP RAN Chairman Belasz Bertenyi wrote in an email to this author:
 "The Release-16 ASN.1 and OpenAPI code freeze timeline is kept unchanged, and is still targeting June 2020."
…………………………………………………………………………….
New 3GPP Release Timeline: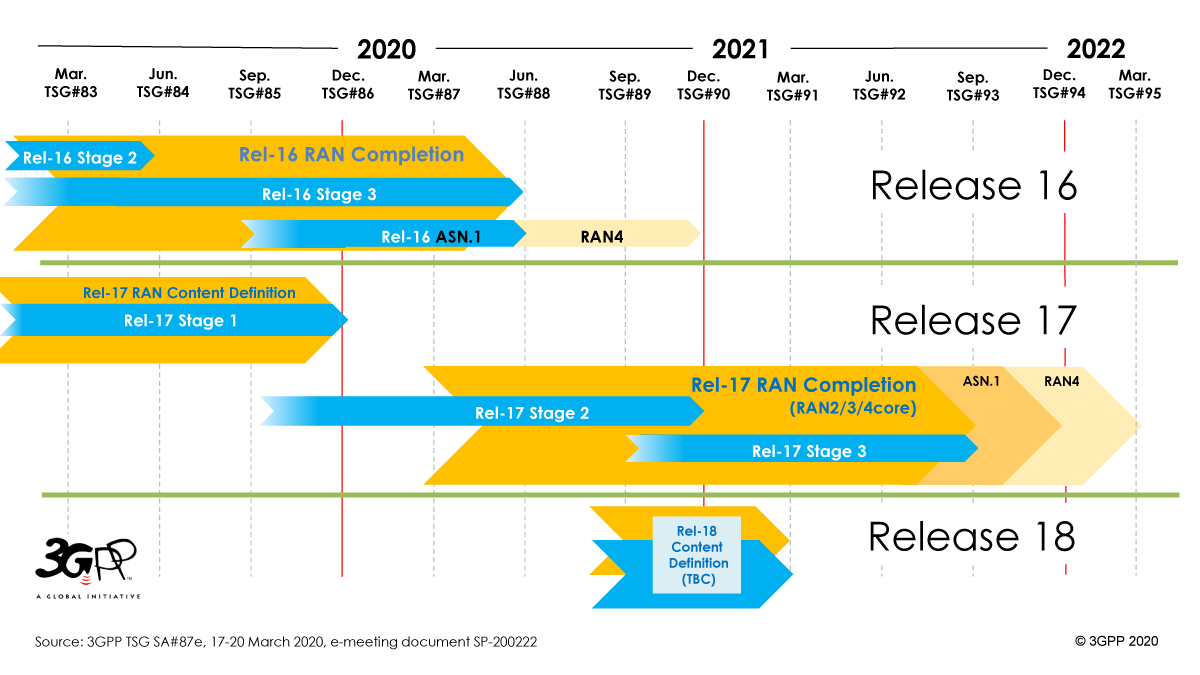 The "Release 16 Description: Summary of Rel-16 Work Items" (TR21.916) is now in production, with the Work Plan manager adding summary notes about each of the Features that it will bring, to the 3GPP system. As the Release approaches its Freeze date and completion (June 2020) – TR21.916 will start to expand and fill with useful detail about the main purpose and state of each feature.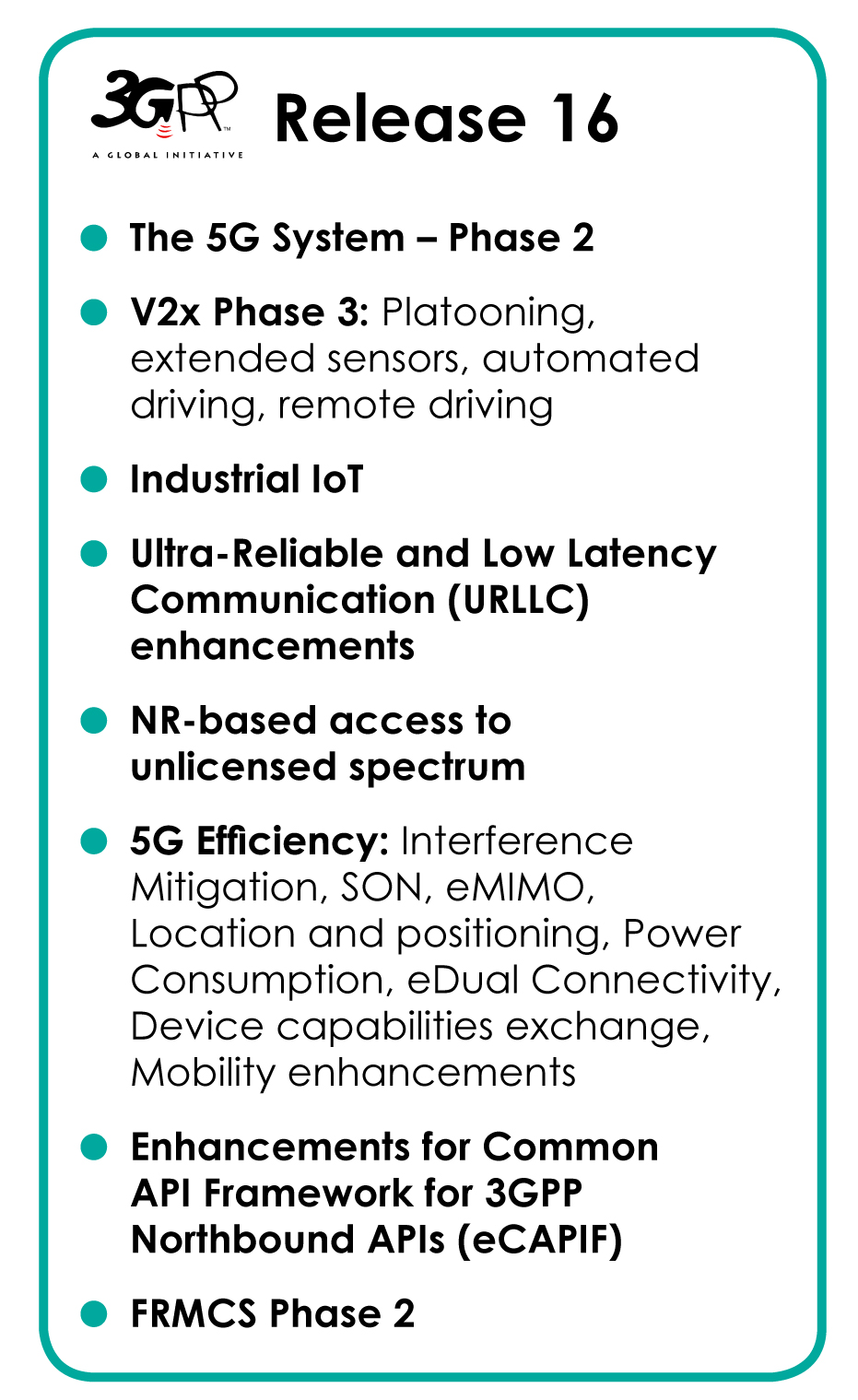 The schedule for Release 17 is to be shifted by three months, such that the freezing of stage 3 will take place in September 2021.  [Release 17 is to include further 5G system enhancements such as 5G wearables and faster network performance.]  The specification freeze for Release 17 ASN.1 and OpenAPI is now scheduled for December 2021.
……………………………………………………………………………………………
The move had been expected after 3GPP announced it would cancel its face-to-face meetings in February and March due to concerns about the spreading coronavirus.
While 3GPP's face-to-face meetings have been canceled through May, the organization has scheduled online meetings to continue its work despite the pandemic and will hopefully be able to keep their specifications on schedule going forward.
However, the impact of 3GPP's Release 16 delay will surely push back the roll-out of true 5G deployments.   It remains to be seen if the much touted but not yet completed Enhancement of Ultra-Reliable (UR) Low Latency Communications (URLLC) in 3GPP Release 16 will be submitted to ITU-R WP5D at their June 2020 meeting for inclusion in the IMT 2020 RIT/SRIT standard.
This author suspects ITU-R WP 5D leaders are looking at how to adjust their meeting plans in light of the global pandemic.  Their next meeting is scheduled for June 23 to July 1, 2020 in Geneva.
Balasz says that "whatever the IMT 2020 schedule, 3GPP is continuously committed to make sure its IMT 2020 submissions will arrive in time and with high specification quality."
………………………………………………………………………………………….
Reference:
https://www.3gpp.org/specifications/releases
…………………………………………………………………………………………..
15 April 2020 Update:
VERY IMPORTANT to note that unless it's delayed till 2021, ITU-R IMT 2020 standard will NOT specify ultra low latency/ultra high reliability cause those capabilities are in 3GPP Rel 16 which won't be frozen till July 3rd when their next meeting ends. ITU-R WP5D meeting ends July 1st.  Hence, it will not be possible for 3GPP to submit 5G portions of Rel 16 till after WP5D's July 1st meeting which will be too late to be included in the 1st version of IMT 2020 scheduled for late November 2020.  The alternative is for WP 5D to delay their IMT 2020 completion schedule at their June-July 2020 meeting so we'll watch that 5D meeting very closely to keep readers informed.
Background on Release 16:
Details of the features and work items under each 3GPP Release are kept in the corresponding, on-line, list of features and study items.
---