SK Telecom has selected Ericsson to deliver a Cloud Packet Core for its 5G network. Ericsson says its Cloud Packet Core (part of the company's Cloud Core portfolio) helps service providers to smoothly migrate to 5G Core (5GC) stand-alone architecture.
Author's Note:
Please see below for more information on 3GPP 5GC which is part of Release 16 and as yet has not been submitted to either ITU-R or ITU-T for IMT 2020 mobile packet core.  There seems to be no independent work on a 5G mobile packet core within ITU, which is evidently waiting anxiously for 3GPP Release 16 to be completed and forwarded to various ITU-R WPs and ITU-T Study Groups.
…………………………………………………………………………………………………….
Ericsson's Cloud Packet Core is at the business end of mobile broadband and IoT networks. It creates value, visibility and control of traffic and applications by determining the optimal quality of a service, then enforcing it through appropriate policy.
Jung Chang-kwan, Vice President and Head of Infra Engineering Group, SK Telecom, says: "By utilizing Ericsson's Cloud Packet Core network solution, which realizes simplified network operations, we will unleash the full potential of new 5G-enabled use cases with greater efficiency."
Jan Karlsson, Senior Vice President and Head of Digital Services, Ericsson, says: "This deal, and the opportunity to work with SK Telecom's Network Functions Virtualization Infrastructure (NFVI), has put us in the ideal position to further strengthen their 5G network. Delivering our Cloud Packet Core solution will positively impact SK Telecom's network operations and will reinforce Ericsson's position as a leader in 5G core."
SK Telecom switched on its commercial 5G network in December 2018 after selecting Ericsson as one of its primary 5G vendors. Previously, Ericsson provided radio access network (RAN) products, including mid-band Massive MIMO.
……………………………………………………………………………………………..
3GPP 5GC (the only specification for a 5G mobile packet core):
The 5GC (5G packet Core), specified in 3GPP TS 23.501, will be part of 3GPP Release 16 which won't be completed till mid 2020 at the earliest. The network evolution from EPC to 5G core plays a central role in creating a powerful network platform that is capable of being exposed and automated for service providers.
5GC has been designed from its inception to be "cloud native", that is inheriting many of the technology solutions used in cloud computing and with virtualization at its core.  Virtualization of network functions enables  5GC to be redesigned and become open and flexible enough
to meet the diversity of service and business requirement in 5G era.
5GC also offers superior network slicing and QoS features. Another important characteristic is the separation of the control plane and user plane that besides adding flexibility in connecting the users also allows an easier way to support a multitude of access technologies, better support for network slicing and edge computing.
5GC proposes a service based architecture  (SBA), which provides unprecedented efficiency and flexibility for the network. SBA is an architectural for building system based on fine-grained, interaction of loosely coupled and autonomous components called services. This architecture model is chosen to take full advantage of the latest virtualization and software technologies.
Service-based architectures have been in use in the software industry to improve the modularity of products. A software product can be broken down into communicating services. With this approach, the developers can mix and match services from different vendors into a single product.
Compared to the previous generation reference point architecture as EPC, the elements of service based architecture are defined to be the NF (network functions), which interconnect with the rest network functions across a single API calling interface and provide the authorized services to them. Network repository functions (NRF) allows every network function to discover the services offered by other network functions. A service is an atomized capability in a 5G network, with the characteristics of high-cohesion, loose-coupling, and independent management from other services. This allows individual services to be updated independently with minimal impact to other services and deployed on demand. A service is managed based on the service framework including service registration, service authorization, and service discovery. It provides a comprehensive and highly automated management mechanism implemented by NRF, which greatly reduces the complexity of network maintenance. A service will interact with other services in a light-weight manner, e.g. API invocation.
Virtualization and cloud computing have resulted in lowering the cost of computing by pooling resources in shared data centers.
5G core networks can be shrunk in size by using virtualization. Varies components of the core network can be run as communicating virtual machines.
Moving the control plane of the 5G core network to a cloud provider lowers the deployment cost.
The 5G core is a mesh of interconnected services as shown in the figure below:
…………………………………………………………………………………………………
Ericsson Addendum:
According to Ericsson's latest Mobility Report, published earlier this week, global 5G subscriptions will exceed 2.6bn within the next six years and by that time Ericsson predicts that 5G will cover 65 percent of the world. It also believes that total mobile subscriptions, including to previous generation networks, will reach 8.9bn from 8bn over the next six years. More than quarter of the global subscriptions will be 5G by 2025 and will account for around 45 percent of worldwide mobile data traffic.
Additionally, Ericsson has also announced its partnership with NVIDIA in order to develop technologies that will enable communication service providers to build virtualized 5G radio access networks, which will boost the introduction of new AI and IoT-based services. The ultimate focus will be to commercialize virtualized RAN technologies to offer radio networks with flexibility and ability to enter the market in a shorter time for new services like VR, AR and gaming.
References:
https://www.ericsson.com/en/press-releases/2019/11/ericssons-cloud-packet-core-to-strengthen-sk-telecoms-5g-network2
https://www.gsma.com/futurenetworks/wp-content/uploads/2018/04/Road-to-5G-Introduction-and-Migration_FINAL.pdf
https://www.itu.int/dms_pub/itu-t/opb/tut/T-TUT-HOME-2018-2-PDF-E.pdf
https://www.3gpp.org/ftp/Specs/archive/23_series/23.501/
https://www.ericsson.com/en/portfolio/digital-services/cloud-core/cloud-packet-core
https://www.sdxcentral.com/articles/news/ericsson-and-verizon-claim-worlds-first-cloud-native-tech-on-live-core/2019/07/
https://medium.com/5g-nr/5g-service-based-architecture-sba-47900b0ded0a
NOTE:  This article is intended as a reference, which is especially important to debunk claims made about current pre-standard 5G deployments which are almost all based on 3GPP Release 15 "5G New Radio (NR)" for the data plane with LTE signaling and LTE mobile packet core (EPC) for Non Stand Alone (NSA) operation.  5G pundits continue to site 3GPP as the standards organization responsible for 5G which is doubly wrong because it's not a standards body and submits its 5G/IMT 2020 proposals to ITU-R WP 5D via the latter organizations member entities.  As we've stated many times before, ITU-R is responsible for the radio standards for IMT 2020, while ITU-T is working on the non-radio aspects of IMT 2020.
………………………………………………………………………………………………………………………………………………………………………………………………………………..
Summary:
3GPP Release 16 is a major release for the project, because it will bring the specification organization's IMT-2020 RIT/SRIT submission (to ITU-R WP 5D) for an initial full 3GPP 5G system to its completion.  Release 16 will be put in a "frozen" state in March 2020 with a targeted  completion date of June 2020.
3GPP work has started on approximately 25 Release 16 studies, which cover a variety of topics: Multimedia Priority Service, Vehicle-to-everything (V2X) application layer services, 5G satellite access, Local Area Network support in 5G, wireless and wireline convergence for 5G, terminal positioning and location, communications in vertical domains and network automation and novel radio techniques. Further items being studied include security, codecs and streaming services, Local Area Network interworking, network slicing and the IoT.
Here are the new features planned for 3GPP Release 16:
Details of the features and work items under each 3GPP Release are kept in the corresponding, on-line, list of features and study items.
Enhancement of Ultra-Reliable (UR) Low Latency Communications (URLLC)
5GS Enhanced support of Vertical and LAN Services
Cellular IoT support and evolution
Advanced V2X support
5G Location and Positioning Services
UE radio capability signalling optimization
Satellite Access in 5G
Enablers for Network Automation Architecture for 5G
Wireless and Wireline Convergence Enhancement
Mission Critical, Public Warning, Railways and Maritime
Streaming and TV
User Identities, Authentication, multi-device
(Network) Slicing
Other cross-TSG Release 16 Features
NR-related Release 16 Features
Release 16 Features impacting both LTE and NR
LTE-related Release 16 Features
From 3GPP's July 18, 2019 Webinar: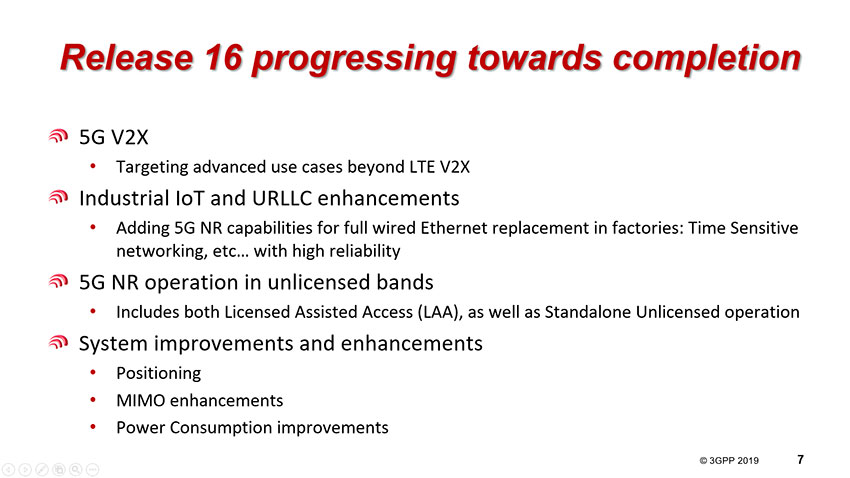 "For the (industry) verticals, there are three distinct pillars that we are focused on: Automotive, Industrial IoT and Operation in unlicensed bands. For 5G based V2X, which builds on the two iterations of the LTE-V2X, we are now adding advanced features – primarily in the area of low latency use cases.
The second focus is industrial IoT and URLLC enhancements. Factory automation, in particular, is a strong pillar for 5G going forward. We are trying to ensure that the radio side covers all of the functions that all the verticals need for factory automation. What this means in practice is that we are trying to make sure 5G NR can fully replace a wired ethernet – currently used – by adding time sensitive networking and high reliability capabilities.
The third pillar is operation in unlicensed bands. We have seen different schemes for generic 5G licensing strategies in Europe and in other parts of the World. We have seen in some countries that certain licensed bands have been allocated for vertical use cases, though that is not the case for a majority of countries. The use of unlicensed bands provides a great opportunity – where licensed spectrum is not an option. We are now focused on not only what we have with LTE, which is the licensed assisted access scheme, but also on standalone unlicensed operation – to be completed in Release 16.
Release 16 also delivers generic system improvements & enhancements, which target Mobile Broadband, but can also be used in vertical deployments – Particularly; positioning, MIMO enhancements and Power consumption improvements."
………………………………………………………………………………………………………………………………………………………………………………………………….
Technical Reports (the result of the study phase) are also being developed on broadening the applicability of 3GPP technology to non-terrestrial radio access (initially satellites, but airborne base stations are also to be considered) and to maritime aspects (intra-ship, ship-to-shore and ship-to-ship). Work also progresses on new PMR functionality for LTE, enhancing the railway-oriented services originally developed using GSM radio technology that is now nearing end of life.
As part of Release 16, Mission Critical (MC) services will be extended to address a wider business sector than the initial rather narrow public security and civil defense services for which they had originally been developed. If the same or similar standards can be used for commercial applications (from taxi dispatching to railway traffic management, and other vertical sector scenarios currently being investigated), this would bring enhanced reliability to those MC services through wider deployment, and reduced deployment costs due to economies of scale – to the benefit of all users.
In December 2018, an adjustment was agreed at TSGs#82 – to allow a 3 month shift in the Functional freeze (of features) and the ASN.1 completion for both Release 15 and Release 16:
IMT-2020 – Final submission
Release 16 will be "5G phase 2" and will be completed in June 2020 (TSGs#88) – See adjustment noted above.
Original schedule:
This Release will meet the ITU IMT-2020 submission requirements and the time-plan as outlined in RP-172101:
Details of the work plan – to meet agreed IMT-2020 submission time plan:
Step 1: From Sep 2017 to Dec 2017, discussions in RAN ITU-R Ad-Hoc
Calibration for self evaluation
Prepare and finalize initial description template information that is to be submitted to ITU-R WP 5D#29.
Step 2: From early 2018 to Sep 2018, targeting "update & self eval" submission in Sep 2018
Performance evaluation against eMBB, mMTC and URLLC requirements and test environments for NR and LTE features.
Update description template and prepare compliance template according to self evaluation results.
Provide description template, compliance template, and self evaluation results based on Rel-15 in Sep 2018.
Step 3: From Sep 2018 to June 2019, targeting "Final" submission in June 2019
Performance evaluation update by taking into account Rel-16 updates in addition to Rel-15
Update description template and compliance template to take into account Rel-16 updates in addition to Rel-15
Provide description template, compliance template, and self evaluation results based on Rel-15 and Rel-16 in June 2019.
Some Background on Release 16
……………………………………………………………………………………………………………………………………………..
References:
https://www.3gpp.org/release-16
https://www.3gpp.org/news-events/2058-ran-rel-16-progress-and-rel-17-potential-work-areas
…………………………………………………………………………………………………………………………………………………………………………………………………….
Illustration of functional elements in 3GPP Releases 15, 16, and (planned) for 17:
---