Verizon and Ericsson proof-of-concept trial of Integrated Access Backhaul (IAB) for 5G mmWave network
Today, Verizon and Ericsson announced the successful test of an alternative wireless solution for fiber backhaul: a battery-powered millimeter wave (mmWave) cell site that can be rapidly deployed for wireless 5G network backhaul, while awaiting permanent fiber or power cabling to be installed.  The technology trialed can also be used for quick cell site deployments (without fiber backhaul) in emergency mobile communications with first responders.
For years, regulatory approvals, permitting, licensing for small cells coupled with long times for physical installation of fiber for cell backhaul builds, have slowed down 4G-LTE deployments. Given the dramatic increase in cell sites (macro and small) required to build out 5G (especially mmWave with its short range), this deployment bottleneck will get a whole lot worse.  Verizon refers to its mobile 5G network as  "5G Ultra Wideband."
……………………………………………………………………………………………….
The Verizon/ Ericsson trial used Integrated Access Backhaul (IAB) technology, which Verizon said last year would be a key tool to expanding its emerging (pre-standard) 5G mobile network.
Verizon IAB uses airlink (aka cellular) connections over mmWave spectrum instead of fiber for part of the wireless signals journey from the user to the (4G or 5G) core of the network. It dynamically allocates a portion of bandwidth for consumers to send data to base stations/small cells and another portion for the cells to connect with the core of the network.
Using mmWave with IAB for both parts of the connection (cell to/from device AND cell to/from 4G-5G core) obviates the immediate need for fiber backhaul.  However, when fiber has been installed and lit, it can replace the portion of the wireless network delivering data to the 4G/5G network core.   That's because the millimeter wave spectrum allocated to wireless backhaul can be reallocated for cell to/from wireless device connections once the fiber backhaul infrastructure is in place.  That simultaneously boosts both device access speeds and network performance.
IAB is a smart use for millimeter wave spectrum, which prior to the 5G era was widely viewed as unusable for consumer devices and instead was used for applications like line of sight, point-to-point high speed Internet access.
"Fiber is the ideal connection between our network facilities," said Bill Stone, Verizon's Vice President of Planning, in a press release. "It carries a ton of data, is reliable, and has a long roadmap ahead as far as technological advancements. It is essential. However, this new IAB technology allows us to deploy 5G service more quickly and then fill in the essential fiber at a later time."
In an email exchange with RCR Wireless, Karen Schulz, a spokesperson for Verizon, provided further insight into Stone's comment regarding the role that IAB technology will ultimately play in Verizon's 5G network.
"We have another phase of trials coming up that will incorporate multi-hops," Schulz told RCR Wireless. "That is our next step leading to commercial deployment."
She added that the plan is to actively use IAB as an "acceleration tool" in Ultra Wideband service deployment within UWB footprints.
"Meaning," she explained, "that it will help us get 5G sites on the air more quickly […] but we do not intend to use the airlink indefinitely. It will help us speed the deployment of cell sites and we will use the airlink for backhaul until we are able to run fiber to the site."
"Ericsson's microwave and fiber mobile transport solutions are an important enabler for 5G services," said Ulf Forssen, Head of Standards & Technology, Development Unit Networks, Ericsson. "This IAB proof of concept demonstrates a complementary solution, enabling faster deployment of the high-quality, high-performance 5G transport needed in a 5G world."
……………………………………………………………………………………………….
New resources for first responders:
Verizon said that the proof-of-concept also demonstrated that mobile cell sites, which often are deployed during emergencies, can be served by IAB:
In addition to bringing new cell sites on air more efficiently, this proof-of-concept trial showed that mobile cell sites can also be connected using IAB. This becomes a critical asset for first responders and public safety agencies who need temporary cell coverage for search and rescue operations, disaster recovery efforts or other emergency situations.  Verizon owns a fleet of mobile cell sites which are regularly deployed for these situations.  However, until recently they have required a fiber connection to carry data, restricting where they can be deployed, or a satellite connection, which are limited and costly.  Now, with IAB technology, coupled with portable generators for power, cell sites can be deployed more rapidly and to a wider range of locations.
"When our first responders need us, we will be there with the resources they need to accomplish their mission critical work," said Stone.  "IAB technology gives us many more options to ensure communications resources are where our first responders need them anytime they call on us."
…………………………………………………………………………………………………….
Author's Note:
IAB is a component of the 3GPP's Release 16, which was frozen on July 3, 2020.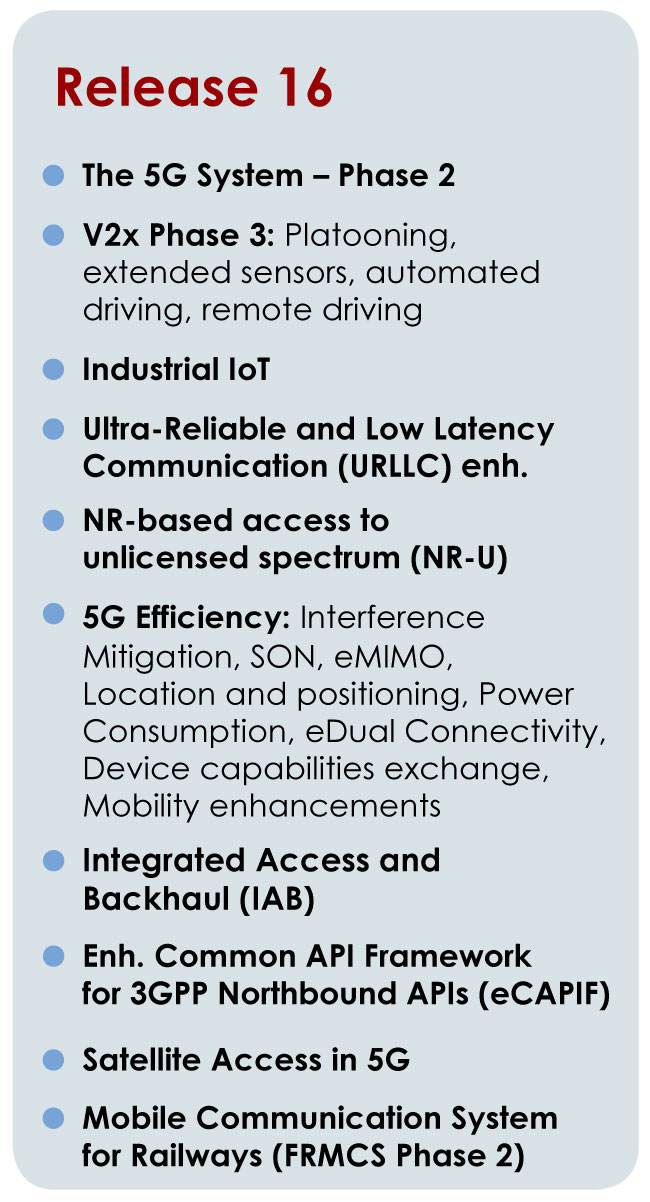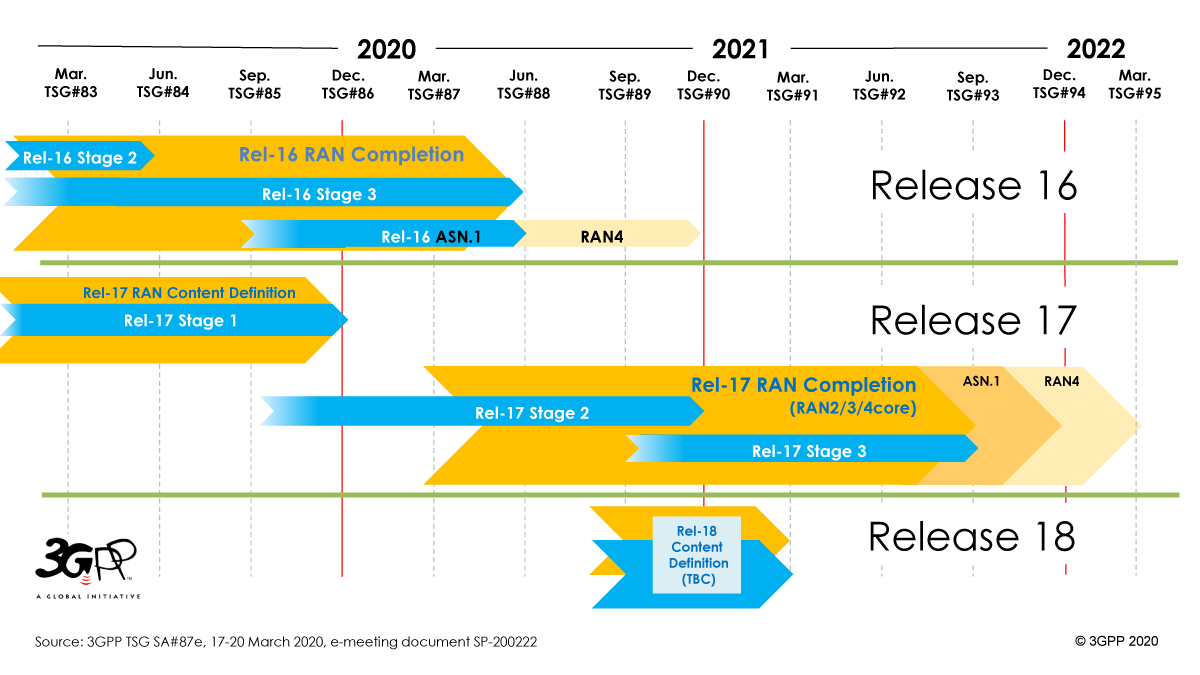 IAB doesn't seek to replace traditional and fiber connections between cell towers, which enable massive quantities of data to be transmitted over networks.  Instead, it enables wireless carriers the ability to set up a completely mobile 5G cell site in an area that doesn't yet have power and/or fiber.
That could give first responders immediate access to 5G's ultra high bandwidth and low latency for emergency drone operations or video conferences, while Verizon or other carriers work with partners and local governments to install permanent wired infrastructure.Verizon notes that while it's still betting heavily — billions of dollars — on fiber, IAB will enable it to launch 5G services faster at specific locations, "then fill in the essential fiber at a later time."
…………………………………………………………………………….
Appendix:  5G mmWave Frequencies:
Based on ITU-R WRC 19 conference recommendations, ITU-R WP5D is revising of Recommendation ITU-R M.1036-6: Frequency arrangements for implementation of the terrestrial component
of International Mobile Telecommunications in the bands identified for IMT in the Radio Regulations.
The new spectrum added will include the following mmWave frequencies, which are likely to be used with the forthcoming IMT 2020.specs standard:
Frequency arrangements in the bands: 24.25-27.5 GHz, 37-43.5 GHz, 45.5-47 GHz. 47.2-48.2 GHz, 66-71 GHz.  Those mmWave frequencies will all use unpaired TDD for duplex operation, i.e. separation of input/output transmissions over the same frequency bands.
References:
https://www.globenewswire.com/news-release/2020/07/07/2058717/0/en/Deploying-the-5G-Ultra-Wideband-Network-just-got-a-little-easier.html
Verizon, Ericsson test IAB as an 'acceleration tool' for 5G deployment
Verizon and Ericsson test instant 5G cell towers for emergencies
---