SVIEF Kai-Fu Lee Keynote: Era of AI, Rise of China, U.S. vs China, etc & All Star Panel Session (?)
Well respected technologist, entrepreneur, writer and AI researcher Kai-Fu Lee, PhD presented a powerful and very incisive keynote speech on September 29th at the SVIEF conference in Santa Clara, CA.  The title of his talk was all encompassing and compelling:  "Era of AI, the Rise of China, and the Future of Work."
Author's Note: I was so impressed with Kai-Fu's talk, I've ordered his latest book, AI Superpowers, which is already on Amazon's best selling book list.
……………………………………………………………………………………………………………………………………………………………………………………………………..
Here are several important highlights of Dr. Lee's SVIEF keynote:
1.    Deep Learning (DL) is the biggest technological improvement in the 60+ year history of artificial intelligence (AI).  DL is a network of highly connected neurons in thousands of layers that can, in a single domain, take a huge amount of data and train to recognize, predict and decide and synthesize at a much higher accuracy than humans.
2.    DL is not human intelligence, it cannot think or cross domains. It has no strategic or creative thinking capabilities. But in a single domain, with a huge amount of data, it is beating humans in almost every task imaginable. For example, AlphaGo (a computer program that plays the board game Go) has beaten Go champions. In addition, we've seen DL used effectively for speech recognition (e.g. Amazon Alexa, Google voice search, Microsoft Cortana, etc.) and facial recognition. There are new beginnings  of DL diagnosis of how to read  MRIs and doing a better job of that than radiologists. 
3.   This amount of improvement is leading to what are four waves of artificial intelligence:
Wave 1: Internet AI started in 1998. The I

nternet has more

data

than any other domain. With so much data, it enables Amazon to predict what you might want to buy. It powers Facebook to predict what you might want to read on-line.   Similarly, all the

American

and

Chinese

companies (Alibaba, Baidu, Tencent, etc) 

,

all

the

great

AI

companies

of

today

are

all

 I

nternet

companies

,

because

they

have

the

most

labeled

data

.

Wave 2: Business AI started in 2004. Take 

banks

,

insurance

companies

,

hospitals –

they

have amassed

 

a

lot

of

data

in

the

past

,

they

viewed

data

as

a

call

center

,

as

a

legal

requirement

to

archive

.

But

now

data

has

become

a

goldmine for them in various ways.

Wave 3: Perception AI started in 2011- the ability to see and hear.  Examples include: 

computer

vision

,

speech

recognition

,

speech

synthesis

,

understanding

 all 

combined

together. I

t

 

also

can

be

viewed

as

digitizing

the

physical

world

.

Wave 4: Autonomous AI (self driving cars, autonomous robots, etc) started in 2015.  In this wave 4, 

AI

becomes

autonomous

in

its

ability

to

move

around

and

manipulate

sort

of

like

having

hands

and

feet

.

 T

hat

 will usher in an era

 of

autonomous

vehicles

and

robotics

.

 A

utonomous

vehicles 

will

bring

about

a

huge

transformation

, especially the dis-incentive to own a car.  With safer autonomous vehicles, the natural next step is humans won't be allowed to drive anymore.
4.    To make AI work, we need the following things:  a lot of data that is tagged within a single domain, a lot of compute power, and some AI experts to work on it.
AI is not perfect — you can't make it do perfectly unsupervised learning. You can't make it learn on very little data. You can't do AI with very little compute power.  
But once you have those in place, AI can be effectively applied.  
5.   U.S. Leads China in Top Researchers, Patents, and AI Talent (and will likely continue to lead in AI research in the near future).
6.    Chinese Miracle of Last 10 Years with fast product/service iteration, intense competition, user acquisition, accelerated growth, high return on investment in a huge market.
7.   In 2018: U.S. and China Have Become Parallel Universes:
US Model: Breakthrough Technologies, Vision-driven, Light, Globalized.
China Model: Fusion + speed, Applications, Result-driven, Heavy, Localized.
8.  Investment in China:   A lot of money and capital investment went into China with smart VCs helping smart entrepreneurs build products and companies. And those products actually are so attractive they brought more Chinese users on the internet. And this loop kept going and going for the last 10 years taking China from 150 million users to about 800 million users by far the largest user base in the world. And this loop has created something that we never thought possible — a system that parallels the Silicon Valley.
9. The only way to succeed in China is to find a business model that is impregnable. In other words, build a business that's uncomfortable.  Chinese companies kept improving going from copying from the U.S. to inspired by us and then leapfrogging the U.S.  For example, WeChat (messaging app) is better than WhatsApp and way better than Twitter.  But even more exciting is the third ladder where Chinese companies are brand new innovation, this Chinese model of building impregnable businesses have reached new heights, so that these brand new companies are being built.
10.   China Advantages over U.S. in AI:
Advantage 1: Chinese Product Innovation has Caught up with U.S.  Pure Chinese Innovations Have Arrived
Advantage 2: Tough Market Begets Tough Entrepreneurs
Advantage 3: China's AI Capital Leads the World.  48% of global AI investments were made in China; 38% in U.S., 13% other countries. SOURCE: CB Insights 2017 Global Artificial Intelligence Investment
Advantage 4: AI Moves into Era of Implementation
Advantage 5: China is the world leader in amount of Data  (like Saudi Arabia is the country with the most oil for export).  Massive Data is Critical for AI Product Success– even more important than algorithms.  AI algorithms are generally shared, and it is up to the speed, execution, and size of the data that determines how companies will benefit from AI implementations.
11.  U.S.  Advantage over China in AI:  Early Adopters, Expert is King  (vs China which is Application Driven and Data is King)
12.  Who's ahead in AI, mobile and Internet:  Dr. Lee thinks that generally U.S. is a little bit ahead today. But China will probably be ahead in four or five years. This is not about research. This is about implementation. 
U.S. will continue to be ahead in research for the next 10 or 15 years, because that lead is very difficult to overcome.
But this is not a zero sum game. U.S. VCs fund U.S. companies that develop products for us customers, whereas Chinese VCs fund Chinese companies who develop products for Chinese customers (domestic market).  The two countries are not going after the same market.  
"When a Chinese company wins, a  U.S. company does not lose.  When a U.S. company wins, a Chinese company does not lose. So I think the sentiment behind the current some of the current rhetoric is not correct. This is truly not a zero sum game. This is merely a keeping score of how far ahead each technology might get. So with China and us both pushing forward AI, I think AI will make a lot more progress than internet and mobile because those only had one engine the U.S. pushing forward. And there are a bunch of other reasons such as the seven cloud giants (Amazon, Google, Facebook, Microsoft, Alibaba, Baidu, Tenent) hiring people, and training people with large amounts of data VCs being devoted to AI."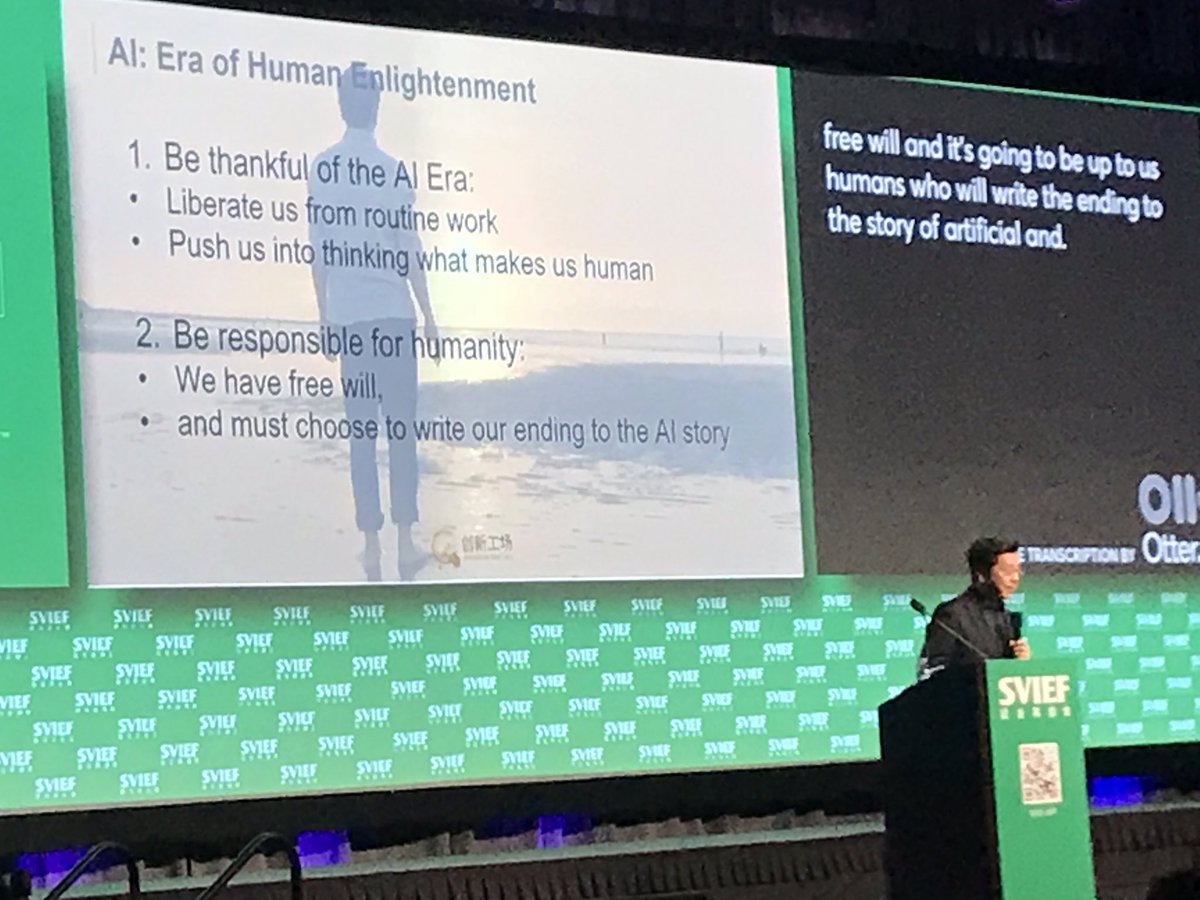 Concluding take-aways:
 Embrace AI – it saves us from repetitive work and pushes us to do what human is called for.
 AI cannot create ideas or thoughts. We are the masters and should be responsible of how to use AI.
 (via Twitter) How U.S. can stay ahead in AI: 1) double AI funding, 2) increase AI professors pay, 3)offer green cards to all AI PhD's.
Closing Quotes:
"So going forward, I think AI is electricity in the next 20 years, there will be huge opportunities and challenges. But I want to take us a moment into (the next) 50 years. When we look back ignore for the moment all these job displacement opportunities, I like to leave you with two thoughts. The first thought is that AI is serendipity. It is here to take away the routine jobs so we can really spend time on what we love and what human beings are on this earth for. And secondly, for those worry about AI causing problems. Just keep in mind AI is just a tool.  It possesses no creativity. We (humans) are the Masters.  We are the ones that have free will. And it's going to be up to us humans to write the ending to the story of artificial intelligence. Thank you."
………………………………………………………………………………………………………………………………………………………………………………………………………….
In a post SVIEF conference email exchange related to AI's use in telecommunications applications, Kai-Fu wrote this author:
"Thanks — this is not my major area of expertise.  But clearly communications in autonomous vehicles, IoT, and 5G, when combined with AI, will be a great combination."
"On China catching up, it will be in technology related to the Internet, Mobile, and AI."
………………………………………………………………………………………………………………………………………………………………………………………………………….
SVIEF All Star Panel:
Kai-Fu Lee: "I feel a sense of social responsibility to tell people that as AI advances, job displacement is a serious issue. And I think I thought very hard about various solutions. I looked at universal basic income, I don't think that's going to work. I don't really know what will work. But I do think generally, it's in the direction of creating more empathetic jobs, because there should be a large enough pool of them, if only we would care about them, pay more for them. And that can hopefully lead us to a good ending."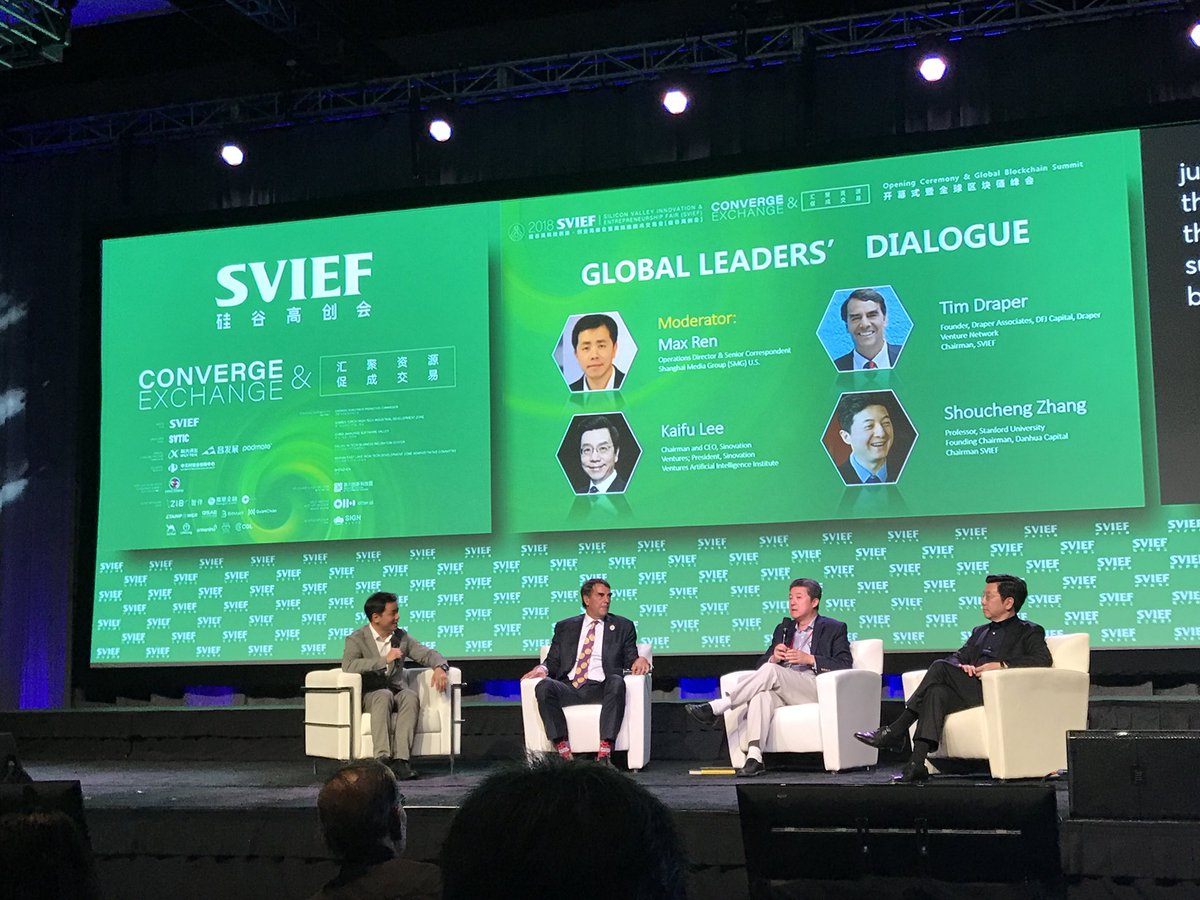 SVIEF All-star panel with VC Tim Draper, AI Rock Star Kai-Fu Lee, and Stanford Physics Prof. Shoucheng Zhang
…………………………………………………………………………………………………………………………………………………………………………
Author's Note:
Due to time and space constraints the above panel session may be summarized in a follow on article, provided there is sufficient reader interest.
Please email me at: alan.weiss[email protected] if you'd like me to write such an article.
References:
Transcript of Kai Fu Lee's keynote (via speech recognition):
https://otter.ai/shared/conversation/5342b3f76e67477c958742982795ffec
https://www.nytimes.com/2018/09/22/opinion/sunday/ai-china-united-states.html
---