CenturyLink Q2-2020 Earnings Beat; Fiber and Low Latency are the Foundation for Emerging Applications
CenturyLink Inc. on Wednesday reported second-quarter net income of $377 million which beat analysts expectations. The global communications and IT services company posted revenue of $5.19 billion in the period compared to $5.375 billion for the second quarter 2019.
The company's communications services include local and long-distance voice, broadband, Multi-Protocol Label Switching (MPLS), private line (including special access), Ethernet, hosting (including cloud hosting and managed hosting), data integration, video, network, public access, Voice over Internet Protocol (VoIP), information technology, and other ancillary services.  CenturyLink also serves global enterprise customers across North America, Latin America, EMEA, and Asia Pacific.
"We had a solid quarter of both revenue and sales results, highlighted by the performance in Enterprise, iGAM and consumer broadband," said Jeff Storey, president and CEO of CenturyLink. "We have delivered for our customers in record time, and our agility positions us well to combine our network infrastructure with our cloud, security, edge and collaboration services into a platform that meets our customers' data and application needs. I'm proud of the CenturyLink team's response to COVID-19 and how we have worked with our customers, communities and each other, both in the current crisis and for the long-term."
During CenturyLink's Q2 2020 earnings call  Wednesday afternoon, Storey said:
"The economic effects of the pandemic created uncertainty for our customers, partners, the company, and the market in general. It's also highlighted the absolutely essential and durable nature of CenturyLink's services and infrastructure in an all-digital world.  We own the critical infrastructure — everything from the extended fiber network, to the deep interconnection relationships required to deliver customers scalable, secure network that is easily and flexibly consumed."

"Our customers see that using next generation technologies enabled them to adapt their business models more rapidly and are working to take advantage of tools like artificial intelligence and machine learning across distributed compute resources and high performance networking. This translates into greater demand for transport services, hybrid WAN connectivity, network based security, edge computing and managed services as enterprises adjust to a more data dependent and distributed operating environment. This new normal has also increased consumers' need for digital services and the demand for data shows no signs of slowing."

"As our customers moved beyond the first wave of crisis response, we've seen a marked change in their engagement and increased urgency in their dialog around longer-term digital transformation of their work environment."
………………………………………………………………………………………………………………………………………………
CenturyLink has been pleasantly surprised with the demand for broadband it's seeing from the consumer segment right now as many employees continue to work from home as a result of the pandemic.  Indeed, 75% of CenturyLink employees are now working from home, Storey said.
Enterprise sales orders grew year-over-year for dynamic, fiber-based services as customers started "buying again" in the second fiscal quarter, Storey said.  Enterprise is a market segment that includes CenturyLink's high-bandwidth data services, managed services and SD-WAN services. Revenues increased by about 1 percent to $1.43 billion during the carrier's fiscal second quarter compared to $1.41 billion in Q2-2019.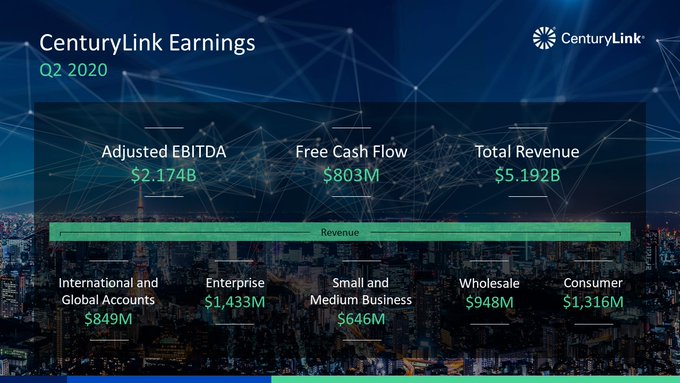 Small and medium business (SMB) sales fell 6.1 percent during the quarter to $646 million compared to $688 million in Q2 2019.  CEO Storey said that CenturyLink will be actively working to grow its SMB customer base in future quarters. The carrier hopes to attract more SMB customers in the same way it's gained traction with enterprises, through its fiber-based network offerings, together with services such as embedded security, edge computing, IP enablement and managed services, Storey said.
In addition to COVID-19, the SMB segment continued to be plagued by legacy voice declines, said CenturyLink's CFO Neel Dev. "We are monitoring [this segment] and working closely with our customers," he said. "Over the long-term, we believe SMB represents a growth opportunity for us … it's a large addressable market."
During the quarter, CenturyLink added 42,000 1-gig and above customers, a record since the company began expanding their fiber to the home efforts.
CenturyLink's Global Network Statistics:
450K     Fiber Route Miles
170K+    On-Net Buildings
27M       Technical Space (square feet)
2,200+  Public Data Centers On-Net
100+      Edge Compute Nodes (Enabling > 98% of U.S. Enterprises within latency of 5ms)
–>Most highly connected Internet peering backbone in the world
…………………………………………………………………………………………………………….
Two distinct business models with an all-digital operating mindset:
1.  Enterprise:
 Growth-oriented, fiber-based Enterprise services
 Fiber is the enabler for all emerging communications technologies
 Highly scalable, global network
 Services are enhanced by cloud, security, WAN and edge initiatives
2. Consumer and Small Business:
Coupling Century Link's extensive footprint with greater digital engagement
Expand efforts to grow Small Business group of customers
Investing in growth with fiber-based, high-speed broadband
Fiber and Low Latency are the Foundation for Emerging Applications
• IoT
• Smart manufacturing and retail
• Personalized healthcare and finance
• Robotics
• AI/Big Data
• Augmented Reality/Virtual Reality
• Real-time video analytics
• 5G enablement (fiber backhaul for wireless telco partners)
More from CEO Storey:
"This agility is key to our strategy and is underpinned by our ongoing transformation from a telecom service provider to a leading technology company providing network and network supported technology solutions to today's digital market.

We all know how well positioned our infrastructure is, that our value proposition is more than having great infrastructure. I frequently talk to employees about how our relationships with customers must be rooted in CenturyLink's capabilities to drive their success, rather than the mindset of speeds and feeds and circuits of a typical telecom company.

As a technology company, we combine our deep infrastructure strength with a digital operating environment that enables our customers to turn their data and connectivity into a strategic advantage.

We integrate network, compute and operational technologies with managed services to simplify their business operation. Capabilities like orchestration services help them control the thousands of widely distributed devices and digital assets they now have to manage. The COVID-19 crisis didn't create this need, but it has certainly amplified and accelerated it. And you can see this in our second quarter results with improving revenue trend led by revenue growth in enterprise, solid performance in iGAM on a constant currency basis and growth in consumer broadband."
CenturyLink says they are well-positioned to capture expanding addressable market opportunities. Some examples are: Manufacturing, Gaming, and Retail.  Storey highlighted the company's change from wireline telecom and and IT services to a digital technologies solutions provider:
"This is the CenturyLink of the future, a company that delivers digital technology solutions to our customers differentiated through our world-class fiber infrastructure. If you consider the increasing demand across all customer verticals to move massive datasets as quickly as possible to widely distributed processing resources, our infrastructure is very well aligned to meet this shift in requirement.
By combining just 100 or so of our existing technical spaces with our deeply distributed fiber network, we can serve around 95% of US enterprise locations within five milliseconds of latency. Further, as operators of one of the largest and most interconnected networks in the world, we enable our customers to efficiently and effectively collect, process and move their data seamlessly across public clouds, private clouds, public data centers, company-owned data centers and the various work locations of the enterprise whether in employee's homes or in the office. Now I see examples of this in our business every day."
---