T-Mobile Announces "World's 1st Nationwide Standalone 5G Network" (without a standard)
T-Mobile USA claims they are the first wireless network operator in the world to launch a commercial nationwide standalone 5G network (5G SA).  The "Un-carrier" is also expanding 5G coverage by 30 percent, now covering nearly 250 million people in more than 7,500 cities and towns across 1.3 million square miles.
"Since Sprint became part of T-Mobile, we've been rapidly combining networks for a supercharged Un-carrier while expanding our nationwide 5G footprint, and today we take a massive step into the future with standalone 5G architecture," said Neville Ray, President of Technology at T-Mobile. "This is where it gets interesting, opening the door for massive innovation in this country — and while the other guys continue to play catch up, we'll keep growing the world's most advanced 5G network."
IEEE Techblog readers know that all previously deployed (pre-standard) "5G" networks focused on delivering new 5G radio (3GPP Rel 15 5G NR) in the data plane while leveraging existing LTE core networks, management and signaling in the control plane.  With a new 5G Core network, T-Mobile engineers have already seen up to a 40% improvement in latency during testing. T-Mo claims:
"This is just the beginning of what can be done with Standalone 5G.  When coupled with core network slicing in the future, 5G SA will lead to an environment where transformative applications are made possible — things like connected self-driving vehicles, supercharged IoT, real-time translation … and things we haven't even dreamed of yet."
In the near-term, 5G SA enables T-Mobile US to unleash its entire 600 MHz footprint for 5G. With non-standalone network architecture (NSA), 600 MHz 5G is combined with mid-band LTE to access the core network, but without SA the 5G signal only goes as far as mid-band LTE. With today's launch, 600 MHz 5G can go beyond the mid-band signal, covering hundreds of square miles from a single tower and going deeper into buildings than before.
To make the world's first nationwide commercial SA 5G network a reality, T-Mobile partnered closely with Cisco and Nokia to build its 5G core, and Ericsson and Nokia for state-of-the-art 5G radio infrastructure.
OnePlus, Qualcomm Technologies and Samsung have helped the Un-carrier ensure existing 5G endpoint devices can access 5G SA with a software update, based on compatibility. The 5G SA software update is required to activate the 5G SA functionality. For example, the Samsung Galaxy S20+ 5G requires a software download (available August 4, 2020) to enable 5G SA operation.
For more information about T-Mobile's 5G vision, visit: www.t-mobile.com/5g. To see all the places you'll get T-Mobile's current 5G down to a neighborhood level, check out the map here: www.t-mobile.com/coverage/5g-coverage-map.
https://www.businesswire.com/news/home/20200804005636/en/T-Mobile-Launches-World%E2%80%99s-Nationwide-Standalone-5G-Network/
……………………………………………………………………………………………………………………………………
Comment and Analysis:  Specs for 5G Core (there is no standard)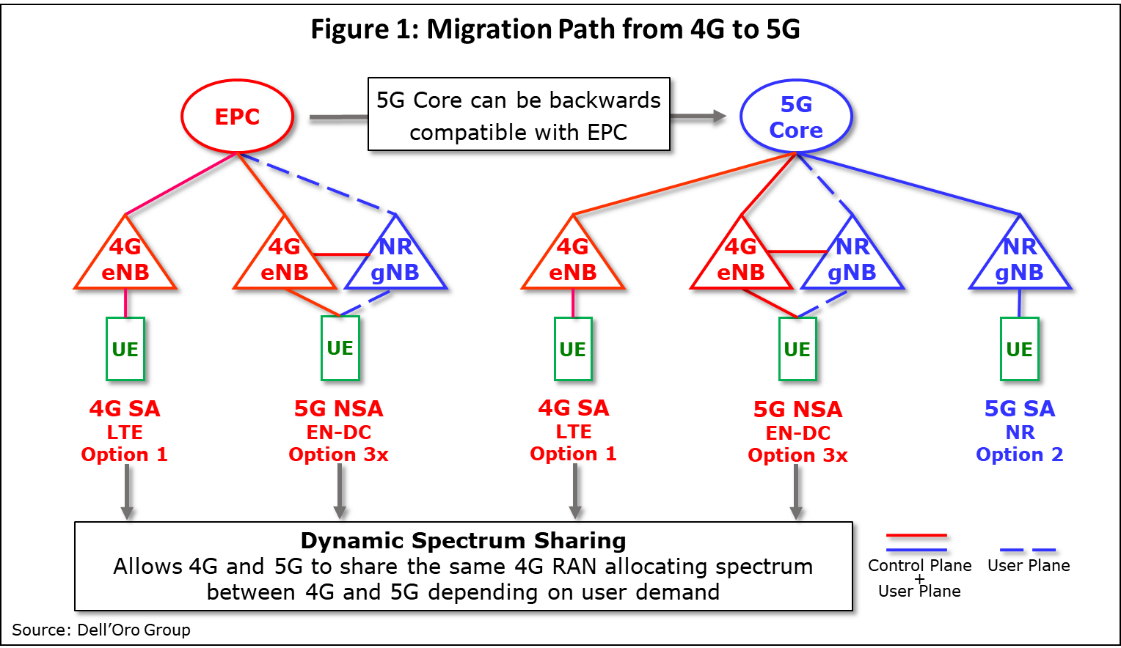 T-Mo's launch of standalone 5G is noteworthy considering there are no standards for 5G Core from any SDO!  ITU-T IMT 2020 non radio aspects SG's aren't even working on it!
Yeah, we know about 3GPP Rel 16 5G Core/Architecture specs:
TS 23.501 5G Systems Architecture, with annexes which describe 5G core deployment scenarios
TS 23.502 [3] contains the stage 2 procedures and flows for 5G System
TS 23.503 [45] contains the stage 2 Policy Control and Charging architecture for 5G System
Collectively, all three of the above referenced 3GPP Rel 16 5G Systems Architecture documents do not specify the detailed mechanisms, protocols and procedures to implement a 5G core network.
For example, there are many software choices for implementing a "cloud native" 5G Core: containers, virtualized network functions, kubernetes, micro-services. Each Network Function (NF) offers one or more services to other NFs via Application Programming Interfaces (APIs).  And there is no standard for the APIs associated with a given NF!
The only 5G Core implementation spec we know of is from GSMA.  It's titled: "5G Implementation Guidelines: SA Option 2."  That document provides a checklist for operators that are planning to launch 5G networks in SA (Standalone) Option 2 configuration, technological, spectrum and regulatory considerations in the deployment. The current version of the document currently provides detailed guidelines for implementation of 5G using Option 2, reflecting the initial launch strategy being adopted by multiple operators. There is an implementation guideline for NSA Option 3 already available.
However, as described in "GSMA Operator Requirements for 5G Core Connectivity Options" there is a need for the industry ecosystem to support all of the 5G core connectivity options (namely Option 4, Option 5 and Option 7). As a result, further guidelines for all 5G deployment options will be provided in the future.
GSMA says "5G Stand Alone to Become Reality":
"The deployment of fully virtualized networks using 5G Stand Alone Cores, thereby facilitating Edge Computing and Network Slicing, will enable enterprises and governments to reap the many benefits from high throughput, ultra-low latency and IoT to improve productivity and enhance services to their customers," said Alex Sinclair, Chief Technology Officer, GSMA.
………………………………………………………………………………………………………………..
Other Voices on 5G Core Deployments:
1.  From Rakuten CTO Tareq Amin via email to this author:
– Containerization/Cloud native 5G Core from Rakuten-NEC:
3GPP specification requires cloud native architecture as the general concept like distributed, stateless, and scalable. However, an explicit reference model is out of scope for 3GPP specification (TS 23.501). Therefore NEC 5GC cloud native architecture is based on 3GPP "openness" concept as well as ETSI NFV treats "container" and "cloud native," which NEC is also actively investigating to apply its product.
2.   Alex Quach, VP of Intel's Data Platforms Group, said most operators around the world are still leveraging a 4G core network. "The way different service providers implement their 5G core is going to vary," said Quach. "Every service provider has unique circumstances. The transition to a new 5G core is going to be different for every operator." 
3. 
Dell'Oro Group
:  "Some SPs will operate
multiple 5G Cores
dedicated to consumers, enterprise, public safety, and Internet of Things (IoT). They believe that dedicated 5G Core networks will be able to deliver new agile business solutions at a quicker pace for their respective user bases and more efficient network management."
4.  Asked if SK Telecom has now completed its 5G Standalone core network, the South Korean carrier was vague in an email reply to FierceWireless. "To commercialize standalone 5G service in Korea, we are currently making diverse R&D efforts including conducting tests in both lab and commercial environment. Our latest achievements include the world's first standalone (SA) 5G data session on our multi-vendor commercial 5G network.
https://www.fiercewireless.com/operators/sk-telecom-trials-intel-chips-for-5g-standalone-core-network
……………………………………………………………………………………………………………………………
Other References:
https://techblog.comsoc.org/2020/07/21/t-mobile-us-5g-sa-core-network-to-be-deployed-3q-2020-cites-5g-coverage-advantage/
https://www.gsma.com/futurenetworks/resources/5g-implementation-guidelines-sa-option-2-2/
https://www.gsma.com/futurenetworks/wp-content/uploads/2020/06/5G-SA-Option-2-ImplementationGuideline-v1.3.pdf
3GPP Rel 16 5G Core/Architecture specs: 
TS 23.501 5G Systems Architecture, with annexes which describe 5G core deployment scenarios:
https://www.3gpp.org/ftp/Specs/archive/23_series/23.501/  (Latest version is 3 Aug 2020)
TS 23.502 [3] contains the stage 2 procedures and flows for 5G System
https://www.3gpp.org/ftp/Specs/archive/23_series/23.502/   (Latest version is 6 Aug 2020)
TS 23.503 [45] contains the stage 2 Policy Control and Charging architecture for 5G System
https://www.3gpp.org/ftp/Specs/archive/23_series/23.503/   (Latest version is 3 Aug 2020)
---