AT&T Provides Update on Fiber Rollouts, 5G Expansion, and Financial Outlook
Here are the highlights of AT&T Investor Day Announcements:
3 million new fiber locations:
AT&T plans to deploy fiber-to-the-premises (FTTP) to another 3 million-plus residential and business locations across more than 90 metro areas in 2021, and is already sizing up plans to push that to an additional 4 million locations in 2022, Jeff McElfresh, CEO of AT&T Communications, said today during the company's investor day event.
"The margin economics are attractive.  These areas are adjacent to our current footprint, driving cost efficiencies in our build as well as our marketing and distribution efforts."
McElfresh expects its fiber subscriber volumes increase in the second half of the year after the initial buildouts, but noted that he likes what AT&T is seeing in the early part of 2021. The company noted that about 70% of its gross broadband adds in fiber buildout areas are new AT&T customers.
"And if we keep up with that pace, our vision would be to have over half of our portfolio, or 50% of our network, covered by that fiber asset.  As our integrated fiber plan improves the yield performance on that fiber it will further give us conviction on continuing that investment in the coming years."
AT&T is also looking to broaden its reach of fiber amid rising data demand and network usage that has occurred during the pandemic, and isn't expected to stop any time soon.  That's shown in the graph's below: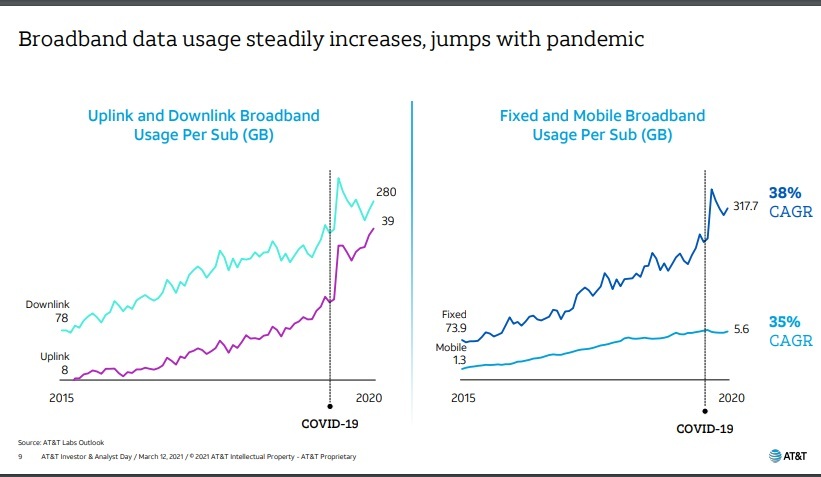 References:
https://www.lightreading.com/opticalip/fttx/atandt-to-plant-fiber-in-3m-locations-this-year-sizes-up-4m-more-in-2022/d/d-id/768057?
………………………………………………………………………………………………………………………………….
AT&T's 5G Strategy:
AT&T's 5G network now covers 230M Americans in 14,000 cities and towns and AT&T 5G+ is now available in parts of 38 cities in the U.S. 
Note: AT&T may temporarily slow data speeds if the network is busy.
"Connectivity is at the heart of everything we do – 140 years and counting. From our fiber network backbone to the layers of wireless spectrum technology, we provide 5G network coverage that delivers the speeds, security and lower latency connections that customers and businesses need," said Jeff McElfresh, CEO – AT&T Communications. "Over the past five years, AT&T has invested more capital in the U.S. than any other public company."
Here is what the company said about its 5G Strategy:
AT&T has planned a balanced approach to 5G. Our strategy of deploying 5G in both sub-6 (5G) and mmWave (5G+) spectrum bands provides a great mix of speeds, latency and coverage for consumers and businesses. We rolled out nationwide 5G that now covers 230 million people, and offer 5G+ providing ultra-fast speeds to high-density areas where faster speeds can have huge impacts for our customers. So far, AT&T has deployed 5G+ nodes in parts of 38 cities across the U.S.

AT&T 5G is opening up some impressive opportunities for businesses and consumers and mid-band and mobile edge computing will help us go even further. There is an emerging multi-sided business model across 5G, edge computing and a variety of use cases from healthcare to gaming.

Our mobile edge computing plus 5G network will help satisfy the need for ultra-responsive networks and open up new possibilities for consumers and businesses. With our investments, we will take advantage of new technologies like spatial computing to enable applications across industries from manufacturing automation to watching immersive sports.
Reference: https://about.att.com/story/2021/5g_strategy.html
…………………………………………………………………………………………………………………………………
C-band spectrum deployment to begin in 2021:
AT&T acquired 80 MHz of C-band spectrum in the FCC's Spectrum Auction 107. The company plans to begin deploying the first 40 MHz of this spectrum by the end of 2021.
AT&T expects to spend $6-8 billion in capex deploying C-band spectrum, with the vast majority of the spend occurring from 2022 to 2024. Expected C-band deployment costs are already included in the company's 2021 capex guidance and in its leverage ratio target for 2024.
AT&T expects to deliver 5G services over its new C-band spectrum licenses to 70 to 75 million people in 2022 and 100 million people in "early" 2023.

Funding C-band spectrum: AT&T's investment in C-band spectrum via Auction 107 totals $27.4 billion, including expected payments of $23 billion in 2021.
To meet this commitment and other near-term priorities, in 2021 the company expects to have access to cash totaling at least $30 billion, including cash on hand at the end of 2020 of $9.7 billion, commercial paper issued in January 2021 of $6.1 billion and financing via a term loan credit agreement of $14.7 billion.
Jeff McElfresh, CEO of AT&T Communications, explained the operator's focus on both 5G and fiber: "Our value proposition is to serve customers how they want to be served with enough bandwidth and capacity and speed, and we'll let the technology service architecture meet that demand or that need."
"When you get up into the midband segment of spectrum, while it offers us really wide bandwidth for speed and capacity, its coverage characteristics don't penetrate [buildings and other locations] as effectively as the lowband does," he said. "And so as we design our network and our offers in the market, you will see us densify our wireless network on the top of our investments in fiber."
–>Yet McElfresh didn't really address how AT&T Communications would overcome those challenges.
References:
https://about.att.com/story/2021/att_analyst_day.html
https://www.lightreading.com/opticalip/atandt-serves-up-5g-plans-with-healthy-dose-of-pragmatism/d/d-id/768059?
………………………………………………………………………………………………………………………………….
Financial Targets and Guidance:
End-of-year 2021 debt ratio target of 3.0x. The company expects to end 2021 with a net debt-to-adjusted EBITDA ratio of about 3.0x,3 reflecting an anticipated increase in net debt of about $6 billion to fund the C-band spectrum purchase.

2024 debt ratio of 2.5x or lower. During 2024, AT&T expects to reach a net debt-to-adjusted EBITDA ratio of 2.5x or lower.3 To achieve this target, the company expects to use all cash flows after total dividends to pay down debt and will continue to look for opportunities to monetize non-strategic assets. The company also does not plan to repurchase shares during this period.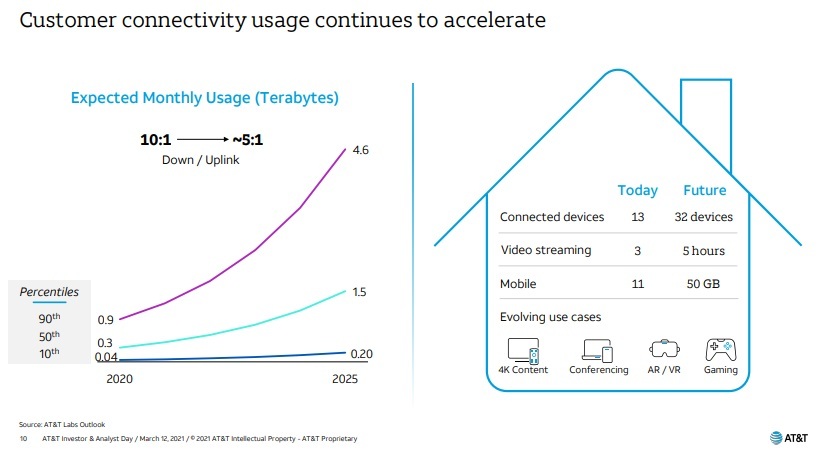 2021 guidance unchanged. AT&T's 2021 financial guidance, announced in January 2021, is unchanged on a comparative basis. For the full year, the company continues to expect:

Consolidated revenue growth in the 1% range
Adjusted EPS to be stable with 20204,5
Gross capital investment6 in the $21 billion range, with capital expenditures in the $18 billion range
2021 free cash flow7 in the $26 billion range, with a full-year total dividend payout ratio in the high 50's% range
References:
https://about.att.com/story/2021/att_analyst_day.html
---