Interview of Alexandre Fonseca, CEO of Altice Portugal by Chris Kelly of Total Telecom
Portugal is one of the most ambitious nations in Europe with regards to FTTH penetration targets. How are you progressing with this and what challenges are you facing?
Due to the work developed by Altice Portugal in the last years, Portugal is today an international case study with proven experience in several countries, such as USA, France, Russia, New Zealand, India, the UK or Brazil, regarding FTTH projects. Altice Portugal presents one of the best and largest next generation network infrastructures, reaching 4.8 million of households in Optical Fiber, moving closer to the 2020 target of 5.3 million. This brings Portugal as one of the first countries in Europe to reach nearly 100% of the population. We deployed FTTH throughout the country, both in urban and rural areas, boosting the economic development and digital inclusion.
Despite the significant investment performed, it is important to underline that Portugal still awaits for a 5G Roadmap, regarding the availability of frequencies and licenses in order to launch 5G commercial networks. The country needs a clear strategy and vision for 5G, to continue to take the lead, as in previous technology generations of telecommunications.
Does Europe need to agree a single unified switch off date for its existing copper networks?
The optical fiber infrastructure is more robust and more reliable in technological terms, being more immune to adverse weather conditions, thefts or vandalism, with a much lower failure rate than the copper networks and, consequently having better operational responsiveness, besides the significantly better performance it brings to Services.
The replacement of copper by optical fiber, being a natural evolution both for technological and business reasons, depends on each country´s dynamics, not being determinant the existence of a single date for this to happen. However, this change is essential for Portugal to remain at the forefront of Europe and is also sustained by the fact that copper networks are obsolete and unable to support new innovative services. Optical fiber is undoubtedly the technology that makes it possible to offer a set of new future proof services and features that copper no longer supports. Altice Portugal has started a pilot project in parishes of six Portuguese municipalities that were 100% covered by fiber. The project contributes to digital inclusion growth, broadening access to advanced services, promoting economic development and modernization and of course, copper decommissioning.
With the emergence of new technologies, what scope is there for delivering 10Gbps services?
10Gbps services will help us build the ultra-connected future we all require. The predicted increase in number of devices and data volumes requires intelligent networks with a new level of speed and capacity. Homes with 50-100 connected devices will drive unprecedented demand. Now, life-changing technologies for connected health, augmented and virtual reality, will deliver incredible experiences and require significant speed, low latency and high capacity. 10Gbs services are becoming more crucial for the enterprise market, namely for data center access, data center interconnection and trunk circuits to collect high bandwidth traffic from data, video & voice under virtual private networks.
The launch of new technologies is not a goal in itself – what really matters is the experience provided by services and the added value for customers. That's the world we are building, one in which everything is connected everywhere.
What role will fibre play in underpinning 5G mobile network rollout in Portugal?
5G technology is not simply about faster internet connections, it will bring huge changes in network architecture and services. It will enable a step change of ultrafast broadband connections, boosted by low latency, ultra-reliable communications, massive machine-type communications and slicing capabilities. The major characteristics introduced by 5G can be summarized in the Throughput, Latency and Density of the connections.
Fibre optics will be a key enabler of 5G, especially as a backhauling technology, once it provides the extremely high speeds, capacity and low latency required to connect each 5G station. FTTH rollout is a key differentiator for providing nationwide 5G coverage and Altice Portugal is ready and prepared for 5G rollout, with over 95% of its mobile stations already connected through fiber. Besides the FTTH deployment, Altice Portugal performed the first 5G live demonstration in a commercial network environment with pre-commercial terminals in July 2018 and the first live television broadcast in Portugal using the 5G network in real environment in June 2019.
How much of a game changer is 5G going to be in regard to IoT uptake?
5G will have a fundamental role boosting the era of smart connectivity, capable of taking advantage of unreachable response times with today's technologies, to grant new scenarios of digital interactivity on multiple devices. 5G will reinforce applications for B2B, B2C and B2B2C markets, especially in areas as IoT, or IIoT, industrial automation and critical services, especially in Healthcare, Smart Grids, Smart cities, Industry 4.0 or Autonomous Vehicles, being a relevant factor in the development of the economy of each country and the world in general.
Altice Portugal has been exploring, for a long time, the opportunities related to IoT. In 2018 we opened the Golabs.IoT, a live technology Lab that generates synergies between developers, universities, startups and industry players.
Altice Labs, our R&D unit, also has projects in 5G and IoT landscape, with several national and international institutions, including Portuguese municipalities, such as the city of Aveiro, with 5G being available for the development of early adoption services for cities or citizens, on an open community enviroment.
What predictions do you have for the industry over the next 12-18 months?
Companies and businesses are undergoing a very important digital transformation process…the telecommunications sector is amongst the ones suffering the most, but also well positioned to have a leading role on this transformation.
We will surely see a transition´s process from automation to true digitalization. Digitalization has accelerated information production and distribution, innovation and process disruption, together with the integration of the physical and virtual worlds and the use of real time data. All this has a huge impact on organizational structures, business models, logistics operations and products and services themselves.
But this is not just a business-level transformation. This represents a social transformation, with new ways for people to relate themselves, to learn, to work and providing all equal access to technologies.
The process of digital transformation and technological development requires us to always innovate and our effort and commitment must be dedicated to always bring more and better services to the Portuguese.
We believe that the Smart Living concept will bring forward a set of new and combined technologies, for personal and business usage that will improve our live, generate the opportunity to save time and therefore improving our work life balance. Technology will continue to improve people's life's and business productivity, providing quality time to individuals, families and communities, turning content and experience the most relevant killers Apps in this new technology generation.
…………………………………………………………………………………………………………………………………………………………………………
Backgrounder:
Altice Portugal is the largest telecommunications service provider in Portugal. Since June 2, 2015, the company is a wholly owned subsidiary of Altice Group, a multinational cable and telecommunications company with a presence in France, Israel, Belgium, Luxembourg, Portugal, French West Indies/Indian Ocean Area, the Dominican Republic ("Overseas Territories"), Switzerland, and the United States. Its assets in Portugal were sold to Altice in 2015 per request of, Oi SA,[4] to reduce debt. The African assets were mostly sold for the same reason. Portugal Telecom, SGPS SA was split in separate companies: PT Portugal (now Altice Portugal) and Pharol (formerly PT SGPS), which owns a 27,5% stake in Oi.
The company owns MEO, the largest landline operator in Portugal. Its operating brands include MEO, a quadruple play service provider and SAPO, an ISP and producer of web content. Portugal Telecom also owns Altice Labs (formerly known as PT Inovação), an IT services and research and development company; PT Contact, focused in the business of managing contact centers.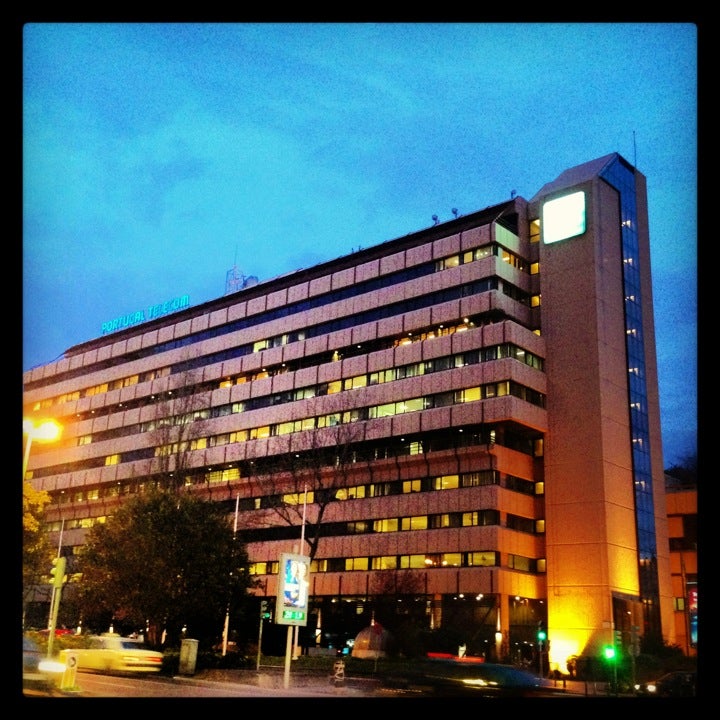 Altice Portugal Building in São Jorge de Arroios
Reference:
Nokia and Etisalat (UAE) report the completion of a multi-terabit-per-second, single-carrier data transmission over an operator-deployed fiber network in a field trial.  Nokia said in a press release that a terabit-per-second is enough bandwidth to download the entire "Game of Thrones" video series in HD in under two seconds.
Using Etisalat's wavelength division multiplexing network, the companies were able to reach a transmission speed of 50.8 terabits per second over 93 kilometers of optical fiber.
Nokia said the trial successfully transmitted a record 50.8 terabits per second using multiple wavelengths, each with a net information rate of 1.3 terabits per second, over a 93-kilometer fiber route of Etisalat's wavelength division multiplexing (WDM) network.
The Nokia field trial showed that Etisalat's existing network could support the higher optical wavelength bit rates that will be required to support high-bandwidth services such as 5G extreme mobile broadband, fiber-to-the-home (FTTH) and data center interconnect (DCI) cloud services.
Here are the key points:
Trial is the world's first terabit-per-second, single-carrier data transmission over an operator deployed fiber network.
New transmission capacity record comes as Etisalat invests in core network infrastructure in anticipation of a new generation of high-bandwidth services.
Results move Nokia Bell Labs' experimental lab records of terabit-per-second single-carrier transmission to a deployed operator network.
In addition to the speeds, higher bit rates per wavelength enable power and space savings, improved network simplicity, as well as increased spectral efficiency and capacity. It also enables reduced cost per bit compared to optical networks composed of lower rate channels, according to Nokia.
Using a single optical carrier operating at 100 Gigabaud, the terabit wavelengths tapped into Nokia Bell Labs' probabilistic constellation shaping (PCS) to intelligently shape the signal to achieve maximum capacity for the specific fiber route. Nokia said its Photonic Service Engine 3 was the first coherent digital signal processor to implement PCS.
Esmaeel Alhammadi, Senior Vice President, Network Development at Etisalat, said:
"We are pleased to have partnered with Nokia Bell Labs to demonstrate that our optical network is capable of transporting a terabit per second over a single wavelength, and a total per-fibre capacity of over 50 terabits-per-second.  Increasing network capacity helps us to provide bandwidth-hungry services such as 5G extreme mobile broadband, fibre-to-the-home and DCI for enterprises."
Sam Bucci, Head of Optical Networking at Nokia, said:
"The introduction of 5G will require a network that can support dramatic increases in bandwidth in a dynamic fashion. This ground-breaking trial with Etisalat is testimony to Nokia's commitment to continue to invest in coherent and optical component technologies required to meet the 5G networking challenge at the lowest total cost of ownership for our customers."
Nokia has a long history of advancing the frontiers of optical transmission. It was the first to demonstrate single-carrier 100G transmission in a deployed production network in 2007, and the first to commercialize single-carrier 100G and 200G wavelengths in 2010 and 2013, respectively. More recently, the Nokia Bell Labs optical research team published the world's first terabit-per-second transmission lab trials in 2015 and 2017.  By extending these records to a deployed operator network, Nokia Bell Labs is bringing the age of terabit wavelength networks a big step closer to reality.
Details of the Nokia trial with Etisalat were published in a post-deadline co-authored paper at the European Conference on Optical Communication (ECOC), held last week in Dublin, Ireland:
1.3-tb/s Single-Channel and 50.8-tb/s WDM Transmission Over Field-Deployed Fiber
Authors: Fred Buchali 1, Karsten Schuh 1, Roman Dischler 1, Mathieu Chagnon 1, Vahid Aref 1, Henning Buelow 1, Qian Hu 1, Florian Pulka 1, Massimo Frascolla 2, Esmaeel Alhammadi 3, Adel Samhan 3, Islam Younis 4, Mohamed El-Zonkoli 4, Peter Winzer 1
Affiliations: Nokia Bell Labs 1, Nokia 2, Etisalat UAR 3, Nokia UAR 4
References:
………………………………………………………………………………………………………………..
Additional Resources from Nokia:
Verizon 5G Overview:
Verizon's 5G network strategy is centered on three deliverables with fiber optics for backhaul playing a huge role in all of them:
 5G mobile for businesses and consumers,
 5G home broadband (see Note 1. below) —delivering home internet over the air—and
 Mobile edge computing, which is essentially miniature data centers distributed throughout the network so they're closer to the 5G endpoints.
The company's CEO Hans Vestberg said that a total of 30 5G mobile cities will be launched by Verizon this year. He also plans to restart Verizon's fixed wireless 5G Home service [1] later this year. 5G Home currently is in four U.S. markets.
Note 1.  There is no standard for 5G fixed wireless and none is even being worked on.  It is not an IMT 2020 use case within ITU.
………………………………………………………………………………………………………………………………………………………………………..
Fiber and Mobile Edge Computing:
The U.S.'s #1 wireless carrier by subscribers will continue to install fiber at a rate of 1,400 miles per month in support of its 5G network builds for between two and three years.  Verizon will begin to provide mobile edge computing [aka Multi-access edge computing (MEC)] during the upcoming quarter, Vestberg said at a Goldman Sachs Communacopia investor conference on Thursday, September 19th.  Verizon fiber deployments are critical to supporting a mixture of services, Vestberg said.
As part of its Fiber One project, two years ago Verizon signed a $1.1 billion, three-year fiber and hardware purchase agreement with Corning to build a next-generation fiber platform to support 4G LTE, 5G, and gigabit backhaul for 5G networks and fiber-to-the premise deployments to residential and business customers. Also in 2017, Verizon also announced a $300 million fiber deal with Prsymian Group to provide additional fiber for its wireline and wireless services.
"The whole Intelligent Edge Network was basically all of the way from the data center to the access point we have one unique network for redundancy. And then, of course, in between fiber to the access point and then you decide if its 5G, 4G, or fiber to the home or fiber to curb, or fiber to the enterprise," Vestberg said. "In that, the fiber deployment for us was extremely important."
"One part of the whole intelligent edge network was that . . . all the way from the data center to the access point you have one unique network with a lot of redundancy and, in between, a lot of fiber to the access point and then you decide if it's 3G, 5G, 4G or fiber to the home or fiber to the curb or fiber to the enterprise," he explained.
Vestberg said: "You have one unique network with a lot of redundancy and, in between, a lot of fiber to the access point," he said of edge computing, which has become a priority for many wireless and wireline network operators.
………………………………………………………………………………………………………………………………………………………….
mmWave for 5G:
Verizon will continue to deploy millimeter wave (mmWave) for its 5G network for the foreseeable future, Vestberg told the investor conference audience.  High frequency band mmWave has great download speeds but its range is very limited, which requires many more small cells.
"Maybe you have 50 to 70 megabits per second on a 4G network today, when you get 1 gig [on 5G] it's a totally different experience and what you can do with it," Vestberg said. "What we saw in the 4G era was enormous innovation coming with that [greater] coverage and that speed [over 3G]. It's going to be the same with 5G for sure," he added.
"Now we have 2 gigs [gigabits per second] on the phones," Vestberg said. The range, however, can veer from 2,000 feet to 500 feet and the network can't deliver flashy streaming videos — or, in fact, any kind of service — indoors.  Verizon is the only US carrier solely dedicated to the highband (28GHz) approach to 5G for now. AT&T and T-Mobile plan to launch low and mid band 5G networks next year, along with limited mmWave deployments. Sprint has mid band 5G launched so far.
"We can launch nationwide with millimeter wave," the Verizon CEO insisted.  "Any spectrum will have 5G in the future," Vestberg noted. Verizon will also offer dynamic spectrum sharing (DSS) in the future. DSS will allow operators to share spectrum instantaneously and simultaneously between 4G and 5G networks. But not for mmWave, since that doesn't share spectrum with any 4G networks.
Vestberg said Verizon has all the spectrum it needs now to do a nationwide network on mmWave, and that adding more antennas in a given area or making software adjustments are also options for increasing capacity on existing spectrum bands.
Vestberg insisted that the mmWave-based service will be "self-install." This would be more economical than the "white glove" — a.k.a. professional — installation model that 5G Home started with in October 2018.
……………………………………………………………………………………………………………………………………………………………………………………
Verizon's mobile network:
A growing percentage of Verizon's mobile subscribers are on unlimited data plans, with about half today.  "This is a way for us to continue to see that our customers have a great journey from metered plan to Unlimited (data) plans and then they can move up…to 5G," Vestberg said.
"We think that we are best equipped to leverage the best network and continue to partner with [media companies] rather than us managing it.  Others might have better qualities for doing that but we don't, Vestberg said.
………………………………………………………………………………………………………………………………………………………………………………….
References:
Verizon to speak at Goldman Sachs Communacopia Conference September 19
https://www.verizon.com/about/investors/goldman-sachs-28th-annual-communacopia-conference
https://event.webcasts.com/starthere.jsp?ei=1260712&tp_key=eae790b458
https://www.barrons.com/articles/verizon-ceo-hans-vestberg-stock-5g-wireless-competition-51568906382
https://www.lightreading.com/mobile/5g/verizons-vestberg-sticks-with-mmwave-for-5g-/d/d-id/754248
https://www.telecompetitor.com/verizon-ceo-ongoing-fiber-investments-paying-dividends-including-mec/
---