Triangle Communications replaces Huawei gear with Mavenir 4G/5G Open RAN radios and software
Montana service provider Triangle Communications is swapping out Huawei gear from its network and implementing 4G/5G open RAN products from upstart tech vendor Mavenir.
Late October is the target timeline as to when the FCC's rip and replace reimbursement program opens.  However, Triangle Communications is already at work to overhaul equipment for its fixed wireless access service. Texas-based Mavenir was chosen for Triangle's entire network replacement and will act as systems integrator for the project, which qualifies for the FCC funding.
"This is a complete network swap out, so everything in the entire network from core to RAN [radio access network] and replacing it all with virtualized solutions," Mavenir's Sr VP John Baker said in an interview with Fierce Wireless.
Mavenir is providing a containerized evolved packet core (vEPC) IMS, open virtualized RAN (Open vRAN) compliant with O-RAN Alliance specifications for open interfaces, and the Mavenir Webscale platform that will enable Triangle to run applications on private, public or hybrid clouds.
It's deploying the O-RAN Alliance 7.2 open interfaces for the 4G-LTE radios. All of the equipment will also be 5G ready. Triangle is using band 12/700 MHz spectrum.
Once Triangle gets equipment that's virtualized up and running, Mavenir said the operator's ability to respond to changes and the market should be significantly faster.   It's notable that the Triangle is planning to deploy open RAN architecture and technology.
In filings with the FCC, Triangle said that it doesn't see any disadvantages in taking an open RAN approach. According to an April filing (PDF), the service provider's own research "found ORAN equipment to be competitively priced and fully functional compared to legacy vendors' equipment options which lock you into always using their equipment."
"This will be the first network that will be deployed using Mavenir designed radios," Baker said, and the first of several Mavenir-branded commissioned radios the software vendor plans to introduce over the next couple of quarters. Mavenir has done radios before, but it's the first the vendor commissioned, designed, manufactured, and deployed in the U.S. market and for U.S. frequency bands.
As an open RAN vendor, and vocal champion, Mavenir has been clear on its stance of the need for U.S.-based radio suppliers in a market currently dominated by Ericsson and Nokia as RAN vendors.
Triangle and Mavenir did not disclose the value of their new deal, but the companies said Triangle's core network swap-out is underway and that work on the radio access network (RAN) would stretch into next year.
Perhaps the most noteworthy element in Mavenir's deal with Triangle is that it encompasses both the company's hardware and software. Mavenir entered the RAN hardware business (mostly radios which are outsourced to Asian suppliers) in order to complement its existing software offerings.
Mavenir last year described its new open RAN hardware strategy as an attempt to "break the incumbent's monopoly in the global market." But the company's efforts also highlight the complexity of the open RAN market considering open RAN technologies are intended to allow operators to mix and match equipment from a variety of vendors rather than buying everything from one source.
This could be the first of many U.S. ongoing "rip and replace" program as the FCC's program to eliminate Huawei equipment gathers steam.
……………………………………………………………………………………….
Triangle Communications Serving Area in Montana: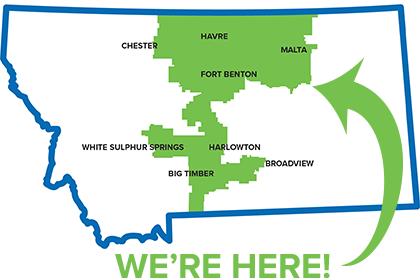 Triangle Telephone Cooperative (TTC) is a company owned by its members. The cooperative was incorporated on March 24, 1953 in Havre, Montana by rural residents of Central Montana. In 1994, TTC purchased 13 exchanges from US West (now CenturyLink/Lumen Technologies) and formed a subsidiary named Central Montana Communication (CMC). Triangle Communications is the name TTC and its subsidiaries have chosen to do business as since 2008.
………………………………………………………………………………………….
References:
https://www.fiercewireless.com/tech/mavenir-swaps-out-triangle-s-huawei-gear-for-open-ran
https://www.lightreading.com/open-ran/mavenir-registers-open-ran-hardware-win-against-huawei/d/d-id/771641?
https://itstriangle.com/about-us
---