cellular network traffic growth
According to Analysys Mason, the telecoms industry is fixated on the idea of a constant and dramatic increase in data consumption by cellular network users. However, the growth rates are no longer increasing. The annual growth in cellular data traffic slowed, worldwide, from more than 90% in 2018 to 34% in 2021 and again to around 22% in 2022.
These figures include a surge in cellular data traffic generated by customers with fixed–wireless access (FWA) services. FWA customers (due to time spent watching TV and video streaming) often generated more than 200–500GB per month which is 16 times more than an average mobile cellular data customer, in 2022.
This means there is an even steeper decline in the growth of data traffic generated by mobile handsets, decreasing from an annual rate of 104% in 2018 to 21% in 2022.
Figure 1: Cellular data traffic growth rates by region, 2017–2022
CEE = Central and Eastern Europe, DVAP = Developed Asia–Pacific, EMAP = Emerging Asia–Pacific, LATAM = Latin America, MENA = Middle East and North Africa, NA =North America, SSA = Sub-Saharan Africa, WE = Western Europe
From Light Reading:
Data traffic on Openreach, the UK's main broadband network, grew just 3% last year after rising 25% in 2021 and 127% in 2020 (the year of mass pandemic induced lockdowns).
A similar trend is observable across the various fixed and mobile networks operated by Spain's Telefónica. Traffic surged 43% in 2020, but the rate of increase dipped to 11% last year. If the trend persists, the petabytes will soon be dropping.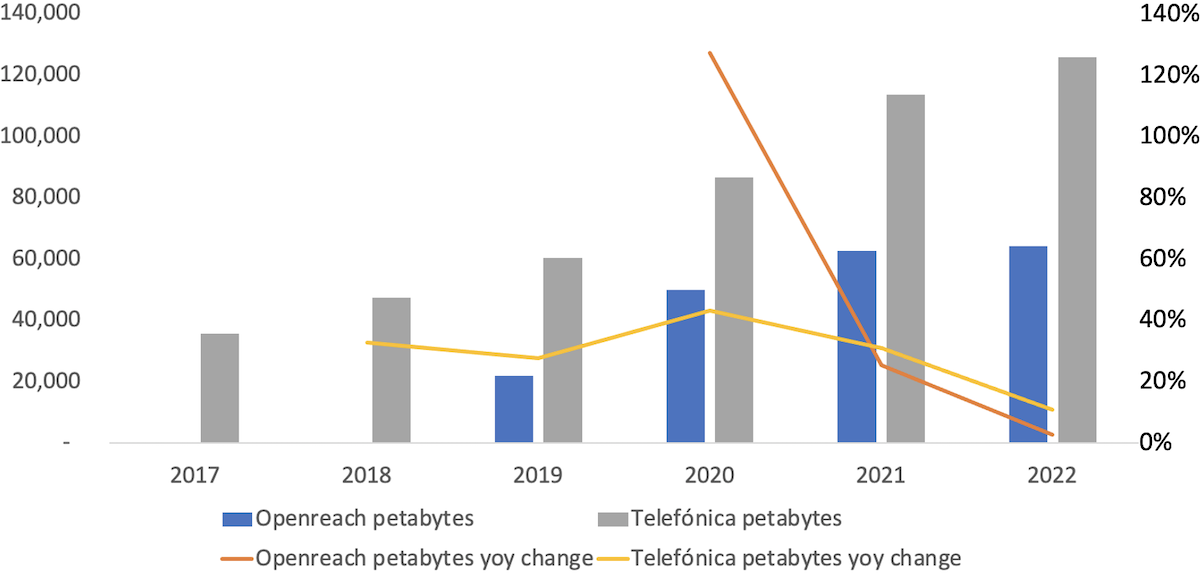 ……………………………………………………………………………………………………………………………….
---