Communications service providers (CSPs) face a host of barriers, such as accessing high-quality data, that impede thesir ability to effectively deploy AI which could improve network and service operations, according to new research commissioned by Nokia and conducted by Analysys Mason.
"CSPs are unable to access high-quality data sets (which will enable them to make more accurate decisions) because they are using legacy systems with proprietary interfaces. This will restrict how quickly they can integrate AI into their networks," according to the research, which is based on responses from 84 CSPs surveyed globally.
Almost 50 percent of Tier-1 CSPs ranked data collection as the most challenging stage of the telco AI use case development cycle.
Further, the research found that only six percent of CSPs surveyed believe they are at the most-advanced level of automation, or zero-touch automation, which relies on AI and machine learning (ML) algorithms to manage and improve network operations. The high-quality data issue is also impacting CSPs' ability to retain AI talent.
Still, 87 percent of CSPs have started to implement AI into their network operations, either as proof of concepts or into production; with 57 percent saying they have deployed telco AI use cases to the point of production.
CSP respondents said they believe AI will help improve network service quality, top-line growth, customer experience, and energy optimisation to meet their sustainability goals.
The research said CSPs should evaluate their telco AI implementation strategies and develop a clear roadmap for AI implementation to overcome their data challenge and other impediments, such as an inability to scale AI use case deployments. The report can be found here.
Adaora Okeleke, Principal Analyst, at Analysys Mason said: "CSPs must transition to more-autonomous operations if they are to manage networks more efficiently and deliver on their main business priorities. But as this research demonstrates, accessing high-quality data remains a critical obstacle to deploying telco AI within their networks. They need to really examine their AI implementation strategies to work around this data quality issue."
Andrew Burrell, Head of Business Applications Marketing, Cloud and Network Services at Nokia, said: "AI has a crucial role in driving step changes in network performance, including cutting carbon footprints. CSPs are aware of the challenges of more deeply embedding AI into their operations and, as this research points out, the steps they can take to positively alter that situation, including building the right ecosystem of vendor partners with the right skillsets that can better cater to their network needs."
Resources and additional information:
Webpage: https://www.nokia.com/networks/ai-ops/
References:
https://www.nokia.com/about-us/news/releases/2023/08/17/csps-need-to-address-barriers-to-deploying-ai-in-order-to-realize-autonomous-operations-research/
https://www.lightreading.com/artificial-intelligence-machine-learning/lowering-the-barriers-to-telco-ai-with-acumos/a/d-id/744694
According to Analysys Mason, the telecoms industry is fixated on the idea of a constant and dramatic increase in data consumption by cellular network users. However, the growth rates are no longer increasing. The annual growth in cellular data traffic slowed, worldwide, from more than 90% in 2018 to 34% in 2021 and again to around 22% in 2022.
These figures include a surge in cellular data traffic generated by customers with fixed–wireless access (FWA) services. FWA customers (due to time spent watching TV and video streaming) often generated more than 200–500GB per month which is 16 times more than an average mobile cellular data customer, in 2022.
This means there is an even steeper decline in the growth of data traffic generated by mobile handsets, decreasing from an annual rate of 104% in 2018 to 21% in 2022.
Figure 1: Cellular data traffic growth rates by region, 2017–2022
CEE = Central and Eastern Europe, DVAP = Developed Asia–Pacific, EMAP = Emerging Asia–Pacific, LATAM = Latin America, MENA = Middle East and North Africa, NA =North America, SSA = Sub-Saharan Africa, WE = Western Europe
From Light Reading:
Data traffic on Openreach, the UK's main broadband network, grew just 3% last year after rising 25% in 2021 and 127% in 2020 (the year of mass pandemic induced lockdowns).
A similar trend is observable across the various fixed and mobile networks operated by Spain's Telefónica. Traffic surged 43% in 2020, but the rate of increase dipped to 11% last year. If the trend persists, the petabytes will soon be dropping.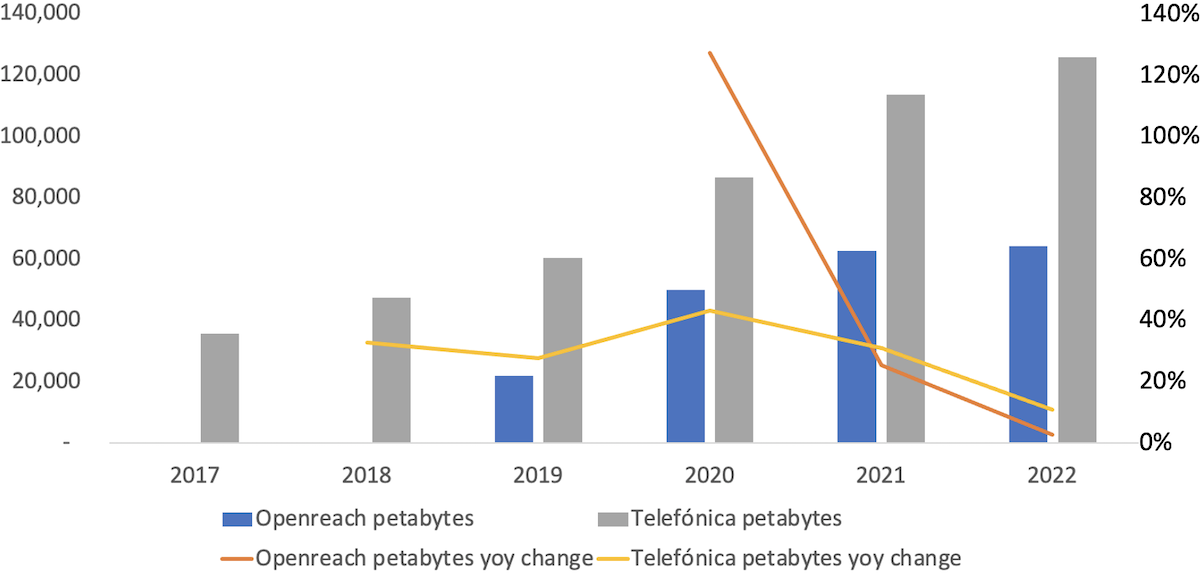 ……………………………………………………………………………………………………………………………….
---