Swisscom has achieved transmission speeds of 50 Gbps  in a real PON (Passive Optical Network) environment test – a world first, according to the company.  Swisscom has upgraded existing OLT (Optical Line Termination) hardware with a 50 Gbps PON Line Card prototype to reach a download speed of 50 Gbps and an upload speed of 25 Gbps on a fixed network.
The PON technology can be ready to market and deployed in around two years, according to Swisscom. It can be an option for business customers initially. Progressive network virtualization will enable companies to use the bandwidth they need on a flexible basis in line with their requirements.
The 10 Gbps service is expected to be sufficient for the residential mass market for several years yet, the company said. The 50 Gbps option allows for flexible deployment using existing fibre-optic infrastructure.
Markus Reber, Head of Swisscom Networks, said: "There is no question that the bandwidth need will continue to increase over the coming years. That's why, here at Swisscom, we are already considering how our technology needs to develop to ensure that Switzerland continues to be ready to take advantage of the latest digital services with the best possible experience in the future. The results of testing based on PON technology and architecture clearly demonstrate that we have some powerful options available."
"In my opinion, PON with 50 Gbit/s will be an option for the business customer market initially. Progressive network virtualisation will enable companies to use the bandwidth they need on a flexible basis in line with their requirements, for instance. In contrast, the 10 Gbit/s already available in the residential mass market should be more than enough for several years to come. However, the 50 Gbit/s option offers even more opportunities, as it allows the existing fibre optic infrastructure to be deployed in a more versatile way. As an example, the technology will soon facilitate access to mobile communication masts, particularly for 5G, as the same network can be used as the one already built to connect households. With a transmission speed of 50 Gbit/s, there is ample bandwidth available."
The technology also will support fiber optic access to mobile communication masts, particularly for 5G, since the same network can be used as the one already built to connect households.
Swisscom says that "over the coming years, the development of digital applications will result in a similar growth in bandwidth need as seen in recent years, when it increased more than tenfold within a decade. Swisscom is therefore investing in network expansion on an ongoing basis, deploying the latest innovative technologies to do so and safeguarding Switzerland's high degree of digital competitiveness."
…………………………………………………………………………………………………………………………………………………………………………………………………..
In April 2020, market research powerhouse Omdia (owned by Informa) forecast that In the 2018-2025 timeframe, the PON market will see a compound annual growth rate (CAGR) of 4.3% to be worth $8.4 billion by 2025. "This market remains in an upswing as operators continue to expand and upgrade their fiber-based access networks for both residential and non-residential subscribers and applications," states the Omdia team in their report (published prior to the global impact of COVID-19, it should be noted).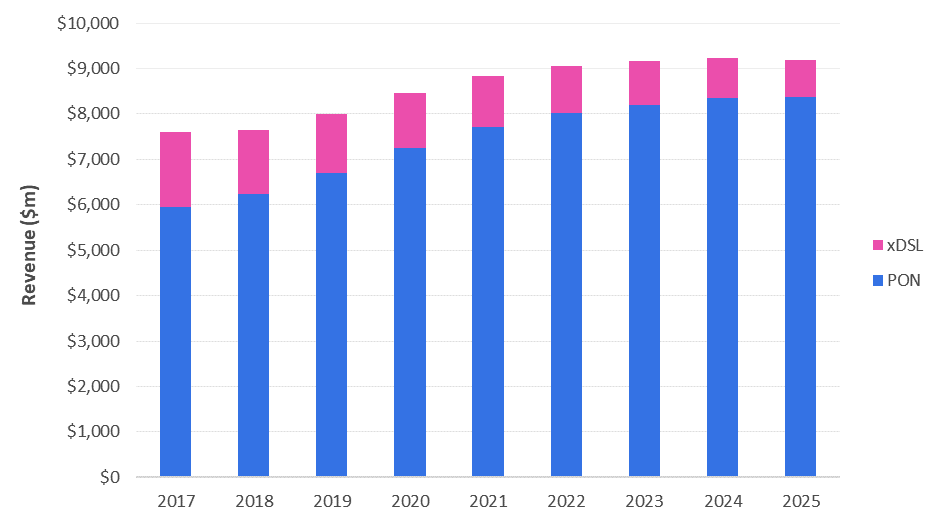 Omdia: PON and xDSL/Gfast equipment market by major segment, 2017–2025
Growth in the PON market will be driven by increasing demand for next-generation PON equipment, including 10G GPON, 10G EPON, NG-PON2 and 25G/50G PON, according to Omdia: By 2021, most GPON OLT (optical line terminal) shipments are expected to be 10G.
Omdia expects demand for NG-PON2 equipment (which is expensive because it includes tunable lasers) is expected to be limited, with significant deployments anticipated only by one major operator, Verizon.
In Western Europe, PON investments are only just starting: That market is set for a CAGR of 16.5% to be worth $1.6 billion in 2025.
…………………………………………………………………………………………………………………………………………………………………………………………………
References:
https://www.swisscom.ch/en/about/news/2020/10/08-weltpremiere.html
https://www.swisscom.ch/content/dam/swisscom/en/about/news/2020/10/08-weltpremiere/08-weltpremiere-en.pdf.res/08-weltpremiere-en.pdf
https://www.telecompaper.com/news/swisscom-reaches-50-gbps-in-real-network-environment–1357116
http://www.broadbandworldnews.com/document.asp?doc_id=758638
The global passive optical network (PON)  market is on track to grow to over $7 billion by 2022, driven by adoption of next-generation PON technologies such as 10Gbps EPON, Dell'Oro predicts in a new report.  The market is on track to grow at a five-year CAGR of nearly 40% from 2017 to 2022, the research firm said in a press release.
"Where PON technologies are used for residential broadband services, 2.5 Gbps GPON will remain as the dominant technology due to its lower price and sufficient speeds.  However, for a number of growing use cases such as business services and mobile backhaul, next-generation PON technologies  have capacities and capabilities that current generation technologies lack," Dell'Oro senior analyst Alam Tamboli explained.
He said 10 Gbps EPON is already seeing strong traction across China, noting that current generation PON has previously been widely deployed across the market.
"10 Gbps EPON has already begun shipping strongly in China where current generation PON is widely deployed.  Shipments of XGS-PON and NG-PON2 remain small for now, but we anticipate that XGS-PON will grow more rapidly. XGS-PON and its 10 Gbps symmetric bandwidth should meet operators' needs for business services and mobile backhaul," Tamboli added.
Other next-generation PON technologies set to drive the strong growth for the segment include XGS-PON and NG-PON2.
………………………………………………………………………………………………………………
About the Report

The Dell'Oro Group Broadband Access 5-Year Forecast Report provides a complete overview of the Broadband Access market with tables covering manufacturers' revenue, average selling prices, and port/unit shipments for Cable, DSL, and PON equipment.  Network infrastructure equipment includes Cable Modem Termination Systems (CMTS), Digital Subscriber Line Access Multiplexers ([DSLAMs] by technology ADSL, ADSL2+, G.SHDSL, VDSL, GFAST), and PON Optical Line Terminals (OLTs).  Customer Premises Equipment (CPE) technology reflects Voice-over-IP (VoIP) or data-only.  To purchase this report, please call Daisy Kwok at +1.650.622.9400 x227 or email Daisy@DellOro.com.
---