China Broadnet has  launched 5G mobile services, beginning a race to catch up with its far more well-established rivals.  In 2019, a group of Chinese cable broadcast and television operators, then known as China Broadcasting Network (CBN), won spectrum in the country's national 5G spectrum auction, signaling their ambition to become the nation's fourth fully-fledged nationwide mobile operator.
The Chinese government-backed company won 80 MHz of 700 MHz spectrum and 100 MHz of 4.9 GHz spectrum, both of which can be used to provide 5G services.
Catching up with the three other state owned 5G telcos –China Unicom, China Telecom, and China Mobile -will be difficult. 5G subscribers currently account for around a quarter of the trio's existing subscriber base, totaling around 428 million people. As such, the greenfield mobile operator will need to scale up quickly if it is to prove competitive.
For the first new operator in the market in 15 years, it's going to be all uphill. Broadnet's fate will likely be shaped by three key factors, according to Robert Clark of Light Reading:
1.  How level is the playing field?
China's telecom industry has no body of competition law. In fact, China has no telecommunications law of any kind, despite 40 years of trying. It has an anti-monopoly law, but it has never been applied to a national state-owned corporation.
By some stroke of good fortune, China Broadnet may not face any interconnection, data sharing, number porting or other issues with the incumbent operators. If it does, it will be at the mercy of the MIIT, the NRTA's bureaucratic arch-rival and default regulator, as well as its larger competitors.
2.  Strength of Broadnet's partnership with market leader China Mobile?
The alliance with the industry giant may give Broadnet some extra backing in dealing with China Unicom and China Telecom. But that will depend on whether China Mobile sees Broadnet as a partner whose success aids its own success, or a competitor who happens to be a customer that can be easily brushed aside.
3.  Whether the new 5G competitor will drive the industry into a price war?
That wouldn't surprise anyone who has seen Rakuten overturn the staid Japanese market in the past two years (see NTT DoCoMo making gains, anticipating pain in price war).
……………………………………………………………………………………………………………………………………………………………………………………………………………………………………………………………………………….
Backgrounder:
Earlier this month, the China Broadcasting Network was rebranded as China Broadnet and at the same time announced it was taking pre-registration for 5G phone numbers. Today, China Broadnet has begun its 5G journey in earnest, announcing the launch of commercial services.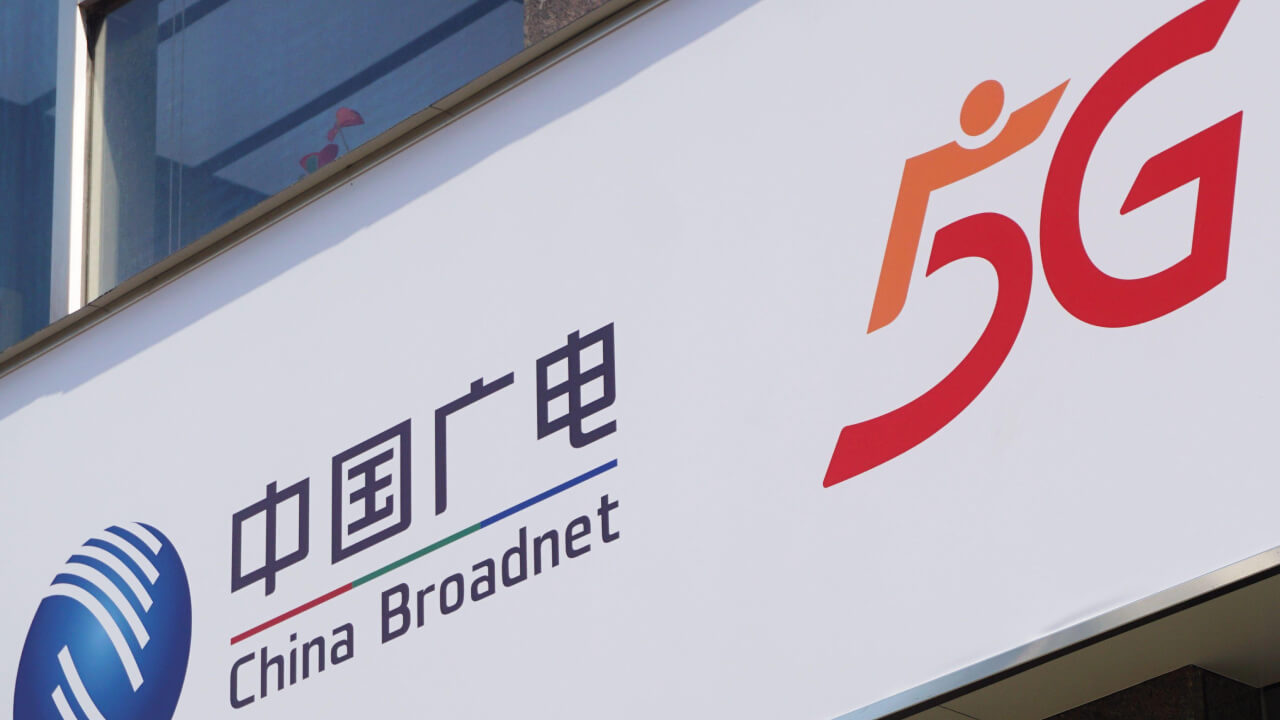 For now, it seems that the operator has very little in the way of its own network infrastructure, being largely reliant on a network sharing agreement with China Mobile signed back in early 2021 to offer services to customers. The 11-year network sharing deal with China Mobile was split into two phases; the first year-long phase, would see China Broadnet able to purchase wholesale access to China Mobile's 2G, 4G and 5G networks for the duration of 2021, while the following 10-year phase will allow China Broadnet access China Mobile's 700 MHz and 2.6 GHz networks, as well as committing them to the shared deployment of a large-scale deployment of a shared 700MHz network.
This network sharing agreement will allow China Broadnet to today offer 5G services to a huge proportion of Chinese consumers but luring them away from the more established providers will be difficult. Based on the company's website, it seems that its mobile plans are slightly cheaper than comparative offers by China Mobile – for example, its cheapest 5G plan is 118 yuan ($17.60) for 40GB of data, while China Mobile charges roughly 10 yuan ($1.50) more for a similar plan ¬– but whether this will be enticing enough to secure a significant market share remains to be seen.
Nonetheless, Broadnet does have something of a unique selling point for customers in its broad array of media assets, with the operator hoping to become a converged mobile and media company, providing immersive and interactive broadcast and TV media services, including the use of augmented and virtual reality, which will be enabled by their 5G network.
………………………………………………………………………………………………………………………………………………………………………………………………………………………………….
In related news, earlier this month, China Broadnet announced that it had selected ZTE to provide the 5G core network for a location-based service (LBS) project, seemingly initially focused on providing support for emergency services. ZTE will deploy their technology at one site in Beijing and another in Nanjing, with the result being that all of Broadnet's 5G customers will be able to benefit from emergency location services, with further applications for the technology related to enterprise customers expected to be announced in the near future.
References:
5G Subscriber Adds:
China's network operators recorded a net addition of 43.71 million 5G subscribers in July, according to the carriers' latest available reports.
China Mobile, the world's largest operator in terms of subscribers, added 28.91 million 5G subscribers in July.  It had 279.60 million 5G subscribers at the end of July, compared to 84.05 million 5G customers in July 2020.  The telco's overall mobile subscriber base at the end of July reached 947.46 million, up compared to 945.50 million in June 2020.
China Unicom said it added a total of 7.74 million 5G subscribers during July. During the first seven months of the year, Unicom added a total of 50.24 million 5G subscribers.  The telco ended July with 121.07 million 5G subscribers. China Unicom reported an overall mobile base of with 311.61 million subscribers at the end of last month, up from 310.45 million in June.
China Telecom added 7.06 million 5G subscribers in July to take its total 5G subscribers base to 138.21 million.  The telco added 51.71 million 5G customers in the January-July period. China Telecom's overall mobile base amounted to 364.62 million subscribers at the end of the July, after adding 2.13 million customers during the month.
China Telco CAPEX Crash:
However, total capital spending by the three state owned China telecom operators declined by 35% in the first half, with the number of new 5G base stations down 34% compared with last year. Spending on 5G by the two biggest telcos, China Mobile and China Telecom, slid 19%. China Unicom, has not disclosed its 5G spending but said it had reached only a fifth of its full-year capex target.
China Unicom revealed it had spent only RMB14 billion ($2.2 billion) of its 2021 capex budget of RMB70 billion ($10.8 billion), down 45% from 2020. It has a year-end target for 5G of RMB35 billion ($5.4 billion), the same as 2020.
China Mobile's 5G investment of RMB50.2 billion ($7.8 billion) was 9% lower than last year, and only 46% of its full-year target of RMB110 billion ($17 billion).
China Tower reported a 28% fall in capex to 10.4 billion yuan ($1.6 billion).
China Telecom's 5G spend plunged 45% to RMB11.1 billion ($1.71 billion), just over a quarter of its full-year forecast of RMB39.7 billion ($6.1 billion). Total capex declined 37% for the half. From the Chinese website Yicai.com:
From the data point of view, China Telecom's capital expenditure in the first half of this year was less than one-third of the annual capital expenditure, and the investment progress was lagging behind. Liu Guiqing said that 5G was the largest investment in the first half of the year, including investment in 3.5GHz and 2.1GHz equipment. "On the whole, the investment in 3.5GHz equipment is relatively normal; for 2.1GHz investment, we make corresponding adaptations according to the current situation of the entire industry chain and the terminal ecology. At present, the purchase of 2.1GHz equipment has been completed, 3.5GHz telecom equipment is being negotiated, and there will be results soon." He said that 87 billion yuan of investment can be completed this year, of which 5G investment is 39.7 billion yuan.
The China telcos maintain the same capex guidance for the full year of around 185 billion yuan ($28.6 billion), slightly up from last year's 182 billion yuan ($28.1 billion). Yet for China Telecom and China Unicom, those capex numbers look quite challenging.
…………………………………………………………………………………………………………………………………….
5G Base Station Builds:
China's three major mobile carriers have already activated 961,000 5G base stations and connected 365 million 5G-compatible devices by end-June, Chinese press reported, citing comments by press secretary for the Ministry of Industry and Information Technology (MIIT) Tian Yulong.
Unicom said it had built just 80,000 new base stations in the first half and was aiming to deploy another 240,000 in the latter half of this year.
Meanwhile, China Broadcast Network and China Mobile have recently completed a tender to deploy 400,000 5G base stations this year, as part of the companies' efforts to launch a shared 5G network. The contracts had been won by Huawei, ZTE, Datang, Nokia and Ericsson.
China Mobile has attributed its lower 5G investment to issues around its partnership with China Broadcast Network in building a new 5G network in the 700MHz band. The main tender was set in July. China's 5G rollout is a high priority infrastructure project closely supervised by the national government. The two carriers expect this shared 5G network to reach nationwide coverage within the next two years.
………………………………………………………………………………………………………………………………….
5G Subscriber Forecast & 5G SA Core Network:
China is forecast to reach 739 million 5G subscribers by 2025, according to a recent study by ABI Research. That would represent nearly 40% of the total global 5G subscriber market.
Earlier this year, Liu Liehong, vice minister of industry and information technology, had said that 5G Standalone (5G SA) networks covered all prefecture-level cities across China.
We wonder if all China's telcos have implemented the same specification for 5G SA/core network and whether it is "cloud native" or not?  Also, whether they use NFV (virtual machines) or containers?
Note there is no standard or implementation specification(s) that would ensure vendor interoperability on 5G SA networks from different telcos.
……………………………………………………………………………………………………………………………………………
References:
https://www.rcrwireless.com/20210824/5g/chinese-carriers-add-43-million-5g-subscribers-july
https://www.lightreading.com/5g/chip-shortage-taking-its-toll-on-china-5g-rollout/d/d-id/771681?
https://www.yicai.com/news/101136803.html
https://asia.nikkei.com/Spotlight/5G-networks/Chinese-telecom-operators-cut-back-5G-network-construction
China Telcos Lose Subscribers; 5G "Co-build and Co-share" agreement to accelerate
---