China Broadcasting Network tender for 480,400 5G macro base stations & multi-band antenna products
China Broadcasting Network (CBN), China's fourth mobile operator, has issued a tender for the radio access portion of its national 5G network via its network partner China Mobile.  Previously, the two companies entered into a 5G Network Co-construction and Sharing Collaboration Agreement along with other 5G collaborations.
The CBN/China Mobile tender requests bids for 480,397 5G macro base stations in the 700 MHz band which is roughly equivalent to the number of 2.6 GHz base stations already deployed by China Mobile. Based on past big 3 (China Mobile, China Telecom, China Unicom) tender results, Huawei and ZTE are expected to win approximately 85% of the business.  That would leave only 15% for Ericsson or other well known 5G base station vendor, but probably NOT Nokia which was shut out of the last China 5G contract awards.
China granted a 5G license for use of the 700 MHz frequency to CBN, the country's fourth telecoms operator, in June 2019. The other three obtained 5G licenses for 2.6 GHz and 4.9 GHz. Founded in 2014, Beijing-based CBN is the most recently established, so lacks users and infrastructure, which is partly why it is cooperating with China Mobile on 5G.
Concurrently, a bidding announcement for the centralized procurement of multi-band (including 700MHz) antenna products was also issued. This project is a centralized bidding project. The purchased products are multi-band (including 700M) antenna products. There are three types of 6 antennas: 4+4+4 antennas (700/900/1800MHz), divided into ordinary gain and high gain; 4+4+ 4+8 antennas (700/900/1800/FA), divided into long and short models; single 4 antenna (700MHz), divided into normal gain and high gain. The procurement scale is approximately 1.74 million antennas, of which 4.448 antennas require 1.14 million antennas, and the remaining model antennas such as 444 are 600,000 antennas.
China Mobile will complete the deployment of 700MHz 400,000 stations within this year. In the first half of 2022, they plan to open 480,000 seats and fully support 5G broadcasting services.  Within two years  full network coverage will be achieved.
There are now nearly 100 5G mobile phones supporting the 700MHz frequency band, covering high, middle and low end consumer groups. China Mobile earlier made it clear that in 2021, it will promote the joint construction and sharing of 700MHz to achieve 700MHz commercialization. It requires: starting from March 1, 2021, terminals of 4,000 yuan and above must support 700MHz; from October 1, 2021, The newly added terminal must support 700MHz.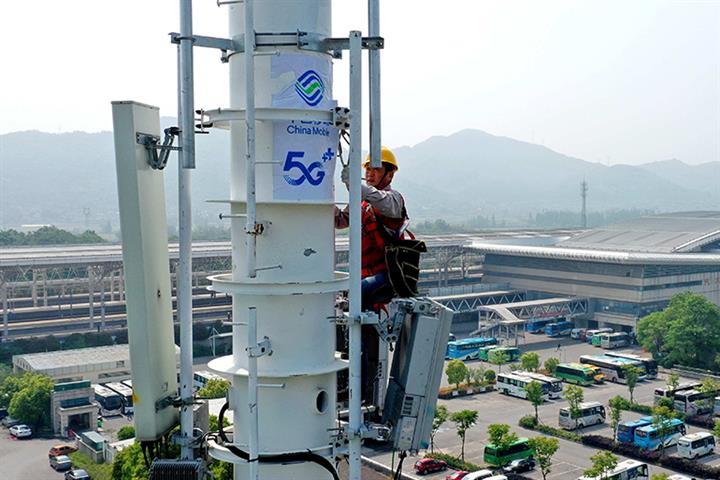 The tender is a milestone for the China telecom sector, marking the start of the rollout of the new entrant, who is also the first network operator not linked to the Ministry of Industry and IT.  CBN said the network will be configured around video and streaming to serve its existing cable TV customer base and to provide differentiation from the incumbent telcos. The rollout will include 5G mobile broadcasting capabilities, including 3,000 transmission towers.
The 700MHz frequency band is part of the wider ultra-high frequency (UHF) band used previously for terrestrial broadcasting. The 700MHz frequency band will improve connectivity in rural areas thanks to its ability to support better coverage in open spaces. Moreover, with its wide territorial reach and good penetration in buildings, the 700MHz band will help service providers meet the rising consumer demand for audiovisual content and other broadband services over wireless networks.
Li Shuang, Deputy Director of Department of Technology Development, CBN, said: "CBN always extensively cooperates with domestic and international industry partners with innovation-driven, open and win-win concepts in mind, promoting continuous maturation of the global industry chain of 5G 700MHz  network and committed to building a high-quality nationwide 5G network in China. The successful test by Ericsson based on the 3GPP 5G specifications contributed by CBN, including the 700MHz technology standard and n28 band terminal enhancements standard, has improved the 700MHz network capability efficiently, which is of great significance to the innovation of low-band 5G networks in various scenarios."
…………………………………………………………………………………………………………………………………………………………………………….
CBN and China Mobile are reportedly promising to deploy 400,000 base stations this year.
Robert Clark of Light Reading wrote, "That seems unlikely – it took the incumbent operators nearly two years to reach that mark – but it seems certain that CBN will offer its first commercial services late this year or early 2022. The bid documents state that the tender is fully funded, a positive sign for the cash-strapped CBN.
As Rakuten in Japan is learning, it is not easy to compete against big legacy players each with a large installed base and deep marketing channels. Even in the capital markets, CBN may find itself competing again with its industry rivals."
References:
http://www.cctime.com/html/2021-6-30/1579416.htm
https://www.lightreading.com/asia/cbn-issues-massive-5g-base-station-tender/d/d-id/770623?
https://www.chinamobileltd.com/en/file/view.php?id=242502
https://www.yicaiglobal.com/news/china-mobile-cbn-to-build-400000-700-mhz-5g-base-stations-by-year-end
https://techblog.comsoc.org/2020/04/03/chinas-cbn-to-use-700mhz-for-5g-network-but-needs-telco-partner/
https://techblog.comsoc.org/2020/08/17/qualcomm-and-china-broadcasting-network-demo-5g-data-call-in-the-700mhz-fdd-spectrum/
---