According to Beijing News, the three major (state owned) China mobile network operators have already signed up 9 million advance orders for their yet to be launched 5G service.   As of October 5th, China Mobile's 5G subscribers have reached 5.32 million, China Unicom has 1.75 million, China Telecom has 1.76 million, and the total number of committed 5G users is nearly 9 million.
The three China network operators haven't set a date for the start of service, but will reportedly commence simultaneously, most likely later this month of October.  However, there are not many 5G smartphones (only two or three models) and no other endpoints (none announced yet) available from the three major China network operators.  The preferential price is between 150 yuan and 550 yuan.
On September 20, Xu Ximing, deputy general manager of the marketing department of China Mobile Group Corporation, said at the China Mobile 5G+ Innovation Cooperation Conference that China Mobile is accelerating the pace of 5G commercialization. The 5G package will be officially released in October, including basic packages and CPE packages. And upgrade plans for old users. Customers will enjoy the "three different fast" login to the 5G network, that is, the 5G terminal does not need to change the card, does not need to change the number, does not need to register, and multi-channel fast order 5G network service.
The China Unicom prices web page shows that the current campaign supports two mobile phones, Samsung Note 10+5G version offers 500 yuan, and vivo's iQOO Pro 5G version offers 400 yuan. Telecom's purchase discounts are 150 yuan for iQOO Pro, 300 yuan for ZTE Axon 10 Pro, and 550 yuan for Samsung Note 10+.
For China Mobile's preferential prices, Xiaomi 9 Pro 5G version is offered for 300 yuan, China Mobile's pioneer X1, Samsung Note 10+ 5G version  offer is 500 yuan. China Mobile told the Beijing News that more 5G models will be added in the future.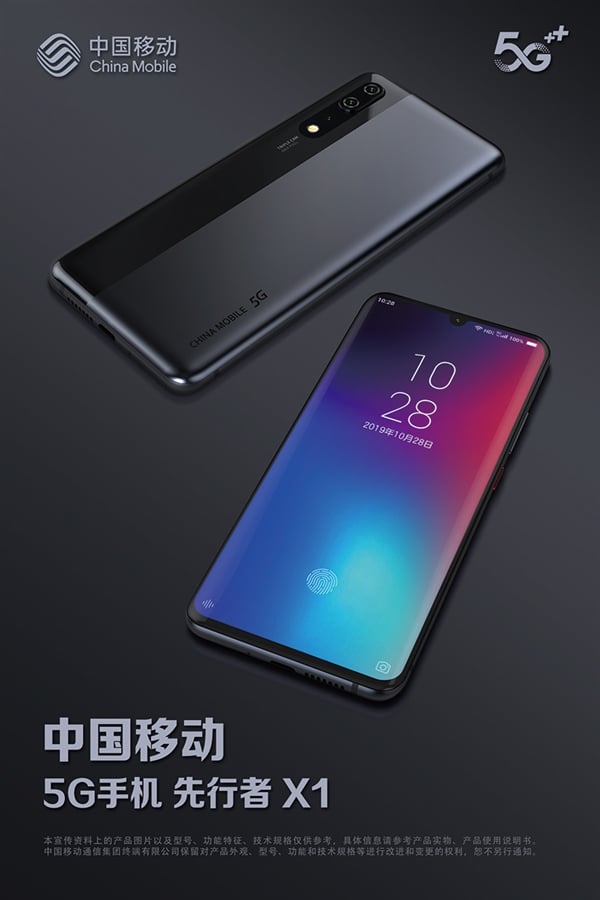 China Mobile Pioneer X1 is powered by a Qualcomm Snapdragon 855 chipset, a 6.47-inch AMOLED display with a  waterdrop notch. The display supports FHD+ resolution and also houses an on-screen fingerprint scanner. Housed inside the waterdrop notch is a powerful 20MP camera.
…………………………………………………………………………………………………………………………………………………………………………………………………………………
Note: Although Samsung continues phone sales in China, last week the handset maker ceased its mobile phone production operations in China as it closed its last factory in the country, according to Reuters.
………………………………………………………………………………………………………………………………………………………………………………………………..
China's 5G network coverage is progressing rapidly and the 5G network is increasingly equipped with a formal commercial foundation. Recently, the official statistics of the Beijing Municipal Bureau of Economics and Information Technology state that the three major network operators have completed more than 8,800 5G base stations in Beijing, covering areas along Chang'an Avenue, the World Expo, CCTV Broadcasting Center, and Shougang Park.
According to a message released by the Beijing Communications Administration, it is expected that by the end of 2019, Beijing will build more than 10,000 5G base stations.  According to the current construction progress, the number of 5G base stations in Beijing is expected to reach 12,000 by the end of the year. Among the other three first-tier cities, Shanghai plans to build 10,000 5G base stations in 2019 and 20,000 5G base stations in 2020; Guangzhou proposes to complete no less than 20,000 5G base stations in 2019, and 5G will be built in 2021. The base station is 65,000; the plan for Shenzhen is to build 15,000 5G base stations by the end of 2019.
With the spread of 5G networks, innovative applications in various 5G environments are emerging and even landing. On September 25, Daxing International Airport was officially opened. Eastern Airlines, Beijing Unicom and Huawei jointly released a 5G-based smart travel integrated service system at Daxing International Airport. Under the system, the user does not need to present the ID card and the QR code as usual, and only needs face recognition to complete the travel process such as ticket purchase, check-in, check-in, security check, and boarding.
China's government is partially subsidizing 5G deployments as we note in several paragraphs below:
The Shenzhen city government is offering to pay operators RMB10,000 ($1,398) for every standalone 5G base station deployed, with a maximum payout of RMB150 million ($20.9 million).  Its 5G plan issued last month promises support for site acquisition and subsidies for base station electricity costs.  The tech-dominated Chinese city, home to Huawei, ZTE and Tencent, plans to install 15,000 5G base stations by the end of 2019 and 45,000 by next August (more on this below).
Almost every Chinese city or provincial government has a 5G development plan.  While many are light on specifics, some reveal big ambitions.  For example, the government of Zhejiang, the wealthy province near Shanghai, expects to have 30,000 base stations next year. It plans to complete its 5G rollout by 2022, by which time its coverage will "lead the country."
The north-west province of Shanxi — not known for its advanced tech industries — has also made 5G a top priority. It has bench marked its 5G rollout against other provinces and, like Zhejiang, has set a target of 30,000 base stations by 2022.  And the city is also offering subsidies for base station power costs and help in site selection.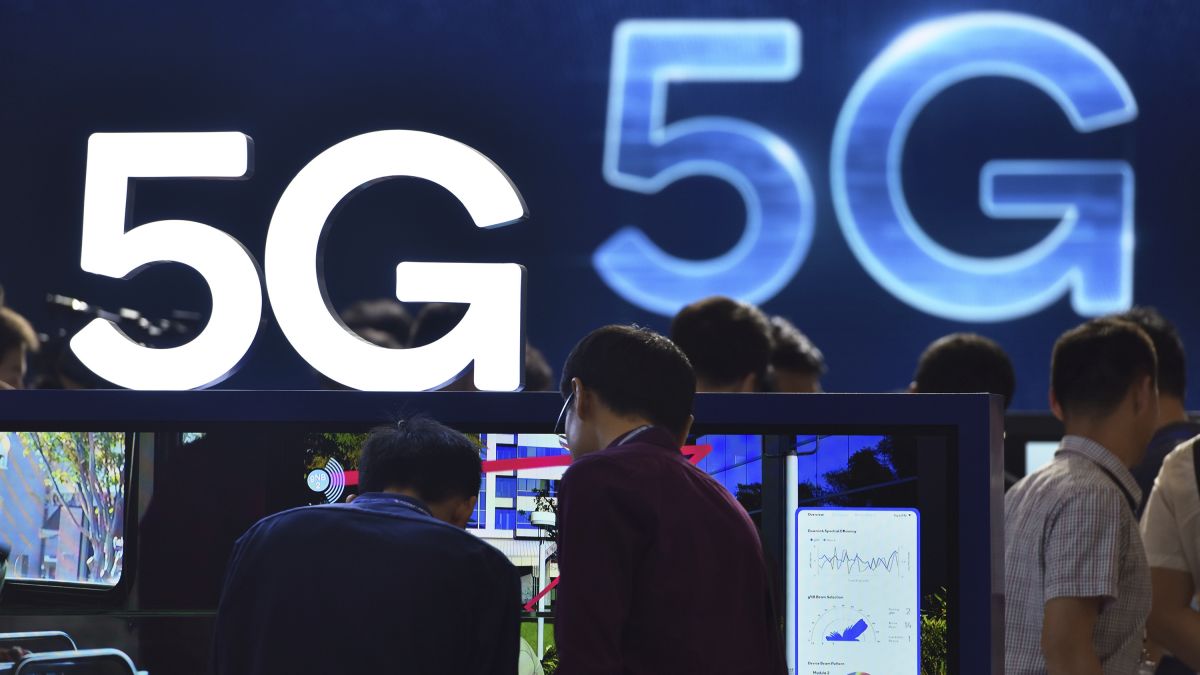 ………………………………………………………………………………………………………………………………………………………………………………………………..
From an article titled, "The Real 5G Winner Could Be China," in the October 7, 2019 print edition of Barron's:
Multiple Wall Street analysts are getting more optimistic about China's 5G build out. For instance, Rosenblatt Securities notes that local governments in the Asian country are providing subsidies to "speed up 5G network deployments." As a result, Rosenblatt says, more than 300 cities in China will have 5G networks by the end of next year. Even Hall, the Goldman Sachs 5G skeptic, expects 120 million 5G smartphones to ship next year, largely because of China's aggressive build out.

In a report this past week, Piper Jaffray analyst Harsh Kumar cited a Chinese think tank that sees China-based companies spending $411 billion on 5G networks from 2020 to 2030. Of the 600,000 5G base stations expected to be rolled out worldwide next year, Kumar says half will be deployed in China: "We expect 2020 global [5G] deployments to largely be driven by the Chinese market."

5G may come together slowly in the U.S. market, but China is serious about winning the race.
………………………………………………………………………………………………………………………………………………………………………………………………………….
References:
https://tech.sina.com.cn/t/2019-10-06/doc-iicezzrr0343842.shtml
https://www.lightreading.com/asia-pacific/china-telcos-rack-up-9m-5g-advance-subs/d/d-id/754643?
https://www.barrons.com/articles/the-real-5g-winner-could-be-china-51570228459
https://www.wsj.com/articles/in-the-race-to-dominate-5g-china-has-an-edge-11567828888
Lu Lu, a senior researcher at the China Mobile Research Institute, said in an industry speech last week that China's largest wireless network operator expects its 5G network to reach 50 cities by the end of 2019 and 300 major cities by the end of 2020.  Ms. Lu said that China Mobile aimed to reach commercial scale in 5G by June next year and that 5G private networking will be a major new enterprise network service.  Edge computing, which was not used for 4G-LTE, was seen as essential for delivering customizable private networks, she said. The flexible architecture of the new 5G network was the critical factor, allowing for much more granular services and applications.
In addition, China Mobile is planning to offer network slicing services by the middle of next year when its standalone 5G network achieves commercial scale.  That despite no standards for network slicing interoperability between different vendors.
"At present, China Mobile has reserved hundreds of nodes in edge computing rooms. Based on these nodes and 5G networks we will carry out trials of relevant edge computing services," Lu said. China Mobile and its partners hoped to provide "full-stack edge-computing capabilities to industry customers," she added.
The Chinese telco is building a "one-stop cloud-network convergence platform" that can provide customized service capabilities in both centralized data centers and data centers at the edge of cities around the country, Lu said.  The operator has issued network slicing templates for six industry verticals — power grid, autonomous driving, gaming, entertainment, banking and medical.  In partnership with Ericsson, China Mobile exhibited a network slicing-based autonomous vehicle application at MWC2019 in Barcelona earlier this year.
Earlier this year, Ms. Lu delivered a speech to introduce the achievements of the cooperation between China Mobile, Huawei, and Baidu, and elaborated on the concept of "5G network as a service". She also invited partners to jointly build the 5G ecosystem and continuously promote the maturity of 5G technologies and industry development.
China Mobile Executive Vice-President Li Zhengmao has said he believes private networking and network slicing offered some of the best prospects among new 5G services.
"Operators can create a network-slicing-as-a-service business model, providing high-reliability, high-performance and easy deployment for the vertical industry through a centralized network slicing service platform," he said in an interview with state news service Xinhua.
But he acknowledged that the lack of clear business models in industry partnerships was one of the biggest problems.
China Mobile has set up a 5G Joint Innovation Center to drive application development, with more than 500 industry partners and more than 400 vertical industry partners, Li said.
…………………………………………………………………………………………………………………………………………………………………………………………….
Separately, China Telecom and China Unicom, agreed to share the efforts to build and maintain 5G radio access networks across the country.  The purpose is to accelerate deployment and slash associated infrastructure costs.
Each wireless carrier will be responsible for operating their own core networks, but will share spectrum resources and a single RAN network (which typically accounts for around 80 per cent of an operator's capex). Under the agreement, the two companies will be individually responsible for construction and maintenance in specific regions.
In a statement China Telecom said: "The commencement of the co-build and co-share cooperation is beneficial to the efficient construction of [the] 5G network and will rapidly create 5G service capability to enhance network quality and business experience."
It added the reduced costs would reinforce market competitiveness and achieve a win-win for both parties.
Both operators will continue to handle core networks and branding completely independently, with the collaboration only applying to the construction and ongoing maintenance of physical infrastructure assets. The network will use the companies' combined spectrum.
In 2016, the operators collaborated on 4G network construction, a move which reportedly saved China Unicom millions in capex within the first year and helped the two better compete with the country's largest operator, China Mobile.
References:
https://www.lightreading.com/mobile/5g/china-mobile-eyes-network-slicing-market-in-2020-/d/d-id/753963?
https://www.mobileworldlive.com/featured-content/top-three/china-operators-ink-5g-network-share-deal/
https://www.huawei.com/en/press-events/news/2019/4/huawei-china-mobile-baidu-5g-vertical-lan
Chinese mobile operators may be soon working together to build 5G networks in order to limit the costs, the Nikkei Asian Review reports.  And why not- all three are state owned!
China's second- and third-ranked mobile carriers, China Telecom and China Unicom area already close to an agreement.  Number one China Mobile hasn't commented yet.  Please see China Mobile chairman's statement in the last paragraph below.
China Telecom Chairman and CEO Ke Ruiwen said that his company is in "deep consideration" to jointly build a 5G network with China Unicom. He confirmed that top management on both sides have already reached a "high level of consensus" on the matter and "substantial progress" has been made toward a final deal.
"Co-building and co-sharing would bring great savings in capital expenditure, operating expenditure, as well as improve resource utilization," Ke said, without revealing any numbers that might quantify the cost savings.
The 5G partnership was hinted at by China Unicom Chairman and CEO Wang Xiaochu earlier. During the company's first-half earnings briefing, Wang floated the idea of a "co-built, co-shared" 5G infrastructure. Wang left the door open to cooperating with China Mobile and China Broadcasting Network, which were granted 5G licenses in June, but said China Unicom was "mutually complementary" with China Telecom, noting their strengths in different regions of the country.
The Chinese government hopes that developing a 5G network will help buoy the economy, but the three major mobile carriers are concerned about expenses and profits.   © AP ………………………………………………………………………………………………………..
China Telecom's Ke also mentioned these advantages at the operator's first-half results presentation.  Although Ke dodged questions from reporters in Hong Kong about the savings on investment and when an official agreement would be signed, he confirmed that top management on both sides have already reached a "high level of consensus" on the matter and "substantial progress" has been made toward a final deal.
Both mobile carriers are limiting their 5G investment budgets this year. China Telecom is keeping its budget unchanged from the beginning of the year at 9 billion yuan ($1.27 billion), while China Unicom is holding within the previously committed range of 8 billion yuan.
……………………………………………………………………………………………………..
The chief uncertainty about such a 5G mobile carrier partnership is about exactly what facilities the operators would share? Making use of the same cell towers, poles and other "passive" infrastructure would be no great leap. Through China Tower-a jointly owned telecom infrastructure business- all three mobile network operators have already pooled mobile towers to reduce costs.
China Tower is  a joint venture of the three major Chinese mobile carriers. Chairman Tong Jilu told reporters on Aug. 7 that the cell-tower builder has not changed its annual capital expenditure budget of 30 billion yuan since the beginning of the year. Tong stressed that his company's investment "is up to the telecom operators," adding the annual investment "would not likely exceed the budget."
China Tower said earlier this month that it had received client demands to install 65,000 5G base stations to date, a number that it expects to rise to 100,000 by the end of the year.
…………………………………………………………………………………………………………
Market leader China Mobile has pledged to allocate CNY 24 billion to 5G this year, above the CNY 17 billion suggested in March. Chairman Yang Jie said that its total capital expenditure for 2019 will be under CNY 166 billion, below last year's CNY 167.1 billion.  The company's 5G investment this year is much smaller than the 38.7 billion yuan reported by Chinese media when 5G licenses were granted in early June. The government aims to spur job creation and support embattled equipment suppliers like Huawei and ZTE as the trade conflict with the U.S. drags on, but the carriers seem to have their own agenda.
Despite the government's push for swift deployment of a network, Yang said "the peak period of 5G investment will be between 2020 and 2022."  This author completing agrees with that comment with the real investment not starting till 2021 after IMT 2020 RIT/SRIT standard has been completed by ITU-R.
………………………………………………………………………………………
References:
https://asia.nikkei.com/Spotlight/5G-networks/Chinese-mobile-carriers-eye-sharing-5G-networks-to-curb-costs
https://www.telecompaper.com/news/china-telecom-unicom-consider-5g-network-partnership–1305741
https://www.reuters.com/article/us-china-telco-5g/china-telcos-weigh-sharing-5g-network-to-cut-costs-potentially-hurting-huawei-idUSKCN1VC17X
https://www.lightreading.com/mobile/5g/chinas-5g-market-has-teething-trouble/d/d-id/753657
---