Converged 5G/WiFi Network
Following last month's FCC filing to test a small 5G network, Facebook has filed another FCC Special Temporary Authority (STA) petition to test a "converged wireless system" that could potentially support concurrent communications across Wi-Fi and cellular networks in Menlo Park, CA (Facebook corporate headquarters).
In its FCC filing (granted June 23,2021), Facebook said "The experiment involves short-term testing of a LTE over-the-air setup for an indoor demonstration that is not likely to last more than six months, making an STA more appropriate than a conventional experimental license."
Also, that it is researching a "proof of concept for a converged wireless system that will operate at the 2.4GHz Wi-Fi band and at Band 3 (1710MHz to 2495 MHz). The goal of the proof of concept is to create a demonstration and see if such a system may be viable. The system that will be tested will have a simple radio head that will be able to operate as a Wi-Fi Radio at 2.4 GHz and as a Band 3 cellular radio (LTE) concurrently. We will wirelessly connect dedicated client devices to demonstrate performance."
The FCC approved Facebook's request on June 23,2021.  It will remain in effect until its scheduled expiration date of November 10, 2021.  Facebook petition was filed under the "FCL Tech" name, which the company has been used for previous wireless tests in the 6GHz band.
Facebook will be using five units of unspecified AVX wireless network gear (E 102289 model).  AVX is a Kyocera Group company.   Their website states:
AVX Corporation is a leading international manufacturer and supplier of advanced electronic components and interconnect, sensor, control and antenna solutions with 33 manufacturing facilities in 16 countries around the world.

We offer a broad range of devices including capacitors, resistors, filters, couplers, sensors, controls, circuit protection devices, connectors and antennas. AVX components can be found in many electronic devices and systems worldwide.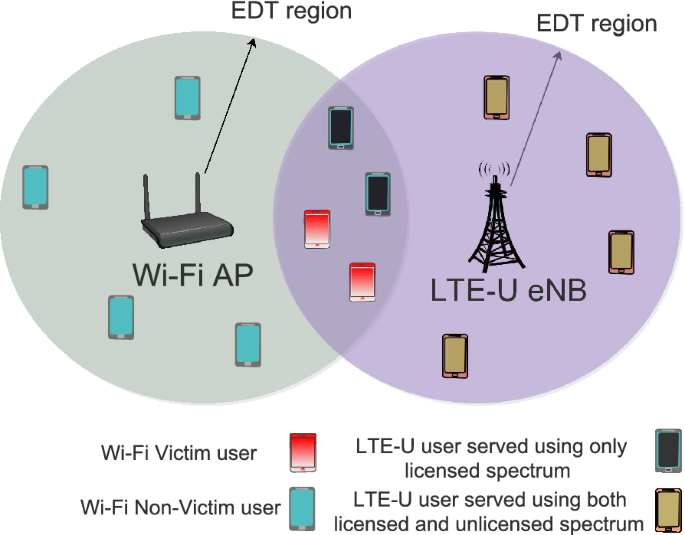 Since WiFi at 2.4 GHz is in unlicensed spectrum (and being used indoors), one would assume that Facebook would also like to operate LTE in unlicensed spectrum in their converged network.
LTE in unlicensed spectrum (LTE-Unlicensed, LTE-U) is a proposed extension of the 4G-LTE wireless standard intended to allow cellular network operators to offload some of their data traffic by accessing the unlicensed 5 GHz frequency band. LTE-Unlicensed is a proposal, originally developed by Qualcomm, for the use of the 4G LTE radio communications technology in unlicensed spectrum, such as the 5 GHz band used by IEEE 802.11a and 802.11ac compliant Wi-Fi equipment. It would serve as an alternative to carrier-owned Wi-Fi hotspots. Currently, there are a number of variants of LTE operation in the unlicensed band, namely LTE-U, License Assisted Access (LAA), and MulteFire.
License Assisted Access (LAA) is a feature of LTE that leverages the unlicensed 5 GHz band in combination with licensed spectrum to increase performance. It uses carrier aggregation in the downlink to combine LTE in unlicensed 5 GHz band with LTE in the licensed band to provide better data rates and a better user experience.
However, Facebook's STA is only for the band between 1710-2495 MHz – not the 5 GHz band.
……………………………………………………………………………………………………………………………………………………
References:
https://apps.fcc.gov/oetcf/els/reports/GetApplicationInfo.cfm?id_file_num=0769-EX-ST-2021
https://apps.fcc.gov/oetcf/els/reports/STA_Print.cfm?mode=current&application_seq=107558
https://www.lightreading.com/aiautomation/facebook-hints-at-mysterious-converged-wireless-system-in-test-application/d/d-id/770458?
Facebook to test 5G small cell network with SON features; Combine 5G access with Terragraph wireless backhaul?
---