Facebook to test 5G small cell network with SON features; Combine 5G access with Terragraph wireless backhaul?
The FCC today approved Facebook's application to test a 5G small cell network across a wide range of mid-band spectrum bands (see below) at its Menlo Park, California headquarters.
Facebook told the FCC in its application:
The experiment involves short-term testing of a 5G over-the-air setup for an outdoor demonstration that is not likely to last more than six months, making an STA (Special Temporary Authority) more appropriate than a conventional experimental license.

The purpose of operation is to demonstrate the self-organizing network ("SON") features in a 5G over-the-air setup operating in a small cell configuration. Lab testing does not allow feature realization. The outdoor test setup aims at validating the improvements done to 5G cellular networks.

The improvements involve:

(1) Load balancing between the cells in an attempt to optimize the resource utilization, reduce call drops, and create a better user experience by means of improved quality of service; and

(2) Run time selection and updates of the 5G cell physical layer cell identifiers ("PCIs") to avoid conflict between neighboring cells, thereby avoiding UE drops and reducing network signaling traffic.
The frequency bands to be used are:  2.496-2.690 GHz, 3.3-3.6 GHz, 3.7-3.8 GHz, and 4.8-4.9GHz.  A directional antenna will be used to beam the 5G signals.
Facebook did not name the network equipment suppliers for this test nor did they state why they needed to perform these tests.  The only hint given was  to test "self-organizing network ("SON") features in a 5G over-the-air setup operating in a small cell configuration."
One could speculate that Facebook might want to deploy a private 5G network across its sprawling Menlo Park campus.  Or they might want to provide 5G access to municipalities using mid-band spectrum.
The company does have some recent experience designing and deploying millimeter wave wireless distribution networks (based on Terragraph) which could be combined with a 5G access network.
Facebook's Terragraph wireless backhaul technology is being used by Cambium Networks in their 60 GHz cnWave solution.  Terragraph is a high-bandwidth, low-cost wireless solution to connect cities. Rapidly deployed on street poles or rooftops to create a mmWave wireless distribution network, Terragraph is capable of delivering fiber-like connectivity at a lower cost than fiber, making it ideally suited for applications such as fixed wireless access and Wi-Fi backhaul.
In June 2018, Magyar Telekom, subsidiary of Deutsche Telekom, deployed their first Terragraph network in Mikebuda, Hungary. Terragraph improved local network speeds from 5M bps to 650M bps.
Common Networks, a California based Internet Service Provider, deployed a Terragraph network to serve customers in Alameda, CA. Local businesses and customers of Common Networks saw an immediate improvement in internet speeds.  Common Networks presented their approach at a 2018 IEEE ComSoc SCV technical meeting in Santa Clara, CA.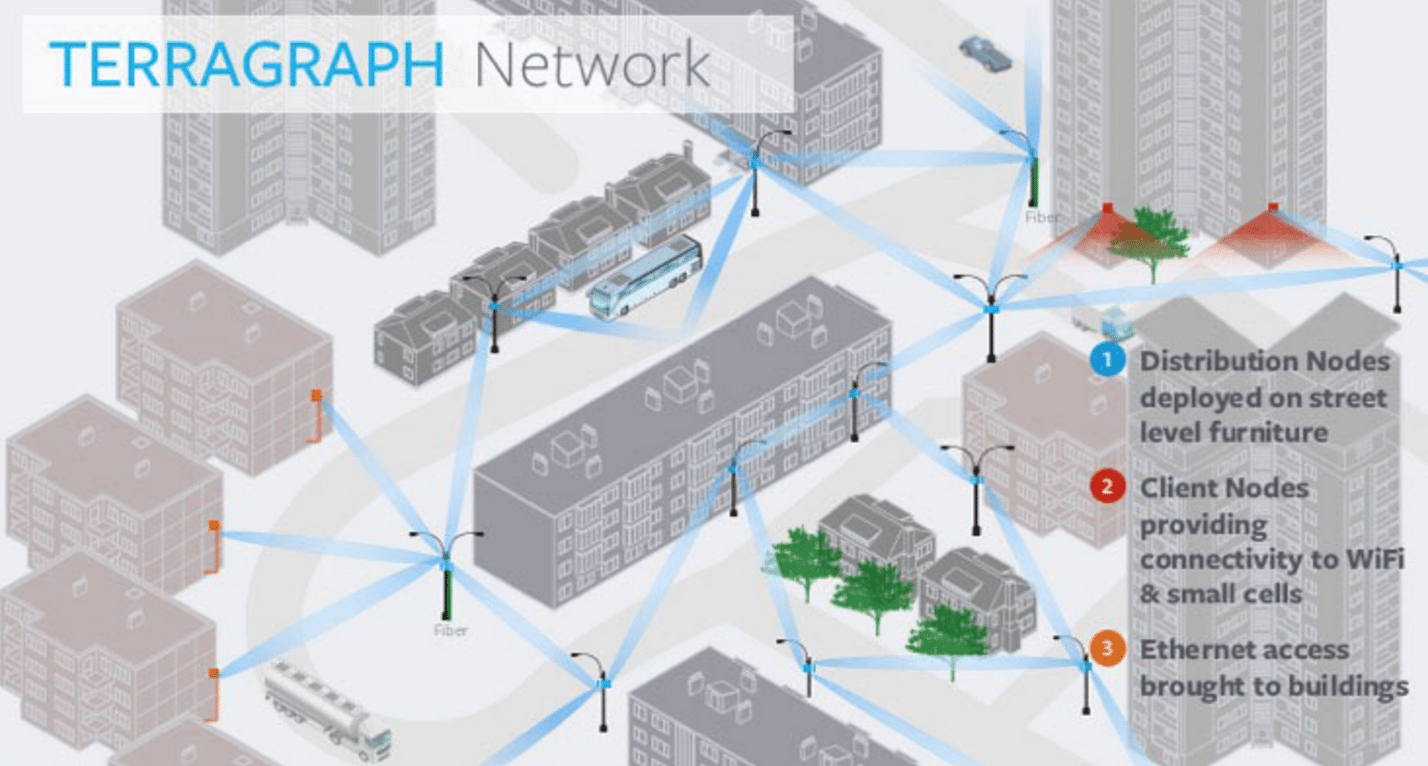 References:
https://apps.fcc.gov/oetcf/els/reports/STA_Print.cfm?mode=current&application_seq=106515
https://apps.fcc.gov/oetcf/els/reports/GetApplicationInfo.cfm?id_file_num=0482-EX-ST-2021
https://connectivity.fb.com/terragraph/
Facebook's Terragraph gains momentum with operator, vendor buy-in
---