5G Americas: LTE & LPWANs leading to 'Massive Internet of Things' + IDC's IoT Forecast
A new by 5G Americas whitepaper, titled "LTE Progress Leading to the 5G Massive Internet of Things"is an overview of the technological advancements that will support the expanding IoT vertical markets, including connected cars and wearables. The term Massive IoT (MIoT) has been recently created by the telecom industry to refer to the connection for potentially large number of devices and machines that will call for further definition in the standards for LTE and later for 5G.
The generic requirements for IoT are low cost, energy efficiency, ubiquitous coverage, and scalability (ability to support a large number of connected machines in a network). To legacy operators, IoT services should ideally be able to leverage their existing infrastructure and co-exist with other services. In the 3GPP Release
13 standard, eMTC and NB-IoT were introduced. These technologies met the above generic IoT requirements. They support in-band or guard band operations. Device cost and complexity are reduced. A large quantity of IoT devices can be supported in a network while battery life is extended.  Many of the related features were covered in the 5G Americas whitepaper, LTE and 5G Technologies Enabling the Internet of Things.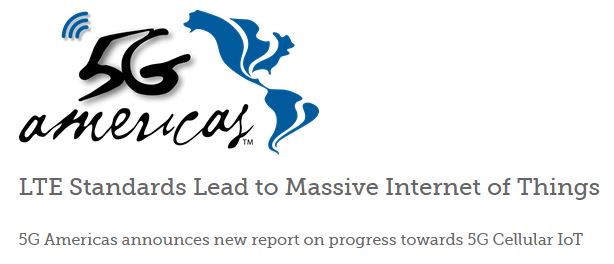 Jean Au, staff manager, technical marketing, Qualcomm Technologies, and co-leader of the whitepaper said: "Some cellular service providers in the U.S. are already adding more IoT connections than mobile phone connections, and the efforts at 3GPP in defining standards for the successful deployment of a wide variety of services across multiple industries will contribute to the growing success for consumers and the enterprise."
At present, low-power wide area networks (LPWANs) are already gaining popularity and it is expected that cellular-based technologies including LTE-M (Machine) and Narrowband-IoT (NB-IoT) will emerge as the foremost standards for LPWA by 2020.
Wireless network operators will have the option to choose from several Cellular IoT (CIoT) technologies depending on their spectrum portfolio, legacy networks and requirements of the services they offer.
Vicki Livingston, head of communications, 5G Americas, said:
"There will be a wide range of IoT use cases in the future, and the market is now expanding toward both Massive IoT deployment as well as more advanced solutions that may be categorized as Critical IoT."
According to Research and Markets, the global IoT platform market will grow at a CAGR of 31.79 percent from 2017 to 2021.  The large number of active IoT devices collect data through sensors and actuators and transmit the back to a centralized location. The IoT platform empowers the end-user to make informed decisions using the data. Together with design innovations in 5G architectures, cloud-native edge computing platforms ensure Industrial IoT (IIoT) applications can be run in a cost-effective manner.
References:
http://www.5gamericas.org/files/8415/1250/0673/LTE_Progress_Leading_to_the_5G_Massive_Internet_of_Things_Final_12.5.pdf
http://www.5gamericas.org/files/3514/8121/4832/Enabling_IoT_WP_12.8.16_FINAL.pdf
………………………………………………………………………………………
Addendum:  IDC's IoT Forecast
Worldwide spending on the Internet of Things (IoT) is forecast to reach $772.5 billion in 2018, an increase of 14.6% over the $674 billion that will be spent in 2017. A new update to the International Data Corporation (IDC) Worldwide Semiannual Internet of Things Spending Guide forecasts worldwide IoT spending to sustain a compound annual growth rate (CAGR) of 14.4% through the 2017-2021 forecast period surpassing the $1 trillion mark in 2020 and reaching $1.1 trillion in 2021.
IoT hardware will be the largest technology category in 2018 with $239 billion going largely toward modules and sensors along with some spending on infrastructure and security. Services will be the second largest technology category, followed by software and connectivity. Software spending will be led by application software along with analytics software, IoT platforms, and security software. Software will also be the fastest growing technology segment with a five-year CAGR of 16.1%. Services spending will also grow at a faster rate than overall spending with a CAGR of 15.1% and will nearly equal hardware spending by the end of the forecast.
"By 2021, more than 55% of spending on IoT projects will be for software and services. This is directly in line with results from IDC's 2017 Global IoT Decision Maker Survey where organizations indicate that software and services are the key areas of focused investment for their IoT projects," said Carrie MacGillivray, vice president, Internet of Things and Mobility at IDC. "Software creates the foundation upon which IoT applications and use cases can be realized. However, it is the services that help bring all the technology elements together to create a comprehensive solution that will benefit organizations and help them achieve a quicker time to value."
The industries that are expected to spend the most on IoT solutions in 2018 are manufacturing ($189 billion), transportation ($85 billion), and utilities ($73 billion). IoT spending among manufacturers will be largely focused on solutions that support manufacturing operations and production asset management. In transportation, two thirds of IoT spending will go toward freight monitoring, followed by fleet management. IoT spending in the utilities industry will be dominated by smart grids for electricity, gas, and water. Cross-Industry IoT spending, which represent use cases common to all industries, such as connected vehicles and smart buildings, will be nearly $92 billion in 2018 and rank among the top areas of spending throughout the five-year forecast.
"Consumer IoT spending will reach $62 billion in 2018, making it the fourth largest industry segment. The leading consumer use cases will be related to the smart home, including home automation, security, and smart appliances," said Marcus Torchia, research director, Customer Insights & Analysis. "Smart appliances will experience strong spending growth over the five-year forecast period and will help to make consumer the fastest growing industry segment with an overall CAGR of 21.0%."
Asia/Pacific (excluding Japan) (APeJ) will be the geographic region with the most IoT spending in 2018 – $312 billion – followed by North America (the United States and Canada) at $203 billion and Europe, the Middle East, and Africa (EMEA) at $171 billion. China will be the country with the largest IoT spending total in 2018 ($209 billion), driven by investments from manufacturing, utilities, and government. IoT spending in the United States will total $194 billion in 2018, led by manufacturing, transportation, and the consumer segment. Japan ($68 billion) and Korea ($29 billion) will be the third and fourth largest countries in 2018, with IoT spending largely driven by the manufacturing industry. Latin America will deliver the fastest overall growth in IoT spending with a five-year CAGR of 28.3%.
The Worldwide Semiannual Internet of Things Spending Guide forecasts IoT spending for 14technologies and 54 use cases across 20 vertical industries in eight regions and 53 countries. Unlike any other research in the industry, the comprehensive spending guide was designed to help vendors clearly understand the industry-specific opportunity for IoT technologies today.
https://www.idc.com/getdoc.jsp?containerId=prUS43295217
---