Far EasTone Telecommunications 5G Indoor Trials; Chunghwa Telecom 5G Field Trial for Driverless Cars
The telecom hopes the trials help companies transit to 5G technology more smoothly, vice president Philip Tseng told reporters in Taipei.
Far EasTone Telecommunications Co Ltd of Taiwan said yesterday that it plans to set up an indoor 5G trial field next month at Neihu Technology Park for 100 enterprises or research organizations.  The announcement came a day after the telecom won the first approval to install a 5G-based Proof of Business network.  The Taiwan National Telecommunications Commission has approved six 5G proof-of-concept trials and is still reviewing other applications, it said, adding that it welcomes more applications to explore business opportunities or business models on 5G networks. Telecoms that win 5G spectrum licenses are expected to launch commercial 5G services in July next year (2020) at the earliest, the commission said.
The telecom said it plans to offer the trials in collaboration with Ericsson Taiwan at the Neihu Sports Center on a commercial 5G network using the 3.5 gigahertz band. As part of the trials, Far EasTone  is to supply free 5G SIM cards, routers and a 5G applications enablement platform (undefined?), allowing firms to test Internet of Things (IoT) business opportunities from this month to December 2019.  The average download speed of the 5G network will be at least 10 times faster than a 4G LTE network, the company said.
"We hope the trials help upstream and downstream companies transit to 5G technology more smoothly," Far EasTone vice president Philip Tseng told reporters on the sidelines of a news conference in Taipei. The telecom is teaming up with Taipei's Smart City Project Management Office, Department of Information Technology and Department of Economic Development, as well as the Taiwan IOT Technology and Industry Association to launch the 5G trials.
Notebook computer maker Compal Electronics Inc and smartphone maker HTC Corp are to provide the 5G endpoints to be tested, the telecom said.
……………………………………………………………………………………………………………………………………………………………………………………………………….
Ericsson — Taiwan to beat Europe in 5G deployments:
In August, Ericsson said it expects Taiwan to ramp up 5G services faster than Europe once the nation's 5G spectrum is auctioned, thanks to its strong position in the communications components manufacturing supply chain.
"Taiwan has an industry that manufactures a lot of components. That is not the case in many countries in Europe or elsewhere," Nassif told a media briefing in Taipei. "Here you have the possibility of creating all kinds of ecosystems. You have a better chance of rapidly achieving scale."
"Taiwan is getting ready and I have a good feeling that 5G will be here in Taiwan next year, thanks to the many initiatives that have been planned by local telecoms even before December's 5G spectrum auction," Nassif said.
Taiwan's National Communications Commission plans to auction 2,790 megahertz (MHz) of bandwidth for 5G services, including 270MHz in the 3.5 gigahertz (GHz) band, 2,500MHz in the 28GHz band and 20MHz in the 1,800MHz band.  The commission has not yet set the floor price.
Taiwan has shown a readiness to embrace 5G services, given its high data usage — 20 gigabytes per month, one of the highest in the world — and its tech-savvy mobile users, said Peter Fung,  head of networks for Ericsson in Taiwan, Hong Kong and Macau.
Ericsson, which has secured 47 contracts from telecoms worldwide, is collaborating with Chunghwa Telecom Co (中華電信), Far EasTone Telecommunications Co (遠傳電信) and Asia Pacific Telecom Co (亞太電信) in the deployment of their 5G networks.
……………………………………………………………………………………………………………………………………………………………………………………………………….
About Far EasTone Telecommunications:
Far EasTone Telecommunications (FET) is a leading company in Taiwan which provides telecommunications and digital application services. Since its establishment in 1997, FET has strived to close the gap between people to achieve the objective of "Closing the distance". As the 5G era approaches, FET has set its sights beyond telecommunications and has reinterpreted the brand statement in 2019, setting a new milestone with " For Every Thought, We Go Further". FET's aim is, through Big Data, AI, IoT and other digital applications, to not only bring people closer together in mind, also to reduce the gap between people and new technology.
Since its establishment in 1997, FET has continued to introduce new products and services utilizing access technologies, including 2G, 3G, 4G and WiFi. As the popularity of smart devices grows rapidly, FET is investing heavily in the improvement of internet infrastructure, actively enhancing the speed and quality of mobile networks, upgrading base stations, and expanding the channel range.
FET has collaborated with the telecom equipment giant Ericsson to establish the first 5G Lab in Taiwan. In 2018, FET announced the establishment of the "FET 5G Pioneer Team," the first in Taiwan to drive development of 5G connected vehicle technologies and ecosystem in Taiwan. In the future, it will further take on the challenge of reaching the fastest network speed with 4-band dual technology. We will also continue to develop IoT applications and polish our mobile services to become the preferred partner in the digital life and pave a solid path forward to the future of 5G roll-out.
……………………………………………………………………………………………………………………………………………………………………………………………………….
References:
http://www.taipeitimes.com/News/biz/archives/2019/10/05/2003723392
http://www.taipeitimes.com/News/biz/archives/2019/08/13/2003720368
https://www.fetnet.net/corporate/en/
https://en.wikipedia.org/wiki/National_Communications_Commission
……………………………………………………………………………………………………………………………………………………………………………………………………………
In a related development — Chunghwa Telecom holds 5G field trial for driverless cars:
Chunghwa Telecom yesterday (October 3, 2019) conducted a 5G spectrum-based field trial for autonomous vehicles at a lab in New Taipei City's Banciao District  to demonstrate vehicle-to-infrastructure technology developed by a subsidiary.  The telecom expects to provide more autonomous vehicle tests and trials using 5G networks at its lab in the future.
"Our aim is to help grow this 5G value chain ranging from chips and small cell stations to all kinds of applications," Chunghwa Telecom chairman Hsieh Chi-mau  told reporters on the sidelines of the field trial.
The company focuses on the delivery of real-time information, such as traffic data to vehicles using high-speed and low-latency 5G technology, while Kingwaytek Technology Co (勤崴), a 26 percent held subsidiary, is helping to develop autonomous driving systems, particularly for shuttle buses, Hsieh said.  Kingwaytek is a supplier of high-definition (HD) electronic maps and vehicle navigation systems.
"We are developing a decisionmaking system for self-driving vehicles and a traffic prediction system, which will be combined with our HD electronic maps to complete our self-driving solution," Kingwaytek chairman Alfred Ko said.  Kingwaytek plans to conduct a series of self-driving field trials next year in collaboration with Automotive Research and Testing Center via a sandbox program in Changhua County, Ko said.
The trial, if successful, would pave the way for the company to sell its self-driving solutions overseas in the next two to three years, injecting new revenue growth momentum into the business, he said.  Southeast Asian nations would be ideal markets, as Chunghwa Telecom's strength in the region could provide leverage, he said.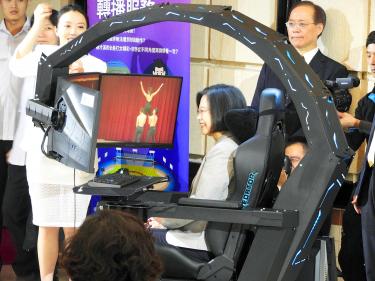 President Tsai Ing-wen, sitting, tries out 5G-enabled technology at a news conference in New Taipei City yesterday. Photo: Lai Hsiao-tung, Taipei Times
…………………………………………………………………………………………………………………………………………………………………………………………………………………………………………………………………………………….
Kingwaytek operates one autonomous vehicle trial field in Changhua County and another in Taoyuan's Hutoushan.
Chungwha Telecom and Taiwan Mobile Co both said separately that they have submitted their applications to bid for 5G bandwidth and are prepared to substantially invest in 5G network deployment.  Asked if Taiwan Mobile still aims to secure 100 megahertz of bandwidth at the auction, Taiwan Mobile president Jamie Lin (林之晨) said: "Only for a reasonable price."
"Taiwan Mobile will make 5G [services] available in the second half of next year," Lin said.
The telecom is in talks with multiple agencies about launching 5G trial fields, he said, adding that the company has one trial field in the baseball stadium in New Taipei City's Sinjhuang District.
Reference:
http://www.taipeitimes.com/News/biz/archives/2019/10/04/2003723337
---