Telstra's T25 to extend 5G coverage and offer enhanced customer experiences
Australian network operator Telstra has unveiled a strategy it is calling T25, with the main aim of extending 5G coverage across Australia, as well as enhancing its customer service.
Telstra said that the T25 strategy is likely to come into effect by July 2022. The T25 strategy also aims to bring down the telco's annual fixed costs by $366 million.
Telstra noted that the new plan will build on the operator's previous T22 strategy. "T22 has been one of the largest, fastest and most ambitious transformations of a telco globally. Today we are a vastly different company, one poised for growth as our society and economy increasingly digitizes and we all work, study, transact and get our entertainment online," Telstra's CEO Andy Penn said.
"If T22 was a strategy of necessity, T25 is a strategy for growth. And in its implementation, we will be using exactly the same disciplines and governance that we used for T22 – the metrics and the milestones, the roadmaps and the scorecard which we will make transparent to you. And this is why I am confident it will be a success – why change a winning formula when you don't need to," Penn said.
T25 is Telstra's strategy for growth, which is broken down into four pillars:
Provide an exceptional customer experience you can count on
Provide leading network and technology solutions that deliver your future
Create sustained growth and value for our shareholders
Be the place you want to work
Telstra said it aims to further invest in 5G with the goal of increasing the reach of its 5G network from the current 75% of the population to 95% population coverage.
"Our customers will keep enjoying our investment in 5G, which will deliver approximately 95% population coverage by fiscal year 2025 – including a 100,000 square kilometer increase in our 4G and 5G network footprint, substantially increasing regional coverage," Penn explained.
"Over the next 3-5 years, this will be supported by our continued 5G network rollout and the doubling of metro cells to increase density for greater capacity and speed. As a result, we expect 80% of all mobile traffic to be on 5G by fiscal year 2025," the executive added.
Penn also highlighted that Telstra will also extend its 4G coverage to 100% of its network by 2024, enabling the carrier to "continue to lead in composite coverage, speed and performance for 4G and 5G as we close 3G.  This will set us up well for early planning on 6G, which will clearly be on the agenda by the end of T25," Penn concluded.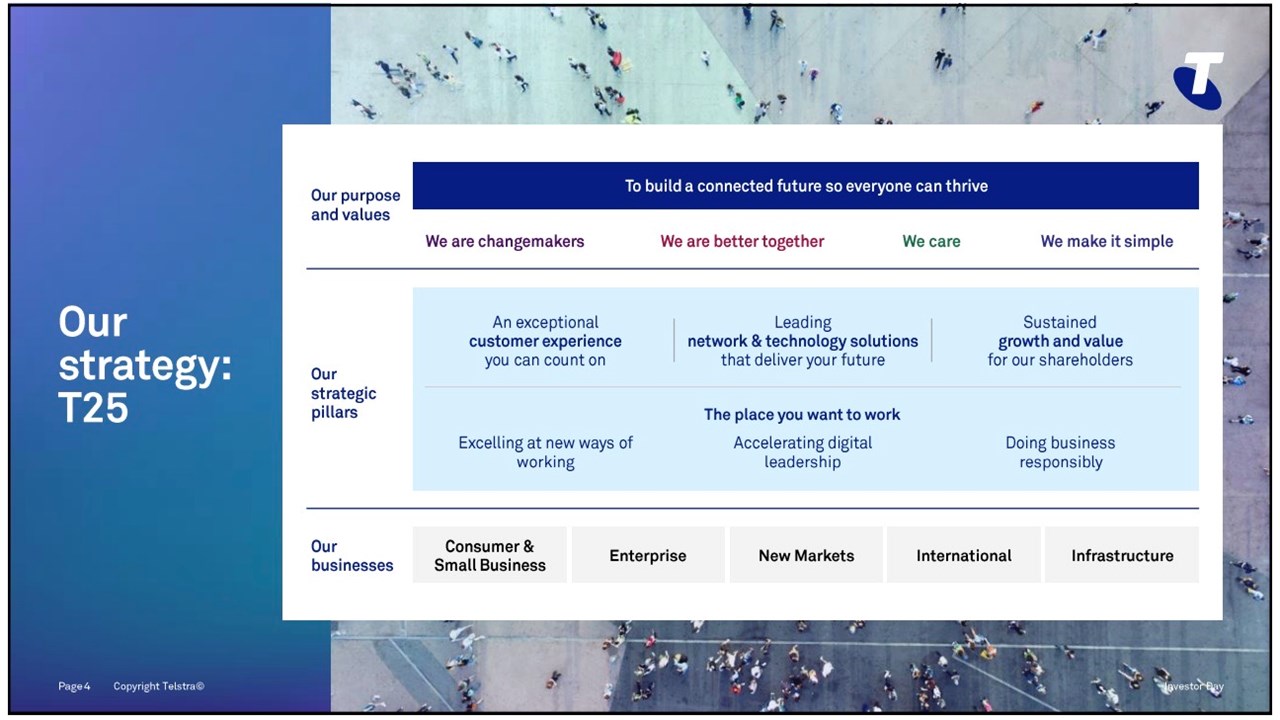 Telstra, which had launched 5G in May 2020, is currently using its spectrum in the 3.6 GHz band to provide 5G technology across Australia. Some of the cities in which Telstra offers its 5G service are Canberra, Central Coast, Brisbane, Sidney, Cairns, Gold Coast, Adelaide, Hamilton, Melbourne and Perth.
In May last year, Telstra upgraded its 5G radio access network (RAN) coverage footprint across Australia, connecting a cloud-native 5G Core (5GC) network to handle new 5G standalone traffic.
Telstra used equipment from Swedish vendor Ericsson for the network upgrade.
References:
Introducing T25: our plan for growth and enhanced customer experiences
https://www.reuters.com/business/media-telecom/australias-telstra-announces-t25-strategy-accelerate-growth-2021-09-15/
---