Heavy Reading Survey: Network White Boxes and Cell Site Backhaul Connectivity
Heavy Reading's (owned by Informa) 2023 survey attracted 87 qualified network operator responses from around the world who shared their views on transport deployment issues and timelines, fronthaul networks and RAN centralization, routing and synchronization, and 5G edge connectivity.
Network disaggregation has been defined as "The separation of networking equipment into functional components and allowing each component to be individually deployed." The disaggregated network approach first gained major attention in 2012 when standards organization ETSI formed a working group to define how telecom operators could move to a cloud-native model for deploying networking and services.
White Box Deployment Model:
In the disaggregated network model, the network operating system/software is separate from the underlying hardware (white boxes), with each supplied by different vendors. White boxes  can be bare metal switches, routers, packet-optical equipment or DWDM transponders.  They are mostly used by cloud service providers and large network operators.
Network operators surveyed by Heavy Reading expect white box elements to have their highest deployments in cell sites and aggregation nodes. 44% of operators expect high deployments in cell sites (defined as greater than 50% of total elements), followed closely by aggregation, with 41% expecting high deployments.
Among the top benefits of white box cell site and aggregation deployments are easy integration into the RAN, compact footprint where space is at a premium and scaling from 10G to 400G on the same platform.
How extensively does your organization expect to deploy white box optical transport platforms over the next three years for the following 5G transport segments?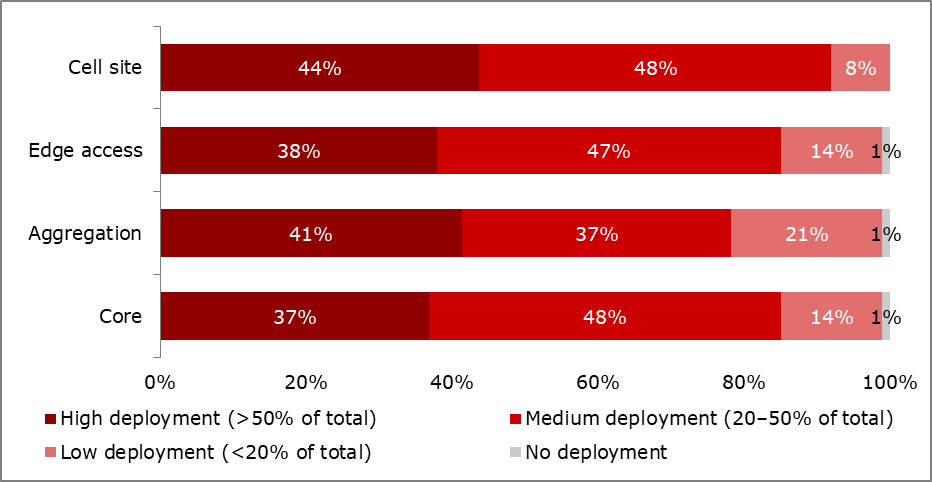 Source: Heavy Reading
…………………………………………………………………………………………………………………………………………………………………..
Cell Site Backhaul:
5G requires a huge increase in capacity per cell site, with 10 Gbps replacing 1 Gbps as the standard for cell site  backhaul speed. This tenfold jump in capacity is needed to meet initial 5G cell site requirements, as well as to provide room to grow for future increases. But the impact on 5G transport segments goes well beyond 10G, based on Heavy Reading survey results. Just over two-thirds of operators expect at least 100Gbps of capacity will be required in backhaul (67%) and aggregation (68%), while just under two-thirds of respondents (59%) expect that greater than 100 Gbps will be needed in edge access.
Heavy Reading found that 10Gbps to the individual cell site will be sufficient. However, network operators will often carry traffic from multiple cell sites, such as when using ring topologies for backhaul or when aggregating traffic coming in from multiple cell site locations. These survey results provide strong support that 100 Gbps and even 400 Gbps will play major roles in edge, aggregation and backhaul networks over the medium term.
What is your average expected bandwidth capacity in each of the following segments over the next three years (i.e., end of 2025)?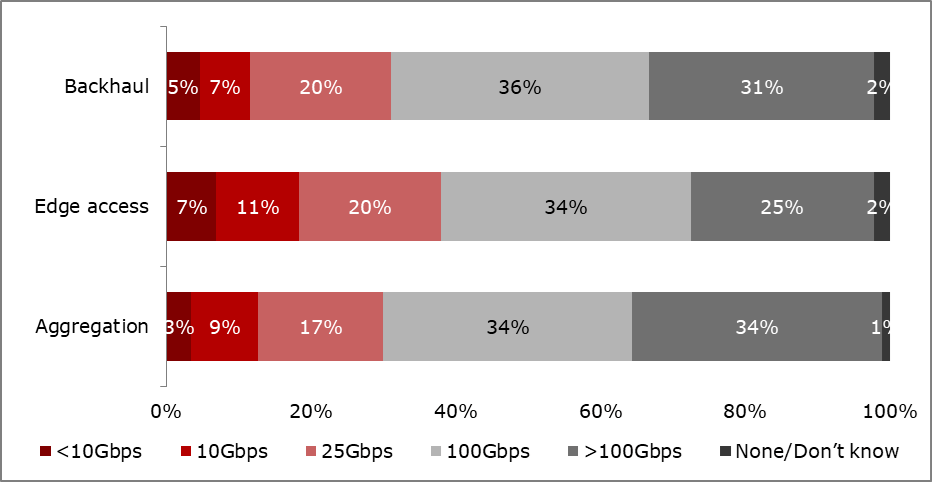 Source: Heavy Reading
………………………………………………………………………………………………………………………………………………………………………
References:
https://www.lightreading.com/5g-and-beyond/transport-priorities-for-next-phase-of-5g/a/d-id/784462?
---