Vodafone and Google Cloud today announced a new, six-year strategic partnership to drive the use of reliable and secure data analytics, insights, and learnings to support the introduction of new digital products and services for Vodafone customers simultaneously worldwide.
In a significant expansion of their existing agreement, Vodafone and Google Cloud will jointly build a powerful new integrated data platform with the added capability of processing and moving huge volumes of data globally from multiple systems into the cloud.
The platform, called 'Nucleus', will house a new system – 'Dynamo' – which will drive data throughout Vodafone to enable it to more quickly offer its customers new, personalized products and services across multiple markets. Dynamo will allow Vodafone to tailor new connectivity services for homes and businesses through the release of smart network features, such as providing a sudden broadband speed boost.
Capable of processing around 50 terabytes of data per day, equivalent to 25,000 hours of HD film (and growing), both Nucleus and Dynamo, which are industry firsts, are being built in-house by Vodafone and Google Cloud specialist teams. Up to 1,000 employees of both companies located in Spain, the UK, and the United States are collaborating on the project.
Vodafone has already identified more than 700 use-cases to deliver new products and services quickly across Vodafone's markets, support fact-based decision-making, reduce costs, remove duplication of data sources, and simplify and centralize operations.  The speed and ease with which Vodafone's operating companies in multiple countries can access its data analytics, intelligence, and machine-learning capabilities will also be vastly improved.
By generating more detailed insight and data-driven analysis across the organization and with its partners, Vodafone customers around the world can have a better and more enriched experience. Some of the key benefits include:
Enhancing Vodafone's mobile, fixed, and TV content and connectivity services through the instantaneous availability of highly personalized rewards, content, and applications. For example, a consumer might receive a sudden broadband speed boost based on personalized individual needs.
Increasing the number of smart network services in its Google Cloud footprint from eight markets to the entire Vodafone footprint. This allows Vodafone to precisely match network roll-out to consumer demand, increase capacity at critical times, and use machine learning to predict, detect, and fix issues before customers are aware of them.
Empowering data scientists to collaborate on key environmental and health issues in 11 countries using automated machine learning tools. Vodafone is already assisting governments and aid organisations, upon their request, with secure, anonymised, and aggregated movement data to tackle COVID-19. This partnership will further improve Vodafone's ability to provide deeper insights, in accordance with local laws and regulations, into the spread of disease through intelligent analytics across a wider geographical area.
Providing a complete digital replica of many of Vodafone's internal support functions using artificial intelligence and advanced analytics. Called a digital twin, it enables analytic models on Google Cloud to improve response times to enquiries and predict future demand. The system will also support a digital twin of Vodafone's vast digital infrastructure worldwide.
In addition, Vodafone will re-platform its entire SAP environment to Google Cloud, including the migration of its core SAP workloads and key corporate SAP modules such as SAP Central Finance.
Johan Wibergh, Chief Technology Officer for Vodafone, said: "Vodafone is building a powerful foundation for a digital future. We have vast amounts of data which, when securely processed and made available across our footprint using the collective power of Vodafone and Google Cloud's engineering expertise, will transform our services, to our customers and governments, and the societies where they live and serve."
Thomas Kurian, CEO at Google Cloud, commented: "Telecommunications firms are increasingly differentiating their customer experiences through the use of data and analytics, and this has never been more important than during the current pandemic. We are thrilled to be selected as Vodafone's global strategic cloud partner for analytics and SAP, and to co-innovate on new products that will accelerate the industry's digital transformation."
Revenues at Google's Cloud business grew 46% this past quarter.  However, Google continues to be a distant third to Amazon and Microsoft in the cloud business.
Technical Notes:
All data generated by Vodafone in the markets in which it operates is stored and processed in the required Google Cloud facilities as per local jurisdiction requirements and in accordance with local laws and regulations. Customer permissions and Vodafone's own rigorous security and privacy by design processes also apply.
On the back of their collaborative work, Vodafone and Google Cloud will also explore opportunities to provide consultancy services, offered either jointly or independently, to other multi-national organizations and businesses.
The platform is being built using the latest hybrid cloud technologies from Google Cloud to facilitate the rapid standardization and movement of data in both Vodafone's physical data centers and onto Google Cloud. Dynamo will direct all of Vodafone's worldwide data, extracting, encrypting, and anonymizing the data from source to cloud and back again, enabling intelligent data analysis and generating efficiencies and insight.
References:
https://prnmedia.prnewswire.com/news-releases/vodafone-and-google-cloud-to-develop-industry-first-global-data-platform-301281936.html
https://cloud.google.com/press-releases/2021/0503/vodafone-google-cloud (video)
Google has plans to build three new undersea cables in 2019 to support its Google Cloud customers. The company plans to co-commission the Hong Kong-Guam (HK-G) cable system as part of a consortium.   In a blog post by Ben Treynor Sloss, vice president of Google's cloud platform, three undersea cables and five new regions were announced..
The HK-G will be an extension of the SEA-US cable system, and will have a design capacity of more than 48Tbps. It is being built by RTI-C and NEC. Google said that together with Indigo and other cable systems, HK-G will create multiple scalable, diverse paths to Australia. In addition, Google plans to commission Curie, a private cable connecting Chile to Los Angeles and Hvfrue, a consortium cable connecting the US to Denmark and Ireland as shown in the figure below.
Late last year, Google also revealed plans to open a Google Cloud Platform region in Hong Kong in 2018 to join its recently launched Mumbai, Sydney, and Singapore regions, as well as Taiwan and Tokyo.
Of the five new Google Cloud regions, Netherlands and Montreal will be online in the first quarter of 2018. Three others in Los Angeles, Finland, and Hong Kong will come online later this year. The Hong Kong region will be designed for high availability, launching with three zones to protect against service disruptions. The HK-G cable will provide improved network capacity for the cloud region.  Google promises they are not done yet and there will be additional announcements of other regions.
In an earlier announcement last week, Google revealed that it has implemented a compile-time patch for its Google Cloud Platform infrastructure to address the major CPU security flaw disclosed by Google's Project Zero zero-day vulnerability unit at the beginning of this year.
Diane Greene, who heads up Google's cloud unit, often marvels at how much her company invests in Google Cloud infrastructure. It's with good reason. Over the past three years since Greene came on board, the company has spent a whopping $30 billion beefing up the infrastructure.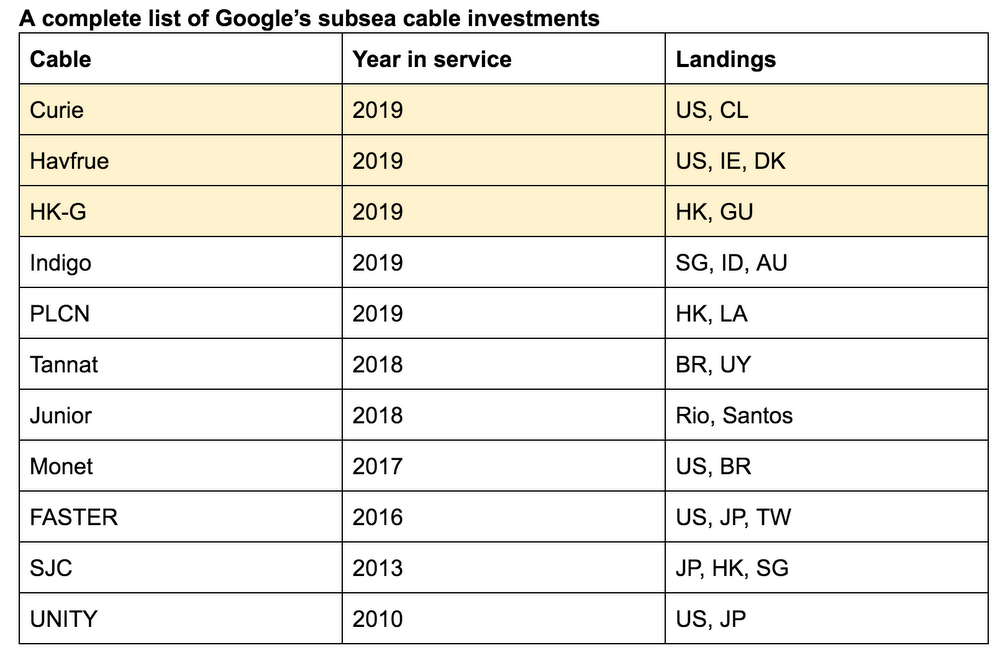 Google has direct investment in 11 cables, including those planned or under construction. The three cables highlighted in yellow are being announced in this blog post. (In addition to these 11 cables where Google has direct ownership, the company also leases capacity on numerous additional submarine cables.)
In the referenced Google blog post, Mr Treynor Sloss wrote:
At Google, we've spent $30 billion improving our infrastructure over three years, and we're not done yet. From data centers to subsea cables, Google is committed to connecting the world and serving our Cloud customers, and today we're excited to announce that we're adding three new submarine cables, and five new regions.

We'll open our Netherlands and Montreal regions in the first quarter of 2018, followed by Los Angeles, Finland, and Hong Kong – with more to come. Then, in 2019 we'll commission three subsea cables: Curie, a private cable connecting Chile to Los Angeles; Havfrue, a consortium cable connecting the U.S. to Denmark and Ireland; and the Hong Kong-Guam Cable system (HK-G), a consortium cable interconnecting major subsea communication hubs in Asia.

Together, these investments further improve our network—the world's largest—which by some accounts delivers 25% of worldwide internet traffic……………….l.l….

Simply put, it wouldn't be possible to deliver products like Machine Learning Engine, Spanner, BigQuery and other Google Cloud Platform and G Suite services at the quality of service users expect without the Google network. Our cable systems provide the speed, capacity and reliability Google is known for worldwide, and at Google Cloud, our customers are able to to make use of the same network infrastructure that powers Google's own services.

While we haven't hastened the speed of light, we have built a superior cloud network as a result of the well-provisioned direct paths between our cloud and end-users, as shown in the figure below.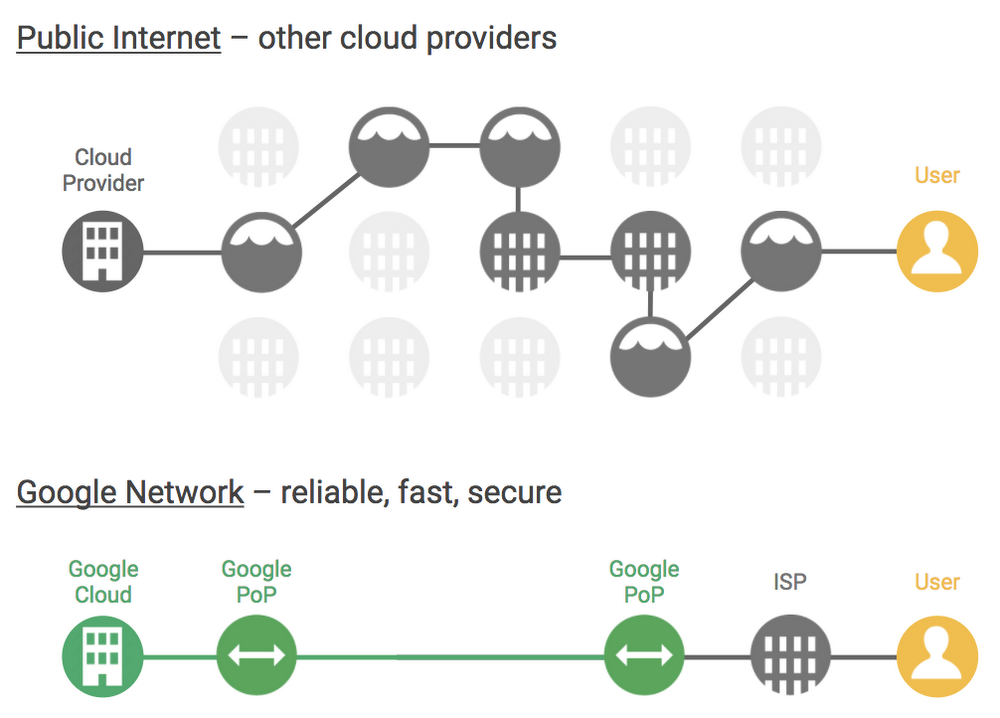 According to Ben: "The Google network offers better reliability, speed and security performance as compared with the nondeterministic performance of the public internet, or other cloud networks. The Google network consists of fiber optic links and subsea cables between 100+ points of presence, 7500+ edge node locations, 90+ Cloud CDN  locations, 47 dedicated interconnect locations and 15 GCP regions."
……………………………………………………………………………………………………………………………………………………………………………………………
Reference:
https://www.blog.google/topics/google-cloud/expanding-our-global-infrastructure-new-regions-and-subsea-cables/
---