Chunghwa Telecom, Taiwan's largest network operator reported double digit  net profits last month, as more people sign up for 5G services and nontraditional offerings (see below).  Net profits last month expanded 14.4 percent annually to NT$3.22 billion (US$105.56 million) from NT$2.82 billion in March last year, the company said in a statement on Tuesday. That brought first-quarter net profit to NT$9.64 billion, up 6.4 percent from NT$9.06 billion in the same period last year. Earnings per share (EPS) rose to NT$1.24 from NT$1.17 in first quarter of last year, making Chunghwa Telecom the most profitable telecom in Taiwan. First-quarter revenue expanded 5.7 percent year-on-year to NT$54.21 billion, the company said, adding that the results exceeded its expectations. Its average revenue per post-paid mobile subscriber climbed 5.3 percent year-on-year last month, the telecom said, attributing the trend to more 5G subscriptions.
Last month's robust performance came amid 50 percent annual growth in revenue from its nontraditional telecom services, including Internet data center leasing, cloud-based services, artificial intelligence of things services and private networking, it said. Meanwhile, Taiwan Mobile Cos net profit fell 0.3 percent to NT$2.72 billion in the first quarter, with earnings per share dropping to NT$0.96, the company said yesterday, adding that its bottom line was affected by unfavorable foreign exchange rates. However the companys average revenue per post-paid mobile subscriber last month rose 3.5 percent annually to NT$664, marking 22 straight months of growth, it said. First-quarter revenue increased 8.1 percent annually to NT$43.02 billion from NT$39.79 billion, it said.  About 58 percent of last quarter's revenue came from its e-commerce subsidiary Momo.com Inc.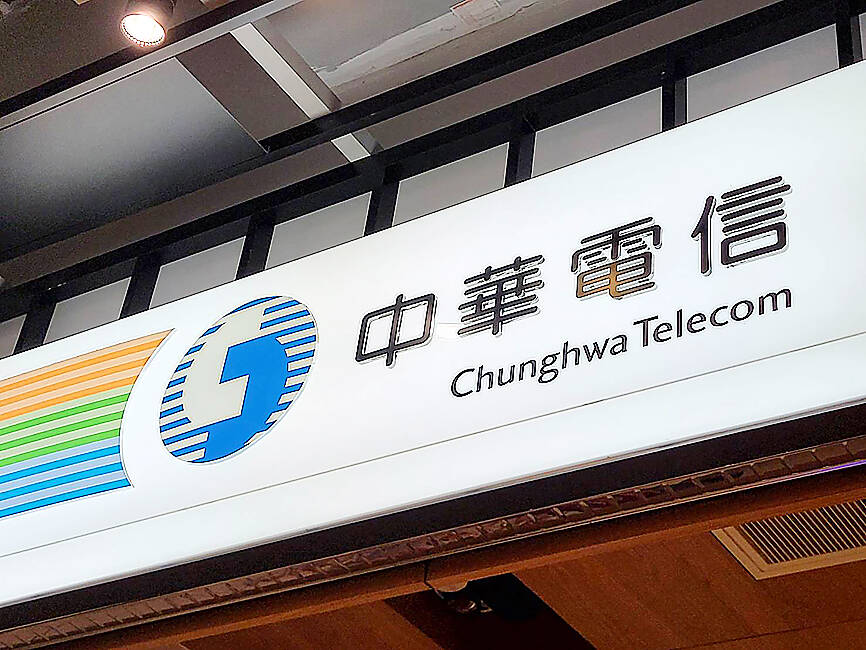 Chunghwa Telecom Co signage is pictured at an outlet in Taipei  Photo Credit:  CNA
……………………………………………………………………………………………………………………………………………………………………
Separately, Far EasTone Telecommunications Co said that its first-quarter net profit surged 18.4 percent annually to NT$2.75 billion, with EPS of NT$0.85, both surpassing the companys expectations. Revenue in the first quarter expanded 1.8 percent to NT$22.31 billion from a year earlier. Far EasTone attributed the robust growth to its number of mobile users expanding to 7.17 million last month, while its average revenue per user increased 2.3 percent, marking the best performance in about 25 months, it said.
…………………………………………………………………………………………………………………………………………………………………….
Research and Markets "Taiwan Telecoms Industry Report – 2023-2030" report states that the Taiwanese telecoms market is set to see a wave of consolidation in 2023 By the end of the year, the number of mobile operators could decline from five to three, which is considered a reasonable number for market competition globally. Two of the three major players are set to acquire two smaller companies. Taiwan Mobile is set to merge with Taiwan Star, and FET will take over Asia Pacific Telecom, a smaller operator. Both deals are expected to conclude by late 2023, reflecting a trend of consolidation by private players that we have witnessed in other Asian markets such as Malaysia, Thailand and Indonesia.
Further market consolidation is likely to occur over the forecast period as many telecom players confront the task of creating returns in a growing and capital-intensive industry and are therefore considering ways to grow industry revenues and profitability.
The publisher forecasts that mobile subscriptions will continue to grow in the 2023-30 period and fixed broadband subscribers will also continue to grow but lower its household penetration over the same period due to fixed-wireless substitution. The ratio of the telecommunications sector revenue to GDP is declining from a peak in 2015, sliding down every year since then.  Following the market contraction over the last 5 years, the publisher forecasts flat revenue growth to 2030, as long as data pricing stays rational amid the mergers from five to three mobile operators due in 2023.
Mobile subscriptions are growing faster than mobile service revenue leading to ARPU decline after 3 years of intense competition with the market transitioned completely transitioned to 4G after shutting down 2G and 3G networks in 2017 and 2019 respectively.
The publisher expects the overall Taiwan telecoms market to remain flat through to 2025 after a marked decline from 2016 due to mobile service revenue pressure partially offset by fixed broadband and enterprise data growth.
Mobile Subscribers and Revenue:
As the rate of growth of net additions in mobile subscriptions slows, telecommunications providers are channelling their efforts into reducing their cost base and stabilising ARPU through new value-added services using mobile data and bundling fixed and mobile services. The proportion of postpaid subscriptions remained stable at about 81% between 2016 and 2022 while the postpaid segment is growing in popularity with SIM-only offerings and reducing the number of people holding multiple SIMs.
According to our benchmark study of mobile data pricing, India has the lowest rate per GB at just a few cents per GB, while Australia and China had the biggest cost reduction per GB mostly due to increased data allowance in plans while Singapore remains expensive. Taiwan mobile users pay for competitively priced data as mobile users recorded the largest monthly download in the Asia Pacific region.
Broadband Subscribers – FTTH Push and Fixed Wireless:
The fixed broadband market is experiencing a subdued growth with Chunghwa Telecom losing share to HFC cable operators such as KBro, Taiwan Mobile, TBC and CNS. Chunghwa Telecom invested early in the 2010s in FTTx technologies while migrating its DSL subscribers to its HiNet network. Competing cable operators also invested in upgrading their cable networks bundling mobile, IPTV and e-Commerce services but falling short of upgrading to full-fiber networks limiting opportunities for gigabit speeds.  Fixed broadband penetration is forecasted to decline as fixed-wireless substitution is increasing supporting a rising number of lone-occupancy households.
References:
https://www.taipeitimes.com/News/biz/archives/2023/04/13/2003797810
https://www.yahoo.com/lifestyle/taiwan-telecoms-industry-report-2023-172800956.html
---