Microsoft is the most innovative private network provider globally, according to enterprises already using a private LTE and 5G network, finds a new study from Omdia.
AT&T and Deutsche Telekom are also singled out as industry pace setters, according to Omdia's latest Private LTE and 5G Networks research which surveyed enterprises globally. Two thirds of enterprises require private network suppliers to demonstrate integration with their existing cloud platform before they will buy. Similar demands apply to enterprises' IoT and application management platforms.
"Enterprises have needs beyond connectivity when they buy a private network," advises Omdia principal analyst for Private Networks Pablo Tomasi. "The top two reasons enterprises invest in private networks are better security and digital transformation. They need partners that can service those needs. Telcos may lose out if they don't step up."
Enterprises also want these results to be achieved promptly. 55% of enterprises expect a two-year return on their private network investment, but almost a fifth of those already deployed expect ROI in only a year.
Consumption preferences are changing fast: three quarters of enterprises now planning a private network prefer a hybrid model instead of the fully dedicated private networks that dominate 70% of deployments today.
The findings are from an annual survey conducted by Omdia on enterprises using, trialling, or planning to deploy private LTE and 5G networks in six key verticals, part of the Private Networks Intelligence Service. A total of 451 respondents from seven countries participated in the survey.
Full analysis of the survey is available in Omdia's Private LTE and 5G Network Enterprise Survey Insight – 2021 report.
………………………………………………………………………………………………………………….
What is Private Wireless?
One of the challenges with the private wireless concept is that it is not a specific technology but rather more of a broad term encompassing a wide range of technologies. Marketing departments will have some wiggle room, as the meaning of private wireless varies significantly across the ecosystem.
Some Wi-Fi suppliers, for example, believe they provide private wireless connectivity to enterprises. Smaller radio access network (RAN) suppliers without macro footprints typically associate private wireless with dedicated standalone connectivity for enterprises, while some of the more established macros RAN suppliers envision private wireless as encompassing a broader set of technologies, including both macro and small cell networks.
Suppliers focused on mission-critical and public safety networks see private LTE and NR combined with a new spectrum as an opportunity to upgrade existing private narrowband communications equipment. With the number of LoRa end nodes surpassing 0.2 B, LoRa base station suppliers believe they are dominating the private wireless IoT market.
The operators are also positioning the concept differently, with some focusing on the benefits with broader coverage, while others are capitalizing on some of the new local concepts.
While definitions or interpretations vary widely on the part of both suppliers and operators, there appears to be a greater consensus among customers.
For end-users, private wireless typically means consistent, reliable, and secure connectivity, not accessible by the public, to foster efficiency improvements. For industrial sites, private wireless typically means low latency and high reliability. It is less about the underlying technology, spectrum, or business model and more about solving the connectivity challenge. In other words, end-users don't care what is under the hood.
From a Dell'Oro perspective, we consider private wireless as nearly synonymous with 3GPP's vision for NPNs. According to 3GPP, NPNs are intended for the sole use of a private entity, such as an enterprise. NPNs can be deployed in a variety of configurations, utilizing both virtual and physical elements located either close to or far away from the site. NPNs might be offered as a network slice of a Public Land Mobile Network (PLMN), be hosted by a PLMN, or be deployed as completely standalone networks.
From an end-user perspective, private wireless is also a broader term, generally including not just the RAN but also transport, mobile core network (MCN), Multi-Access Edge Computing (MEC), and corresponding services.
Private Wireless RAN and Core Configurations
There is no one-size-fits-all when it comes to private wireless. We are likely looking at hundreds of deployment options available when we consider all the possible RAN, Core, and MEC technology, architectures, business, and spectrum models.
At a high level, there are two main private wireless deployment configurations, Shared (between public and private) and Not Shared:
The shared configuration, also known as Public Network Integrated-NPN (PNI-NPN), shares the resources between the private and public networks.
Not Shared, also known as Standalone NPN (SNPN), reflects dedicated on-premises RAN and core resources. No network functions are shared with the Public Land Mobile Network (PLMN).

Market Status
Preliminary 3Q21 estimates suggest the high-level trends remain unchanged with MBB and FWA dominating the 5G capex while private RAN revenues remain small —leading RAN vendors are reporting that private 5G revenues are still negligible relative to the overall public and private 5G RAN market.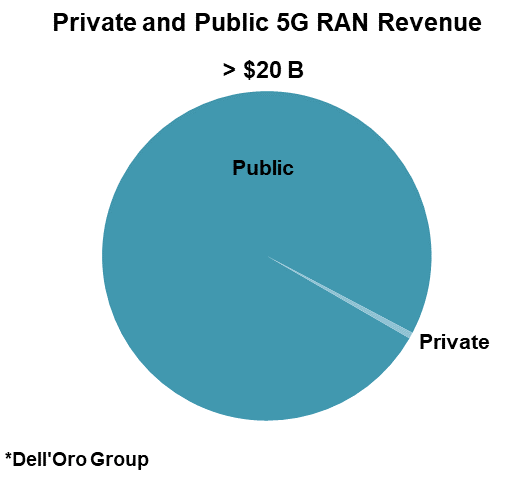 Meanwhile, private wireless activity using both macro and local base stations is rising:
Huawei estimates there are now around 10 K 5G B2B projects globally and the supplier is engaged in thousands of trials focusing on various 5G private use cases.
Ericsson is currently involved in hundreds of private wireless customer engagements, including pilots with time-critical use cases.
Even though Nokia's enterprise business declined year-over-year in 3Q21, Nokia's private wireless segment continued to gain momentum in the quarter–Nokia now has 380+ private wireless customers.
ZTE has developed more than 500 cooperative partners in 15 industries, including industrial engineering, transportation, and energy. They have jointly explored 86 innovative 5G application scenarios and successfully carried out more than 60 demonstration projects worldwide supporting multiple 5G IoT use cases.
Federated Wireless, one of the leading CBRS SAS providers, is working on hundreds of CBRS-based private wireless trials in multiple vertical domains, including warehouse logistics, agriculture, distance learning, and retail applications.
Market Opportunity and Forecast
One of the more compelling aspects with private wireless is that we are talking about new revenue streams, incremental to the existing telco capex. More importantly, the TAM is large, approaching $10–20 B when we include Non-Industrial, Industrial, and Public Safety driven applications.
At the same time, it is important to separate the TAM from the forecast. Here at the Dell'Oro Group, we continue to believe that it will take some time for enterprises to fully conceptualize the value of 5G relative to Wi-Fi. And as much as we want 5G to be as easy to deploy and manage as Wi-Fi, the reality is that we are not yet there.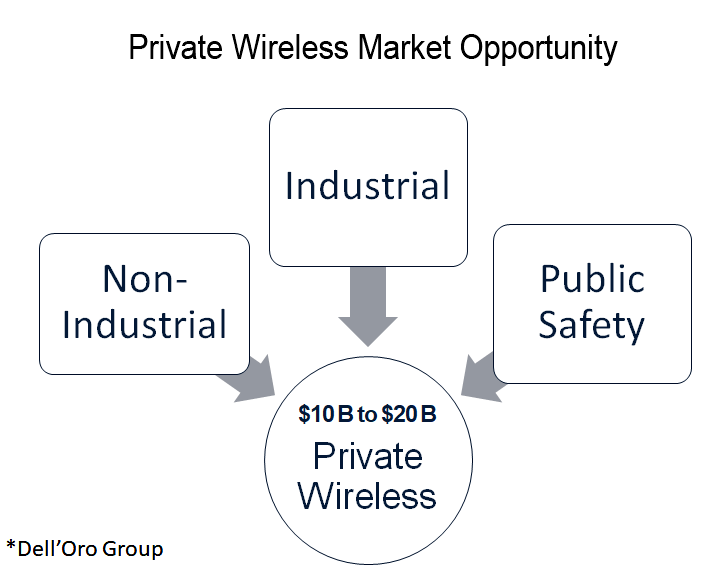 Still, the uptick in the activity adds confidence the industry is moving in the right direction. And although LTE is dominating the private wireless market today, private 5G NR revenues remain on track to surpass $1 B by 2025.
Russian state radio frequencies commission (SRFC) has decided that only equipment of domestic origin may be use for the development of 5G in the country, reports Comnews Russia citing Oleg Ivanov, deputy minister in the Ministry of Digitization. Comnews.ru stated:
When deploying 5G in Russia, only domestic network equipment should be used. Most likely, during the construction of Internet of Things networks, base stations with the status of domestic equipment will be needed. This follows from the results of yesterday's meeting of the SCRF.

"Naturally, domestic equipment will be used. This is a common decision across the entire 5G spectrum. will use exclusively domestic equipment. There is such a solution. " He added that according to the principle of technical neutrality, operators will be able to build a 5G network in all frequency bands in which they already have the right to build LTE networks.

"In connection with the general trend for domestic equipment, they were given sufficient time to resolve this issue. We will insist [on the exclusive use of domestic IoT base stations], and then the decision is up to the management," added Oleg Ivanov.
A list of frequencies for 5G services for Russia has been approved. The frequency ranges are: 694-790 МHz, 2,300-2,400 МHz, 2,570-2,620 МHz, 4,400-4,990 МHz and 24.25-27.5 GHz. The 3,400-3,800 MHz band is absent from the list.
Rostec has been identified as the basic contractor to ensure the production of domestic equipment for 5G networks. The NIIR representative at the meeting said that tests of the Dynamic Spectrum Sharing (DSS) technology, which will enable the deployment of 5G on the operators' existing frequencies for 2G, 3G and 4G, are planned to be carried out on the commercial network in December 2020 and completed by March 2021, submitting the results to the SCRF no later than June 2021. He noted that the testing uses equipment from Nokia, Huawei and Ericsson.
Last week, a roadmap for the development of 5G in Russia was approved, according to which the delivery of domestic 5G equipment will begin in 2024 (see ComNews news of November 20, 2020). The press service of PJSC MegaFon explained: "The clarification of the SCRF has been made in accordance with the provisions of the roadmap. Taking into account the decisions made, we forecast a delay in the introduction of 5G technology in Russia for five to six years. According to our data, at the moment, services based on 5G are presented over than 100 operators in the world. "
PJSC "MTS" is ready to purchase competitive Russian equipment with the required characteristics, quality and prices. "The main thing is that this does not lead to a lag in the deployment of 5G in Russia. The company regularly comes up with initiatives in this direction. In particular, in December 2019, MTS signed an agreement with the Element group of companies and Skoltech on the development and production of 5G in Russia -equipment based on international open radio access standards of the Open RAN project, and in October this year, within the framework of this project, a 5G pilot zone was opened in Skolkovo. We are also working on other projects to test domestic equipment, "the press service said. MTS to the ComNews correspondent.
Igor Guryanov, General Director of Spectrum Management LLC, believes that even if we assume the readiness of the entire line of domestically produced radio access equipment on the SA architecture in 2023, all existing networks in Russia are now working with the NSA architecture, and for the transition to a new architecture on new equipment, time. "Therefore, taking into account the announced plans for the readiness of domestic equipment, full-scale 5G networks are unlikely to appear before 2025. Some dedicated 5G networks without the baggage of already operating LTE networks and without the need to work in many bands at once may appear earlier," Igor Guryanov comments. a solution for 5G networks is possible if you make efforts in terms of time and funding comparable to those of the largest manufacturers of telecommunications equipment. For this reason, if domestic equipment appears, then most likely it will be in the form of integration and refinement of open marketable components of the 5G solution, for example, within the Open RAN concept and similar concepts for the core and transport component of the network. And if the state insists on the "domesticity" of the equipment, then it would be correct not only to write down the requirements for import substitution, but also to define the requirements for open interfaces and criteria for classifying equipment as domestic when it is assembled from software and hardware components of foreign origin. "However, I am sure Igor Guryanov, even this path has a lot of problems associated with the complexity of the implementation of a commercial competitive product in the market of 5G network infrastructure. " If the Open RAN concept and related processes stall in the USA, Europe and the developed countries of Asia, Russia will not be able to take advantage of open developments in this area for the so-called domestic equipment. In any case, even in advanced countries and operators, it will take at least several years to solve many problems related to the integration of open solutions, "concluded Igor Guryanov.
Vitaly Solonin, head of the Wireless Technologies Department at J'son & Partners Consulting, agrees: the requirement to build 5G networks in Russia exclusively on domestic equipment will delay the launch of such networks in the country for at least several more years. "The first contracts with operators for the supply of Russian base stations are planned to be concluded in 2023, but this is hard to believe, primarily due to the unavailability of domestic chipsets for 5G. 5G networks are the basis for the digitalization of many industries, transport, healthcare, education. Dozens of projects have been launched in the world, and maybe hundreds already, demonstrating the potential of 5G and the economic effect of this technology. "According to J'son & Partners Consulting forecasts, by 2030.
……………………………………………….,…………………………………………………………………………..,………………………………………………………………
New Russian Private 5G Network:
Separately, Russian communications service provider Mobile TeleSystems (MTS) is ready to deploy an Ericsson-powered 5G-ready dedicated network for gold and silver producer Polymetal at the Nezhdaninskoye gold deposit in the Republic of Sakha (Yakutia). The network will be introduced at the end of 2020 and will be built on Ericsson Dedicated Networks solution. The network will provide critical communications infrastructure and the Internet of Things (IoT).
After successfully implementing a number of pilot projects with leading Russian enterprises and deploying Private LTE and 5G-ready networks for various industrial needs, MTS will build the first commercial Private LTE network in Russia for remote monitoring and managing critical processes in difficult geographic and weather conditions.  Together with Polymetal, one of the world's largest producers of gold and silver, MTS will deploy Russia's first 5G-ready Private network at the Nezhdaninskoye gold deposit.
……………………………………………….,…………………………………………………………………………..,………………………………………………………………
ITU recommendation M.1036 revision not completed:
In a contribution approved by ITU-R WP 5D to the November 23, 2020 ITU-R SG5 meeting, the Russian Federation stated that the development of a draft revision of Recommendation ITU-R M.1036 (Frequency arrangements to be used for the terrestrial component of IMT), taking into account the WRC-19 decisions, is urgently needed.  The last few 5D meetings failed to consider proposals on amending this Recommendation.  The Russian Federation, along with this author, believe that the revision of ITU-R M.1036 is an urgent, critical issue that requires an additional 5D meeting to address.
It's somewhat of a contradiction that ITU-R WP5D approved IMT 2020.specs (3GPP NR + TSDSI 5Gi for India) at its Nov 2020 meeting, but the Frequency WG was not in session so no action could be taken to revise M.1036. Hence, there are NO assigned frequencies/ arrangements for terrestrial 5G!
References:
https://www.comnews.ru/content/211770/2020-11-24/2020-w48/5g-i-iot-gkrch-dala-start-importozamescheniyu
https://www.itu.int/rec/R-REC-M.1036/en
https://www.everythingrf.com/News/details/11263-mts-to-launch-russia-s-first-commercial-private-5g-network-with-ericsson-equipment
---