Activities of forums/ standards bodies contributing work to ITU-R 5G (IMT-2020)
Introduction:
In early 2012, ITU-R embarked on a programme to develop "IMT for 2020 and beyond", setting the stage for "5G" research activities that are emerging around the world.
Here AGAIN is the ITU-R "5G" standardization timeline: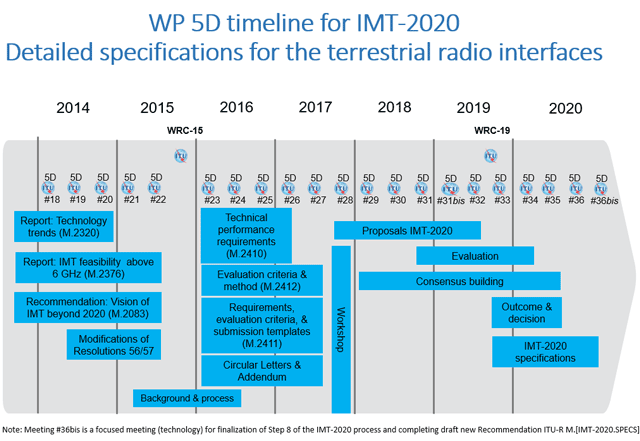 ---
Forums & Standards Bodies working on 5G:
1. NGMN
Triggered by ITU WP 5D liaison statement, the intention of this liaison response is to inform ITU WP 5D about the NGMN 5G vision, requirements, guidelines and way forward outlined in the NGMN 5G White Paper. Please share the NGMN 5G White Paper with all your relevant working groups or projects and kindly ask them to consider this in their future work.
2. Asia-Pacific Telecommunity
In its 18th meeting, AWG had a workshop on "Future Mobile Communications (5G)" in order to provide APT members with overview and understanding of on-going activities and initiatives in the world related to "5G". In the workshop, representatives from relevant organizations presented their views on "5G". The workshop also had a panel discussion to exchange views with the participants in the workshop. As this workshop was an initial step to start the work on "5G", AWG currently has no specific planned work items for the remainder of 2015 including activities that might relate to "the general technical performance requirements of a radio interface technology or set of technologies for "5G".
3. Telecommunication Technology Committee (TTC)
TTC had created FMN-Ad Hoc and the Ad Hoc has been conducting the study towards "5G" mainly in Core Network part including Network architecture, protocols, Transport network, Security aspects, Network Management and so on.
Recently, TTC FMN-Ad Hoc finalized a "TTC White Paper on Future Mobile Networking" and attached it to this contribution.
TTC recognizes that ITU-R Working Party 5D focuses mainly on radio part, however, TTC hopes our White Paper can provide useful information for developing "5G" mobile network in WP 5D.
4. Industrial Technology Research Institute, Inc. (ITRI)
ITRI has started a 5G project that includes the research and development of mmWave, SDN/NFV, and Ultra-Dense Network technologies. We plan to create a channel model generator and simulator for mmWave. An ultra-dense small cell network will be established at ITRI with the capability to interconnect a remote testbed for joint testing. We will also develop big data analytics for intelligent IoT and mobile broadband on high-speed moving network applications. Recognizing the importance of international collaboration ITRI is cooperating with the European Union on access convergence taking advantage of 5G research results and testbeds at ITRI. An SDO was established recently to enhance our contributions in standardization of "IMT-2020" systems. The above effort is consistent with ITU-R's vision, capabilities, and technology trends.
5. Fifth Generation Mobile Communications Promotion Forum (5GMF)
5GMF was established in September 2014 to conduct research & development concerning the fifth Generation Mobile Communications Systems, and research and study pertaining to standardization aimed at the early realization of the Fifth Generation Mobile Communications Systems.
6. Telecommunications Technology Association (TTA)
This section includes responses that were included in Doc. 5D/991 from the 5G Forum and ETRI. To respond the request of ITU-R WP 5D, TTA circulated the liaison statement to our members and related organizations in Korea. As a result, two replies from 5G Forum & ETRI were received as shown in attachment, which describes the activities update of each organization.
In addition to these two replies, there were views on the WP 5D's particular interest issues such as "the general technical performance requirements of a radio interface technology or set of technologies for 5G" from industries and operators.
–

8 key capabilities in Recommendation ITU-R M.[IMT.VISION] would be considered in technical performance requirements in "IMT-2020" , as appropriate. When ITU-R WP 5D develop the evaluation criteria and evaluation method, some capabilities would need to consider the impact of the parameters to the capabilities, e.g., the impact of bandwidth availability to the peak data rate. In this regard, peak data rate can be addressed in terms of peak spectral efficiency & bandwidth.
–

Regarding the evaluation method, Report ITU-R M.2135-1 could be updated to reflect the usage scenarios of "IMT-2020" described in Recommendation ITU-R M.[IMT.VISION]. Also, Report ITU-R M.[IMT-2020.EVAL] needs to be developed by middle of 2017 taking into account new characteristics of channel model for evaluation, such as deployment scenarios, antenna parameters, etc.
7. Activities Update of 5G Forum
5G Forum was established on 30 May 2013 in Korea as an open forum with a vision of "Global leadership and promotion in 5G mobile communication toward 2020"
Around 30 member organizations from operators, vendors, academia and public organizations from domestic and international players are actively participating in 5G Forum activities.
In 5G Forum, 5 sub committees (Global Strategy, Convergence & Services, Spectrum, Wireless Technology, and Network Technology) are responsible for:
–

development for 5G vision and service concepts;
–

study on spectrum aspects and identification of potential candidate technologies;
–

global collaboration for harmonization and bridging between private and public sectors.
As deliverables of activities, 5G Forum published several white papers on technology, spectrum and services for public access on March 2015 and the documents can be downloaded freely on website
As an outcome of global collaboration, 5G Forum signed MoU with 5GPPP of Europe, IMT-2020 PG of China and 5GMF of Japan and had discussions with other bodies as well.
Plan for 2015-2016:
For above period, 5G Forum will collaborate with TTA to support the work for ITU-R WP 5D through Korea ITU committee and will coordinate the works for other bodies e.g. 3GPP.
In addition, 5G Forum will update the white papers, and will extend the collaboration with other regions/bodies and will foster activities for preparing eco system establishment for 5G commercial services in 2020.
8. Activities Update of 5G R&D from ETRI
ETRI is leading two important national 5G projects, namely, Quadruple-Thousands (QK) 5G and Giga Korea (GK) 5G projects.
The QK-5G project (March 2014-Feb. 2018) focusing mainly on below 6 GHz technologies, aims to develop key enabling technologies for the 5G mobile system, which can provide 1 000 times larger wireless transmission capacity, 1,000 times smaller service latency, 1 000 times more connected devices, and 1,000 times lower power consumption (so called Quadruple Thousands), compared with the 4G mobile communications. The project consortium consists of partners from the ICT industry and academia in Korea, including SK Telecom, KMW, KAIST, SNU, and Korea University. The research on the enabling technologies includes conceptual developments and
proof-of-concept evaluations of technologies based on the open platform. Currently (during the period of 2014-2015), the project's main research areas are as follows:
–

massive MIMO, LTE-unlicensed, low latency access, in-band full duplex, ultra-dense networks, moving networks, and massive connectivity communications.
The GK-5G project (September 2013-April 2018) aims to develop the 5G mobile system using above 6 GHz frequency bands. The following key performance indicators (KPIs) are mainly handled for mobile broadband scenarios, e.g., at least 1Gbps User Experienced Data Rate, 20Gbps Peak Data Rate, 1ms over-the-air latency and so on. Currently (during the period of 2014-2015), the project's main research areas are as follows:
–

dynamic user-centric topologies based on beam-forming;
–

inter-operability between above 6GHz frequency bands and 4G/below 6GHz frequency bands, e.g., C-plane and U-plane for low latency KPI.
9. Wireless World Research Forum (WWRF)
The WWRF provided a detailed summary of events:
–
The 34th Meeting of WWRF, 21st – 23rd April, 2015, Santa Clara, California, USA
.
Theme of the Meeting: Network Virtualisation in the Wireless World
–
Workshop on "5G Services and Applications" organised by WWRF at VTC 2015 Spring on May 12, 2015, in Glasgow, UK —
Theme of the Workshop: 5G Services and Applications
–
Workshop on "5G Services and Applications" organised by WWRF at VTC 2015 Spring on May 12, 2015, in Glasgow, UK.
Theme of the Workshop: 5G Services and Applications
–
"WWRF Workshop – A Business and Enterprise Perspective on the Upcoming 5G Era" at EUCNC 2015 conference (on June 29) in Paris, France
–
5G Huddle II and WWRF35 meeting.
–
The WWRF 5G Huddle – Delivering a Sustainable 5G Ecosystem
10. 5G Public-Private Partnership (5G-PPP)
5G PPP is a research program in Horizon 2020 of the EU dedicated to 5G system research
Research program is addressing all building blocks of a futurecommunication network and a huge number of huge cases fromvertical sectors
5G Infrastructure Association vision paper publishedat Mobile World Congress 2015 in Barcelonahttp ://5g-ppp.eu/wp-content/uploads/2015/02/5G-Vision-Brochure-v1.pdf
First set of projects started on July 1, 2015
PPP Program that will deliver solutions, architectures,technologies and standards for the ubiquitous 5Gcommunication infrastructures of the next decade
Program Ambitions: Key Challenges / High level KPIs:
Providing 1000 times higher wireless area capacity and more variedservice capabilities compared to 2010•
Saving up to 90% of energy per service provided.
The main focus willbe in mobile communication networks where the dominating energyconsumption comes from the radio access network• Reducing the average service creation time cycle from 90 hours to 90minutes•
Creating a secure, reliable and dependable Internet with a "zeroperceived" downtime for services provision
Facilitating very dense deployments of wireless communication linksto connect over 7 trillion wireless devices serving over 7 billion people
Enabling advanced User controlled privacy
More info at:
https://5g-ppp.eu/wp-content/uploads/2015/10/Taiwan-EU-Workshop_ICT2015-Lisbon_5G-PPP_Werner-Mohr.pdf
---
Other 5G Activities by region/country:
International:
EU
• Framework Program 7, e.g. METIS and 5GNow projects
• 5G PPP in Horizon 2020
Germany – 5G Lab Germany at TU Dresden
UK – 5G Innovation Centre (5GIC) at University of Surrey
US
• Intel Strategic Research Alliance (ISRA)
• NYU Wireless Research Center
• 4G Americas, MoU – signed
China
• 863 Research Program
• Future Forum
• IMT-2020 (5G) Promotion Group, MoU – signed
Japan – The 5G Mobile Communications Promotion Forum, MoU – signed
Korea – 5G Forum, MoU – signed
Taiwan – TAICS, Ministry of Science and Technology, Ministry of Economic Affairs
Russia – 5GRUS by Russia's Icom-Invest
CJK White Paper
NGMN – White paper on future requirements
---