"Real" 5G Is Far in Future; Service Providers Struggling to Find Compelling Use Cases
By Stéphane Téral, senior research director, mobile infrastructure and carrier economics, IHS Markit
Bottom Line
5G will come in two waves: first, sub-6GHz in 2017, followed by the "real" 5G at higher spectrum bands—millimeter wave (mmWave)—in 2020
Sub-6GHz spectrum is not new: it's where existing mobile and wireless communications already coexist
Service providers in the 5G race are struggling to find compelling use cases that substantially benefit from the proposed International Telecommunication Union (ITU) IMT-2020 standard
Our Analysis
The 5G race is on and raging. The very first discussions about 5G started in 2012, and in 2013 NTT DoCoMo garnered attention by seriously discussing the possibility of rolling out 5G in time for the Tokyo Olympics in 2020.
Soon after, South Korea set the target for pre-commercial 5G showcasing commercial pre-standard evolutionary 5G—in reality, something like a 4.5G—for the PyeongChang Winter Olympics in 2018. Since then, major 5G R&D developments have happened in China, Europe, Japan and South Korea, fueling the hype to a level never seen for 3G and 4G. And finally, Verizon caught the mobile industry off guard last year at CTIA by announcing its aggressive 5G plan with first commercial deployments in 2017.
So What Is 5G, Anyway?
5G means a lot of different things to different people in various industries. Every stakeholder in the game—vendors, mobile operators, 5GPPP, the ITU and others—has its own ideas and thoughts about what 5G should be, and there's currently a split between two schools of thought. Evolutionary 5G is an extension of current Long Term Evolution (LTE) and LTE-Advanced networks and is backward compatible with all 3GPP technologies. Revolutionary 5G, meanwhile, is a brand-new network architecture that requires a new air interface and radio access technology (RAT), moving away from current cellular designs.
In the end, 5G is the evolution of wireless and mobile technologies to create a new mode of connectivity that will not only provide humans with an enhanced broadband experience, but also address a wide range of industrial applications. What it is not is a continuing development of 4G and current technologies. 5G is already on a path that goes beyond cellular, shaping up as a multilink architecture that enables direct device-to-device communications.
4G is just ramping up, and LTE as we know it is just at 3G transitional. As such, 4G will continue to evolve in parallel with the ongoing development of 5G.
"Pre-5G"
Driven by the pre-5G race agenda spearheaded by Verizon, KT, SK Telecom, NTT DOCOMO, KDDI and Softbank, all radio access network (RAN) vendors are developing 5G air interfaces and new RAT ahead of the release of spectrum. But these early 5G systems will be "pre-5G" and operating in sub-6GHz spectrum. And let's face it: there really isn't anything new in sub-6GHz spectrum—it's where existing mobile and wireless communications already coexist. Still, there is simply no choice, as mmWaves are far from being ready for prime time. So as a result, "real" 5G at higher spectrum bands isn't expected until 2020.
Use Cases? What Use Cases?
The entire mobile ecosystem is trying to figure out the uses cases for 5G. Every service provider on this planet that has jumped into the 5G race is trying to find convincing uses cases that can greatly benefit from the proposed ITU IMT-2020 enhancements. And although the usual suspects are already in the game, companies such as Google and would-be entrepreneurs may come to the table with disruptive ideas.
Backing up the notion that industry will drive 5G, three-quarters of the global operators that participated in our recent5G Strategies Global Service Provider Survey rated the Internet of Things (IoT) as the top use case for 5G.
5G Report Synopsis
The 60-page IHS Markit 5G market report examines how 5G technology can evolve in terms of network architecture, topology, waveform and modulation schemes.
For information about purchasing this report, contact the sales department at IHS Markit in the Americas at (844) 301-7334 or [email protected]; in Europe, Middle East and Africa (EMEA) at +44 1344 328 300 or[email protected]; or Asia-Pacific (APAC) at +604 291 3600 or [email protected].
---
IHS Reference:
https://technology.ihs.com/582964/research-note-the-5g-race-is-on-with-iot-as-the-top-use-case
---
The International Telecommunications Union (ITU) has outlined three use cases for what is expected to be the 5G standard, as well as applications and industries that could benefit from the new network. Those included, enhanced mobile broadband; ultra-reliable and low-latency communications; and massive machine-type communications.
ITU-R 5G References:
https://www.itu.int/net4/wsis/forum/2016/Content/AgendaFiles/document/9d6c7b67-33a7-4ac6-96c7-ebf2231d83c2/ITU-BR_Colin_Langtry.pdf
https://www.itu.int/dms_pubrec/itu-r/rec/m/R-REC-M.2083-0-201509-I!!PDF-E.pdf
---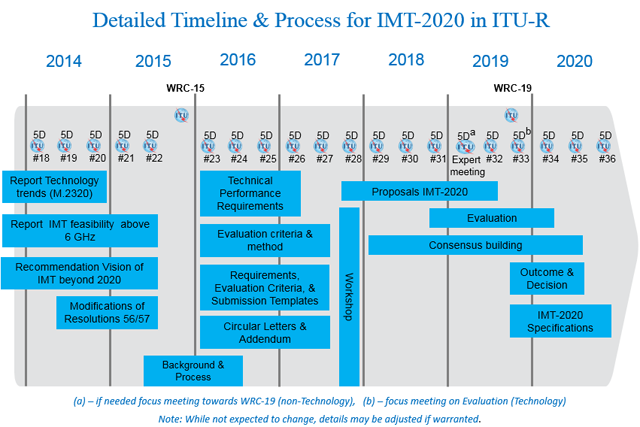 ---