Apple to test "5G" in Cupertino & Milpitas, CA, but which RAN/Modulation Scheme?
Apple  has applied for an experimental license from the FCC to test next-gen "5G" wireless technologies, according to a report from Business Insider and an article in USA Today which wrote:
It's hardly a surprise that Apple would be pursuing a path to 5G. The promise of this next generation of wireless is that smartphone makers might eventually achieve blistering wireless data speeds of 1 gigabit per second and beyond, along with low latency and other potential benefits. In the U.S., Verizon, AT&T and T-Mobile are all chasing their own 5G future—and each other.
Apple indicates that it plans to test 5G technologies in two locations in controlled facilities, one in Cupertino and another in Milpitas, California. Apple said that it plans to use the 28 and 39 GHz bands via technology provided by Rohde & Schwarz, A.H. Systems and Analog Devices.
Apple's FCC application reads in part:
Apple Inc. seeks to assess cellular link performance in direct path and multipath environments between base station transmitters and receivers using this spectrum…These assessments will provide engineering data relevant to the operation of devices on wireless carriers' future 5G networks.

Apple respectfully requests that the Commission grant its request for an experimental license for operations in accordance with Section 5.3(j) of its rules.2 Apple intends to transmit from two fixed points located at Apple-controlled facilities in Cupertino and Milpitas, CA. These transmissions will be consistent with the parameters and equipment identified in Apple's accompanying Form 442, and will include the use of a horn antenna with a half-power beamwidth of 20 degrees in the E-plane and H-plane and a downtilt between 20 – 25 degrees. Apple anticipates that it will conduct its experiments for a period not to exceed 12 months.

The transmitting equipment Apple intends to use is incapable of station identification. Because Apple will coordinate its operations with existing microwave users in the area, Apple respectfully requests that the Commission exempt this authorization from the station identification requirements.

………………………………………………………………………………………………………………………………………………………………………………….
Light Reading earlier reported Apple to be hiring at least one engineer with knowledge and experience of "radar signal processing," which implies the signals which are used in millimeter wave transmissions. Millimeter wave is the band of spectrum between 30 GHz and 300 GHz.  The ITU-R WP 5D/IMT 2020 standards committee has proposed 30 GHz to 86 GHz  for use by 5G networks (see below).
……………………………………………………………………………………………………………………………………………………………..
"5G" Carrier Specific vs ITU-R IMT 2020 Standard?
Since Apple's application notes that it "will conduct its experiments for a period not to exceed 12 months." Consequently, it stands to reason that the 2019 iPhone 9 will be the first iPhone with "5G" connectivity.  But what version of "5G" will that be?
A few months ago, AT&T and Verizon said  that they will  begin rolling out their own (non standard, carrier specific) 5G networks late this year and in 2018.  That's before ITU-R WP 5D/IMT2020 standards committee will decide on the Radio Access Network (RAN) to be used for true 5G.  End point devices made for AT&T's "5G" network won't work on Verizon's and vice-versa.  Apple (and other smart phone/tablet makers) will likely delay the release of a volume production 5G iPhone until overall 5G coverage becomes widespread.
On May 25th, Wang Xinhui, Director of Wireless Standardization and Industrial Relationships at ZTE Corporation, said wireless telecommunications operators should work towards to incubate globally harmonized ecosystem for 5G mobile communication in the interests of the healthy development of the telecommunications industry.  In an address to the 3rd Global 5G Event in Tokyo, Mr. Wang said industry standardization for mobile broadband and the Internet of Things should move forward in parallelism, in order to drive adoption by different industries and economic sectors. Mr. Wang is also Vice Chair of International Cooperation of the IMT-2020 (5G) Promotion Group.   Mr. Wang said that 5G should meet the requirements of eMBB (enhanced Mobile Broadband), URLLC (Ultra-Reliable and Low Latency Communications) and mMTC (massive Machine Type Communications), supporting greater mobility and seamless coverage. Industry participants globally should collaborate in a more open manner to build unified standards and industry ecosystems.  [This author doesn't see such co-operation amongst wireless carriers in the U.S.]
ZTE has signed strategic partnerships on 5G development with the world's top telecommunications carriers including Deutsche Telekom, Telefonica, SoftBank, KT Group, China Mobile, China Telecom and China Unicom.
…………………………………………………………………………………………………………………………………………………………………….
From an ITU-R press release this past February:
"The IMT-2020 standard is set to be the global communication network for the coming decades and is on track to be in place by 2020. The next step is to agree on what will be the detailed specifications for IMT-2020, a standard that will underpin the next generations of mobile broadband and IoT connectivity," said François Rancy, Director of ITU's Radiocommunication Bureau.
We can anticipate that there will now be a number of early technical trials, market trials and deployments of 5G technologies based on the foreseen developments slated for IMT-2020. These systems may not provide the full set of capabilities envisaged for IMT-2020, but the results of these early activities will flow forward into, and assist the development of, the final complete detailed specifications for IMT-2020.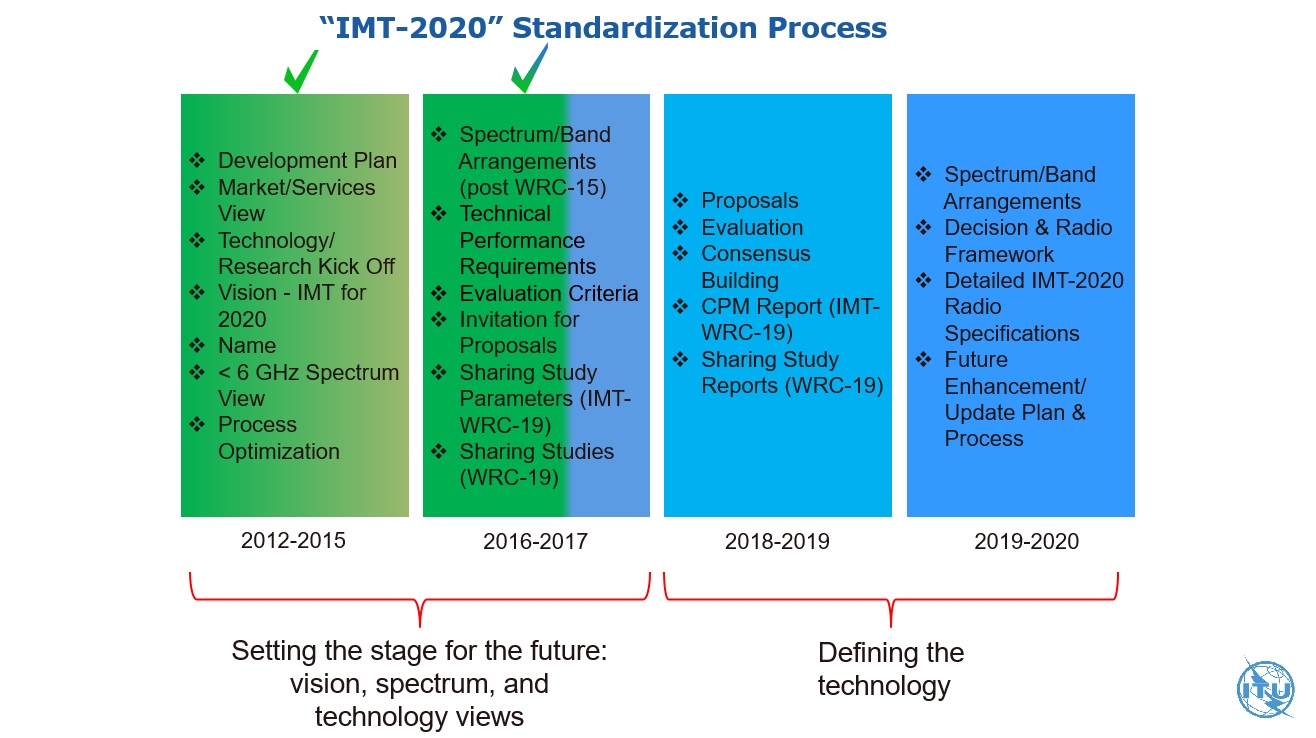 …………………………………………………………………………………………………………………………………………………………………………………………….
5G Frequency Spectrum:
During the World Radiocommunication Conference (WRC) 15, the ITU proposed a set of global frequencies for 5G, which it intends to finalize at the next conference in 2019 (WRC 19):
 24.25–27.5GHz
 31.8–33.4GHz
 37–40.5GHz  40.5–42.5GHz
 45.5–50.2GHz  50.4–52.6GHz
 66–76GHz
 81–86GHz
In 2014, the FCC published a Notice of Inquiry into use of spectrum bands above 24 GHz for Mobile Radio Services, 80 followed by a Notice of Proposed Rulemaking in October 2015, which listed the following potential bands for 5G in the United States.
 27.5-28.35 GHz (28 GHz band)
 37.0-38.6 GHz (37 GHz band)
 38.6-40 GHz (39 GHz band)
 64-71 GHz (unlicensed use)
 70/80 GHz Bands: 71-76 GHz, 81-86 GHz
The FCC issued adopted rules to identify and open up 5G spectrum allocation in July 2016 that identify 3.85 GHz of licensed spectrum and 7 GHz of unlicensed spectrum: licensed use in 28 GHz, 37 GHz, and 39 GHz bands; unlicensed use in 64-71 GHz; and shared access in the 37-37.6 GHz band.
Reference:
http://www.5gamericas.org/files/2214/7257/3276/Final_Mobile_Broadband_Transformation_Rsavy_whitepaper.pdf
……………………………………………………………………………………………………………………………………………………………………………….
---