Parks Associates: >75% of U.S. households use WiFi for in home connectivity
Parks Associates reports that more than 75% of data in U.S. homes is carried via Wi-Fi connectivity. Wi-Fi is doing the large majority of work when it comes to home networking and data transport in U.S. broadband households amid ongoing rapid growth in network usage and data consumption, Parks' senior director of research Harry Wang highlighted.
Half of US broadband households use 3G and 4G wireless services for Internet connectivity, followed by Ethernet cabling and network connections (like DSL or cable modems) as per the chart below: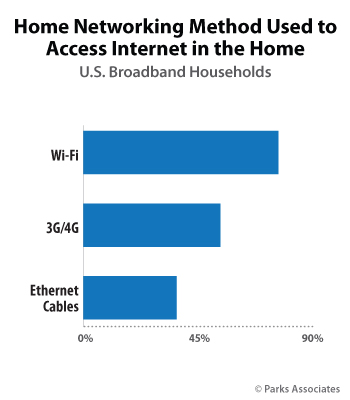 In-Home Wireless Data:
"Consumers already use lots of data on their mobile, smart home, and entertainment devices, and Wi-Fi is doing most of the work in the home, accounting for more than 70% of data used per month in U.S. broadband households," Wang was quoted in a press release.
Furthermore, according to Parks Associates' latest IoT-related research:
Roughly 50% of U.S. broadband households are willing to share data from smart devices for discounts on electricity, and 40% are willing to share data to update and improve their products.
More than 75% of U.S. broadband households use Wi-Fi for connectivity in the home and 50% report using 3G/4G services.
40% of broadband households in Canada use a personal assistant device or app.
Consumer demand for data will continue to grow both inside and outside the home, Wang noted. So will the number of network devices acquired in U.S. households, which Wang says is expected to rise to more than 2.3 billion between 2015 and 2020.
"Providers and manufacturers must ensure their offerings can deliver a positive user experience despite these increasing demands—and that they are positioned to leverage new revenue opportunities emerging from the connected home," he cautioned.
Reference:
http://www.parksassociates.com/blog/article/pr-05312017
For more information on Parks Associates research or events, visit www.parksassociates.com, or contact [email protected], 972-490-1113. To schedule an interview with an analyst or to request specific research data, please contact Holly Sprague at [email protected] or 720-987-6614.
---