Busting a Myth: 3GPP Roadmap to true 5G (IMT 2020) vs AT&T "standards-based 5G" in Austin, TX
TRUTH about 3rd Generation Partnership Project (3GPP) and the path to 5G Standards:
3GPP is a very honest, focused and effective engineering organization that develops technical specifications – not standards.  Not once has 3GPP contributed to the hype and spin embedded in  "5G" propaganda and fake news.  It is the 3GPP  member companies, service providers, and the press that's guilty of that disinformation campaign.
From the 3GPP website under the heading Official Publications:
The 3GPP Technical Specifications and Technical Reports have, in themselves, no legal standing. They only become "official" when transposed into corresponding publications of the Partner Organizations (or the national / regional standards body acting as publisher for the Partner). At this point, the specifications are referred to as UMTS within ETSI and FOMA within ARIB/TTC.

Some TRs (mainly those with numbers of the form xx.8xx) are not intended for publication, but are retained as internal working documents of 3GPP. Once a Release is frozen (see definition in 3GPP TR 21.900), its specifications are published by the Partners.
All of the above and more were explained in this blog post, but apparently no one paid any attention as the claims of being compliant with "3GPP standards" abound.  Here are two from AT&T:
1.  After the 3GPP New Radio (NR) description/specification was completed in 3GPP Release 15:
"We're proud to see the completion of this set of standards. Reaching this milestone enables the next phase of equipment availability and movement to interoperability testing and early 5G availability," said Hank Kafka, VP Access Architecture and Analytics at AT&T. "It showcases the dedication and leadership of the industry participants in 3GPP to follow through on accelerating standards to allow for faster technology deployments," he added.
2. In AT&Ts recent FCC application for an experimental radio license in Austin, TX, which is in this FCC filing:
"3GPP has developed 5G standards that became available in 2018."
That statement was echoed in a Light Reading blog post titled: AT&T to Show Off Standards-Based 5G in Austin.
My rebuttal in an email to AT&T executives included this paragraph:
As you should be very well aware, 3GPP specifications have no official status and are not standards (as per their website).  More importantly, 3GPPs "final 5G" spec will be in release 16 which won't be completed till July 2019.  Release 16 and parts of Release 15 will then be submitted for consideration as an IMT 2020 Radio Interface Technology (RIT) at the July 2019 ITU-R WP5D meeting- the first meeting which will evaluate IMT 2020 RIT/SRITs.  All this info and much more is available at the 3GPP website with no log in required for access!

…………………………………………………………………………………………………………………………………………………………………………
Here's the actual status of 3GPP specs directed at 5G standards (IMT 2020) from 3GPP's Submission of initial 5G description for IMT-2020:
This document December 2017 version of 3GPP Release 15) is the first of three planned steps spanning two releases from 3GPP, following the decision to submit preliminary descriptions of the solution only when milestones of high relevance are achieved:
Release 15 December 2017 version;
Release 15 June 2018 version and
Release 16  (scheduled for July 2019)
The final and fully comprehensive 3GPP IMT-2020 submission (encompassing both Release 15 and Release 16) for IMT 2020 is planned for July 2019.
To help the ITU-R Evaluation Groups in their work, 3GPP is currently planning a workshop to present the 5G solutions to interested external bodies – specifically the Evaluation Groups – to allow a better understanding of the 3GPP technologies for 5G.
3GPP has agreed to organize
a
Workshop on
3GPP submission towards IMT-2020, 
in October 2018. Some details are provided below:
•           Dates/Location:
–     October 24-25th, 2018;
–     Location: Brussels (European Commission facilities).
•           Target audience:
–     Independent Evaluation Groups, Regulators, Administrations, Industry Sectors interested in using 3GPP technologies.
•           Scope:
–     Present/describe the 3GPP IMT-2020 submission proposal
•           High level agenda/topics:
–     Specific technical features of the "5G" proposal
–     Submission templates
–     Self-Evaluation assumptions/results
–     Anticipations on the final submission with Rel. 15 and Rel. 16 contents
–     Overview of System Aspects
Here's a free 3GPP webinar where you can get more information:
http://www.3gpp.org/news-events/3gpp-news/1966-webinar2_ran
……………………………………………………………………………………………………………………………………………………………………..
Comment from Kevin Flynn of 3GPP, which was inadvertently deleted when this website was move to a new compute server in early May 2019:
Hi Alan,
I have now updated the 3GPP page on Official Publications (http://www.3gpp.org/specifications/63-official-publications), referenced above. I hope that this does not undermine your excellent article in any way. I have updated the Partners & their web sites and modified the text to bring it up-to-date.
Thanks & best regards,
Kevin Flynn
3GPP Marketing Officer
……………………………………………………………………………………………………………………………………………………………………..
Debunking the 5G carrier and vendor claims:
As we've repeatedly stated, ITU-R WP 5D is the official standards organization for IMT 2020 (5G mobile).  They will evaluate RIT/SRIT submissions at their July 2019 meeting.  To date, 3GPP, South Korea, China, ETSI/DECT Forum, and TDSI have all indicated their intent to submit detailed RIT/SRIT proposals at the July 2019 ITU-R WP 5D meeting.  There are significant differences amongst these proposed RITs which WP 5D must sort out and approve before the IMT 2020 standard is completed at the end of 2020.
Note also that there is NO IMT 2020 USE CASE FOR 5G FIXED WIRELESS ACCESS (FWA), so all claims about standards compliant 5G FWA (based on 3GPP release 15 "5G NR – Non Stand Alone" are bogus/fake.
"Non Stand Alone" (NSA) 5G NR means that a 4G-LTE network anchors the 5G NR access (see comments below this post).  That LTE network is used for control plane signaling and for the Evolved Packet Core (EPC).  In 5G NR NSA access, the LTE base station (eNB) and the 5G NR base station are interconnected with dual connectivity. The IMT 2020 standard will include a 5G packet core without any LTE components.
In addition to the IMT 2020 specified  (by ITU-R) packet core there is the transport network for 5G, which is described in this ITU-T Technical Report (TR).  There are fronthaul, midhaul and backhaul components described in that TR.  It is a work in progress.
…………………………………………………………………………………………………………………………………………………………………………
AT&T to test "standards based 5G" at the Austin, TX Convention Center:
The FCC has just granted AT&T an experimental radio license to test what the mega carrier calls "standards-based 5G" in the convention center in Austin, Texas.  The test will begin at the end of July.   AT&T will run "up to 3" 28GHz fixed base stations in the convention center with connections to "up to 6" compatible user devices at up to 100 meters. AT&T promises demonstrations of 4K TV, volumetric video and eSports, as well mobile gaming, over the air, and more.
Indeed, Austin has been a hotbed for AT&T's 5G developments. In February, the company announced plans to open a new 5G lab there. One of the first in-house projects built at the lab is the Advanced 5G NR Testbed System (ANTS), which AT&T describes as a first-of-its kind 5G testbed system that is proprietary to AT&T.
AT&T said in January 2018 that it plans to launch 3GPP release 15 based mobile 5G in up to 12 markets by the end of the year.  The mega carrier (and now via Time Warner acquisition an entertainment content company) has been using special events around the country to showcase its 5G technology.
In early June, AT&T staged its Shape conference at Time Warner's Warner Bros. Studios in Burbank, California, where it showed presentations on edge technologies, artificial intelligence and immersive entertainment, as well as a 5G demonstration with Ericsson and Intel.
At the Electronic Entertainment Expo (E3) in Los Angeles, AT&T conducted a 28 GHz demo to give gamers an up-close look at how a 5G connection can give them a live gaming experience virtually anywhere there's network coverage. That demo also involved Ericsson, Intel and ESL.
Also in June, there was the 2018 5G demo at the  U.S. Open, which took place at the Shinnecock Hills Golf Club in Tuckahoe, New York. Ericsson, Intel and Fox Sports were also participated in that demo.
………………………………………………………………………………………………………………………
Here are a few recent IEEE techblog posts related to AT&T's 5G initiatives:
………………………………………………………………………………………………………………………………………………………………………………………..
Addendum- 3GPP Release 16 and 17 RAN schedule as of Dec 14, 2019: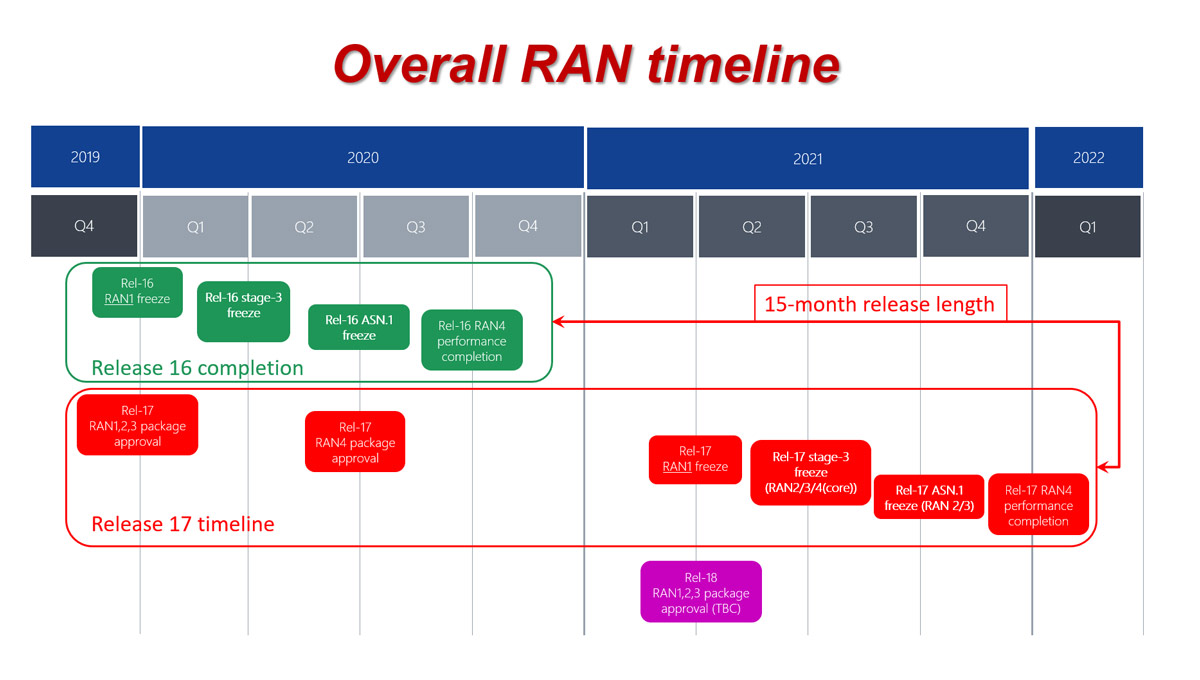 ---