3GPP Release 16 Update: 5G Phase 2 (including URLLC) to be completed in June 2020; Mission Critical apps extended
NOTE:  This article is intended as a reference, which is especially important to debunk claims made about current pre-standard 5G deployments which are almost all based on 3GPP Release 15 "5G New Radio (NR)" for the data plane with LTE signaling and LTE mobile packet core (EPC) for Non Stand Alone (NSA) operation.  5G pundits continue to site 3GPP as the standards organization responsible for 5G which is doubly wrong because it's not a standards body and submits its 5G/IMT 2020 proposals to ITU-R WP 5D via the latter organizations member entities.  As we've stated many times before, ITU-R is responsible for the radio standards for IMT 2020, while ITU-T is working on the non-radio aspects of IMT 2020.
………………………………………………………………………………………………………………………………………………………………………………………………………………..
Summary:
3GPP Release 16 is a major release for the project, because it will bring the specification organization's IMT-2020 RIT/SRIT submission (to ITU-R WP 5D) for an initial full 3GPP 5G system to its completion.  Release 16 will be put in a "frozen" state in March 2020 with a targeted  completion date of June 2020.
3GPP work has started on approximately 25 Release 16 studies, which cover a variety of topics: Multimedia Priority Service, Vehicle-to-everything (V2X) application layer services, 5G satellite access, Local Area Network support in 5G, wireless and wireline convergence for 5G, terminal positioning and location, communications in vertical domains and network automation and novel radio techniques. Further items being studied include security, codecs and streaming services, Local Area Network interworking, network slicing and the IoT.
Here are the new features planned for 3GPP Release 16:
Details of the features and work items under each 3GPP Release are kept in the corresponding, on-line, list of features and study items.
Enhancement of Ultra-Reliable (UR) Low Latency Communications (URLLC)
5GS Enhanced support of Vertical and LAN Services
Cellular IoT support and evolution
Advanced V2X support
5G Location and Positioning Services
UE radio capability signalling optimization
Satellite Access in 5G
Enablers for Network Automation Architecture for 5G
Wireless and Wireline Convergence Enhancement
Mission Critical, Public Warning, Railways and Maritime
Streaming and TV
User Identities, Authentication, multi-device
(Network) Slicing
Other cross-TSG Release 16 Features
NR-related Release 16 Features
Release 16 Features impacting both LTE and NR
LTE-related Release 16 Features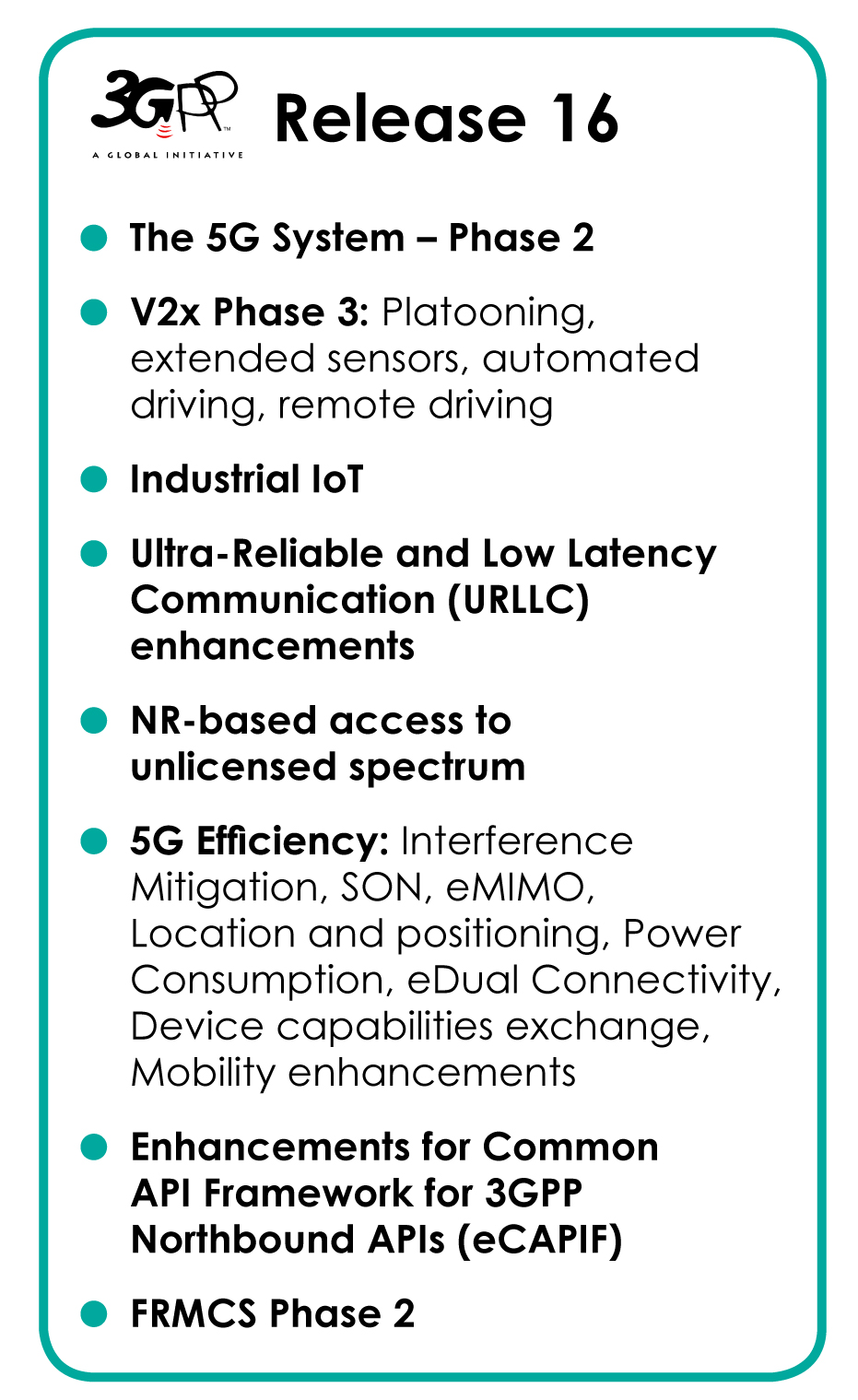 From 3GPP's July 18, 2019 Webinar: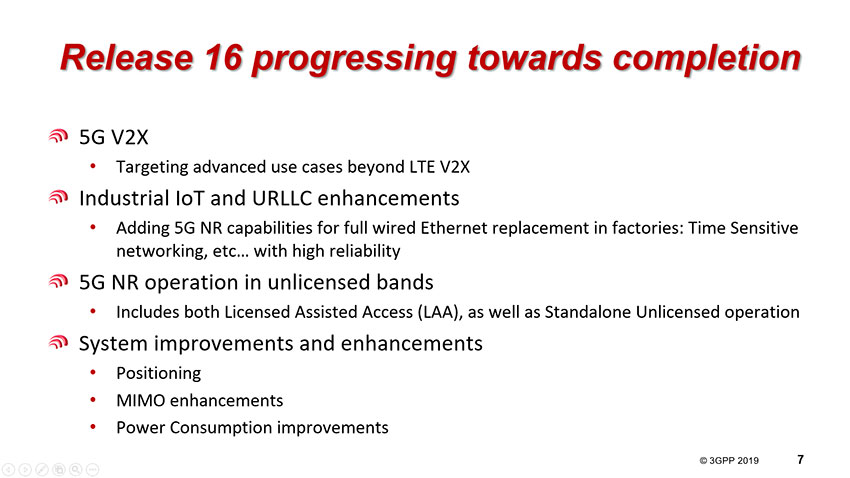 "For the (industry) verticals, there are three distinct pillars that we are focused on: Automotive, Industrial IoT and Operation in unlicensed bands. For 5G based V2X, which builds on the two iterations of the LTE-V2X, we are now adding advanced features – primarily in the area of low latency use cases.
The second focus is industrial IoT and URLLC enhancements. Factory automation, in particular, is a strong pillar for 5G going forward. We are trying to ensure that the radio side covers all of the functions that all the verticals need for factory automation. What this means in practice is that we are trying to make sure 5G NR can fully replace a wired ethernet – currently used – by adding time sensitive networking and high reliability capabilities.
The third pillar is operation in unlicensed bands. We have seen different schemes for generic 5G licensing strategies in Europe and in other parts of the World. We have seen in some countries that certain licensed bands have been allocated for vertical use cases, though that is not the case for a majority of countries. The use of unlicensed bands provides a great opportunity – where licensed spectrum is not an option. We are now focused on not only what we have with LTE, which is the licensed assisted access scheme, but also on standalone unlicensed operation – to be completed in Release 16.
Release 16 also delivers generic system improvements & enhancements, which target Mobile Broadband, but can also be used in vertical deployments – Particularly; positioning, MIMO enhancements and Power consumption improvements."
………………………………………………………………………………………………………………………………………………………………………………………………….
Technical Reports (the result of the study phase) are also being developed on broadening the applicability of 3GPP technology to non-terrestrial radio access (initially satellites, but airborne base stations are also to be considered) and to maritime aspects (intra-ship, ship-to-shore and ship-to-ship). Work also progresses on new PMR functionality for LTE, enhancing the railway-oriented services originally developed using GSM radio technology that is now nearing end of life.
As part of Release 16, Mission Critical (MC) services will be extended to address a wider business sector than the initial rather narrow public security and civil defense services for which they had originally been developed. If the same or similar standards can be used for commercial applications (from taxi dispatching to railway traffic management, and other vertical sector scenarios currently being investigated), this would bring enhanced reliability to those MC services through wider deployment, and reduced deployment costs due to economies of scale – to the benefit of all users.
In December 2018, an adjustment was agreed at TSGs#82 – to allow a 3 month shift in the Functional freeze (of features) and the ASN.1 completion for both Release 15 and Release 16:
IMT-2020 – Final submission
Release 16 will be "5G phase 2" and will be completed in June 2020 (TSGs#88) – See adjustment noted above.
Original schedule:
This Release will meet the ITU IMT-2020 submission requirements and the time-plan as outlined in RP-172101:
Details of the work plan – to meet agreed IMT-2020 submission time plan:
Step 1: From Sep 2017 to Dec 2017, discussions in RAN ITU-R Ad-Hoc
Calibration for self evaluation
Prepare and finalize initial description template information that is to be submitted to ITU-R WP 5D#29.
Step 2: From early 2018 to Sep 2018, targeting "update & self eval" submission in Sep 2018
Performance evaluation against eMBB, mMTC and URLLC requirements and test environments for NR and LTE features.
Update description template and prepare compliance template according to self evaluation results.
Provide description template, compliance template, and self evaluation results based on Rel-15 in Sep 2018.
Step 3: From Sep 2018 to June 2019, targeting "Final" submission in June 2019
Performance evaluation update by taking into account Rel-16 updates in addition to Rel-15
Update description template and compliance template to take into account Rel-16 updates in addition to Rel-15
Provide description template, compliance template, and self evaluation results based on Rel-15 and Rel-16 in June 2019.
Some Background on Release 16
……………………………………………………………………………………………………………………………………………..
References:
https://www.3gpp.org/release-16
https://www.3gpp.org/news-events/2058-ran-rel-16-progress-and-rel-17-potential-work-areas
…………………………………………………………………………………………………………………………………………………………………………………………………….
Addendum (December 14, 2020):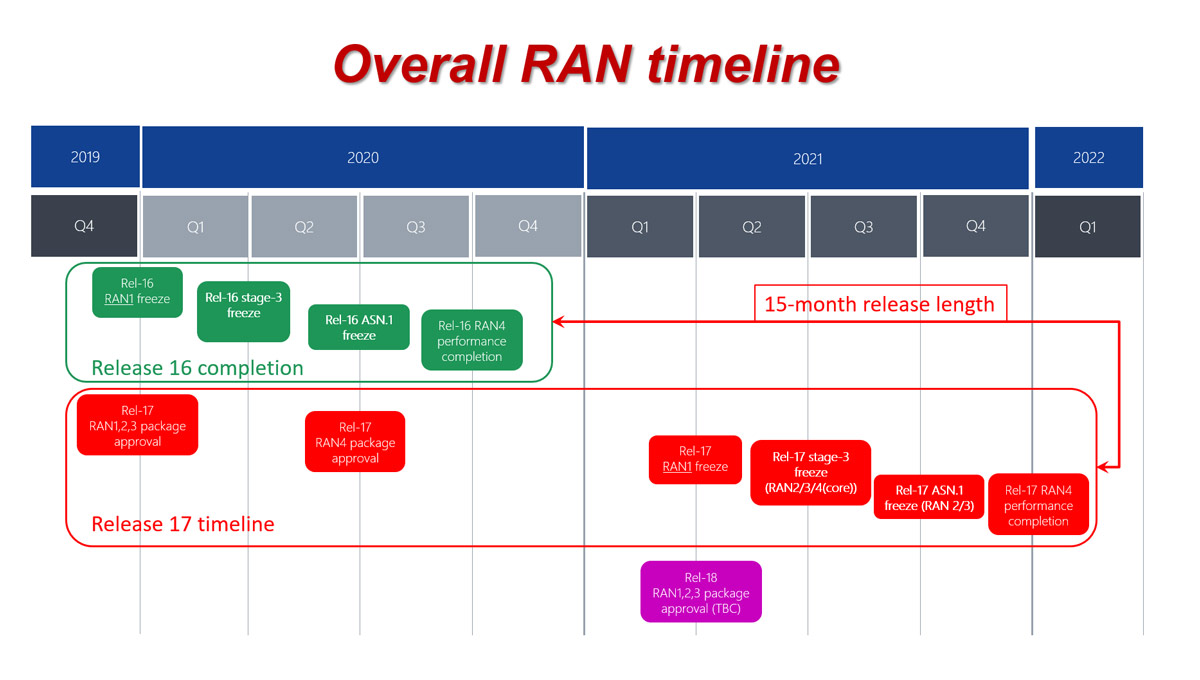 https://www.3gpp.org/news-events/2098-5g-in-release-17-%E2%80%93-strong-radio-evolution
---