2Q-2018 Status & Direction of AT&T Communications, by CEO John Donovan
2Q-2018  for AT&T had 76,000 IP broadband net adds with 23,000 total broadband net adds. That's the seventh consecutive quarter of broadband growth for AT&T Communications.   About 95% of our consumer broadband base is now on our IP broadband as our transition from DSL is drawing to a close. Our fiber build continues at a fast clip, now passing more than 9 million customer locations, and we expect that this time next year to reach 14 million locations.
This gives us a long runway for broadband growth. We're doing very well in our fiber markets, including a 246,000 net increase in subs on our fiber network in the second quarter.
Now I'd like to update you on several key initiatives we have underway, so we'll turn to Slide 17. Evolving our video portfolio is top priority for us. We believe we're well positioned as our customers move toward a more personalized set of streaming products.
Our new platform was launched in May as the DIRECTV NOW user interface, and it's now live on all supported device operating systems and has been well received with strong engagement by customers.  It offers a new cloud-based DVR and more robust video-on-demand experience with new pay-per-view options. Over time, it will bring additional advertising and data insight opportunities.  This new video platform gives us flexibility to adapt to the market with new offerings and products. Late in the quarter, we added our third video offering called WatchTV, a small package of 30 live channels and 15,000 on-demand titles.
We include WatchTV in our unlimited, more wireless plans where you can purchase it for $15 a month, making it perfect for customers who want video but not at the cost of a large package.  This complements DIRECTV NOW where we continue to see success in attracting cord cutters and cord severs. And later this year, we will begin testing a premium product extension, which is a streaming product that will give the full DIRECTV experience over any broadband, ours or competitors'.  It will have additional benefits of an improved search and discovery feature and an enhanced user interface. We're excited that this will complement our top-end product for those who don't want or can't have a satellite dish.
Our open-video platform also dovetails nicely with our ongoing focus on driving the industry's leading cost structure. The new platform is low touch with lower acquisition costs as streaming services becomes a bigger part of our business.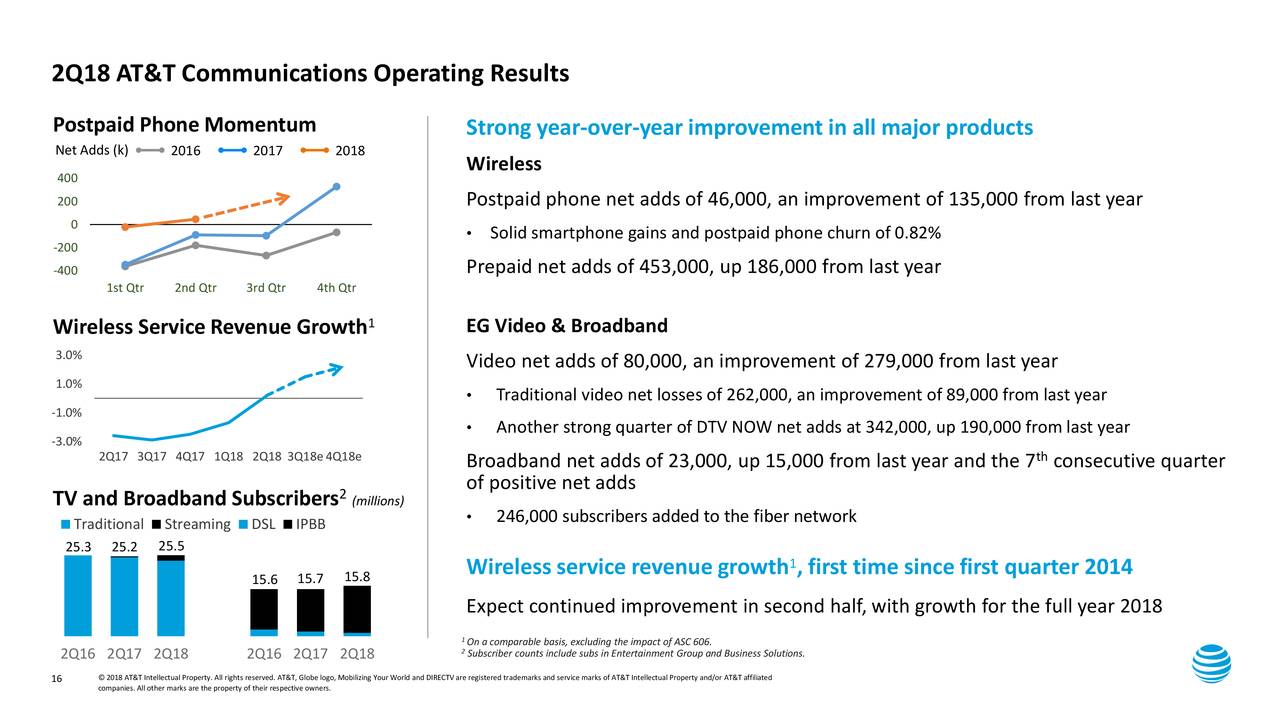 Digital sales are a cost-efficient way of customer engagement, and we're seeing double-digit growth in our digital sales and service. We're also seeing operating expense savings from our move to a virtualized software-defined network.
More than 55% of our network functions were virtualized at the end of 2017, and we're well on our way to meet or exceed our goal of 75% virtualized by 2020. These and other cost management initiatives have helped drive 13 straight quarters of cost reductions in our technology and infrastructure group.
Finally, I'd like to give an update on our FirstNet build and other network investments. Our FirstNet network build is accelerating. We expect to have between 12,000 and 15,000 band 14 sites on air by the end of this year 2018, and we're ahead of our contractual commitment.  And don't forget, when we're putting in equipment for FirstNet, we're also deploying our AWS and WCS spectrum, utilizing the one touch, one tower approach. This approach allows all customers access to our improved network.  FirstNet also gives us an opportunity to sell to first responders. So far, more than 1,500 public safety agencies across 52 states and territories have joined FirstNet, nearly doubling the network's adoption since April.
In addition to our efforts with FirstNet, 5G and 5G Evolution work continues its development in several different areas that will pave the way to the next generation of higher speeds for our customers.
We now have 5G Evolution in more than 140 markets, covering nearly 100 million people with theoretical peak speeds of at least 400 megabits per second with plans to cover 400-plus markets by the end of this year.  Our millimeter wave mobile 5G trials are also going well, and we're on track to launch service in parts of 12 markets by the end of this year.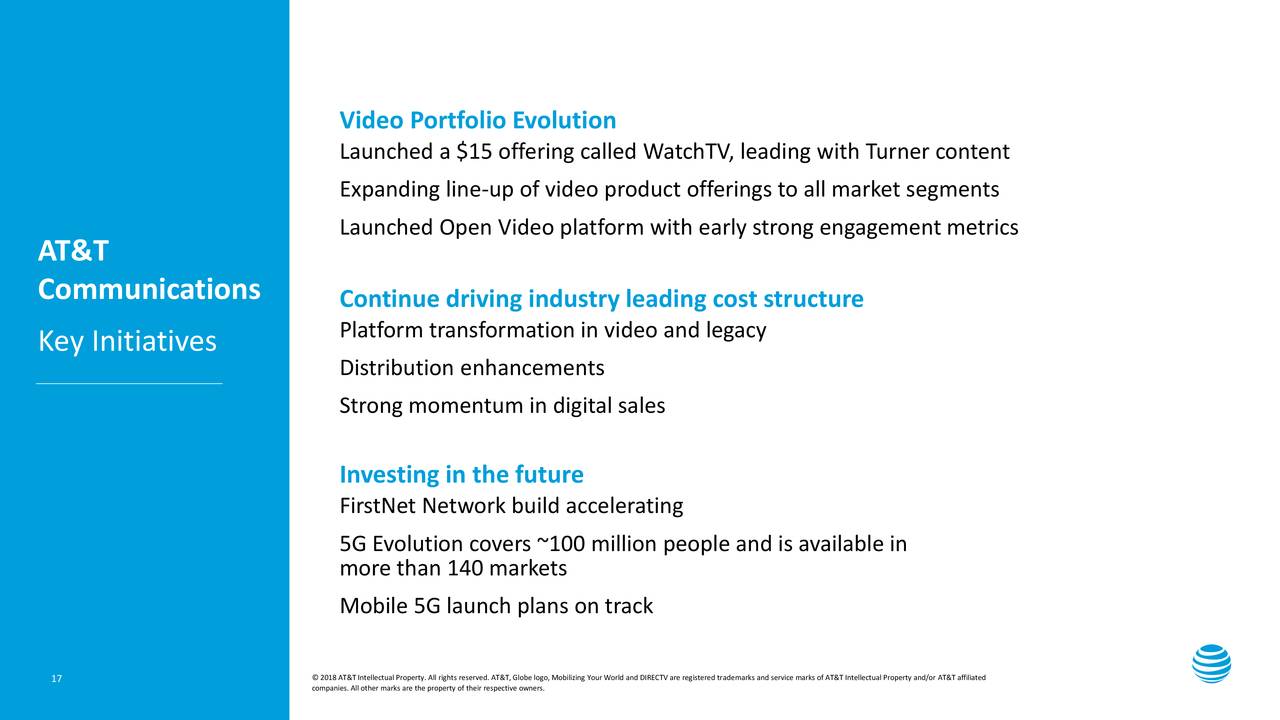 References:
https://seekingalpha.com/article/4189740-t-inc-t-ceo-randall-stephenson-q2-2018-results-earnings-call-transcript?page=8
https://seekingalpha.com/article/4189949-t-inc-2018-q2-results-earnings-call-slides
---