AT&T's Gordon Mansfield on 5G Spectrum, millimeter wave, and Project AirGig
AT&T will use 700MHz low-band and 2.3GHz WCS spectrum along with millimeter wave spectrum for its 5G rollout, said Gordon Mansfield of AT&T.  Separately, the company plans to use its millimeter wave Project AirGig to reach rural areas.
Mansfield  told a Light Reading event audience that AT&T won't be solely reliant on 28GHz mmWave as it moves toward 3rd Generation Partnership Project (3GPP) 5G New Radio-based service,
He also appeared to indirectly criticize the 5G-based fixed wireless access service from wireless telco rival Verizon Communications Inc. "They have to go ahead and rip out the equipment at the customer homes when they want to update," Mansfield said, not naming Verizon's 5G Home Service, a fixed wireless offering based on the operator's proprietary 5GTF specification, which launched on October 1, 2018.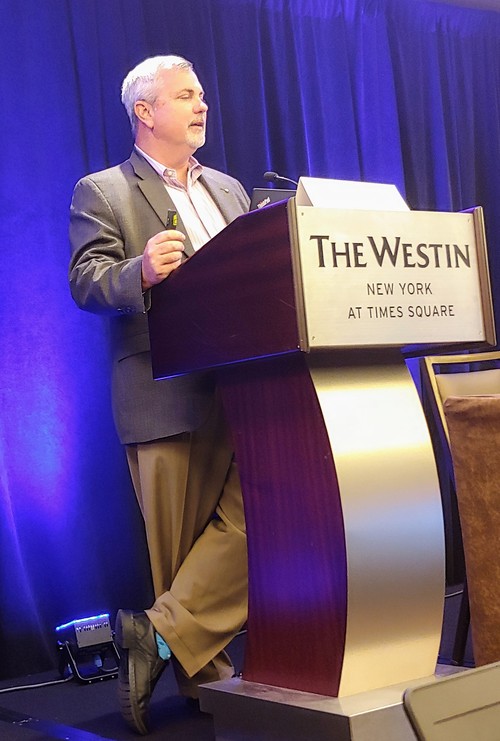 AT&T's Gordon Mansfield at the Light Reading event in New York City.
……………………………………………………………………………………………………………………………………………………………………………….
Speeding up the deployment of mmWave for the mobile rather than fixed 5G will require more infrastructure integration, as Verizon seemed to acknowledge at the event.
AT&T is hopeful that its millimeter wave "Project AirGig" will be able to provide gigabit-speed backhaul in the future, especially in rural areas. The AirGig technology wirelessly rides alongside medium-voltage power lines and uses newly designed "low-cost" plastic antennas for connectivity. (See Project AirGig Goes Down to Georgia ).  At the moment, "it's a research project," Mansfield added.
Mansfield pointed out that AT&T has already been "serving users at Magnolia Silos with [fixed] broadband 5G" since December 2017. AT&T announced that it would hold a wireless trial at the Magnolia Market at The Silos shopping complex in Waco, Texas, on December 17, 2017. The operator is using millimeter wave spectrum to deliver connectivity to shoppers, distributed via WiFi.
AT&T is expected to launch 3GPP mobile 5G in parts of 12 US markets in "late" in 2018.
……………………………………………………………………………………………………………………………………………………………………………………..
From Twitter: Gordon Mansfield discusses ATT's 5G Evolution technology on October 9th on CheddarLIVE, chatting about the company's vision, the technology's impact, and its possibilities across different industries.
References (videos):
https://www.lightreading.com/mobile/5g/atandts-gordon-mansfield-focusing-on-mobile-5g/v/d-id/746774?_mc=RSS_LR_EDT
https://twitter.com/search?q=%40Cheddar%20%20Gordon%20Mansfield&src=typd&lang=en
---