Should Web Giants Partner with Telcos to bring Broadband to 3rd World?
Facebook along with Indian telecom giant Bharti Airtel Ltd.'s Ugandan unit and Mauritius-based Bandwidth & Cloud Services Group, has deployed nearly 500 miles of fiber-optic cable across the isolated northwest of Uganda. The project, begun in early 2017 and completed at the end of last year, has expanded the region's network capacity, providing faster internet access to an area with some three million people, many of whom live in towns still haunted by memories of the three-decade insurgency led by Joseph Kony's Lord's Resistance Army.
The Ugandan cable is the largest terrestrial network Facebook has helped construct in Africa and part of what the company describes as a broader push to connect the approximately 3.8 billion people who are still without internet around the world.
The move comes as Facebook's user growth slows in developed markets like the U.S. and Europe. The social media giant's presence on the continent remains small compared with other regions, but the Menlo Park, Calif.–based company said its strategy to get more people onto a faster and more robust internet will plug more of sub-Saharan Africa into the global economy.
Indeed, the summer of 2018 brought different fortunes to attempts by Facebook and Google to offer broadband services using high-flying drones and balloons (atmospheric satellites) to the unserved in remote rural areas.
GlobalData, a data and analytics company, feels that webscale giants need to partner with telcos globally to address the affordability challenge of reaching out to the unconnected in rural markets with atmospheric satellites.
Atmospheric satellites fit in the space between true satellites commonly used for communications and ground-based networks. Their theoretical advantage over satellites is much lower cost. Launching a balloon or a drone and equipping it with a radio base station represents a much cheaper way of covering large swaths of land. Considering one-third of the world population remains unconnected, the lower costs associated with balloon- or drone-based coverage is compelling.
However in June 2018, following several setbacks over a period of four years, Facebook abandoned developing its own high-flying solar-powered drones (Aquila project) for delivering Internet. However, the California-based social media giant said that it will focus on working with partners like Airbus on high altitude platform station (HAPS) system, which is capable of beaming down high-speed Internet to the unserved in 3rd world countries.
On the other hand Alphabet, the parent company of Google, turned its Loon balloon project into an independent company and announced its first commercial project with partly-state owned Telkom Kenya in July 2018. The partners plan to launch balloon-based 4G/LTE services commercially to parts of central Kenya, starting from 2019.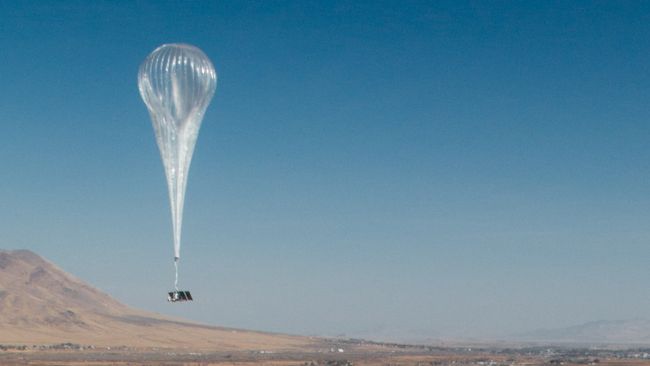 Alphabet's Project Loon uses helium balloons to bring internet access to remote locations
…………………………………………………………………………………………………………………………………………….
Google used Project Loon in Puerto Rico last year after two hurricanes destroyed much of the telecom infrastructure on the island.  Project Loon's pilot deployment with Telkom Kenya may provide the clearest test of whether atmospheric satellites can really work. This puts pressure on Loon to demonstrate it has a viable technology.
Emir Halilovic, Telecom Technology and Software Analyst at GlobalData, said:
"Things get more complicated when the practical challenges of covering the unconnected masses with drone- or balloon-based mobile signals are considered. For starters, the potential customers for services provided from atmospheric satellites are not concentrated in one part of the world; rather, they are spread across remote, rural, or tribal areas, in many different countries and continents."
Truly addressing this group would require the participation of multiple operators in dozens of countries. Moreover, most of the unconnected usually do not live outside areas where they can get mobile service; they just cannot afford a mobile plan. Drones and balloons do little to address the 'affordability' challenge.
Halilovic concludes:
"Still, there are reasons to continue to pursue atmospheric satellites to provide coverage to the underserved rural communities, which could use internet connection to improve access to medical services in isolated locations, for example. Another use case for atmospheric satellites is quick restoration of communication services in natural disasters. Telcos should therefore continue to test atmospheric satellites to support development of such services."
Critics say Facebook's ventures into less-developed markets could undermine net neutrality by channeling traffic to its own platform and away from competitors. An earlier effort by Facebook to expand internet access in the developing world faltered in 2016, when India's telecommunications regulator effectively banned the company from offering free access to a low-data version of Facebook and selected websites and apps. Governments across Africa—including in Uganda—are rolling back internet freedoms and cracking down on social media.
Facebook, which declined to comment on the cost of the Ugandan cable, says its Africa strategy is a long-term effort. Analysts say the lack of connectivity on the continent is a central impediment to increasing economic growth: Removing barriers to commerce and trade should create more opportunities for consumers to spend.
"It's not a philanthropic venture. It's a strategic investment with a long-term goal," said Ebele Okobi, Facebook's director of Africa public policy. "We see this as an enabler of our business, not as a way to gain advantages."
Dexter Thillien, a London-based analyst with Fitch Solutions, said Facebook, conscious of the risks, is still testing the waters in Africa.   "It's where they can make the least money, at least right now," he said.
The word "Africa" appears just once in Facebook's 2017 annual report, to inform readers that the continent is included, along with the Middle East and Latin America, under its "Rest of World" designation.
Since the fiber rollout, Airtel Uganda has installed 33 new telecom towers in northern Uganda, while 71 towers have been upgraded to 3G and another 43 towers now beam 4G, which improves users' ability to download and stream quickly, the company said. Previously, most places in the region had 2G or no service at all—a far cry from developed economies, which are racing to roll out 5G networks. More than half of Africa's mobile broadband connections remain 2G (which AT&T has discontinued in the U.S.).
"That cable is fast for internet. That means communications will be much easier," said Patricia Akello, project manager for Youth Alive, a Gulu-based provider of youth HIV counseling and testing. "Internet has become a necessity: Allowing young people access will educate them. They'll be better able to prevent HIV…and they can be educators to others in the community."
Meanwhile, telcos like AT&T are testing drones to act as temporary cell sites after a disaster, Inside Towers reported. BAE Systems' PHASA-35 could bring internet access to the most remote corners of the world,  Martin Topping, delivery director at BAE Systems said: "Essentially any payload that can fit within the capacity can be put inside it.  That could be 5G and 6G communications, border surveillance, agriculture and forestry, famine relief – it's infinite. The vehicle is the carrier – the transit van. Spying is quite a niche usage."
References:
https://www.enterpriseinnovation.net/article/webscales-need-partner-telcos-bring-atmospheric-satellite-services-unconnected-201758349
https://www.wsj.com/articles/facebook-pushes-into-africa-1539000000
---