Comment & Analysis: Intel exits 5G modem chip business, but "5G is still a strategic priority"(?)
Just a few hours after the Qualcomm-Apple legal settlement was announced on April 16th, Intel Corporation said in a press release that it would exit the 5G smartphone modem business. The company plans to complete an assessment of the opportunities for 4G and 5G modems in PCs, internet of things devices and other data-centric devices. Intel will also continue to invest in its 5G network infrastructure business.
Intel will continue to meet current customer commitments for its existing 4G-LTE smartphone modem product line, but does not expect to launch 5G modem products in the smartphone space, including those originally planned for launches in 2020.
"We are very excited about the opportunity in 5G and the 'cloudification' of the network, but in the smartphone modem business it has become apparent that there is no clear path to profitability and positive returns," said Intel CEO Bob Swan. "5G continues to be a strategic priority across Intel (?), and our team has developed a valuable portfolio of wireless products and intellectual property. We are assessing our options to realize the value we have created, including the opportunities in a wide variety of data-centric platforms and devices in a 5G world."
Intel said in the above referenced press release (also see References below) that it expects to provide additional details of its 5G strategy in its upcoming first-quarter 2019 earnings report and conference call, scheduled for April 25th.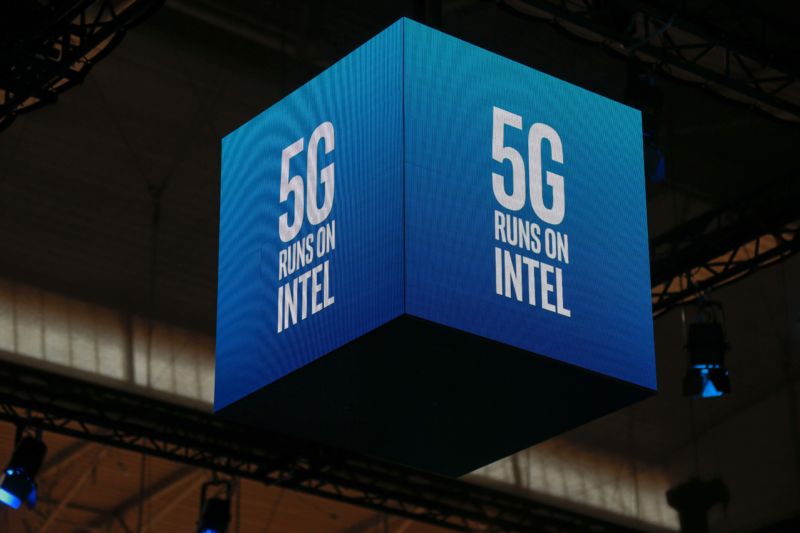 A 5G Intel logo was displayed at the Mobile World Congress on February 26, 2019 in Barcelona.
…………………………………………………………………………………………………………………………………………………………………………………………………………………………………..
Comment and Analysis:
In 2018, as Apple's legal battle with Qualcomm heated up, Intel became Apple's sole supplier for 4G-LTE wireless chips in the iPhone. Intel additionally was working to develop 5G chips for Apple to use in future versions of the iPhone. The company regularly participates in both 3GPP and ITU-R WP5D meetings directed at IMT 2020 (the ONLY 5G wireless/radio interface technology standard).  However, recent reports have indicated that Intel was "missing deadlines" for the pre-standard 5G chip that was slated to go into the 2020 model of the iPhone.  Note that Apple also participates in the ITU-R WP5D IMT 2020 standardization meetings.
Fast Company reported earlier this month that "in order to deliver big numbers of those modems in time for a September 2020 iPhone launch, Intel needs to deliver sample parts to Apple by early summer of this year, and then deliver a finished modem design in early 2020."  That design would likely be based on 3GPP Release 15 NR, as Release 16 wont be completed till the spring of 2020.
If Intel had failed to provide Apple with (pre-standard) 5G chips in a timely manner, that would have put Apple in an untenable position. The iPhone's competitors would be able to offer 5G capabilities using Qualcomm chips, while Qualcomm could have denied Apple access to 5G chips as long as the patent battle continued.  That's over now, as Apple will surely use Qualcomm 5G chips in its future iPhones, iPads and other products.
More importantly, it appears that Apple was Intel's ONLY volume customer for 4G-LTE chips so the company felt it would be a huge struggle to attract new customers for its planned 5G silicon.  Moreover, it was widely reported that Intel was selling 4G-LTE chips to Apple at a LOSS as seems to be corroborated by CEO Bob Swan's statement above: "It has become apparent that there is no clear path to profitability and positive returns in the smartphone modem business."
With Intel's exit, there appears to be ONLY TWO 5G merchant semiconductor companies- Qualcomm and MediaTek.  Huawei and Samsung are developing their own 5G silicon for use in their smartphones and base stations, but they are NOT likely to be sold on the open market to competitors.
Finally, we don't know how 5G can be a "strategic priority" at Intel when they have consistently failed to profit from the network equipment business after making billions of dollars of acquisitions in the late 1990s and early 2000s (e.g. WiMax, optical networking, Dialogic, etc).  While Intel silicon is inside most IBM compatible PCs, they are NOT in hardly any smartphones or tablets, portable gaming machines, or other cellular connected equipment.  Hence, we wonder how the 5G strategic priority will evolve into profitable products.
The only "strategic priority" area we can come up with is Intel's processors inside new wireless connected autonomous systems (e.g. remote controlled drones, industrial robots, self driving cars or other vehicles, etc) that uses Qualcomm 5G silicon. Wireless Autonomous Systems (WAS's), which Intel Labs has been researching, will surely require ultra low latency and high reliability.  Those capabilities are NOT in 3GPP Release 15 NR, but will be included in 3GPP Release 16 and the first IMT 2020 RIT standards that won't be finished till the end of 2020.  That implies the first 5G WAS's products won't be available till mid 2021 at the earliest.
……………………………………………………………………………………………………………………………………………………………………………………………………………….
References:
PRESS RELEASE: Intel exits 5G chip business
https://arstechnica.com/gadgets/2019/04/intel-quits-5g-modem-business-hours-after-apple-settles-with-qualcomm/
---