Summary:
Intel and MediaTek are partnering to make cellular-connected personal computers.  Intel will "define" a 5G PC system spec ("Intel will define a 5G solution specification focused on deployment in key laptop segments") while MediaTek will develop the 5G cellular chip for those PCs.  The first products are targeting availability in early 2021. Dell and HP are expected to be among the first OEMs to deliver laptops enabled with Intel and MediaTek's 5G solution.
Intel also will help make sure the 5G chip works properly and will help computer makers integrate their processor into PCs ("Intel will also provide optimization and validation across the platform and lend system integration and co-engineering support to further enable its OEM partners.").
The partnership is also expected to increase the global presence for MediaTek's 5G modems, which are mainly sold to Chinese smartphone makers.  The 5G PC chip is based in part on MediaTek's Helio M70 5G modem, introduced earlier this year.  From the Intel announcement:
"5G is poised to unleash a new level of computing and connectivity that will transform the way we interact with the world. This partnership with MediaTek brings together industry leaders with deep engineering, system integration and connectivity expertise to deliver 5G experiences on the next generation of the world's best PCs."
–Gregory Bryant, Intel executive vice president and general manager of the Client Computing Group
The partnership helps MediaTek break into a bigger U.S. market and prevents Intel from being shut out of 5G-connected PCs. It also helps Intel defends one of its most important markets: computers. It has long made the majority of chips that go into PCs, but rival Qualcomm has been gaining market traction with its Snapdragon SoCs that were originally designed for smartphones. Qualcomm's SoCs generally provide better battery life and connectivity that are not traditionally found in computers.
Image courtesy of Intel
………………………………………………………………………………………………………………..
The two companies are also working with Fibocom on the development of M.2 modules optimized for integration with Intel client platforms. As the first module vendor for this solution, Fibocom will provide operator certification and regulatory support, as well as lead 5G M.2 module manufacturing, sales and distribution.
…………………………………………………………………………………………………………..
Analysis:
Intel earlier this year introduced its Project Athena initiative, a multiple-company, multiple-year effort to make PCs more like computers. Devices are meant to wake instantly, sport brighter screens for outdoor use and have battery life that lasts all day. Project Athena laptops also need to be able to complete a biometric login process in a second or less after a laptop lid is opened, and Athena gets an additional second to connect to Wi-Fi. The first devices are due this year, but they're not cellular-enabled.  For that, users have to turn to Qualcomm-powered PCs.
Last year, Qualcomm unveiled its first processor designed specifically for computers, called the Snapdragon 8cx Compute Platform. Qualcomm partnered with Lenovo to introduce its the Snapdragon 8cx 5G compute platform in late May this year. "Consumers can expect more to come from Lenovo and Qualcomm in early 2020," the Qualcomm said. The chip is powerful but also power efficient, giving users multiple days of battery life on a single charge.
Many PC makers have started using Qualcomm chips. That includes the Samsung's Galaxy Book S, which was unveiled in August and runs on the 8cx. The ultrathin, ultralight laptop has a 13.3-inch touchscreen and sports 23 hours of battery life. It also has built-in LTE.
Intel, on the other hand, struggled to make a cost competitive 5G chip for Apple's iPhones and was losing lots of money on that project.   it exited the cellular modem business After Apple and Qualcomm reached a multiyear chip supply agreement in April, Intel exited the 5G smartphone modem business.  This past July, Apple and Intel jointly announced that Apple planned to buy Intel's smartphone modem business for $1 billion. The deal likely gives Apple access to some of Intel's work on 5G technology mostly from the latter's acquisition of Infineon cellular division.
There are only four companies in the world making 5G chips: Qualcomm, MediaTek, Samsung and Huawei while only the first two sell into the merchant semiconductor market. Samsung and Huawei largely only use their 5G chips in their own devices (though a new phone from Vivo will use Samsung's Exynos 5G modem).
MediaTek predominantly supplies modems to Asian (mostly China) handset makers. Its first 5G modem chip/chip set won't work on any of the 5G networks that have been deployed in the U.S.
Intel and MediaTek now hope their efforts will be enough to fend off Qualcomm and attract PC makers.  Other spin offs are also possible, depending on the success of this initial effort.
…………………………………………………………………………………………………………………..
Qualcomm Competition or 5G Monopoly?
Qualcomm has supplied 5G modems for the vast majority of 5G smartphones sold this year. Intel wouldn't partner with Qualcomm, a company it views as its chief rival in the semiconductor business.  Michael Chertoff, former Head of U.S. Homeland Security penned an oped in yesterday's Wall Street Journal that Qualcomm's Monopoly Imperils National Security.  He wrote:
A monoculture technology system likewise poses substantial risks. If there is some critical flaw in the single system on which the U.S. is dependent, its failure would be catastrophic. These technical vulnerabilities are especially risky in security-sensitive industries such as telecommunications. American reliance on a single chip provider creates an inviting target for adversaries, who would need to find and exploit only one vulnerability to execute a destructive cyberattack.

In the Pentagon's view, maintaining the company's economic health is also essential because it is a critical player in the competition with China to develop 5G technology. To be sure, it's important to support the viability of U.S. firms that can compete with China on 5G, but this hardly justifies the risks of a mono-culture in the defense-industrial base.

Further, the argument mistakenly links two national-security issues in an artificial way. Qualcomm doesn't need protection in the wireless chipset market to strengthen its competitive edge in the 5G race. To the contrary, it has every incentive to develop leading 5G technologies even in the absence of protection in the chip market.

In the technology race against China, the U.S. should prefer to let competition drive innovation rather than support exclusive national champions. Apart from the economic inefficiency, a single-source national champion creates an unacceptable risk to American security—artificially concentrating vulnerability in a single point. The government's argument in support of Qualcomm isn't prudent, and if courts accept it, the result would be a self-inflicted wound to U.S. national interests. We need competition and multiple providers, not a potentially vulnerable technological monoculture.
…………………………………………………………………………………………………………..
References:
https://newsroom.intel.com/news/intel-mediatek-partner-deliver-5g-pc/
https://www.cnet.com/news/intel-mediatek-partners-to-make-5g-chips-for-pcs/
https://www.lightreading.com/mobile/5g/intel-partners-with-mediatek-for-5g-pc-chips/d/d-id/755933?
The Wall Street Journal reported late yesterday that Apple is in advanced talks to buy Intel's abandoned smartphone modem business for $1 billion, saying  that a deal encompassing patents and staff could be announced as early as next week.
Intel announced this past April it was exiting the 5G (and 4G LTE) modem chip business earlier this year after Apple reached a surprise settlement with Qualcomm that would see Apple once again return to using Qualcomm's modems in its phones. Intel CEO Bob Swan went on to clarify that Intel had abandoned the modem chip business directly because of the Apple settlement — without Apple as a customer, the company concluded that it "just didn't see a path" forward.
The deal would give Apple access to engineering work and talent behind Intel's years long push to develop modem chips for 4G LTE and the crucial next generation of wireless technology known as 5G, potentially saving years of development work. Apple has been working to develop chips to further differentiate its devices as smartphone sales plateau globally, squeezing the iPhone business that has long underpinned its profit. It has hired engineers, including some from Intel, and announced plans for an office of 1,200 employees in San Diego.
For Intel's part, a deal would allow the company to shed a business that had been weighing on its bottom line: The smartphone operation had been losing about $1 billion annually, a person familiar with its performance has said, and has generally failed to live up to expectations. Though it would exit the smartphone business, Intel plans to continue to work on 5G technology for other connected devices.
Intel and Apple have been in off- and on-again talks for about a year. They broke down around the time Apple reached a multiyear supply agreement for modems with Intel rival Qualcomm Inc., The Wall Street Journal reported in April.
Intel had cast a wider net for buyers then and received expressions of interest from a number of parties, but the talks with Apple—long seen as the most-logical buyer—soon resumed.
Neither Intel or Apple sent a delegate to the recently completed ITU-R WP5D Technology Aspects WG meeting where IMT 2020 RIT/SRIT candidate technologies were progressed.
The Apple-Intel discussions began last summer, around the time former Intel Chief Executive Brian Krzanich resigned, people familiar with the matter have said. Mr. Krzanich championed the modem business and touted 5G technology as a significant future revenue stream. When Bob Swan was named to that job in January, analysts said the odds of a deal rose because his focus on cleaning up Intel would require addressing the losses in the modem business.
Intel is the latest Apple supplier to exit a business after the iPhone maker moved to develop components in-house. Late last year, Apple agreed to a $600 million deal to acquire 300 engineers and facilities from Dialog Semiconductor PLC as the company increasingly develops the battery-management chips Dialog had supplied.
Apple has been reluctant to cut big deals in the past, preferring to acquire about 15 to 20 small companies annually that have technology it can easily integrate. But with the slowdown in its iPhone business, the company has become more open to bigger deals. It has been spending its giant cash reserves on share buybacks and dividends (AKA financial engineering).  But the iconic company still has a substantial war chest, with $113 billion of cash after debt as of March 30th. Its largest deal to date remains the $3 billion acquisition of Beats Electronics LLC in 2014.
Here's a timeline of Intel's rocky relationship with Apple for the iPhone:
2007 — 2016: Qualcomm was Apple's go-to modem provider.
2016 — April 2019: Apple put its arm around Intel, hoping it could offer the same chips as Qualcomm for a lower price.
April 16, 2019: Apple begrudgingly settled lawsuits with Qualcomm, and agreed to use its chips again for at least 6 years.
Also April 16, 2019: Since Apple broke up with it, Intel announced it was done with smartphone modems.
Key Takeaways:
After the Apple / Qualcomm deal, Intel reportedly began searching for a buyer for its modem business. Apple makes a lot of sense as a buyer. Prior to Apple and Qualcomm settling, Intel became the sole third-party modem provider for the 2018 models of the iPhone. And Apple has long been Intel's only major customer for modems — nearly every other major Android phone relies on either Qualcomm or in-house solutions.
If Apple is able to effectively use Intel's patents, research, and engineers into a functioning 5G chip assembly line, Qualcomm will lose the power it has over the iPhone. If not, there won't be any competition and Qualcomm will keep charging high prices for 5G chipsets.  Qualcomm is the only chip company to date that is able to offer modem chips for 5G phones, so Apple has no choice but to work with them unless it acquires Intel's 5G modem chip business.
Just a few hours after the Qualcomm-Apple legal settlement was announced on April 16th, Intel Corporation said in a press release that it would exit the 5G smartphone modem business. The company plans to complete an assessment of the opportunities for 4G and 5G modems in PCs, internet of things devices and other data-centric devices. Intel will also continue to invest in its 5G network infrastructure business.
Intel will continue to meet current customer commitments for its existing 4G-LTE smartphone modem product line, but does not expect to launch 5G modem products in the smartphone space, including those originally planned for launches in 2020.
"We are very excited about the opportunity in 5G and the 'cloudification' of the network, but in the smartphone modem business it has become apparent that there is no clear path to profitability and positive returns," said Intel CEO Bob Swan. "5G continues to be a strategic priority across Intel (?), and our team has developed a valuable portfolio of wireless products and intellectual property. We are assessing our options to realize the value we have created, including the opportunities in a wide variety of data-centric platforms and devices in a 5G world."
Intel said in the above referenced press release (also see References below) that it expects to provide additional details of its 5G strategy in its upcoming first-quarter 2019 earnings report and conference call, scheduled for April 25th.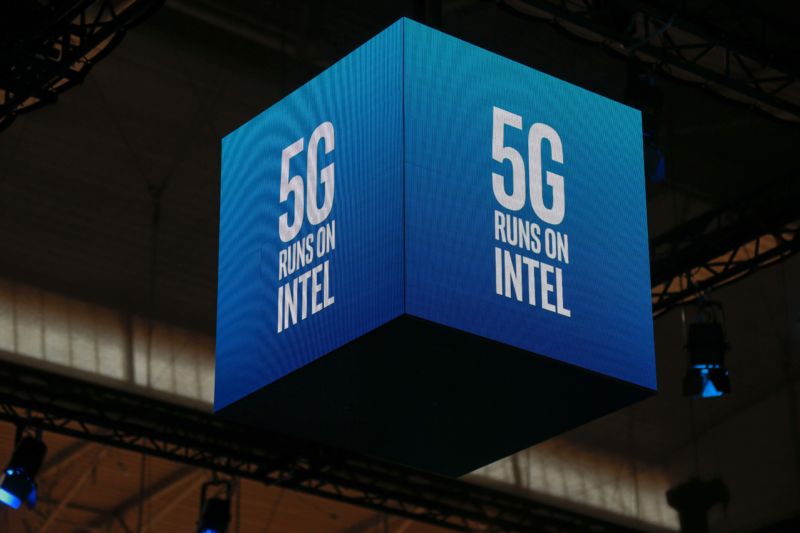 A 5G Intel logo was displayed at the Mobile World Congress on February 26, 2019 in Barcelona.
…………………………………………………………………………………………………………………………………………………………………………………………………………………………………..
Comment and Analysis:
In 2018, as Apple's legal battle with Qualcomm heated up, Intel became Apple's sole supplier for 4G-LTE wireless chips in the iPhone. Intel additionally was working to develop 5G chips for Apple to use in future versions of the iPhone. The company regularly participates in both 3GPP and ITU-R WP5D meetings directed at IMT 2020 (the ONLY 5G wireless/radio interface technology standard).  However, recent reports have indicated that Intel was "missing deadlines" for the pre-standard 5G chip that was slated to go into the 2020 model of the iPhone.  Note that Apple also participates in the ITU-R WP5D IMT 2020 standardization meetings.
Fast Company reported earlier this month that "in order to deliver big numbers of those modems in time for a September 2020 iPhone launch, Intel needs to deliver sample parts to Apple by early summer of this year, and then deliver a finished modem design in early 2020."  That design would likely be based on 3GPP Release 15 NR, as Release 16 wont be completed till the spring of 2020.
If Intel had failed to provide Apple with (pre-standard) 5G chips in a timely manner, that would have put Apple in an untenable position. The iPhone's competitors would be able to offer 5G capabilities using Qualcomm chips, while Qualcomm could have denied Apple access to 5G chips as long as the patent battle continued.  That's over now, as Apple will surely use Qualcomm 5G chips in its future iPhones, iPads and other products.
More importantly, it appears that Apple was Intel's ONLY volume customer for 4G-LTE chips so the company felt it would be a huge struggle to attract new customers for its planned 5G silicon.  Moreover, it was widely reported that Intel was selling 4G-LTE chips to Apple at a LOSS as seems to be corroborated by CEO Bob Swan's statement above: "It has become apparent that there is no clear path to profitability and positive returns in the smartphone modem business."
With Intel's exit, there appears to be ONLY TWO 5G merchant semiconductor companies- Qualcomm and MediaTek.  Huawei and Samsung are developing their own 5G silicon for use in their smartphones and base stations, but they are NOT likely to be sold on the open market to competitors.
Finally, we don't know how 5G can be a "strategic priority" at Intel when they have consistently failed to profit from the network equipment business after making billions of dollars of acquisitions in the late 1990s and early 2000s (e.g. WiMax, optical networking, Dialogic, etc).  While Intel silicon is inside most IBM compatible PCs, they are NOT in hardly any smartphones or tablets, portable gaming machines, or other cellular connected equipment.  Hence, we wonder how the 5G strategic priority will evolve into profitable products.
The only "strategic priority" area we can come up with is Intel's processors inside new wireless connected autonomous systems (e.g. remote controlled drones, industrial robots, self driving cars or other vehicles, etc) that uses Qualcomm 5G silicon. Wireless Autonomous Systems (WAS's), which Intel Labs has been researching, will surely require ultra low latency and high reliability.  Those capabilities are NOT in 3GPP Release 15 NR, but will be included in 3GPP Release 16 and the first IMT 2020 RIT standards that won't be finished till the end of 2020.  That implies the first 5G WAS's products won't be available till mid 2021 at the earliest.
……………………………………………………………………………………………………………………………………………………………………………………………………………….
References:
PRESS RELEASE: Intel exits 5G chip business
https://arstechnica.com/gadgets/2019/04/intel-quits-5g-modem-business-hours-after-apple-settles-with-qualcomm/
---