AT&T deploys XGS-PON to power FTTH nets
AT&T has enhanced its fiber-to-the-home (FTTH) "last mile" network by deploying XGS-PON [1.] technology which will be live in 40 markets.  AT&T will start out providing 1 gigabit download speeds before eventually boosting them to 10 gigabits per second in both directions as it upgrades from GPON networks. The company said it has deployed XGS-PON in "a few thousand locations" noted that it has employed multiple vendors in the process. It's part of AT&T's road map to virtualize network access functions within its last mile network.
NOTE 1.  XGS-PON is a fixed wavelength symmetrical 10 Gbps passive optical network technology.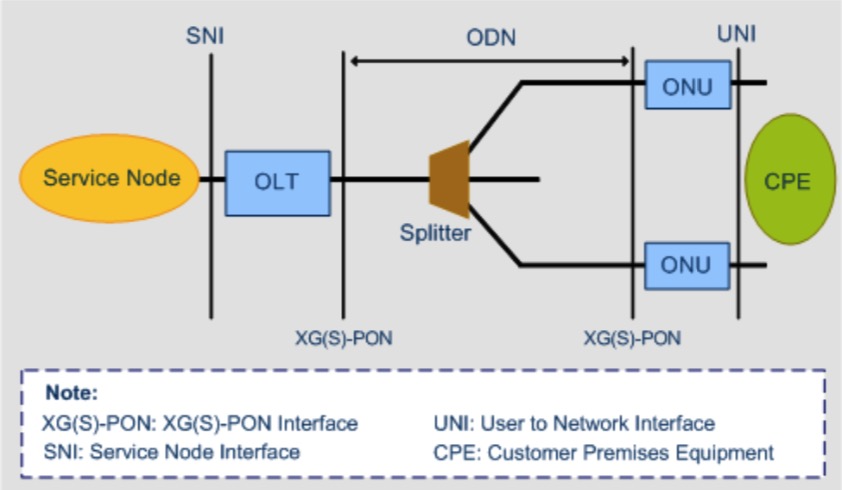 The "X" in XGS represents the number 10, and the letter "S" stands for symmetrical, XGS-PON = 10 Gigabit Symmetrical PON. An earlier, non-symmetrical 10 Gigabit PON version (XG-PON) was limited to 2.5 Gbps in the upstream direction.
PON technology originated in the 1990's and has continued to develop through multiple iterations with differing wavelengths, speeds and components emerging as the technology has improved. The common denominator of all fiber optic PON networks remains the unpowered or passive state of the fiber and its splitting or combining components, i.e. no active elements such as optical amplifiers, which would require power, are present in the network. With streaming, high definition, 5G and other emerging technologies continually pushing bandwidth demands, the development of XGS-PON and other standards has proven to be essential.
Simultaneous upstream and downstream transmission over the same fiber is made possible through wavelength division multiplexing (WDM). This technology allows one XGS-PON wavelength or color of light transmission for upstream and another for downstream.
………………………………………………………………………………………………………………………………….
Two years ago, AT&T completed trials of 10 Gbps XGS-PON by using Open Source Access Manager Hardware Abstraction (OSAM-HA) software in Atlanta and Dallas. OSAM-HA was released into the Open Networking Foundation (ONF) in 2017 as VOLTHA.
OSAM, which used the Open Networking Automation Platform (ONAP) platform that AT&T helped develop, is a vendor-agnostic operational suite for managing consumer and business broadband access network elements and capabilities. ONAP has undergone several major releases over the past few years.
ONF's Virtual OLT Hardware Abstraction (VOLTHA) open source software project, which is a component of ONF's SDN Enabled Broadband Access (SEBA) platform, abstracts a PON network to make it manageable as if it were a standard OpenFlow switch.
SEBA describes how to assemble a collection of open source components to build a virtualized PON network to deliver residential broadband and mobile backhaul. SEBA uses a disaggregated white-box approach for building next generation access networks by using open source.
"AT&T continues to work with open communities such as ONF, ONAP, and OCP (Open Compute Project) to drive innovation, time-to-market, and cost improvements as we build next generation networks," the company said in a March 4th statement in regard to a request for more information on the deployments in the 40-plus cities.
……………………………………………………………………………………………………………………………….
Conventional wisdom in the fiber broadband industry suggests NG-PON2 is the platform most providers will eventually adopt, with XGS-PON as an interim step to get there.
Verizon seems to be leapfrogging that approach. For what it's worth regarding conventional wisdom, the AT&T spokesperson tells Telecompetitor, that "AT&T is not currently planning to use NG-PON2 at this time."
……………………………………………………………………………………………………………………………….
References:
AT&T Fiber Begins Transition to Next Generation XGS-PON FTTH
https://www.fiercetelecom.com/telecom/at-t-tees-up-1-gig-xgs-pon-speeds-over-40-cities
https://www.viavisolutions.com/en-us/xgs-pon
http://www.tarluz.com/ftth/specification-differences-among-gpon-xg-pon-and-xgs-pon/
---