China's CBN to use 700MHz for 5G network but needs a telco partner
China's Ministry of Industry and Information Technology (MIIT) announced that it has repurposed the country's frequency use plan for 700MHz spectrum in order to accelerate the development of 5G technology and to promote the effective use of spectrum resources.
Under the new plan, MIIT will abandon the current usage – 702MHz-to-798MHz for TV and radio and broadcasting – in favor of 703MHz-743MHz/758MHz-798MHz for FDD mobile communication systems. In its notification, the MIIT ruled that mobile systems operating in this band must not interfere with broadcasting or other services operating in the same or adjacent frequency bands. Further, to avoid interference, frequency migration, site relocation and equipment mediation of existing legal radio stations must be carried out.  The costs of that will charged to the user(s) of the 700MHz mobile spectrum.
The spectrum in question is currently held by radio and TV broadcaster China Broadcasting Network (CBN), which is also known as China Radio and Television.  It plans to use the airwaves in conjunction with its 4.9GHz spectrum to provide a suite of interactive TV services in the short term, and mobile communication (4G and 5G?) plus IoT services in the future.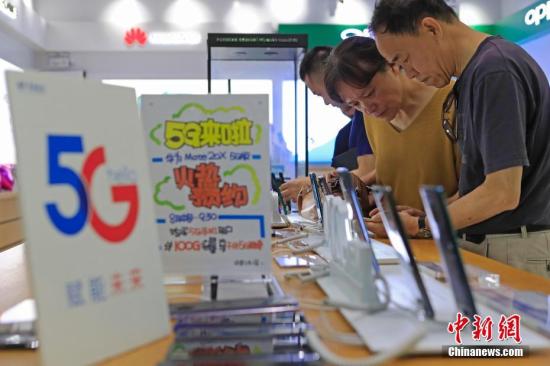 CBN was a surprise new entrant to mobile when the MIIT issued 5G licenses in June 2019. The company, owned by the National Radio and Television Administration (NRTA), was set up just five years ago.  It had  total revenues last year of RMB78 billion (US$10.9 billion) — around a third of China Unicom's and a fifth of China Telecom's.
CBN began its first wireless network trial last October– a standalone 5G pilot network in central Shanghai, announced last week by the Shanghai city government.
According to broadcast industry website DVBCN, CBN is planning to build pilot networks in 15 or so major cities, such as Beijing, Tianjin and Nanjing.
May 21, 2020 Update:
China Broadcasting Network Corporation (CBN) and China Mobile said they would jointly build and share a 5G network and also collaborate in content and platform sharing.
For China Mobile and CBN, joint network investment and construction at a 1:1 ratio is just one part of their arrangement, which will continue until 2031.
They will jointly own and share the capacity, but China Mobile has committed to wholesaling capacity on its 2.6GHz 5G network to its smaller partner.  In areas where the 700MHz band is not yet commercially available, it will open up its 2G and 4G networks.
China Mobile's statement said while the two partners would retain their own brands, they would explore further joint efforts in areas such as products, operations and content and even in "channels and customer services."
For China Mobile, which already has 260MHz of 5G spectrum in the 2.6GHz and 4.9GHz bands, the partnership adds to its spectrum inventory and in particular access to precious low-band frequencies.
https://www1.hkexnews.hk/listedco/listconews/sehk/2020/0520/2020052000370.pdf
https://www.lightreading.com/asia/china-mobile-cbn-strike-long-awaited-network-sharing-deal/d/d-id/759833?
………………………………………………………………………………………………………………………………………….
As in Shanghai, these will be standalone 5G networks in the 4.9GHz band. The company expects to deploy 200 basestations in each city at an estimated total cost of RMB2-3 billion ($279-419 million).
Table 1. China 5G spectrum allocation
Operator
Assigned spectrum
Total
Shared spectrum
China Mobile
2515-2675MHz
160MHz
China Mobile
4800-4900MHz
100MHz
China Telecom
3400-3500MHz
100MHz
3300-3400MHz (indoor)
China Unicom
3500-3600MHz
100MHz
3300-3400 MHz (indoor)
China Broadcast Network
703-798MHz
80MHz
3300-3400 MHz (indoor)
China Broadcast Network
4.9GHz (trial)
TBD
Source: MIIT
Local China news outlet C114 writes that the new network operator (CBN) still needs to clear the spectrum and migrate existing radio and TV services to other frequencies, the cost of which was estimated to run to more than CNY10 billion (USD1.41 billion).
CBN, with income of around $11 billion from cable TV services, lacks the financial scale to build a national network and compete against three big telco incumbents.
CBN has business partners such as Alibaba and financial group Citic, but a partnership with a telco (like China Mobile) is needed to build out the network.   The new network rollout cost is estimated to be at least 60 billion yuan (US$8.5 billion).
CBN may be able to reduce that expense through cooperation with cellular providers, though, with a senior China Mobile official quoted as saying that the two providers had communicated 'to discuss the possibility of co-construction.'
………………………………………………………………………………………………………….
References:
https://www.lightreading.com/5g/china-releases-700mhz-for-5g/d/d-id/758667?
---