U.S. Government Attempts to Strangle Huawei; China-U.S. Trade War likely to Accelerate into HYPER-DRIVE mode
On Friday, the U.S. government said it would impose export restrictions designed to cut off Chinese tech giant Huawei Technologies Co. from overseas suppliers, threatening to ignite a new round of U.S.-China trade tensions.  The U.S. Commerce Department said its new sanctions would "narrowly and strategically target Huawei's acquisition of semiconductors that are the direct product of certain U.S. software and technology."
These new restrictions stop foreign semiconductor manufacturers whose operations use U.S. hardware, software and technology from shipping products to Huawei without first getting a license from U.S. officials, essentially giving the U.S. Commerce Department a veto over the kinds of technology that Huawei can use.
The restriction further tightens the U.S. export-control system's existing rules related to Huawei. Washington alleges that Huawei gear could be used by Beijing to spy globally, which Huawei has repeatedly denied.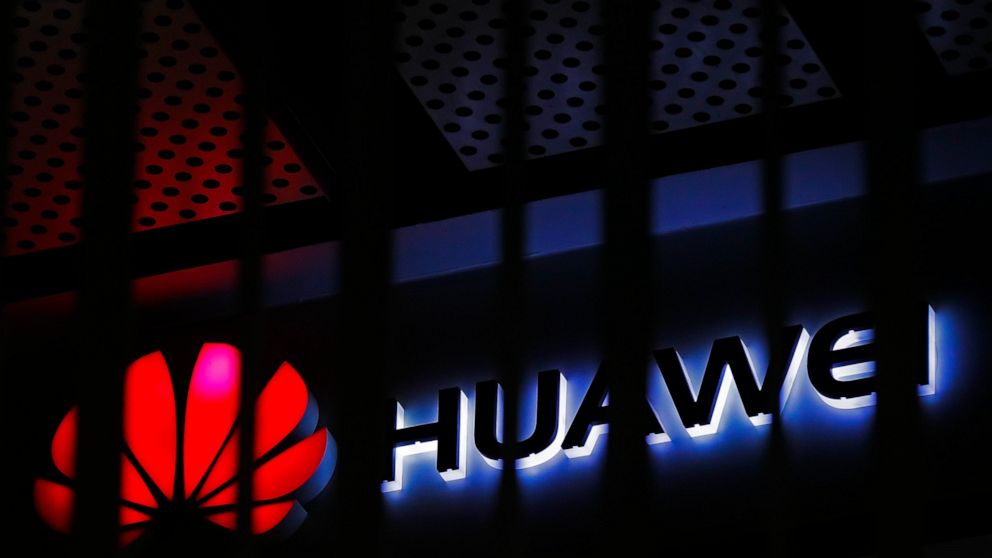 A logo of Huawei retail shop is seen through a handrail inside a commercial office building in Beijing.
Photo credit: Andy Wong, Associated Press
…………………………………………………………………………………………………………………………………………………
U.S. Commerce Secretary Wilbur Ross said Friday that Washington wants to prevent Huawei from evading sanctions imposed earlier on its use of American technology to design and produce semiconductors abroad.  "There has been a very highly technical loophole through which Huawei has been able, in effect, to use U.S. technology with foreign fab producers," Ross said in an interview on Fox Business Network. He said the changes announced Friday were tailored moves "to try to correct that loophole and make sure that the American fab foundries are competing on an equal footing with the foreign ones."
Also on Friday, a senior administration official said there were "legal, human rights, and strategic rationales" for the actions against Huawei. Those included Huawei's alleged theft of intellectual property and aid in developing surveillance technology and new weapon systems, the official said.
Under the new rules, the department can block the sale of semiconductors manufactured by Taiwan Semiconductor Manufacturing (TSMC) for Huawei's HiSilicon subsidiary, which designs chips for the company, as well as chips and other software produced by manufacturing facilities in Taiwan, China and South Korea, which use American chip-making technology. The Commerce Department already had the ability to license software shipments from U.S.-based facilities.
Companies can apply for a license to continue supplying tech products to Huawei, but the administration said the presumption would be to deny those requests.
John Neuffer, the president of the Semiconductor Industry Association, which represents chip makers, said his group was concerned that the rule would "create uncertainty and disruption for the global semiconductor supply chain." He added, however, that it appeared less damaging than broader approaches the administration had previously considered.
Huawei had no immediate comment.
China's foreign ministry, in a statement, urged the U.S. to immediately halt "its unreasonable suppression against Huawei."
"The U.S.'s practices not only harm the legitimate rights and interests of Chinese enterprises, but also do not accord with the interests of U.S. enterprises, and cause damage to the global industrial chain, supply chain and value chain," it said.
………………………………………………………………………………………………………………………………………………….
On Sunday, China's commerce ministry said it will take "all necessary measures" in response to new U.S. restrictions on Chinese tech giant Huawei's ability to use American technology, calling the measures an abuse of state power and a violation of market principles.
An unidentified spokesperson quoted Sunday in a statement on the China ministry's website said the regulations also threatened the security of the "global industrial and supply chain."
"The U.S. has utilized national power and used the so-called national security concern as an excuse, and abused export controls to continue to suppress some particular companies in other countries," China's commerce ministry said in today's statement.
"China urges the U.S. to immediately cease its wrong actions," the ministry added, calling the restrictions a "serious threat to global supply chains."
China's retaliation could take the form of restrictions on U.S. tech firms (Qualcomm, Apple. Intel, Nvidia, AMD, Broadcom, Cisco, even Boeing) selling their products in China.
Victor Gao, vice-president of the Centre for China and Globalisation, a Beijing-based think tank, said there were many ways in which China could retaliate for the new restrictions on Huawei, including selling its huge holdings of U.S. treasury bonds or halting any future purchases, and tightening its controls on Apple products.
"For example, if Beijing declared that all Apple products made in China had to be inspected, which would delay their shipment, in three months, Apple would be dead," he said.
……………………………………………………………………………………………………………………………………………..
China's state-run newspaper reported on Sunday that the Chinese government was ready to retaliate against the U.S..  The source, who is described as close to China's government,  the state-run Global Times that China was planning countermeasures, such as "imposing restrictions" against U.S. companies like Apple, Cisco, and Qualcomm. The source also suggested the possibility of China halting Boeing airplane purchases.
"China will take forceful countermeasures to protect its own legitimate rights" if the Trump administration goes ahead with the plan to block essential suppliers of semiconductors from selling those components to Huawei.
…………………………………………………………………………………………………………………………………….
Backgrounder:
U.S. government officials have repeatedly accused Huawei of stealing American trade secrets and aiding China's espionage efforts, ramping up tensions with the rival superpower while both sides were involved in a long-simmering trade war.
As a result, Huawei has increasingly relied on domestically manufactured technology, but the latest rules will also ban foreign firms that use US technology from make semiconductors to Huawei without US permission.  The new restrictions will cut off Huawei's access to one of its major suppliers of semiconductors- Taiwanese chipmaker TSMC (world's largest silicon foundry).
………………………………………………………………………………………………………………………………………………
May 18th UPDATE:
Huawei on Monday assailed the latest U.S. move to cut it off from semiconductor suppliers as a "pernicious" attack that will put the Chinese technology giant in "survival" mode and sow chaos in the global technology sector.
"The decision was arbitrary and pernicious and threatens to undermine the entire (technology) industry worldwide. This new rule will impact the expansion, maintenance, and continuous operations of networks worth hundreds of billions of dollars that we have rolled out in more than 170 countries," Huawei said in a statement.
The ban also went against the US government's claim that it is motivated by network security, the company said.
"The US is leveraging its own technological strengths to crush companies outside its own borders. This will only serve to undermine the trust international companies place in US technology and supply chains. Ultimately, this will harm US interests," said Huawei.
https://www.globaltimes.cn/content/1188683.shtml
References:
https://www.wsj.com/articles/u-s-moves-to-cut-off-chip-supplies-to-huawei-11589545335
https://abcnews.go.com/US/wireStory/china-warns-us-measures-huawei-rules-70728162
http://www.globaltimes.cn/content/1188491.shtml
https://mashable.com/article/china-us-retaliation-huawei/
https://www.scmp.com/economy/china-economy/article/3084710/china-hits-back-americas-unreasonable-suppression-huawei
---