Vestaspace Technology joins SpaceX in launching Internet Satellites
Commercial space-tech company Vestaspace Technology will launch 35+ 5G satellites this September for pilot to build 5G speed network connections and IoT functionalities for industries.
Editor's Note:
Sounds a lot like what Elon Musk's SpaceX plans to do with its Starlink internet satellites.  The satellite constellation will consist of thousands of mass-produced small satellites in low Earth orbit (LEO), working in combination with ground transceivers.  Starlink is targeting service in the Northern U.S. and Canada in 2020, rapidly expanding to near global coverage of the populated world by 2021.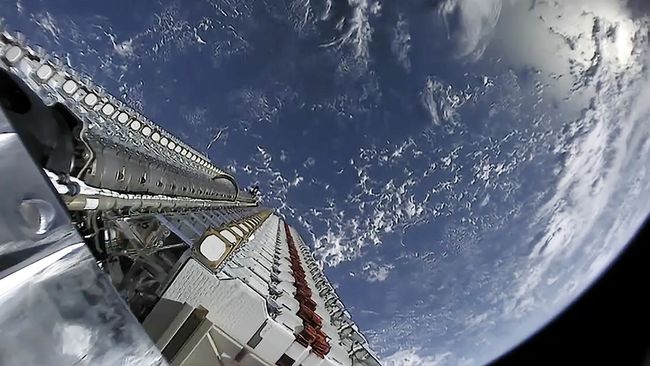 Image Credit:  SpaceX
…………………………………………………………………………………………………………………………………..
In a statement Tuesday, Vestaspace said it will release beta version of satellite constellations pan-India in September and fully-operational version early next year into Low-Earth-Orbit or Geosynchronous Equatorial Orbit.
"The company plans to replace traditional fiber networks with all the satellite constellations and to provide high-speed 5G network connections PAN India with its unmanned Software Data processing," it said.
The company has tested a live-streamed video of 1080p (Full HD) with less than 34 milliseconds latency with the speed of more than 400 Mbps.
With regards to data privacy and security issues, Vestaspace has put 10 layer firewall that does immediate remediation if any false data is found.
Arun Kumar Sureban, Founder & CEO, Vestaspace Technology said, "To solve the complex system and to provide 5G internet network solutions to the Urban, Rural and unserved regions, we have positioned 8 Ground Stations and 31,000 data receptors all over India. This is made possible with the help of accurate positioning and telemetry related activities."
The Pune, India-based startup has secured USD 10 million funding from an American investment and advisory firm Next Capital LLC, and has been working with ISRO, NASA and other leading space agencies on various strategic projects.
However, we don't think these Internet satellites have anything to do with 5G which is defined as a terrestial wireless interface (at least that's true for IMT 2020).
References:
https://telecom.economictimes.indiatimes.com/news/vestaspace-to-launch-35-satellites-for-pan-india-5g-connectivity/76001420
---