Futurium: 2020 SD-WAN market set to accelerate
Despite no standards for multi-vendor operator (UNI) or network-to-network (NNI), Futurium projects continued growth in SD-WAN through at least the next 3-5 years. Enterprises and service providers alike are interested in deploying SD-WAN technology in services to deliver cloud-based orchestration and automation of networking and security.
Based on a survey of 100 end users as well as dozens of interviews with professionals in the IT and networking markets, Futurium forecasts the SD-WAN tools and software market will increase to $4.6 billion by 2023 as enterprises increasingly move their IT and networking services to a cloud infrastructure.
In the nearer term, Futuriom's founder and principal analyst, Scott Raynovich, expects a market growth rate of 34% CAGR to hit $2 billion this year and reach $2.85 billion in 2021 as more enterprises demand "agile, high-performance, and secure connections to cloud applications."
Cloud-delivered SD-WAN, a growing technology domain that enables enterprises and organizations to set up and manage secure WAN connections using cloud software deployment and management approaches, is gaining and increasing role to speed up and secure cloud connectivity. Enterprises are buying SD-WAN to reduce the complexity in configuring branch-office devices, routing schemes, and network addresses. With SD-WAN, many of these functions can be abstracted into the cloud and managed by the service provider or an enterprise manager using a cloud interface, rather than using proprietary networking equipment.
The report was sponsored by Aryaka Networks, Citrix Systems, Fortinet, Nuage Networks, Silver Peak, Versa Networks, and VMware (VeloCloud).
Report highlights:
Momentum in the SD-WAN market continues. Despite a slight slowdown in the 1H due to pandemic-related supply chain and sales challenges, the market is likely to accelerate in 2H 2020 and into 2021 as the features of SD-WAN serve growing cloud demand.
Futuriom expects the SD-WAN tools and software market to accelerate to a growth rate of 34% CAGR to reach $2.0 billion in 2020, $2.85 billion in 2021, and $4.6 billion by 2023. The acceleration will be spurred by demand for more agile, high-performance, and secure connections to cloud applications.
The top four benefits of SD-WAN adoption include improved security, better management/agility, bandwidth optimization/cost savings, and faster cloud applications performance. These benefits were picked in our Futuriom 2020 SD-WAN Infrastructure Survey of 100 enterprise end users, which also indicated broadening use cases and adoption in the market.
Awareness of SD-WAN is growing as the market matures. In the Futuriom 2020 survey, 92% of respondents said they are evaluating SD-WAN services and/or software.
The Work from Home (WFH) trend is giving the SD-WAN market a boost. SD-WAN integrates virtual private networking (VPN) functionality for both remote workers and enterprises branches, which is a key feature demand.
As predicted in 2019, M&A and consolidation has continued and is likely to continue. The acquisition leaves fewer players on the dance floor. Aryaka, Cato Networks, FatPipe, Silver Peak, and Versa Networks are all strong candidates for M&A or IPO. (Last year, CloudGenix was on this list – Palo Alto Networks announced earlier this year that it's acquiring the startup.)
Companies featured in this report: Adaptiv Networks, Aryaka Networks, Bigleaf Networks, Cisco Systems (Viptela), Cato Networks, Citrix Systems, CloudGenix (Palo Alto Networks), HPE, FatPipe Networks, Fortinet, Juniper Networks, Nuage Networks (Nokia), Riverbed, Silver Peak, Versa Networks, VMware (VeloCloud).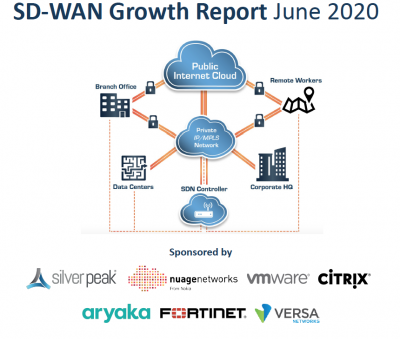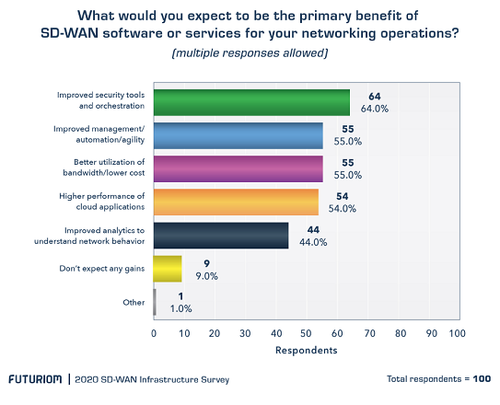 ……………………………………………………………………………………………………………………………………………………….
In April, Omdia released similar predictions for the SD-WAN market, reporting that SD-WAN revenue reached $2 billion in 2019, up from $1.1 billion in 2018. Omdia predicts SD-WAN revenue will hit $4.8 billion in 2024.
While the COVID-19 pandemic slowed SD-WAN market momentum in the first half of 2020, Raynovich forecasts a pickup in the market in the second half of 2020 and into 2021 as more enterprise employees are working from home and require secure, remote access services.
"Enterprises aren't going to pay for people to have MPLS in their home, it's too expensive. SD-WAN is serving its role as a quick, secure VPN for work-from-home situations. That's a driver of growth," Raynovich told Light Reading. SD-WAN is continuing to reduce dependence on MPLS and is becoming "one of the go-to solutions to work from home where there is no alternative," he said.
IT and networking professionals cited "improved security tools and orchestration" (64%) as the top benefit of utilizing SD-WAN in their networks, according to a Futuriom survey of 100 networking and cybersecurity professionals. About 55% of respondents also cited improved management/automation/agility; better utilization of bandwidth/lower cost; and higher performance of cloud applications as the primary benefits of SD-WAN. As network security is a top priority for enterprises, the majority of SD-WAN vendors have added cloud security and next-generation firewall products from security suppliers such as Check Point, Zscaler and Palo Alto, according to the report.
…………………………………………………………………………………………………………………………………………………..
Separately,
Market Research Inc has recently published a new market assessment report titled "Global SD-WAN Market – Growth, Future Scenarios, and Competitive Analysis, 2019 – 2025". The market study provides an extensive understanding of the present-day and forthcoming stages of the industry market based on factors such as major sought-after events, research ingenuities, management stratagems, market drivers, challenges and visions and all-encompassing industry subdivision and regional distribution.
A key utilization of SD-WAN is to enable organizations to fabricate higher-execution WANs utilizing lower-cost and economically accessible Internet get to, empowering organizations to mostly or entirely supplant progressively costly private WAN association innovations, for example, MPLS. The global market is forecasted to expand rapidly at a compound annual growth rate (CAGR) of +35%.
Request a Sample of this Report and Analysis of Key Players at https://www.marketresearchinc.com/request-sample.php?id=15951
……………………………………………………………………………………………………………………………………………………….
References:
https://www.futuriom.com/articles/news/2020-sd-wan-growth-report-sd-wan-market-likely-to-accelerate/2020/06
https://www.lightreading.com/sd-wan/sd-wan-market-to-exceed-$4b-by-2023—report/d/d-id/761907?
Growth in the SD-WAN Market with Trends, Forecast, and Opportunity Analysis Cisco, Citrix System, Aryaka Networks, Cloudgenix, Ecessa
---