Chile Government Officials: 5G will NOT close the Digital Divide; Improved Fiber Coverage Needed
5G technology "is not a tool for closing the digital divide and the big problem is fixed internet," according to Chile's telecommunications undersecretary Pamela Gidi. Business daily Diario Financiero reported the minister's comments in response to criticism about the country's forthcoming 5G frequency auction. Consumer rights body Conadecus and  network operator Entel complained that the tender conditions failed to require licensees to provide coverage in rural areas, claiming that the 700MHz band above all would be ideal for boosting coverage in underserved areas.
However, Gidi said the digital divide should be closed with improved fiber-optic infrastructure coverage, given that only a quarter of Chileans with a fixed broadband connection currently connect via fiber. "This is where the greatest gap is and we have to work on both supply and demand," she said, adding that areas where people can afford fiber aren't covered while areas where people can't afford it are.  According to Subtel data, 54% of Chileans have fixed broadband home access.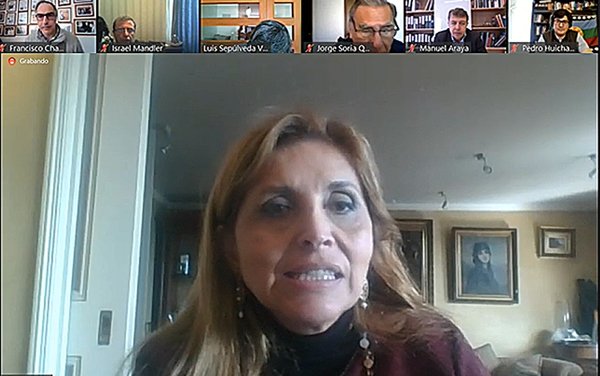 Pamela Gidi participating in Chile's Senate Telecommunications Commission tele-meeting. 
Photo credit https://www.df.cl/noticias/empresas/telecom-tecnologia/gidi-el-5g-no-es-una-herramienta-de-cierre-de-la-brecha-digital/2020-08-19/141938.html
The undersecretary revealed that telecommunications regulator Subtel is currently discussing the possibility of enacting a universal service bill and even introducing subsidies to boost internet demand.
Fernando Saiz, an executive at Telefonica Moviles Chile said that "5G is not a panacea. It is a super important technology for industrial uses, robotic processes and applications like the Internet of Things (IoT).  It is useful for businesses and entrepreneurs, but not so much for people."
–>THIS STATEMENT ALIGNS WITH THE AUTHOR'S VIEW THAT 5G ENHANCED MOBILE BROADBAND (eMBB) WILL NOT BE THE "KILLER APP" FOR 5G OR EVEN NEEDED FOR MOST PEOPLE!
Chile started its 5G auction earlier this week, releasing the details for a tender of a total 1,800 MHz in the 700 MHz, AWS (1,800 and 2,100 MHz), 3.5 GHz and 26 GHz bands with a view to creating at least four 5G operators.
Juan Pablo Letelier, the President of the Commission, criticized the 5G auction, noting that "this wireless technology only exacerbates the digital gaps since only a few people will be able to afford to access it."
From Ana Garcia Armada: Technology consultant  Roberto Gurovich said 5G does not say anything new.  Essentially, 5G will increase the capacity of mobile networks and may provide broadband services to people and places where wireline fixed access does not reach. Now and in the near future, 5G will be used for enhanced mobile broadband.  Later, 5G will be used for IoT and URLLC.  Chile is ready for the implementation of 5G now. but with the pandemic it is not the best moment since they need to reinforce 4G and even 3G to provide for the increased mobile data traffic that is being demanded.
……………………………………………………………………………………………………………………………………………………………………………..
References:
https://www.df.cl/noticias/empresas/telecom-tecnologia/gidi-el-5g-no-es-una-herramienta-de-cierre-de-la-brecha-digital/2020-08-19/141938.html
https://www.telecompaper.com/news/5g-not-a-tool-to-bridge-digital-divide-chile-minister–1351137
https://www.df.cl/noticias/empresas/telecom-tecnologia/pregunta-al-experto-que-implicara-la-llegada-de-la-red-5g-a-chile-para/2020-08-21/130047.html  (interview in Spanish with  Roberto Gurovich on what 5G means for the people of Chile)
---