Key Findings from Flexera's 2021 State of the Cloud report
Cloud computing adoption was expanding rapidly even before the COVID-19.  The urgent changes to business operations and procedure caused organization plans and adoption to increase at an even greater rate.
According to Flexera's 2021 State of the Cloud report, organizations are rapidly progressing their journey to cloud.  The report found that public cloud spending is now a significant line item in IT budgets, especially among enterprise organizations (31%) that said they spent more than $12 million a year on public cloud services.
The survey polled 750 "cloud decision-makers and users" from organizations ranging from 100 employees to more than 10,000 employees around the world and across a cross-section of organizations. It specifically asked about services run on AWS, Microsoft Azure, GCP, VMware Cloud on AWS, IBM Public Cloud, Oracle Infrastructure Cloud, and Alibaba Cloud.
AWS continues to be the leading cloud service provider with 79% of enterprise respondents saying they use the platform and 9% saying they are "experimenting" with AWS. Microsoft's Azure was used by 76% of respondents. 11% of respondents said they are experimenting with Azure.
Azure adoption increased among all respondents in 2020. It increased from 63% last year to 73% this year. By comparison, AWS' year-over-year growth was just 1 percentage point to 77%.
While AWS and Azure are compete for the #1 cloud service provider, GCP saw the strongest growth among the top three, growing from 34% usage last year to 49% usage this year. Additionally, GCP and VMware Cloud on AWS reported the highest number of respondents experimenting on their platforms, which the Flexera report says could drive future cloud adoption.
The following are some of the responses of interest:
Enterprises embrace multi-cloud:
• 92 percent of enterprises have a multi-cloud strategy; 80 percent have a hybrid cloud strategy
• 49 percent silo workloads by cloud, with 45 percent integrating data between clouds
• Only 42 percent of all participating organizations use multi-cloud management tools
• Respondents use an average of 2.6 public and 2.7 private clouds
Public cloud adoption continues to accelerate:
• 36 percent of enterprises spend more than $12 million per year on public clouds
• 55 percent of enterprise workloads are expected to be in a public cloud within twelve months
• 90 percent of respondents who answered a question about COVID-19 expect cloud use to exceed plans due to the pandemic
• The top challenge in cloud migration is understanding application dependencies
Understanding cloud initiatives and metrics:
• 61 percent of organizations plan to optimize cloud costs in 2021, making it the top initiative for the fifth year in a row
• 59 percent of organizations plan to focus on cloud migration
• 76 percent of organizations use cost efficiency and savings to measure cloud progress
Organizations are taking a centralized approach to cloud:
• 77 percent of enterprises have a central cloud team or cloud center of excellence (CoE)
• 54 percent of cloud teams are responsible for governing infrastructure-as-a-service (IaaS)/ platform-as-a-service (PaaS) usage and costs
• 63 percent of enterprises reported using cloud managed service providers (MSPs) to manage public cloud use
The Flexera survey found that it remains difficult to map all of the relationships across applications, hardware, and networking devices for each service, especially in a rapidly evolving environment. Just over half of respondents reported understanding application dependencies as the top cloud migration challenge.
………………………………………………………………………………………………………………………
Selected Charts from the Flexera 2021 Cloud Report: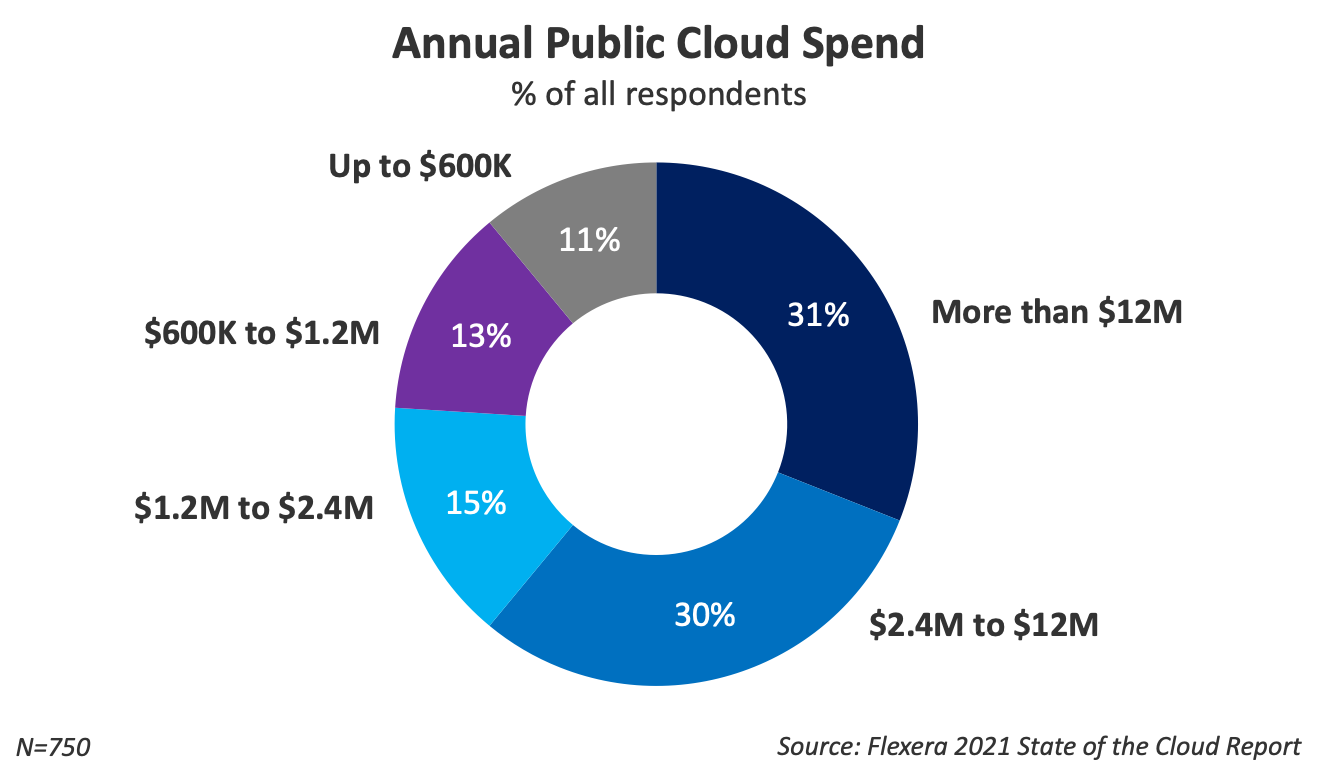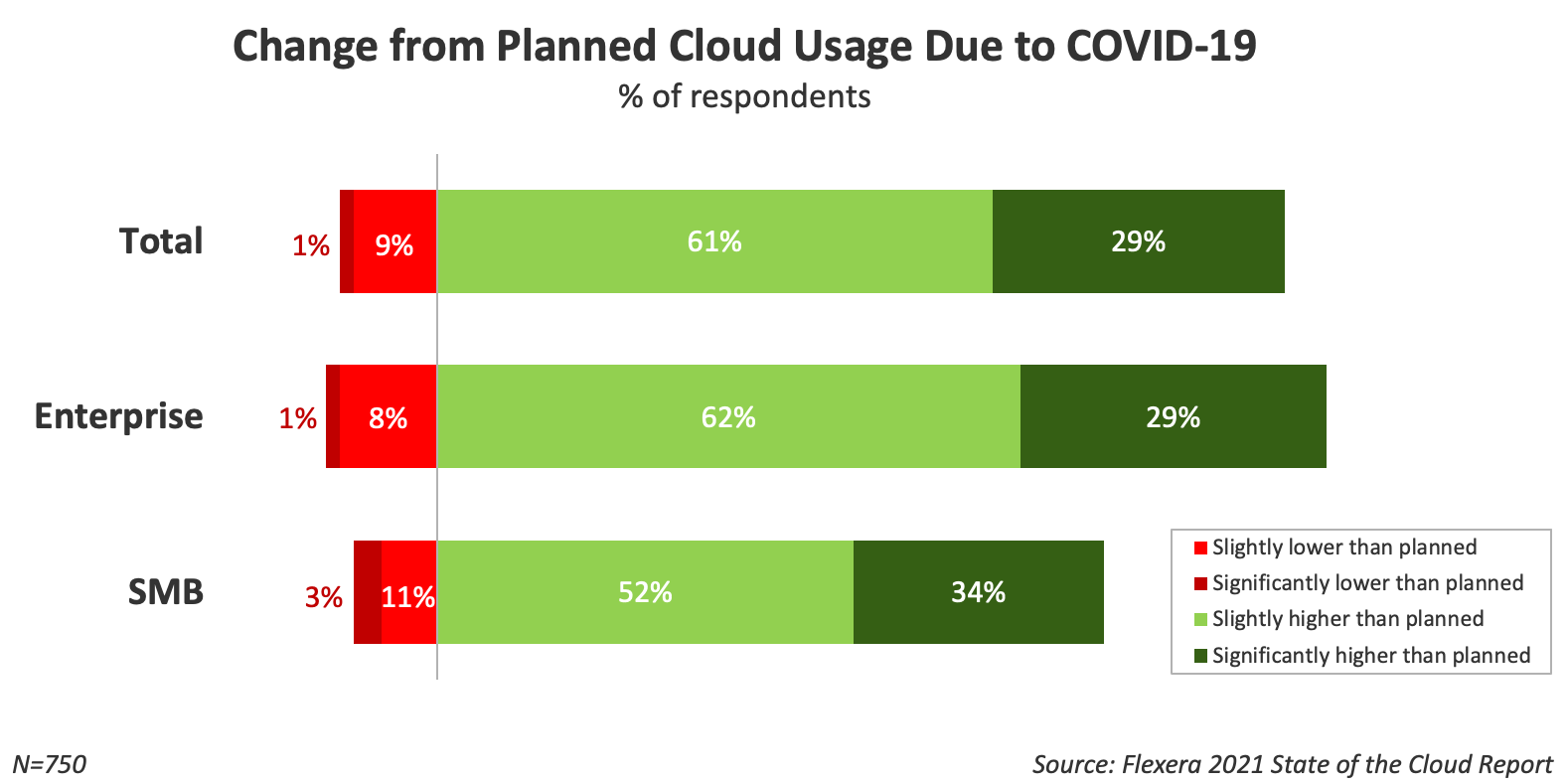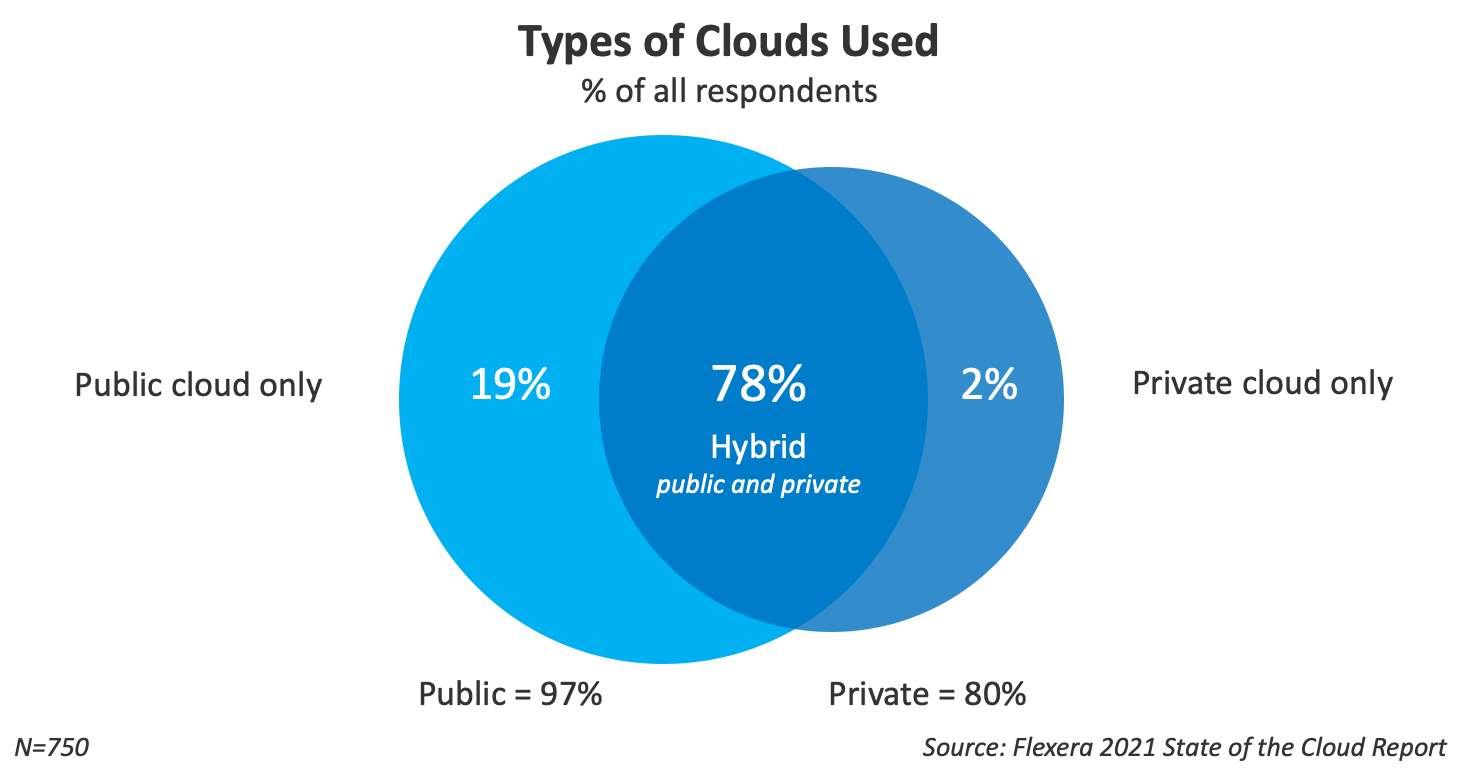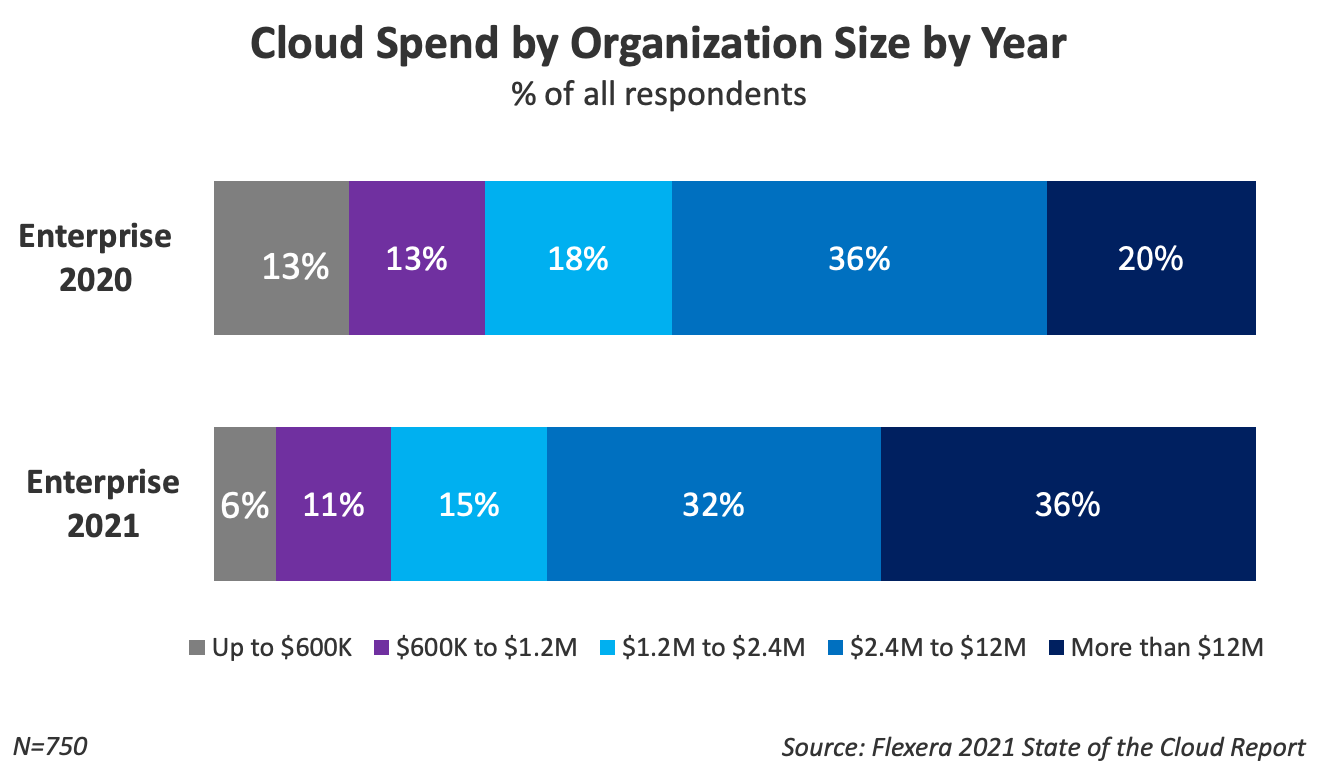 References:
https://info.flexera.com/CM-REPORT-State-of-the-Cloud
https://www.sdxcentral.com/articles/news/amazon-microsoft-top-enterprise-public-cloud-spend-flexera-says/2021/03/
https://techblog.comsoc.org/2021/02/11/u-s-government-multi-cloud-competition-telus-selects-google-cloud/
https://techblog.comsoc.org/2021/02/10/oracele-expands-cloud-portfolio-key-themes-for-cloud-in-2021/
https://techblog.comsoc.org/2021/03/01/ibms-cloud-satellite-service-in-generally-available-orbit/
---