Echo and Bifrost: Facebook's new subsea cables between Asia-Pacific and North America
Facebook has revealed plans to build two new subsea cables between the Asia-Pacific region and North America, called Echo and Bifrost.  The social media giant also revealed partnerships with Google as well as Asian telecoms operators for the project.
Although these projects are still subject to regulatory approvals, when completed, these cables will deliver much-needed internet capacity, redundancy, and reliability.  The transpacific cables will follow a "new diverse route crossing the Java Sea, connecting Singapore, Indonesia, and North America," and are expected to increase overall transpacific capacity by 70%.
Facebook says Echo and Bifrost will support further growth for hundreds of millions of people and millions of businesses. Facebook said that economies flourish when there is widely accessible internet for people and businesses.
Echo and Bifrost be the first transpacific cables through a new diverse route crossing the Java Sea. Connecting Singapore, Indonesia, and North America, these cable investments reflect Facebook's commitment to openness and our innovative partnership model. The social media company works with a variety of leading Indonesian and global partners to ensure that everyone benefits from developing scale infrastructure and shared technology expertise.
Facebook will work with partners such as Indonesian companies Telin and XL Axiata and Singapore-based Keppel on these projects.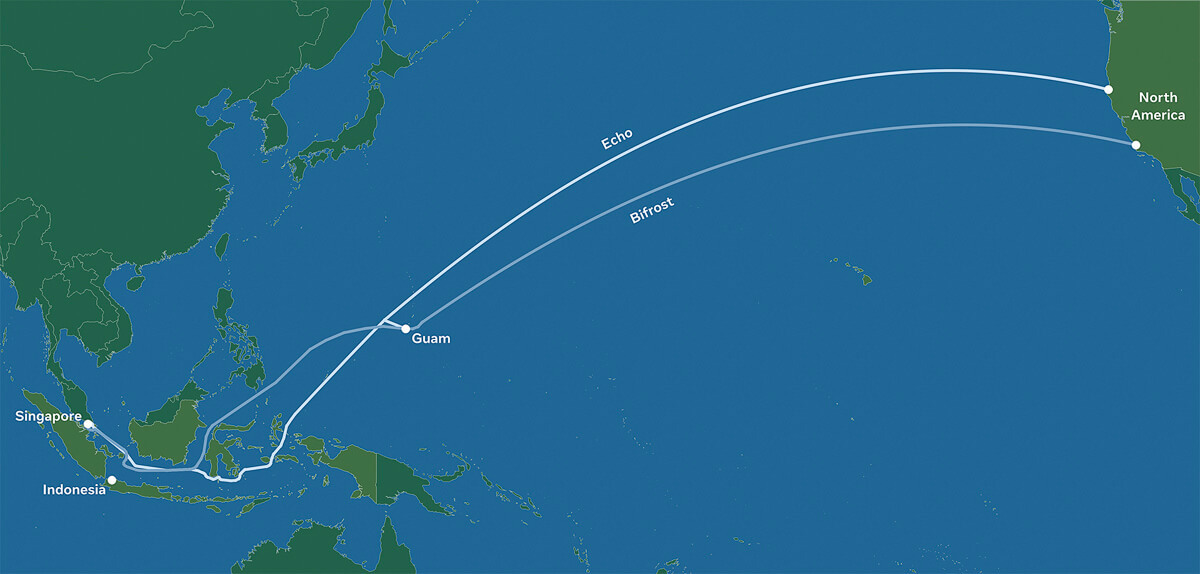 Image Credit: Facebook
………………………………………………………………………………………………..
Kevin Salvadori, VP of network investments at Facebook, provided further details in an interview with Reuters. He said Echo is being built in partnership with Alphabet's Google and XL Axiata.  It should be completed by 2023. Bifrost partners include Telin, a subsidiary of Indonesia's Telkom, and Keppel.  It is due to be completed by 2024.
Aside from the Southeast Asian cables, Facebook was continuing with its broader subsea plans in Asia and globally, including with the Pacific Light Cable Network (PLCN), Salvadori said.
"We are working with partners and regulators to meet all of the concerns that people have, and we look forward to that cable being a valuable, productive transpacific cable going forward in the near future," he said.
Indonesia
Facebook noted that Echo and Bifrost will complement the subsea cables serving Indonesia today. These investments present an opportunity to enhance connectivity in the Central and Eastern Indonesian provinces, providing greater capacity and improved reliability for Indonesia's international data information infrastructure. Echo and Bifrost complement the subsea cables serving Indonesia today, increasing service quality and supporting the country's connectivity demands.
This is all part of Facebook's continued effort to collaborate with partners in Indonesia to expand access to broadband internet and lower the cost of connectivity. Facebook has partnered with Alita, an Indonesian telecom network provider, to deploy 3,000 kilometers (1,8641 miles) of metro fiber in 20 cities in Bali, Java, Kalimantan, and Sulawesi. In addition, we are improving connectivity by expanding Wi-Fi with Express Wi-Fi.
While 73% of Indonesia's population of 270 million are online, the majority access the web through mobile data, with less than 10 percent using a broadband connection, according to a 2020 survey by the Indonesian Internet Providers Association.  Swathes of the country, remain without any internet access.
Singapore
In Singapore, Echo and Bifrost are expected to provide extra subsea capacity to complement the APG and SJC-2 subsea cables. Building on Facebook's previously announced Singapore data center investments, Echo and Bifrost will provide important diverse subsea capacity to power Singapore's digital growth and connectivity hub. Singapore is also home to many of Facebook's regional teams.
The Asia-Pacific region is very important to Facebook.  In order to bring more people online to a faster internet, these new projects add to Facebook's foundational regional investments in infrastructure and partnerships to improve connectivity to help close the digital divide and strengthen economies.
……………………………………………………………………………………………………………………………………
References:
Advancing connectivity between the Asia-Pacific region and North America
https://www.reuters.com/article/us-facebook-internet-southeastasia-idUSKBN2BL0CH
---